Inside this article
In this article, we compare PrestaShop vs. Adobe Commerce, two self-hosted platforms that are widely used for creating custom online stores.
Overview of the platforms
These two platforms share certain advantages and drawbacks, but each also offers some unique features. Before you decide to start with one of them or switch from the platform you're currently using, you need to consider several aspects that will be thoroughly discussed in this article.
Both platforms are widely used and offer self-hosted software for the creation of online stores. PrestaShop offers addons to supplement the functionalities of your online store. This is also possible in Adobe Commerce, although they call these addons extensions.
Adobe Commerce offers its software in a free version called Magento Open Source and a paid version called Adobe Commerce.
Both platforms come with the possibility to hire PrestaShop or Adobe Commerce experts to create and develop the online store for you. This means getting your online store running much faster and without headaches, but the service isn't free.
Note that Adobe Commerce was acquired by Adobe and is no longer sold as Magento.
Now that you have an overview of what PrestaShop and Adobe Commerce do, continue reading for a detailed look at the advantages and disadvantages of each one, comparative tables and other criteria that will help you make the best decision for your business.
PrestaShop advantages
Choosing PrestaShop as a platform for your online store has some advantages:
Customizable and scalable features for the online store
Freeware
Addon Marketplace to install new functionalities without custom development
Adobe Commerce advantages
Opening a store in Adobe Commerce also has its advantages. They include:
Having a fully customizable and scalable online store
A free version of the software (Open Source) is available
Extensions to create new features and functionalities

In the following table, you can see a comparison of the advantages of PrestaShop vs. Adobe Commerce.
| PrestaShop | Adobe Commerce |
| --- | --- |
| Open Source | Open Source |
| Free possibility | Free possibility |
| Addons marketplace | Extensions marketplace |
| Fully customizable | Fully customizable |
| Great popularity: online resources | Large community of developers |
| Scalable | Scalable |
PrestaShop disadvantages
Having an online store in PrestaShop comes with the following disadvantages:
There are limited free plugin alternatives (themes, features and other addons), so the cost of acquiring these options can quickly add up. 
Translations are automatic, but not perfect
Hosting and domain costs aren't included
Adobe Commerce disadvantages
Adobe Commerce also has some disadvantages. For example:
You will have to take care of providing your own hosting and server, and you'll have to pay for updates (if you opt for the paid version)
Adobe Commerce comes with high cost and can be difficult to use. Even for experts, it's one of the most complex and expensive platforms, whether you opt for the paid or free version. You will always need a support team that doesn't work for free.
This table sums up the main drawbacks of PrestaShop and Adobe Commerce.
| PrestaShop | Adobe Commerce |
| --- | --- |
| Doesn't include server, hosting or updates | Doesn't include server, hosting or updates |
| Time investment for creation and modifications | Time investment for creation and modifications |
| | Complex interface to use |
Other factors to consider
Now you're familiar with the advantages and disadvantages of PrestaShop vs. Adobe Commerce. However, it's also important to consider what you need for your online store when choosing an open-source platform.
Consider your own requirements and choose accordingly, because switching platforms can be tricky, especially if you're already coming from an open-source platform where you've configured everything to your liking.
Cost of creation and maintenance of the online store
In this sense, both PrestaShop and Adobe Commerce are very similar. Both can be downloaded for free and both are open-source solutions, so the cost of creation and maintenance, unless you are an expert in programming, is high.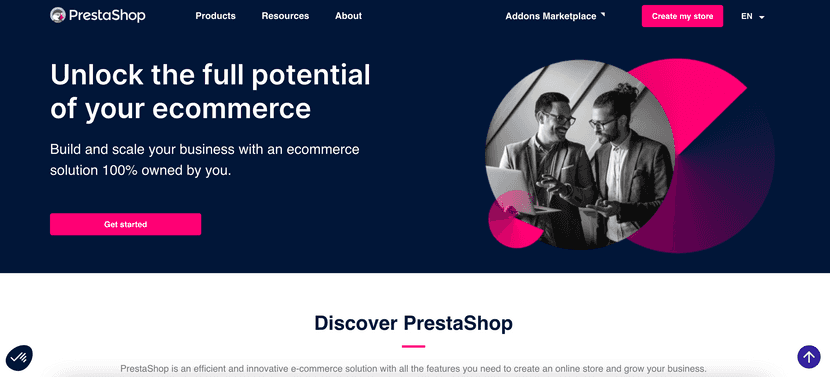 This is especially true for Adobe Commerce, since it's more difficult to operate and the creation process is therefore even slower. Also, if you choose the paid version, you will see that it's one of the most expensive platforms for online stores on the market.
If you want to always keep your store up to date with new features, adjustments and updates, you'll need someone to take care of all this. Therefore, although both are free in principle, they also come with creation and maintenance costs. Of the two, Adobe Commerce is undoubtedly the one that will require the greatest investment of time and money.
Ease of use of the platform
Both tools are relatively difficult to use, at least if we're looking at the first phase of the online store —the creation phase.
Both platforms provide a "skeleton" on which you can create the store, but Adobe Commerce's interface is much less intuitive than that of PrestaShop, so in this sense, Adobe Commerce loses out.
Migration to another platform
Migrating a store from Adobe Commerce or PrestaShop is possible through specialized migration software or with the help of an expert in the field.
However, creating a store in PrestaShop and Adobe Commerce entails an economic cost and a fairly significant investment of time, so ideally, once you create it, you should try to avoid a migration (and the associated costs).
Because both are similar in terms of migrating, we recommend that you focus on the other criteria, to prevent future regrets.
Shipping and return management
This criterion is often forgotten both by sellers and by CMS platforms and marketplaces.
And, although PrestaShop and Adobe Commerce have some functionalities for managing orders, shipments and returns, they don't offer the features necessary for an efficient eCommerce logistics system.
Use Outvio for order management, shipments, returns, and much more!
Wrapping up
PrestaShop and Adobe Commerce (Magento) are two platforms widely used by successful online stores, so we know that they are fantastic tools for creating and managing an online store. The choice of one or the other will depend on the criteria that you consider most important.
In addition to these criteria, you should also consider the type of store you want to create, what your user persona is and the products you want to market, among other things.
In short, think about the priorities of your brand, the aesthetic you imagine for your online store and the personal preferences you have. Try to anticipate the needs that will arise when the volume of your sales and the size of your business start to grow even more.
If you want to make the best decision for your business, the first and most important step is to familiarize yourself with all of your options. This is one of the keys to making your business go in the direction you want.
Now you should be much better prepared to know which one is the winner in the PrestaShop vs Adobe Commerce battle for the best platform for your online store. We hope that this article has answered the questions that you had about these two eCommerce platforms. If you're not sure that an open-source solution is for you, you can investigate further by reading our articles on hosted platforms like Wix or Shopify.