Inside this article
There are many ways to know if a tool is useful for your business or not, the simplest one being to try it out for yourself. As of last year, 29% of websites with eCommerce capabilities were running on Shopify.
However, as easy as it is to open an online store on Shopify, it's better to know what it offers and what it doesn't cover, in order to choose the best eCommerce platform for your online store. Whether you are thinking of opening your first store or if you want to migrate from another platform, this article can help you decide.
Keep reading and discover the main selling points, positives, and negatives of Shopify.
1. Easy to use
Pros: Shopify was one of the first ready-to-use eCommerce platforms to reach the market and it quickly became one of the most popular choices for SMEs. The reason behind this is quite simple: they put usability at the heart of their business and provide a ready-to-use platform that is also intuitive.
Cons: With the ease and simplicity of the platform come certain limitations that can affect online stores interested in customizing their front and back end. Although Shopify Plus supports a high level of customization comparable to that of Adobe Commerce or PrestaShop, the standard Shopify Plans allow only for small modifications.
2. Wide variety of themes
Pros: Regardless of what your aesthetic is like, there are over 70 ready-to-install themes to choose from. These templates, although not totally customizable, have some room for personalization, making the process of designing your store easier and faster while representing your brand.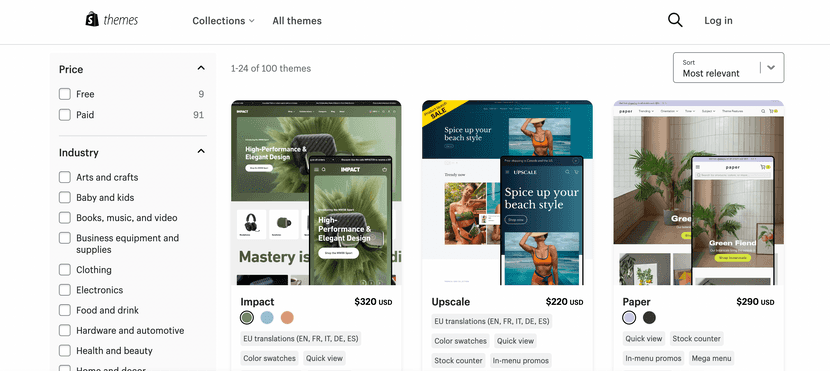 Cons: There aren't many free themes, so you can either dedicate time to customize a free theme, buy a ready-made theme that will still need some adjustments, or create your own. However, this last option comes with an investment of time and the need to hire a developer or be really proficient in Shopify's Liquid template language.
3. Hosting, server, and updates included
Pros: Once your online store launches, the amount of traffic you receive will vary. With Shopify, this isn't a problem since they take care of this, meaning that even if your store receives a large amount of visits, it won't crash. Your Shopify store will also be automatically updated, whereas with other eCommerce platforms like Adobe Commerce or PrestaShop, you need to download and implement any updates.
Cons: Contrary to other platforms, running a store on Shopify isn't free. You will need to pay a monthly subscription fee, and transaction fees that change depending on the subscription plan you choose (between 0.5% and 2%).
4. App Store
Pros: As complete as Shopify's solution may be on its own, some online stores need special features to solve specific problems. Shopify has developed a series of Shopify-owned apps to solve these issues, and also offers third-party apps through its App Store. By installing one of these apps, eCommerce stores can incorporate new functionalities without investing time in development.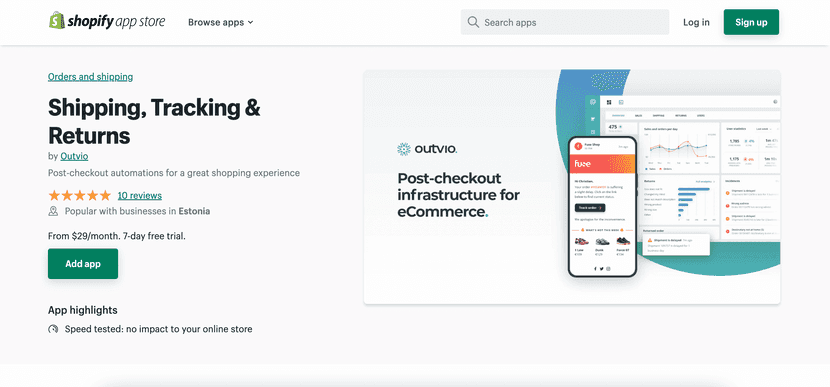 Cons: There are two downsides of Shopify Apps: as wide the variety is, you may not find a solution for your online store's specific need(s). If this is the case, you'll need to develop your own tool or find another service that solves it and can also work in sync with your Shopify store. The other downside is less severe and relates to price: the majority of these apps aren't free, and some of them come with a recurring monthly cost. However, we must say that the cost of developing your own solution tends to be much higher than subscribing to a service.
5. Access to different payment providers
Pros: You can enable multiple payment methods, from the most traditional (such as credit and debit cards) to cash-on-delivery, PayPal, Amazon Pay, and Apple Pay. You can even receive payments with cryptocurrencies.
Cons: The use of third-party payment providers (any provider that isn't Shopify Payments, Shop Pay, Shop Pay Installments, or PayPal Express) means that there will be transaction fees. These fees cover the cost of integrating these services with Shopify. If you want to offer a wide selection of payment options, you'll most likely need to pay transaction fees.
6. Multi-channel possibilities
Pros: Shopify is an established platform with many resources and a reputation on the market. Because of the considerable number of users Shopify has, the platform has developed integrations with other sales channels such as Amazon, eBay, and marketing channels like Instagram, Facebook, and Pinterest.
Cons: Not every marketplace or social media platform can be connected directly through Shopify or a Shopify app.
7. Multi-language feature
Pros: If your target audience is scattered across many locations, communicating with your customers in their native language will have a positive impact on sales and the relationship between customers & your business. The three main subscription plans allow you to sell in multiple languages.
Cons: You can sell in up to five languages under the Basic, Shopify and Advanced plans. With Shopify Plus, you can sell in up to 20 languages. Another downside of the multilingual feature is that to enable multiple versions (translations) of your shop, you'll need a paid app.
8. Reports and statistics
Pros: Shopify provides some statistics that help online store managers keep track of their transactions and revenue.
Cons: They don't offer other important data and KPIs about your business. If you want to gain a better view of your operations, you can connect your Shopify store with Outvio to better understand the efficiency of your sales, shipping, and returns process, and the success of customer communications about orders.
But Outvio does more than that: fulfillment, shipping, tracking, returns and exchanges, customer support… Sign up and discover the post-checkout platform that fuels your growth!
Wrapping up
Now that you have a complete view of all the advantages and disadvantages Shopify has, it's time to set your priorities straight and really think about what is fundamental for your online store, and what is a secondary benefit.
If you feel like Shopify could limit your growth or surpass your needs, check other options like PrestaShop or Wix. They may be exactly what you are looking for.