Inside this article
If you're a PrestaShop user, you may be interested in enhancing and improving certain aspects of your online store with PrestaShop modules. PrestaShop has many features on its own. However, having an online store requires taking care of tasks in different aspects of the business: marketing, payments, logistics, etc.
If you need new functionalities to include to your PrestaShop store, it may be time to install modules that meet those needs. The installation of modules add up to the cost of your online store. For this reason, we have compiled the best free PrestaShop modules available on the PrestaShop marketplace, PrestaShop Addons.
Depending on the area of your business that you want to improve, you can choose from the following categories:
Modules for social networks
These modules help you connect and integrate your online store with your social media accounts.
1. PrestaShop Facebook module
The PrestaShop Facebook module allows you to take full advantage of other sales and promotion channels — in this case, Facebook and Instagram. With the PrestaShop Facebook module, you'll be able to share your products on Facebook and Instagram, attract new buyers and obtain new metrics.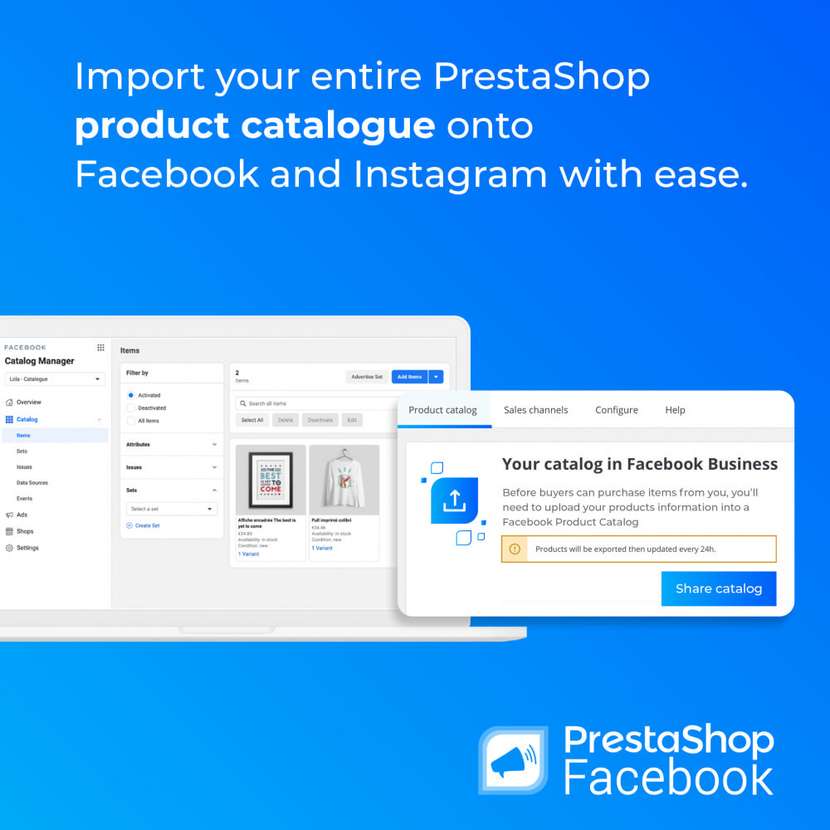 2. Social media share buttons
The Social media share buttons module allows you to include Instagram or YouTube buttons on product pages. Doing this will improve your digital strategy, since customers will be able to easily share your content, thereby increasing the visibility of your online store on these social networks.
3. Social media follow links
The Social media follow links module makes it easier for your customers to find your social media accounts and increases the feeling of community. This module works for Facebook and Twitter, and, depending on where you are, you can customize the message and brand image on each social network, according to the tone and type of users on the platform.
4. Buy Button Lite
The Buy Button Lite module improves the conversion rate of your online store. In a single click, customers will be able to reach your products by clicking on a link.
Modules for store management
The following modules ease various management tasks or improve the functionalities that are already available on your PrestaShop store by default.
5. PrestaShop Checkout built with PayPal
PrestaShop Checkout built with PayPal allows you to accept and manage all types of payments in a safe and simple way. This is an all-in-one payment solution that will centralize transactions, help you manage refunds and allow you to quickly and easily execute bank reconciliations.
Thanks to the Express Checkout option in this module, you can also add a quick checkout button on product pages or in the cart.
6. Google Analytics module
The Google Analytics module allows you to connect Google Analytics to your online store. With this module, you'll be able to determine which marketing strategy generated a sale or if, on the contrary, it was an organic sale. The information will help you improve your campaigns and reach new audiences.
7. Glotio - Translate your PrestaShop in over 50 languages
Glotio is a module that translates your PrestaShop store into more than 50 languages. This addon is specialized in PrestaShop, and it will translate many parts of your store (products, categories, attributes, characteristics, etc.) automatically without the need to export or import texts.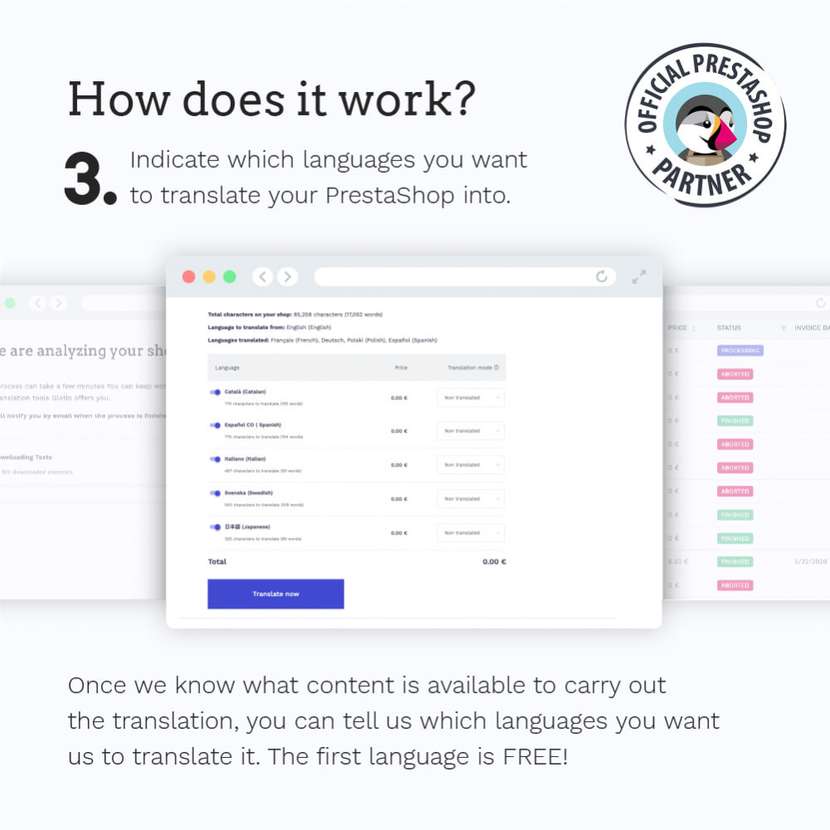 8. Ads Clever - Google Ads & Google Shopping
The AdsClever - Google Ads & Google Shopping module allows you to create, manage and optimize your Google Shopping campaigns, and it can even help you upload your products to Google Merchant Center.
Specifically, this tool helps you manage Google Shopping campaigns, search campaigns, display campaigns and remarketing and dynamic remarketing campaigns.
9. Klaviyo module
The Klaviyo module helps you grow your online business by providing important information about your customers, so that you can further personalize and improve the customer experience of your store. With Klaviyo, you'll be able to use customer data to send relevant emails, content and messages that create closer links between your store and your customers.
10. PrestaShop Metrics module
The PrestaShop Metrics module provides you with essential information to help you manage your business in a more efficient way from an intuitive dashboard. It also synchronizes your PrestaShop store with Google Analytics; cross-references sales, order, cart and traffic data; and compares your periods of activity from the last 3 months — or 14 months in the Advanced version.
11. Official GDPR Compliance module
The PrestaShop GDPR Compliance module will ensure that your online store complies with the General Data Protection Regulation (GDPR).
This module considers the main obligations of the GDPR, such as granting users access to their personal data and ensuring that they have the ability to rectify or delete that data or withdraw consent.
Modules for marketing and promotions
These modules will help you create appropriate marketing strategies for your business as well as improve existing ones.
12. Gamiphy: All-in-one loyalty, games, and referrals
The Gamiphy module helps you boost sales through loyalty, gamification and social experiences. With this module, you can design and build your own show and games to engage your audience and gain their trust.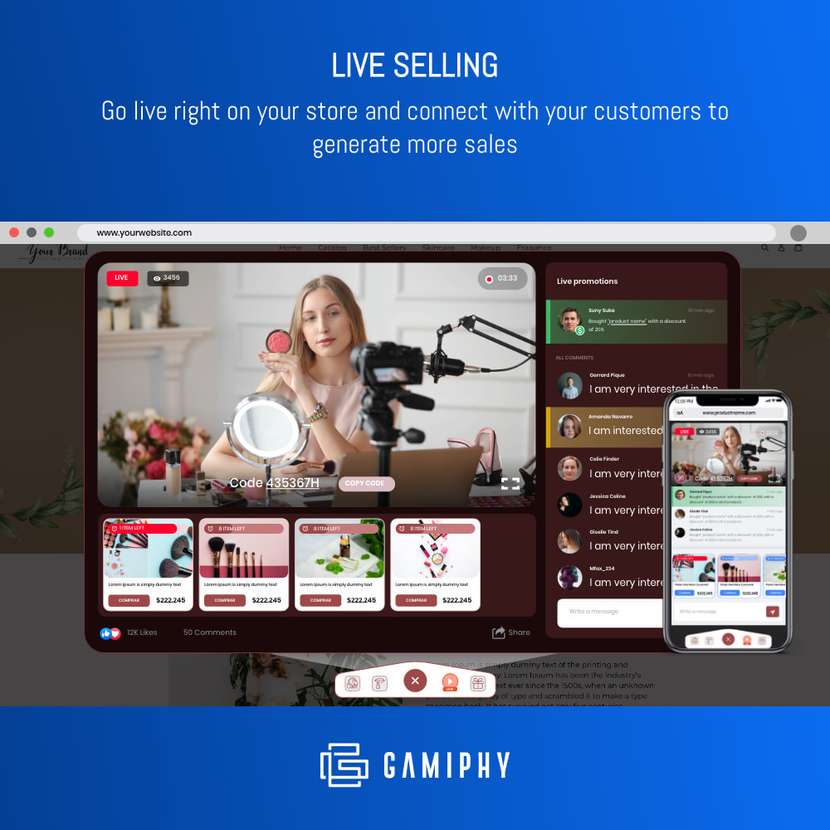 13. Mailchimp for PrestaShop module
The Mailchimp module is used to create unique email marketing campaigns and automate processes. Among other things, you can:
View detailed campaign reports to check results on engagement and ROI
Sync and segment your email lists to create targeted campaigns based on purchased products or the amount spent
Send abandoned cart emails or product recommendations, etc.
Track customers to improve your loyalty strategy thanks to pre-built automations
Design and send personalized transactional messages
14. Product Recommendations by engage
The Product Recommendations module works with artificial intelligence to increase revenue through cross-selling and up-selling.
The module's algorithm analyzes customer data and purchasing patterns to show the products that a particular visitor is most likely to buy. The tool will place, in real time, related items next to previously-purchased articles.
15. Cross-selling module
The Cross-selling module focuses exclusively on this sales strategy by offering your customers the possibility to buy items related to the product they're viewing.
Using this module will help you boost your sales thanks to better promotion of your product catalog and access to products in a single click.
Modules to manage payments
These PrestaShop modules will allow you to enable different payment methods on your online store.
16. PayPal Official
This PayPal Official module provides a safe and fast payment method that also works on mobile devices.
17. Blockonomics Bitcoin payments module
The Blockonomics Bitcoin payments module enables payments through Bitcoin in your online store. Bitcoin payments will go directly to your Bitcoin wallet, without you having to fill out additional paperwork or provide approvals.
With this module, you can also accept all HD wallets like trezor, blockchain.info, and mycelium without document approval or API keys.
18. Cash on delivery (COD) module
The Cash on delivery (COD) module allows you to enable cash payments for shipments, which can make it easier for your customers to purchase and pay for products.
This option can be a big plus for customers who don't have credit or debit cards and prefer to receive a shipment with the cash-on-delivery method.
19. Stripe Official Module (SCA Ready)
The Stripe Official module enables safe and easy payments for your customers. Just install the Stripe plugin and create a Stripe account or connect your existing account to use it.
This tool allows you to accept payment via credit and debit cards in more than 135 currencies, electronic wallets (such as Apple Pay and Google Pay) and regional payment methods, such as direct debit SEPA, iDEAL, Bancontact, P24, EPS , Giropay, FPX and Alipay.
Modules for design and navigation
These design and navigation modules will help you improve the appearance and functionality of your PrestaShop online store.
20. Brand list module
The Brand list module will display a list of brands in your shop catalog and allow customers to filter their searches based on their preference for certain brands.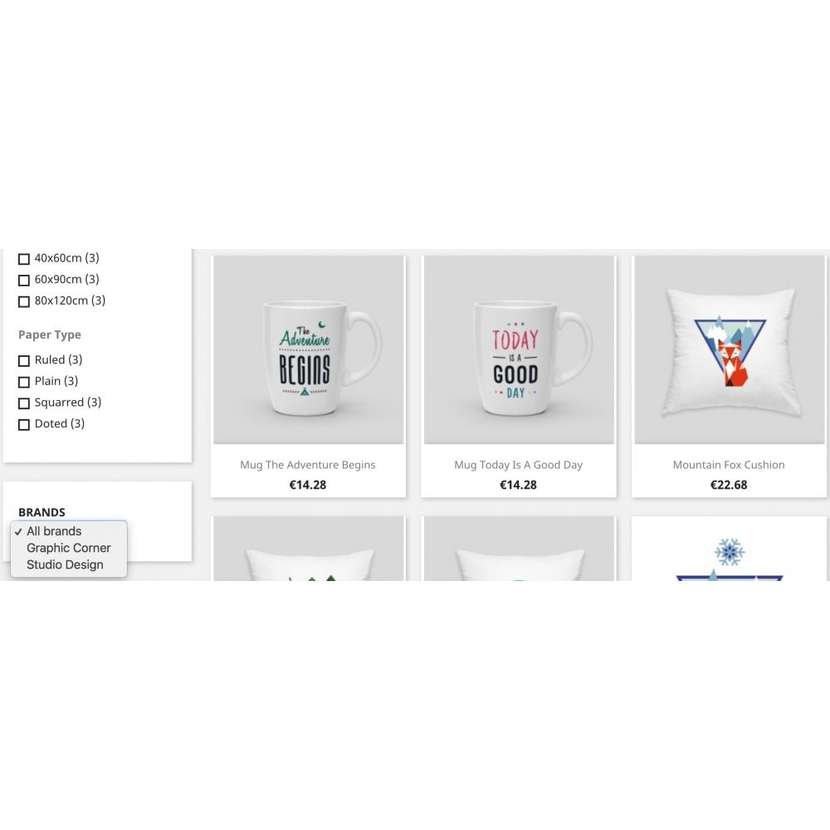 21. Specials block module
The Specials block module creates a designated block on your main page with your special offers displayed. You'll be able to easily capture the attention of your customers through the compilation of offers in one place. This is especially useful if your customers have a high price sensitivity.
Specials block also creates an additional page for customers to see all the products that are on sale.
22. Theme Customization Module
The Theme Customization module allows you to further customize the front page of your online store. You'll have access to the main modules of the front office and quick configuration features.
This tool makes it easier to navigate your store, which can increase the amount of time a user spends on the store while also improving the overall customer experience.
The module will also help you consolidate the brand image of your online store and promote your product catalog in the most optimal way, since it allows you to access modules with a single click.
23. Cart banner module
With the Cart banner module, you will be able to display information to your users through a customizable banner that appears at the top of the cart page. This banner can be adapted for mobile devices.
The banner message is fully customizable (font, text color, border color), and you can even add links, CTA buttons, images or videos and translations (​​with the "multiple languages" functionality).
Modules for product pages
These modules help you improve product pages.
24. Kickflip - Best Product Customizer
The Kickflip – Best Product Customizer module eases the process of selling customized products in your online store. With Kickflip, you'll be able to sell any type of personalized product: bicycles, clothes, shoes, furniture... even food products!
25. Zakeke – Product Customizer
The Zakeke – Product Customizer module helps your customers customize and view their products before making a purchase. Zakeke – Product Customizer works with a multitude of items: clothes, stationery products, shoes, jewelry, watches, etc.
26. Verified Reviews module
The Verified Reviews module allows you to enable reviews and ratings in AdWords.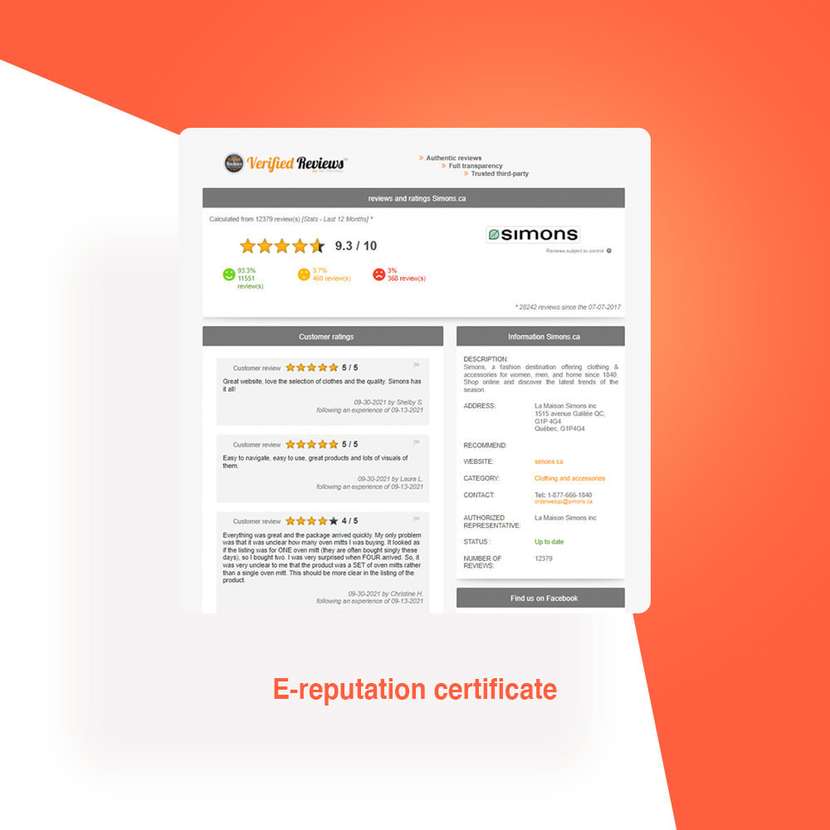 27. OHM Size Guide module
The OHM Size Guide module allows you to easily and quickly create and customize size guides for your products. This feature will help your customers choose the right size, reducing the number of exchanges and returns you need to process, and creating a more positive shopping experience overall. You can also add images and detailed product descriptions.
Modules for dropshipping stores
These modules will help you manage and configure an online store specialized in dropshipping.
28. BDroppy - The best brands for your dropshipping business
The BDroppy module allows you to import thousands of products from different brands to your store in just a few clicks and manage your entire dropshipping business. With this module, you'll be able to automatically synchronize products, prices, orders and inventory in real time.
BDroppy is a platform with which you can also set custom rules and margins based on product categories and complete additional integrations for marketplaces like Amazon or eBay.
29. Dropday Dropshipping Automation module
With the Dropday Dropshipping Automation module, you'll be able to separate the orders of your online store by product name, SKU/EAN, categories, stock, and other characteristics. Dropday will also send the orders to your suppliers by email, webshop order, XML/CSV in FTP or another method that you prefer.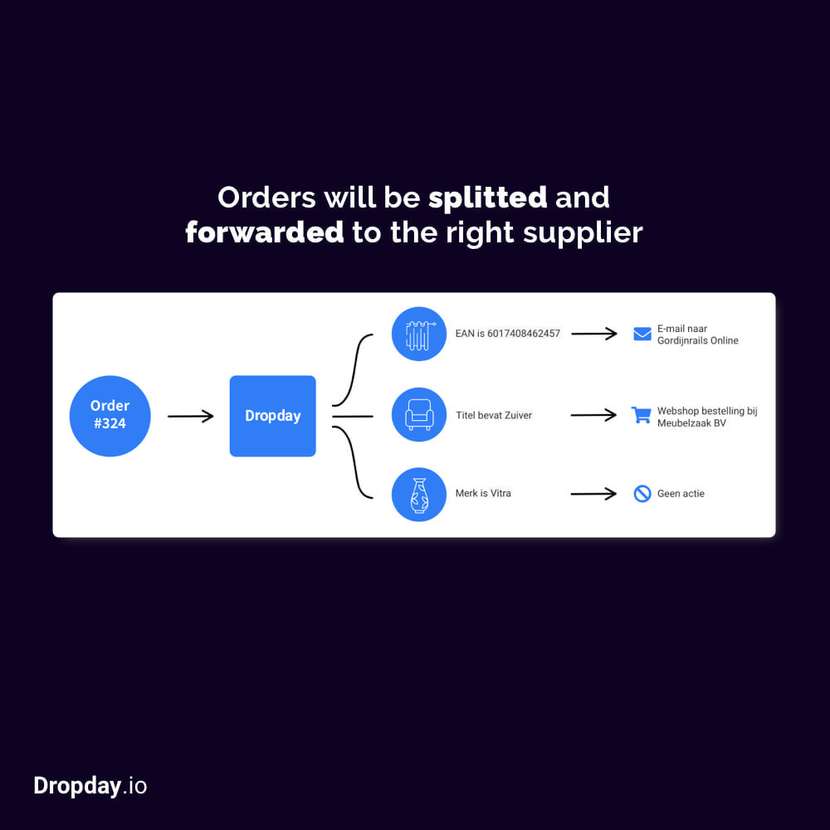 Modules to improve the customer experience
These modules will help you improve the customer experience in your online store.
30. Product Comments module
The Product Comments module enables your users to post reviews of your products or rate them based on specific criteria.
31. Official Zendesk module
The Official Zendesk module provides you with context to interact with your customers by showing you their latest orders. From Zendesk, you will be able to see order details such as the status, the date of creation, the name of the products, the quantities, etc.
32. Smartsupp free live chat
The Smartsupp free live chat module provides a live chat for websites and online stores. With this module, you'll be able to view detailed visitor information in the advanced web dashboard, chat with buyers on the go, set up automated messages, measure the quality of your customer service with detailed statistics and better understand customer behavior with visitor recording.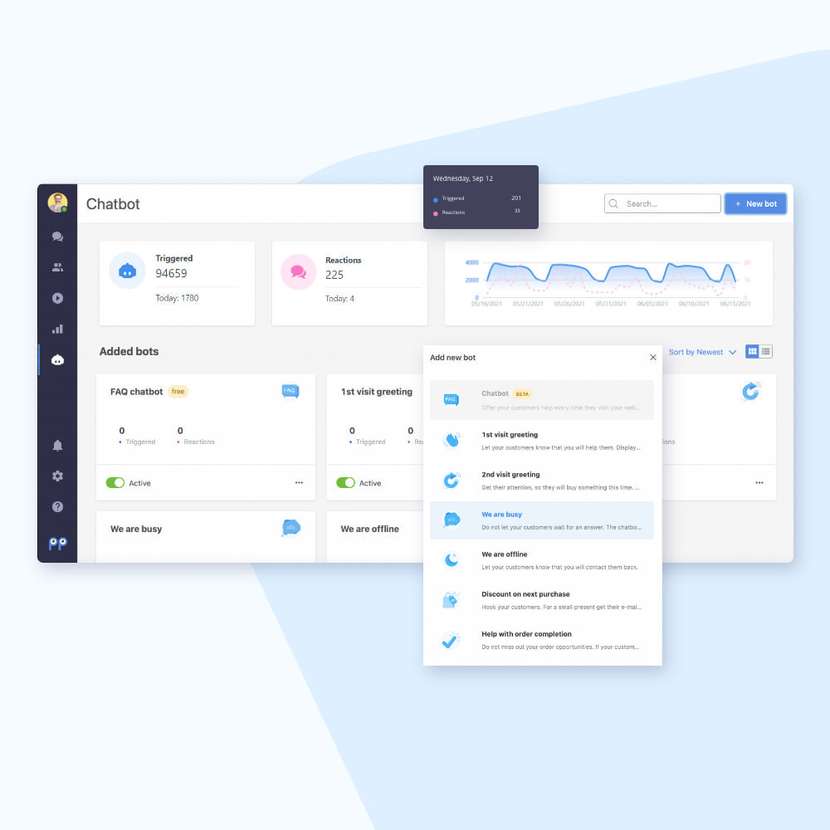 33. Trusted Shops Reviews Toolkit
The Trusted Shops Reviews Toolkit Shop module enables your customers to leave reviews of your online store, product/s, Trustmark signal, Google stars, etc. This module will boost the way visitors perceive security on your site, improve visibility in search results, allow you to choose how the review looks and provide a mobile application for managing reviews from anywhere, thanks to its partnership with Google.
BONUS: Outvio Module - Shipping, Tracking and Returns
Outvio connects your PrestaShop store with all of your couriers. At Outvio, we help you provide the best customer experience thanks to the additional marketing tools while improving shipping, tracking and return management and reducing and optimizing the resolution of shipping issues.
Higher customer satisfaction, a reduction in the workload and resources spent on customer support, and better conversion rates are some of the benefits that Outvio customers enjoy. Try it out for free for 14 days.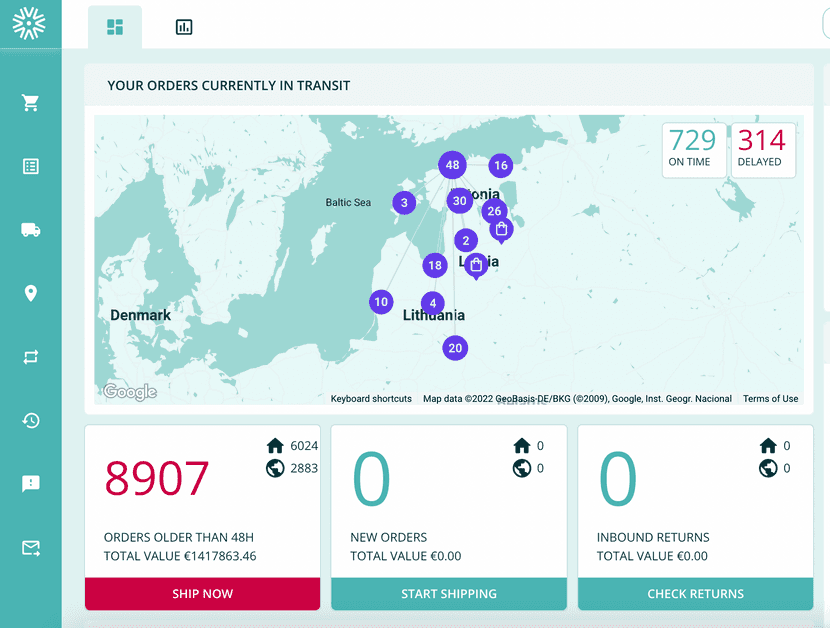 Conclusions
We hope that these PrestaShop addons will be useful for you and that they'll help you scale up your business. If you want to learn more about the features of PrestaShop and how it can help you get the most out of your online store, read our full review of the platform.