Inside this article
If you have had your online store in Adobe Commerce (Magento) for a while, you may already be missing some important features on the platform. To avoid having to develop your own Magento extension, you can purchase one (or several) of the best Magento extensions through its marketplace.
Having an online store requires taking care of different tasks: logistics, accounting, marketing, development, and maintenance of functionalities, among others.
All Adobe Commerce stores can benefit from the added functionality that extensions provide, so check out our list of the 40 best Magento extensions.
We have classified them by categories so you can find the one that interests you most; or, check out all of them. Perhaps one of them is better than the extension you are using right now.
Magento extensions for marketing
1. Instagram Integration
Instagram integration for Magento 2 helps you easily connect your Magento store with Instagram to reach more customers on this social platform.
Create visually appealing content related to your products and CTAs to increase your chances of selling more.
2. AdRoll
AdRoll is an extension to attract and convert customers. AdRoll integrates with Magento to help you create high-performing campaigns and provide you with an easy-to-use dashboard.
After its installation, it will start collecting visits to post ads and generating a product feed to ease the creation of dynamic ads.
3. SEO Suite Ultimate
SEO Suite Ultimate is an SEO extension for Magento 2 that provides you with tools for a wide range of SEO activities. Do everything from removing duplicate content and indexing web pages to optimizing URLs and metadata.
The extension also includes advanced HTML and XML sitemaps, cross-linking, SEO redirects, and advanced rich snippets functionality.
4. Social Login
The Social Login extension for Magento 2 allows customers to log in or create an account on your store with different platforms such as Facebook, Twitter, Google+, LinkedIn, Instagram, Vkontakte, Odnoklassniki, Pinterest, or PayPal.
From their first visit to your online store, customers will be able to choose from the most popular social platforms to log in with their account.
5. Blog Pro
With the Blog Pro extension, any online store will be able to publish articles related to their products or the interests of their customers. Blogs create trust and improve the SEO results of your website.
Customize the blog design with a "drag and drop" editor that includes tags, an SEO title, meta descriptions and categories.
You can also schedule future posts, moderate comments, and add social buttons so that readers can share the content on their social networks and give visibility to your online store.
6. Affiliate
The Affiliate extension for Magento 2 helps in the management of different tasks related to affiliate marketing, including organizing individual campaigns, suggesting products to promote, and paying affiliates.
7. Automatic Related Products
The Automatic Related Products extension for Magento 2 helps you to manage your "related products" category thanks to attribute rules and rule combinations.
The extension offers a set of conditions to select both product landing pages and related products, as well as the criteria that must be met to trigger them.
Various customization options are available for related product blocks: title, section layout and position, number of products and rows displayed, and product sorting criteria.
8. Poptin Smart Pop ups & Contact Forms
Poptin is a Magento extension for lead conversion through pop-ups and contact forms that appear at the right time thanks to the tracking of user behavior.
Poptin Smart Pop ups & Contact Forms helps you boost sales, reduce your abandoned cart rate, grow your subscriber list, and improve communication with customers.
9. Sooqr Search
Sooqr Search is a Magento extension that allows you to have an optimized search engine feature within your online store. Sooqr's search engine works for content and product search and is mobile-friendly.
With Sooqr Search, your customers can find exactly what they are looking for in your store, generating more sales and higher conversion rates.
10. Metrilo
Metrilo is an extension for marketing optimization, customer management and retention, and automation of various tasks like collecting feedback and sending emails.
The extension processes sales and marketing data to create reports and metrics in real-time to help you monitor how your store is going.
11. Follow Up Email
The Follow Up Email extension allows you to create automated, personalized, and complex email marketing campaigns based on specific conditions.
Boost sales by recovering abandoned carts, welcoming new customers or greeting returning ones, sending birthday wishes, asking for feedback, or showing related products.
The extension will adapt the emails according to the behavior the customer had in your online store.
12. Nosto
Nosto is an extension to create, launch, and optimize 1:1 omnichannel marketing campaigns and digital experiences without the need to invest large resources or a long implementation process.
Magento extensions: Payments, accounting, and security
13. Stripe Payments
Stripe Payments is an extension for Magento for receiving payments from debit and credit cards in more than 135 currencies. It also accepts payments from Apple Pay, Google Pay, and other methods such as Klarna, Alipay, ACH, and SEPA Direct Debit.
Fraud protection helps detect and block fraudulent activities automatically, but if you prefer, you can also use its smart features to reduce the number of rejected payments.
14. OneStepCheckout
OneStepCheckout is one of the most popular extensions for Magento. It aims to reduce cart abandonment by removing friction at checkout.
Improving the checkout process for your customers will have a positive effect on sales, repurchase rate, and the overall success of your online store.
15. Fraud Prevention
Fraud Prevention is an extension for Magento that allows you to control chargebacks, conduct manual reviews, and accept more orders without creating friction in the checkout process.
16. Braintree Payments
Braintree allows you to accept and process different payment methods such as credit and debit cards, local payment methods, Apple Pay or Google Pay, and reach customers in more than 200 markets using over 100 different currencies.
17. Google Invisible reCaptcha
Use the Google Invisible reCaptcha extension to protect your online store against bots and spam without harming the user experience.
18. Two-Factor Authentication
With the Two-Factor Authentication extension, online stores can enjoy double protection. In addition to using a password to access the platform, users must enter an additional code, generated with the help of the Google Authenticator application.
You will be able to create a list of IP addresses that you trust and configure each role individually.
19. TaxJar
TaxJar is a Magento extension that specializes in sales tax management.
This tool helps with automating the declaration and presentation of taxes. This can be really useful for companies with a large sales volume or stores that sell their products in markets with other tax systems.
Magento extensions for statistics
20. Google Tag Manager
Google Tag Manager is an extension for quickly and easily updating tags and code snippets for marketing optimization and increased traffic.
Google Tag Manager can also work with Facebook Pixel to track visitors, log their behavior on your online store, and send reports to Google Analytics to obtain information on purchase and payment behavior, product performance, and sales performance.
Have your ads shown to the right people, build targeted audiences, and enjoy additional Facebook advertising tools.
21. Advanced Reports
The Advanced Reports extension provides a series of reports on the sales and operations of your store including sales summaries, product performance, detailed sales information, number of abandoned carts, traffic and conversions, and more.
22. Facebook Pixel
Facebook Pixel helps you track visitors, events, and the effectiveness of your Facebook ads. You will need to have a Facebook Pixel ID in order to use this Magento extension.
Customer support extensions
23. Facebook Chat
With Facebook Chat, you can use Facebook Messenger to communicate easily and quickly with your customers.
Your customers can use their Facebook account to solve their queries or pass on their claims about the service provided.
24. Zoho CRM
Zoho CRM is a Magento integration that helps you save customer data and segment customers. This facilitates improved sales and marketing outcomes.
Magenest's integration connects Zoho CRM and your Magento 2 store so you can better manage your business, nurture customer relationships more effectively, identify cross-selling and upselling opportunities, and more.
25. Yotpo Reviews
With the Yotpo Reviews extension, you can take advantage of customer reviews to increase potential customers' trust in your brand and get more sales.
The information gathered can help you make better business decisions based on customer feedback.
26. Delivery Date
The Delivery Date extension makes it easy for shipments to be delivered on time and without incident.
Installing this extension means that customers can choose the delivery date. You can also let customers know how much time they can expect for order processing, and what the next available delivery date is.
Customers also have the ability to leave comments about their order.
27. LiveChat
LiveChat is an extension for live communication with customers. You'll be able to enable LiveChat on multiple pages of your online store —including the checkout page— and see what's in a customer's cart when they have a question.
Solve their issues and guide them through the purchase process in a simple and fast way that makes a positive impact on their shopping experience.
Magento extensions for online store management, optimization, and improvements
28. Layered Navigation
Layered Navigation extension optimizes the shopping experience for customers by allowing them to find products more easily. Consequently, your sales should increase and your conversion rate is likely to improve.
Customers can use the navigation menu on the side to filter by category, color, size, material, price, style, brands, climate, and other custom attributes that were previously configured in the backend. These filters can be combined thanks to its multi-filter functionality.
This extension enables quick searches, auto-scroll up, and SEO-optimized URLs.
29. Magento 2 Google One Tap Login
The Google One Tap Login extension allows customers to log in through their Google account in one step.
Thanks to the reduction of time and steps for registration or login, the number of registered customers is bound to increase. Better user experience and lower bounce rate are some of the benefits of installing this extension on your Magento online store.
30. AMP
The AMP extension for Magento 2 speeds up the loading of mobile pages without the need to integrate your online store with third parties.
AMP significantly improves your online store's visibility in search engines, increases web traffic and conversion rate, and reduces bounce rate.
31. Data Feed Watch
Data Feed Watch enables Magento store owners to optimize their product data feeds for Google Shopping, Instagram, Facebook, Amazon, Bing, and other sales channels.
This extension makes creating feeds in the correct format and optimizing them a fast, easy, and automated process compared to creating a feed for each sales channel individually.
You can also add relevant information, add custom labels, combine fields, assign the exact category (sub-sub-), exclude products, and more.
32. Advanced Subscription Products
This extension is helpful for configuring subscription plans for different products.
Buyers can purchase the product just once (if you enable it) or select a recurring subscription plan.
With the "mixed cart" function, you will be able to combine subscription purchase products and one-time purchase products within the same cart.
33. Trustpilot Reviews
Trustpilot Reviews is an extension for setting up and posting reviews. You can invite customers to leave a review and organize them with the "TrustBox" tool, dragging and dropping reviews and ratings widgets in key places on your website. This can lead to better conversion rates.
34. Full Page Cache Warmer
Full Page Cache Warmer helps you improve your online store by further speeding up loading times. This is possible by automating the cache heating process, which is invisible to buyers.
As a result, you'll enhance customers' shopping experience.
35. Rich Snippets Suite
The Rich Snippet Suite extension makes it easy to classify and describe products and other aspects of your online store. It makes it so that your store and product information is well structured and can be easily crawled by Google and other search engines.
The Rich Snippet Suite extension includes the option to remove or disable default Luma/Magento snippets to provide a full working code snippet on your pages.
36. Advanced Search
With the Advanced Search extension, you can customize every step of the search process and help customers find products. Suggest recent and popular searches and allow them to add products to the cart directly from the suggestion window.
This extension redirects customers from broken URLs to the search result and, if there is only one product to display, to the product page of the available item.
Using the Advanced Search extension for Magento 2, you can maximize profits and analyze recent visitor activity and data (i.e. total searches, unique searches, and number of users or their engagement).
37. Product Videos
The Product Videos extension allows you to include YouTube or Vimeo videos on your product pages.
You can choose to include reviews, tutorials, or videos showing the product in action, and customize the display style, thumbnail, and more.
38. Custom Stock Status
Custom Stock Status is an extension for Magento to inform customers of how many products are available at the time they are shopping.
Products can be assigned a status manually or automatically, and customers can be alerted when a product is back in stock.
Create an unlimited number of custom stock statuses, specify the quantity for each case: low stock (between 5 and 10 products) or high stock for over 100 units, for example. If you know when the items will be available again, you can even set the stock status to 'Soon'.
39. Mobile App Builder
Mobile App Builder is an extension for creating a synchronized mobile app for your Magento store that is compatible with iOS and Android.
Set up the design and features of your application in the Magento backend and use it to attract new customers and build customer loyalty.
40. Outvio
Outvio is a tool for online stores interested in offering the best shopping experience to their customers.
This extension provides optimization and automation of dozens of processes related to the post-sale funnel: order processing, picking and packing, shipping and tracking, incident management, and the automated processing of returns.
Outvio also provides marketing tools to personalize everything that comes into contact with buyers. Your branding will be present wherever you want, including the tracking portal, returns page, and emails.
Build customer loyalty and show them how important they are to you.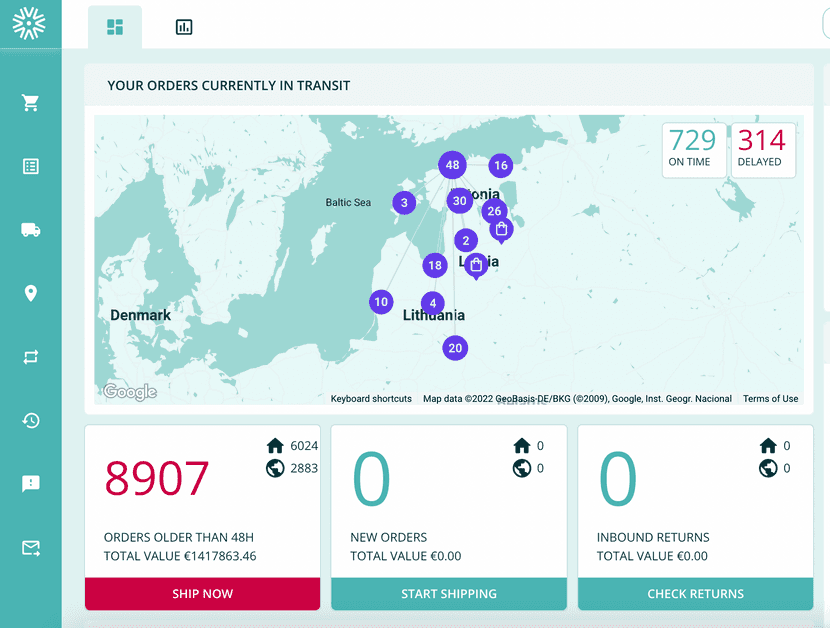 We hope this Magento Extensions list helps you choose from all the options available in Magento's marketplace. Installing extensions on your Magento store will save you money and time compared to the development of custom solutions.
To learn more about Magento and get the most out of your online store, you can check out our full review of this platform.