Inside this article
Are you thinking of selling with PrestaShop? Read this PrestaShop review with all the advantages and disadvantages of the platform, as well as some frequently asked questions.
What is PrestaShop?
PrestaShop is a platform specialized in the creation and management of online shops. This platform fuels over 215,000 stores in Europe (2021). In 2019, online shops created with PrestaShop technology generated more than €17 million in sales. It's estimated that a new shop is opened with this software every four minutes.
In this article, we will cover many of the topics that eCommerce businesses think about when choosing a platform for their online shop. For example, what are the advantages and disadvantages of using PrestaShop, how do the payments and shipping work in PrestaShop, and how can you open a shop using this platform. To solve these questions and make the best decision for your business, read the article, and learn all you need to know about PrestaShop.
What are the advantages of selling through PrestaShop?
Some of the advantages of using PrestaShop to build your online shop include:
Open source
This will allow you to create an online shop that is fully customizable, aesthetically wise (font, colors, content type, layout, etc.) as well as functionality wise (back-office and front-end). However, to achieve this you'll need help from the experts in PrestaShop.
Free software
This doesn't mean that creating an online shop with PrestaShop is free, but you won't pay for the software. This is different in other platforms like Magento's professional version, Adobe Commerce.
PrestaShop addons
PrestaShop addons reduce the time needed to create custom solutions for your online shop. This will save you time on developing new features and functionalities.
Multi-language, multi-currency, and multi-store
These features favor the internationalization of your project.
What are the disadvantages of PrestaShop?
On the other hand, PrestaShop also has some disadvantages. These are the main downsides of PrestaShop:
Difficulty
The learning curve on this platform is quite steep.
Few free options
When it comes to themes, functionalities, and other addons. This means that, in addition to the costs related to the creation and maintenance of the online shop, you need to consider the additional costs for the installation of addons.
These addons can also slow down the online shop when you use too many, and cause compatibility problems in the long run.
More responsabilities for the seller
The security of your business and customers data depends on you, as well as the updates, the domain, the server, and the development and implementation of changes. These tasks will consume time and variable costs. On the contrary, platforms like Shopify charge a fixed rate and take care of these tasks for you.
PrestaShop pricing
Downloading PrestaShop is free.
Nevertheless, it's important to consider the additional costs that come with an eCommerce business on PrestaShop: addons (themes, templates, modules, functionalities, etc.), server, hosting, and staff in charge of creating, maintaining, and modifying aspects of your online shop, among other things.
What's the sales fee on PrestaShop?
PrestaShop does not charge users with sales fees or any other type of fee.
Can you migrate your online shop from PrestaShop to another CMS?
Yes, although you will need help from an expert or the use of a migration extension.
PrestaShop review: PrestaShop is for you if…
The user experience is a key pillar for your online shop.
You value high web configurability: implementation of new functionalities, design, etc.
You are willing to hire developers for creating and modifying your online shop, making updates, dealing with security risks
If you don't mind dealing with changes in the traffic and, therefore, changes in the server you need
Magento seems like an expensive and complex solution, and you prefer an easier platform like PrestaShop or WooCommerce.
The scalability of your business is an important factor in the platform you want to use. Your online shop on PrestaShop can be changed to include new functionalities, the software won't limit your actions.
How to create and open an online shop on PrestaShop
Creating an online shop on PrestaShop is an intuitive process. To do it, go to PrestaShop official page and download the software. Then, follow the steps stated on PrestaShop's website. A name and logo for your store must be prepared in advance.
Creating an online shop on PrestaShop is easy. However, you may need help to configure and personalize the shop.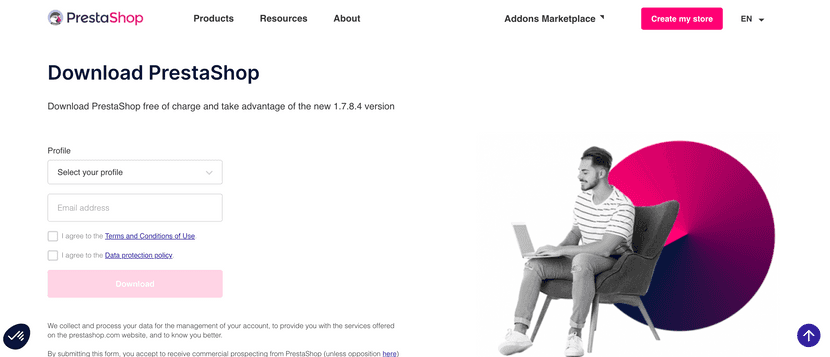 How does the shipping work in PrestaShop?
On PrestaShop, you can set up shipping methods such as express deliveries or special pickups, shipping zones and couriers (DPD, DHL, UPS, MRW...). You can also determine the price of the shipping methods. 
Within the tax settings, you can determine shipping costs and wrapping fees. You can also check out how the shipping methods are working thanks to the marketing tools.
Apart from this, PrestaShop doesn't include specific nor complete functionalities for order fulfilment. Checking the status of orders, doing the tracking, or dealing with returns means time and resources. That's why we recommend using a tool to make the management of these tasks more efficient.
Payment methods supported by PrestaShop
On PrestaShop, more than 50 payment solutions can be configured. This is possible thanks to an addon like PrestaShop Checkout, available in PrestaShop's Addons store. This payment gateway can be set up in less than 10 minutes, solving all matters related to payment methods.
PrestaShop Checkout improves the conversion rate of your online shop since it reduces the number of clicks and re-directs. PrestaShop Checkout is created with PayPal technology which translates into safer payments for all parties involved. This gateway puts an end to unauthorized payments and fraudulent chargebacks.
PrestaShop Checkout allows payments in 20 currencies and over 190 countries. The most common payment methods are credit and debit cards, PayPal, cash on delivery, and regional payment methods.
The Express Checkout lessens friction in checkout thanks to the "in-one-click" purchase, improving conversion rates.
PrestaShop integration with other sales channels
PrestaShop, by default, lacks the tools to attract customers to other sales channels and integrate them with your online shop on PrestaShop. For this, you will also need an addon.
You can download an addon from "Traffic and Marketplaces" like Amazon Marketplace, Google Merchant Center/ Google Shopping, eBay 2.0 Marketplace, PrestaShop Facebook, or Wish's integration to start selling on social media and marketplaces.
Marketing and branding in PrestaShop
PrestaShop is a complete tool that includes some marketing tools. On this occasion, this feature is built-in, and you won't need to install any addon.
Moreover, PrestaShop allows for SEO optimization for the products, pages, and general online shop. Creating email campaigns with your customers' email addresses and banners is also possible with this platform.
Reports and statistics in PrestaShop
PrestaShop on its own doesn't offer complex and valuable metrics for businesses. To have them, the PrestaShop Metrics addon can be installed to connect the data from your PrestaShop with your Google Analytics account.
This addon is available for free and via subscription, for those online shops that need further data. Below you can find a comparative chart with the functionalities and price of both.
| Features | Basic (free) | Advanced (€29.99) |
| --- | --- | --- |
| Synchronization with Google Analytics | Yes | Yes |
| Overview tab with essential KPIs and charts | Yes | Yes |
| Tips cards with recommendations | Yes | Yes |
| Access additional tabs: Business, Acquisition, Customer Knowledge | No | Yes |
| Possibility to set the granularity | No | Yes |
| Real-time data | No | Yes |
| Access to data history | 3 months | 14 months |
| Customized reporting and exporting | No | Soon |
PrestaShop FAQ
Requirements to install PrestaShop
PrestaShop needs to be installed locally and online. Making sure that your system is capable and compatible with PrestaShop is key for the use of the platform. Check the operating system, Apache + PHP + MySQL, Apache 2.2+ or Nginx, PHP 7.1+, MySQL 5.6+...
For the installation online, Apache 2.2+ or Nginx are recommended in addition to PHP 7.1+, MySQL 5.6+ and FTP access.
PrestaShop and dropshipping, or sales without stock
To use your online shop on PrestaShop for a dropshipping business, one of their Dropshipping addons can be useful.
How are prices changed on PrestaShop?
To change the prices on PrestaShop, the products must be exported to a .csv file, then the prices must be changed, and lastly, import this .csv file back to the online shop.
How can you set up a PrestaShop page as a catalogue?
The catalogue mode of PrestaShop can be useful for tailored or custom-made products or services with a variable cost; for days when you're making website changes, or maintenance, or if you simply want to use PrestaShop as a product catalogue.
To set up the catalogue mode on PrestaShop, go to products (in the dashboard) and enable catalogue mode. The shopping cart, the "add to cart", and product prices will disappear.
This functionality can also come in handy if you prefer to deal with orders individually. This will be possible to some extent depending on the nature of the items you sell through your eCommerce.
How can you modify a template on PrestaShop?
The templates provided by PrestaShop are made up by modules. If you want to change the look of the template, simply go to the specific module you want to change on the side menu. Search Installed modules and scroll to theme modules.
You can also download a specific addon to personalize modules.
Where does PrestaShop save the products?
The products published on your online shop are a combination of multiple features (variable attributes, category, images, accessories, etc). You can find everything related to your products in ps_product.
Where does PrestaShop save the images?
Images are kept in PrestaShop inside the folder /img/p/. You can trace every single one thanks to their id. The original image will be labeled with id.jpg, the rest are automatically generated by PrestaShop.
Where does PrestaShop save the translations?
Translations are saved in the database, specifically under ps_translations.
How can you change the language in PrestaShop?
Go to the dashboard on PrestaShop (back-office) and click on International – Localization on the side menu.
Once installed, you will be able to set up the language for any country you wish and change it on your profile.
How can you import products to PrestaShop?
To do a mass import of all your products to your shop on PrestaShop, you can create a .csv document. Download the standard template and modify it with Excel. After that, import the file to your PrestaShop shop.
Conclusions
After reading all the advantages and disadvantages of PrestaShop, you may think that it isn't the perfect eCommerce platform for your business. In that case, you can read our reviews on other platforms like Shopify or Magento. Perhaps these are closer to what you are looking for.
Connect your PrestaShop online store to Outvio. Sign up and start using our post-checkout platform in less than 10 minutes to process orders, ship, track and return parcels, while providing marketing and customer support tools to personalize and improve customer communications.