Inside this article
Adequate management of eCommerce logistics (e-logistics) will help you maximise the results and profits of your online shop.
In this article, we analyse which parts of eCommerce are related to logistics and how to optimise them.
What is eCommerce logistics?
Logistics in eCommerce involves all the necessary steps to make sure that the products arrive at their destination without damage or delay. This means that eCommerce logistics solutions are a fundamental part of every online shop, being it impossible to be put aside. 
Advantages of adequate logistics management for eCommerce
Logistic costs are reduced
A third of the costs that eCommerce businesses must face are linked to logistics. It is only logical to assume that a lower workload will imply a considerable reduction in costs. To reduce these costs, you can work with eCommerce logistics providers and implement the tips we give you in this article.
More conversion at checkout
The latest studies indicate that 7/10 customers leave the checkout once their payment information needs to be entered. If we analyse the reasons Baymard Institute gathered, we find out that the most important factor for buyers is high shipping rates. Optimising the shipping process will allow you to cater to your customers' needs at checkout, boosting sales.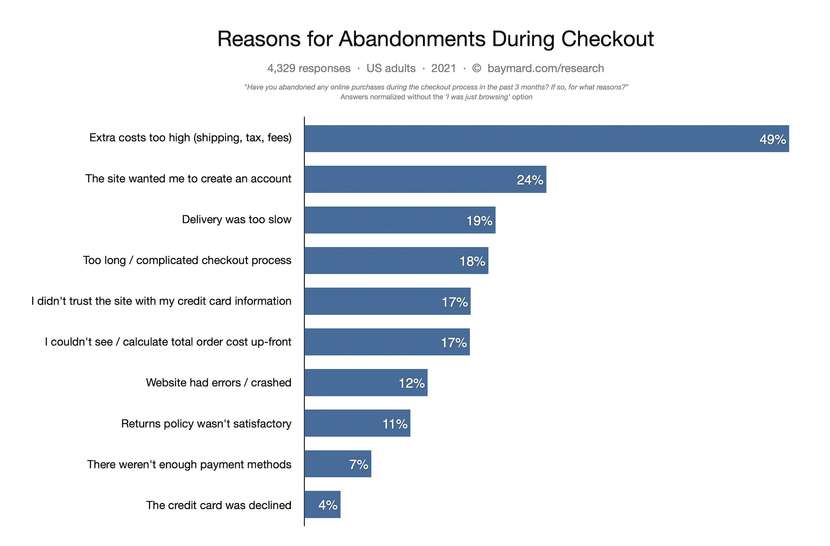 More customer satisfaction
Efficient logistics solutions in eCommerce will allow offering better services and products at a lower cost. Thanks, for instance, to the reduction and better management of incidents. Delivery times can also be improved, directly impacting customers view of your online shop.
8 components of eCommerce logistics and tips to optimize them
1. Warehouse
The driving force behind any eCommerce is its warehouse. Many of the products' processes: receiving products, storing or packing them, among others, take place there. It is vital that your warehouse is in order. This way, the staff will be able to reach and find every product easily. For this you can:
Integrate all processes in the supply chain
Plan restock and pick-up routes with precision
Optimise the use of space (horizontal and vertical) 
Design a compact and dynamic warehouse system
Implement methods to detect and prevent problems in infrastructure and machinery
Start using a scanning system that allows you to sort, monitor, and classify inventory
2. Receiving the products
Your response time to new orders will be defined by the frequency in which you receive the products, among other things. For the management of more orders, your supplier must also be committed. Synchronising your internal workflows and creating a provisions plan becomes fundamental. You must also carry out the following processes:
Label the goods as they arrive
Carry out quality-control tests of the products and their packaging
Check that the goods match the ordered items
3. Stock
Any eCommerce should have permanent control of the stock since the preparation and shipping process never ends. If you want to be in control of the stock, you will need to keep track of every item that enters and leaves the warehouse. This can be done by hiring eCommerce logistics services or by implementing a ecommerce logistics software system.
It is also important to consider the products you sell, since location and delivery time can vary depending on demand or seasonality. These tips can help you keep track of your stock:
Get rid of obsolete items
Reduce times with machinery
Reduce lost spaces
Plan and monitor every count
Strategically place the items taking into account the departure order
4. Picking and packing
Any eCommerce logistic process includes picking up products, restocking and preparing an order for its dispatch, in other words, packing. Picking and packing are intimately related to costs and response times. In fact, the time needed to do manual picking can be up to 60%, as shared by Kardex Remstar in this article about logistic costs.
If you want to optimise your picking and packing, we suggest:
Using self-assembly packaging, filming machines and filling
Implementing picking strategies depending on the size of your warehouse and the level of urgency of every shipment
Having a good system to identify goods to ease the process of finding items in the warehouse
As an additional tool, you can use Outvio's tools to categorise products, automatically print labels and lists 
5. Shipping
Shipments are the most delicate step of logistics in eCommerce by far. Most likely, you rely on another company to send the parcels. The final goal of this phase is to synchronise the preparation of the package with the arrival of the courier.
For this you will need to control warehouse times, organise picking and packing lists, print shipping labels, commercial invoices, customs documents, weigh and measure the parcels, keep your customers informed of the status and location of the shipments, and manage any incident that may have occurred.
The following tasks can help you with the shipping process:
Having an adequate system for labelling and specific areas for the arrival of products
Using a digital system to keep the staff informed of courier arrivals at all times
Choosing the best courier for every shipment
6. Tracking
The tracking information is one of the aspects more demanded by customers when it comes to purchasing in an online shop since it allows them to know where it is and the status of the order.
Normally, when an order is processed, the courier will provide a tracking number or code. By going to the courier's portal and introducing the code, you and your customer will be able to check the status and location of the parcel.
However, there is a problem with this system. The tracking has to be done from the couriers' webpage, and not yours. This is a problem for two reasons:
It can be a dreadful experience for the buyers, especially if they have more than one order.
All the traffic generated with your resources will end up on their website. This can affect brand trust and hold you back from growing overall.
Your task is to provide your customers with access to this tool and to integrate this portal into your website. This is especially important if you are trying to optimise your eCommerce for higher volumes of sales and shipments. You should also consider the open rate for the emails that include this portal. Spoiler: it's high. Take advantage of the tool and include branding elements and special offers to directly increase the conversions.
7. Return management
eCommerce returns are one of the tasks that more time and potential customers may steal from an online shop. In fact, returns are one of the key points customers pay attention to before making any purchase and this will continue in the coming years.
Having a satisfactory return policy will not only mean a great competitive advantage for you, but it will also be necessary on a reputational level as well as for minimising logistic costs.
To achieve this reduction in costs, you will need to optimise the following elements with eCommerce logistics software:
Create a place in your warehouse dedicated to the management of returns
Implement a return system in a single interface to minimise the time needed 
Make sure the packaging protects the products during transportation
Include a return portal in your website to enable your customers to make their returns
8. Customer support
In the last years customer support has gained importance as an essential part in any business. Quick customer support service can reduce the number of returns and negative reviews, while it can be part of the marketing strategy and promote sales.
The key elements for optimising customer service are:
Listen to your customers. If you provide additional channels for support, remember to check all of them and listen to your customers' problems. Partnering with eCommerce logistic professionals will elevate the quality of this service.
Accompany the buyer throughout all the steps. Doubts and problems can appear at any time, even when the purchase has already been done. In fact, the post-sales stage is when these questions seem to be more important. Satisfied customers can bring enormous benefits if you manage to retain them.
Gather useful information. All channels can provide useful information to improve your products, marketing strategies, and other eCommerce processes. If you invest resources to understand the problems and claims of your customers and solve them, quite possibly you will see how the return rate drops and the transportation costs improve.
Propel your online shop with a eCommerce logistics software
At this point, you will have probably noticed that the main obstacle in the logistics for eCommerce is the interaction and connection of the different tasks that exist within the logistics department. ECommerce logistics services make optimising every task individually relatively easy when you are just starting out.
However, integrating all your sales channels and couriers into a single platform takes more effort. To do so, you'll need eCommerce logistics software that allows you to manage all the post-checkout operations from a single interface.
Conclusion
Now that you know what logistics means in eCommerce and how you can optimise it, make sure to start using the right eCommerce logistics software as a solution for your online store fulfilment issues.
Implement our tips and work with the right logistics providers to manage the processing of online orders like a pro.