Inside this article
Reverse logistics plays a great role for retailers and the returns they face. In fact, only a good reverse supply chain and an optimized return process can guarantee the longevity of an eCommerce business.
Do you want to step up your game and master your logistics? Keep reading to find out how.
What is reverse logistics?
To better comprehend why reverse logistics is important, we need to understand how it affects processes in the supply chain. In essence, reverse logistics refer to the alteration of the logical and typical flow of shipments in the opposite direction. Reverse logistics deal with the management of waste, by-products, and returned items.
Returns is likely the most important aspect of reverse logistics when we talk about online shops.
According to European laws, any eCommerce business selling within the European Union must enable a minimum of a 14-day period for returns and exchanges.
At this point, we are sure you have your return policy all figured out, but if you want to take your logistics to the next level and start making a profit from your returns, you need to automate and optimize your reverse logistics as much as possible.
Examples of reverse logistics
Reverse logistics can come into play after the sale. The process of reverse logistics can be triggered by a defect during the production stage, day-to-day wear and tear or the dissatisfaction of a customer.
These are some examples of reverse logistics:
Exchanges and returns
Should a customer find a defect or any other reason to return a product (wrong size, wrong item, etc.), the item needs to be shipped back and then analyzed to establish if it's eligible for re-selling or if it should be recycled or disposed of.
Remanufactured and refurbished goods
If the item can be repaired and resold, it makes sense to set up systems and processes to do so at the lowest possible cost. For some stores, like Patagonia, implementing a repair program is a sign of trust in the quality of their products and a commitment to their customers. This strategy transforms reverse logistics into more than simply an extra cost; it makes it a competitive advantage.
Failed deliveries
In this case, there's likely nothing wrong with the product or the customer's satisfaction level. When there's a failed attempt to deliver the products, the order is usually shipped back to the warehouse or the store.
This is considered to be part of reverse logistics since the order will experience an unusual flow, from point B to point A. These products can be resold, and the online store will need to refund the customer, if necessary.
Differences between reverse logistics and traditional logistics
Reverse logistics is a process that involves the return from point B to point A. However, in traditional logistics, the process is different.
A traditional logistics flow starts with the production of the items. Then, depending on the distribution strategy, the items will be sent to a distribution center or directly to the buyer, after they made a purchase online.
Reverse logistics starts after the delivery of the products. Reverse logistics start when the customer has a problem with the product — whether it needs to be repaired, exchanged or returned.
Benefits of reverse logistics
Setting up a reverse logistic system means:
Less environmental impact. Reusing materials or reselling products that could have ended up being discarded means a more sustainable business, a practice that is becoming more and more valued by customers.
Better brand perception and customer satisfaction. Enabling sustainable returns at a fair cost or no cost at all for customers while maximizing the product life or material usage will have a positive impact on customer satisfaction and how they see your brand.
A way to reuse and find value in potentially discarded materials thanks to the recovery of materials, packaging, or products and its reintroduction in the supply chain.
Lower costs and higher profit margins.
Reverse logistics is becoming more relevant throughout the business world because of the impact it has on the environment, brand perception, and business costs.
If your online shop is ready to implement some changes to optimize its reverse logistics, put these tips in practice and take your business to the next level! If you want to learn more about eCommerce logistics, take a look at our dedicated article about it.
Challenges of reverse logistics
It's important to understand that reverse logistics also have some downsides and can present some challenges for businesses.
To implement an effective reverse logistics system, you'll need to create a more complex operational system. For example, as a business, you'll have to set up a certain area to analyze and process returns as well as procedures to minimize errors and speed up the process as much as possible. Remember that the speed at which you can handle return logistics will determine when the customer receives a new item or the refund.
Reverse logistics, if done inefficiently, can mean higher costs for your business. Many aspects of the process, such as the reverse shipment from a home address or requesting a pick-up at a parcel locker, tend to be more expensive than those required when you're shipping orders from your warehouse.
It's important to consider to what extent your returns logistics and processes are profitable for you. That way, you can evaluate whether you'll take on the return costs, share them with your customers or pass them on to your customers, at least in some cases, such as with international orders or more complicated products (like furniture).
7 Tips to optimize returns logistics
1. Pick the best courier
This is the first step to not only optimize, but simply reduce returns as much as possible.
While it is more than normal to receive returns, when it happens because of a shipping issue such as delays, broken items, etc., something in the chain is failing.
Could it be that the shipping company isn't professional enough and is causing shipping issues?
Take a look at your statistics and analyze which shipping methods and companies tend to be more inefficient. Also be sure to check if there's any correlation with other factors, such as international and domestic shipments.
2. Choose the best packaging
We all know by now the importance of packaging for online businesses. It represents your brand and is the first physical interaction your customer has with your business.
However, sometimes we seem to forget the number one purpose of packaging: to protect the items during transportation and the supply chain. This varies depending on the different types of logistics systems.
Regardless of the courier you choose, if you still receive complaints because of broken items and damaged parcels, maybe the unboxing experience can be improved.
As an additional consideration, choose packaging that can be easily re-used for the return. This will ease the process for the buyer and can be implemented as part of your sustainability commitments.
3. Find out why products are returned
As we mentioned before, the first step to optimizing reverse logistics is by reducing unnecessary returns. For this, we recommend finding out why products are being returned in the first place.
If couriers and packaging aren't the problem, then investigate further:
Did you unintentionally set unrealistic expectations about your products?
Do you talk about the finish and materials of your products on the product page?
Do you provide high-quality pictures?
Are your size guides correct?
Do your products pass strict quality controls?
4. Eco-friendly reverse logistics
The close relation between reverse logistics and sustainability means that reverse logistics can be used as part of your sustainability strategies, while also bringing value to your business and customers.
Promote these changes and implement activities such as:
Recovering products that are in good condition and able to be resold
Transforming damaged items into new products or reused materials
Engaging in the responsible disposal or recycling of "waste" products
These will reduce production and provision costs for your online shop, making it more sustainable and more attractive for investors and customers.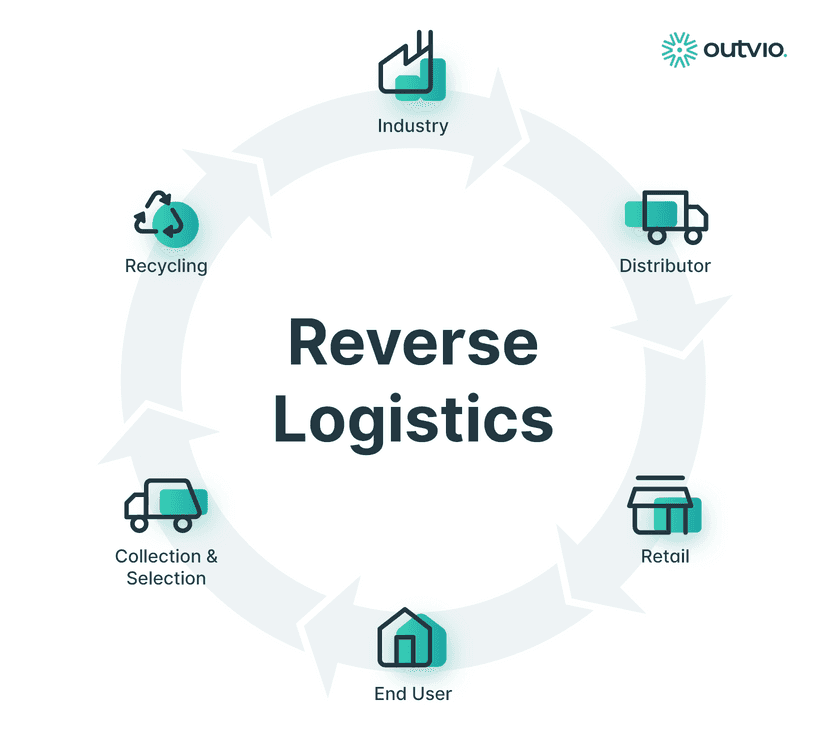 5. Build a self-service returns portal for your customers
The best way to automate and lower the costs of return logistics is by using a software system that enables the customer to obtain the return label on their own.
In this way, the tasks allocated to customer support agents will be reduced significantly. There will be no need to print return labels before the items even reach the customer, and  a lengthy returns process will be shortened.
By way of example, many online stores still send the customer to their webpage to download a file that they need to fill in in order to request an exchange or return or, in an even more cost-ineffective process, they ask buyers to contact customer service via phone or email to explain which product they want to return and why.
When you're an Outvio user, you can create — in just a few clicks and less than 10 minutes — a branded return portal that will save you time and resources and give your customers the power to process their own exchanges and returns, all from the comfort of their homes, without having to contact customer service.
6. Speed up the process
Reverse logistics is not only about receiving returns but also assessing the status of the returned items, classifying them and putting them back into the stock. Preparing an area in the warehouse for the management of returned items is a great way to prevent bottlenecks in the packing area and speed up returns logistics.
Moreover, in the case of exchanges or replacements, the online store needs to act quickly to provide a satisfactory solution to the customer as soon as possible. In situations like these, we're talking about the merging of traditional and reverse logistics, because of the shipment of new products alongside a return.
7. Provide quality customer support
Outvio's comprehensive support system is one of the qualities more greatly appreciated. Thanks to this service, your eCommerce business will have priority access to customer support channels that allow you to directly manage the issues with the agents involved. In addition to this, we also offer comprehensive support on any matter related to international returns.
Sign up and start using Outvio for free!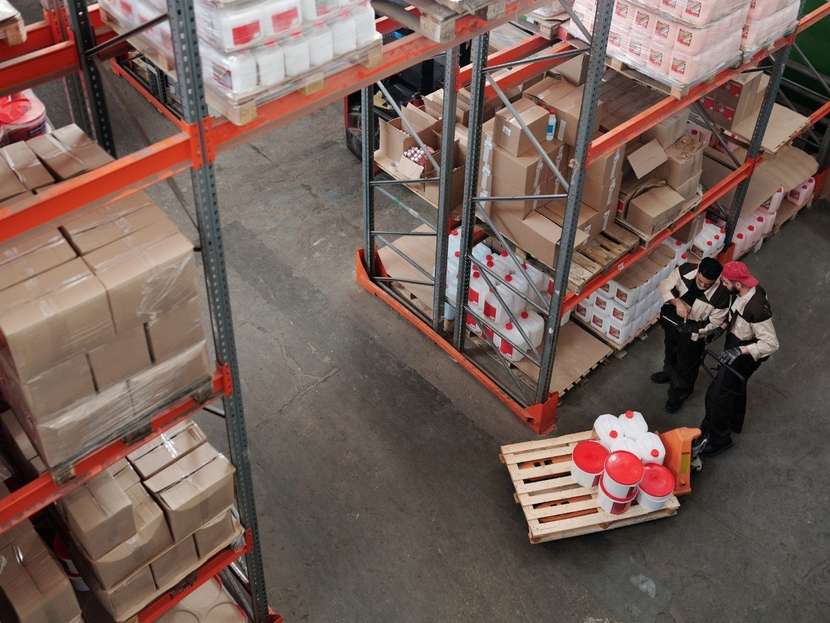 Source: FiftyOne Global Ecommerce
Conclusion
Reverse logistics is a fundamental aspect of every online store in 2022. Returns and exchanges are unavoidable, but optimizing your returns logistics and management is a great way to turn return costs into a competitive advantage for your business.
Lower costs is one important way to benefit, but an optimized return process can also have a positive impact on customer loyalty and repeat purchases. Use our tips to build a returns logistics process that is fully aligned with the needs and goals of your eCommerce business and your customers.