Inside this article
Shipping label printers generate the necessary documentation for couriers to get the parcels to their destination. They are an indispensable item in the daily work of an online store.
As is often the case with other logistics devices, choosing the wrong label printer can slow down your order flow and increase costs.
In the following article, you will find all the relevant information to help you choose the best shipping label printer for your business.
What is a shipping label printer?
Shipping label printers are a specific type of electronic machine used by eCommerce companies to print shipping labels and other documents related to the transportation of goods. In our article on shipping labels, you will find detailed information about this type of document.
The main goal of these printers is to generate barcodes readable by computer systems. If the printer is not accurate enough in this regard, the shipment may end up getting lost somewhere in the supply chain.
When searching for one, you will realize that there are countless models. For instance, you can get simple shipping label printers or industrial shipping label printers. 
Simple printers are normally recommended for small online stores. They are more affordable, cheaper to maintain, and easier to use. However, their features tend to be more limited.
Industrial shipping label printers are ideal for eCommerce businesses with a constant flow of orders since they offer better quality and higher printing speed.
There are also wireless models that can be connected by Bluetooth or Wi-Fi to a computer or mobile device. None are better than the other; they simply cover different needs.
Types of shipping label printers
Shipping label printers are generally divided based on the way they print the labels, as this is the most common factor influencing cost. Using toner is not the same as using thermal energy, for example. While the former requires a lower initial outlay, the latter offers greater long-term savings.
These are the different types of shipping label printers:
Ink label printers
These printers aren't very efficient in terms of profitability if you deal with a high volume of daily shipments, since ink is an expensive material that can raise the costs of your eCommerce logistics considerably.
Laser label printers
While they also use ink in the printing process, the amount of ink needed is considerably lower, thereby reducing costs. 
Thermal label printers
These printers apply heat to paper to create a label; they do not require toner or ink. Although they are more expensive, they can be more profitable in the long run for online stores that print large quantities of shipping labels.
What to consider when buying postage label printer?
Affordability
This element is a factor to consider with almost every purchase a company or person makes. However, if you are a successful online store or you are planning to become one, we recommend that you consider other factors, such as your logistical needs, the printing speed or the compatibility with different operative systems to choose the best postage label printer.
The investment in a label printer will be soon paid off compared to a frequent purchase of toner, ink, repairs or new printers.
Logistical needs
The speed at which your printer generates labels can influence your order processing time. When the printing rate is lower than the flow of incoming orders, there's a high chance of creating a bottleneck. In addition, if you want to customize the labels with an image or logo, you should also take this into account. Obviously, cheap shipping label printers tend to be more limiting in terms of speed and reliability.
Label format
If you work with multiple couriers, there's a good chance that each one uses a different shipping label format. The printer you choose should be able to adapt to all of those formats. The different forms a printer accepts is also related to the quality of the printer. In this sense, it's important to avoid cheap shipping label printers.
The format can also be influenced by the type of eCommerce platform you are using. In fact, some printers may not be compatible with your eCommerce platform.
You should also ensure that your post-sales management software prints in the format that you need. If your eCommerce printer can print 250x100mm labels, but your software only works at 150x100mm, you'll have a problem.
We recommend using a solution that covers multiple printing options. For example, Outvio allows you to print in both formats to avoid shipping issues with couriers.
Top 5 best label printers for shipping
1. DYMO 4XL Machine
This label printer is specially designed for businesses that need to print a great volume of labels. Its thermal technology will avoid unpleasant surprises, like running out of toner or ink.
Print shipping labels, warehouse labels, barcode and identification labels and other large format labels.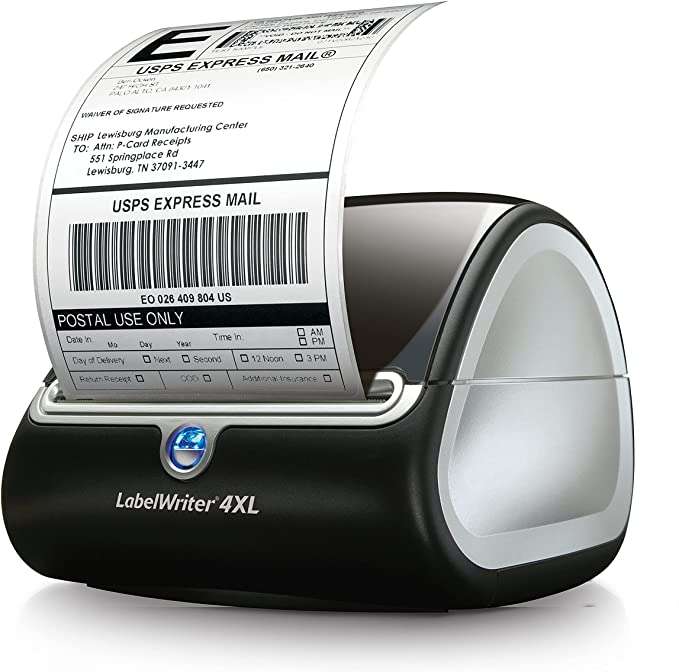 Source: Amazon
It has a compact design and includes a software system that allows you to choose from over 60 professional label templates and customize text and graphics with free DYMO Connect Software.
Printing speed: 53 to 129 shipping labels/min. (depending on the size and format).
2. JADENS Wireless 4x6
Thermal printer with wireless technology and USB port USB and Mac OS and Windows compatibility.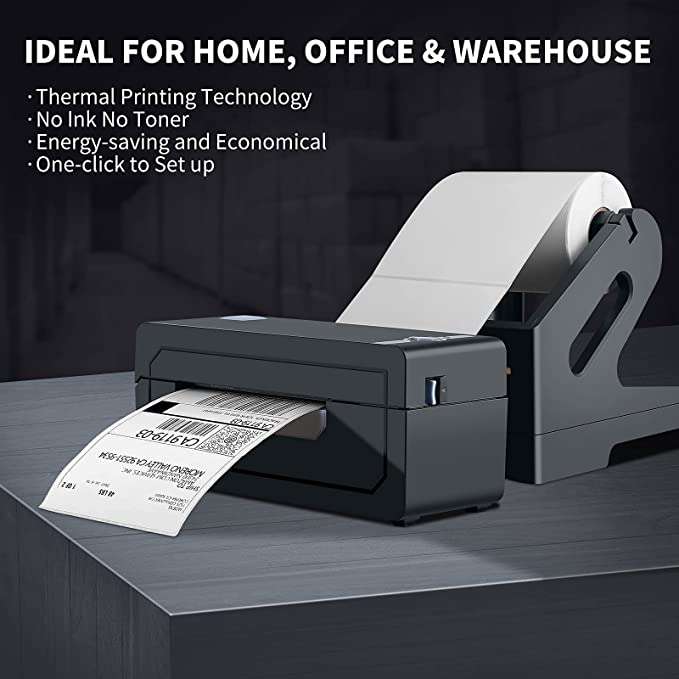 Source: Amazon
Use JADENS to print shipping labels, warehouse labels and other labels. The set-up is fast. In a matter of minutes, you'll be printing 60 labels/min.
3. ROLLO X1038
The ROLLO X1038 is a thermal printer compatible with Windows and Mac.
Source: Amazon
Set up this printer in minutes and start printing 60 labels/minute in a wide range of formats and sizes.
4. MUNBYN 4x6
The MUNBYN shipping label printer is one of the best in terms of device compatibility since it can be used with Windows, Mac and Chrome OSs.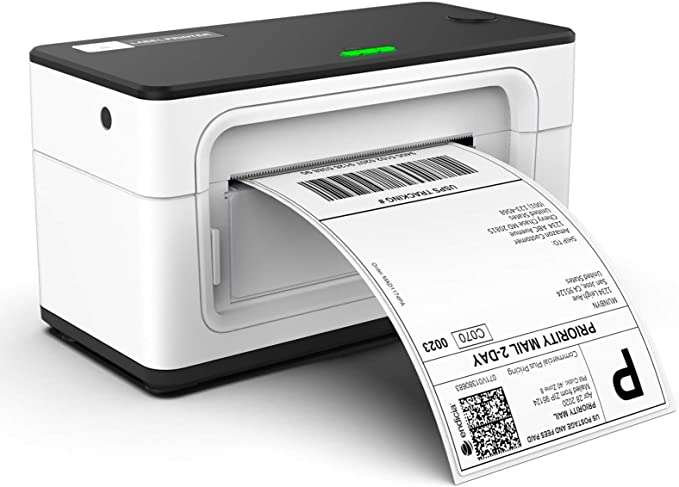 Source: Amazon
MUNBYN 4x6 label printer allows you to print warehouse labels, shipping labels and so on.
Printing speed: 60 labels/min.
5. iDPRT SP410
The iDPRT shipping label printer also works with thermal technology —remember that this is the best option for large companies—. This model offers compatibility with Windows, Mac and Linux OSs.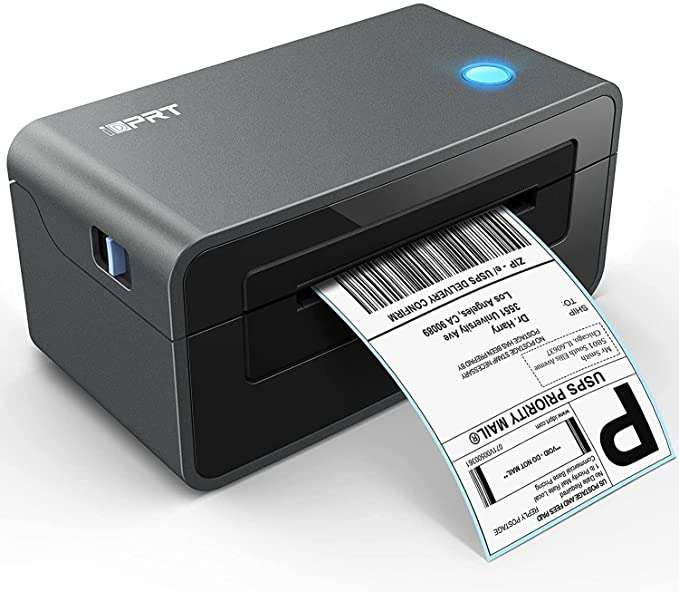 Source: Amazon
Printing speed: 72 labels/min. 
How to set up a shipping label printer 
The process of setting up a shipping printer can differ depending on the level of complexity of the device. However, the steps to follow are very similar: enable it on your computer, set your printing preferences, and sync it with the software you use for the generation of shipping labels.
Connect the printer with your computer via WIFI, USB, or Bluetooth.
Follow the steps to install the drivers for your chosen brand, if any.
Enable the device in the printer section of your operating system. If you work with more than one printer, you will have to select a default printer. This is important, as you may want to switch between one printer or another to reduce printing times or cut costs.
Establish your printing preferences according to the format of the label, the type of printer you are going to use, and your couriers. This step can be done directly through Outvio.
Generate the label in your software and print it. If you process your orders through Outvio, all you have to do is click a button to print one (or dozens) of shipping labels.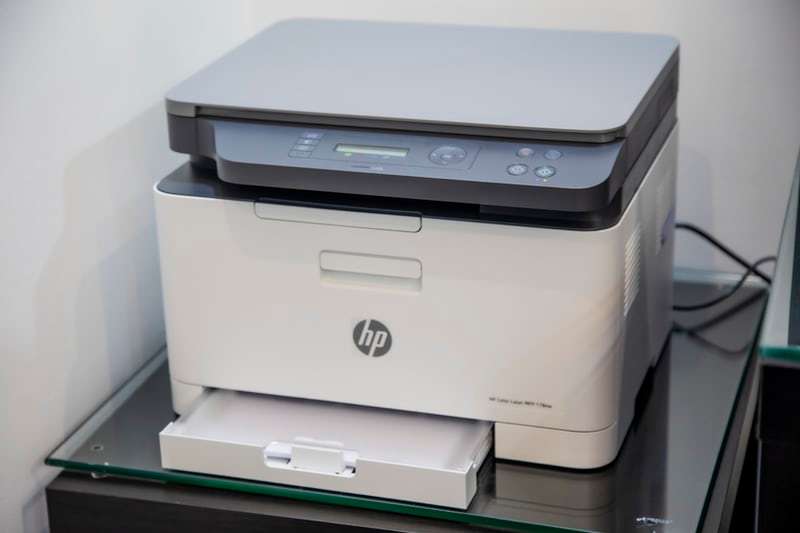 FAQs about shipping label printers
Why is the printed shipping label blurry?
Blurred shipping labels can occur for two reasons. Either you are running out of toner or you are hitting the print button before the shipping information is properly loaded into the computer software. 
How do I know what the best shipping label printer for my business is?
You will have to take into account your future sales forecasts. If you base your shipping label printer purchase on current order flow, you may be impeding long-term growth. It's important to choose one that integrates properly with the management software you use.
Is it worth it to pick a cheap shipping label printer?
Cheap shipping label printers can be a considerable source of losses in the long run. They tend to be less durable and need additional supplies like toner or ink. Thermal printers are more expensive, more the fact that you don't need toner or ink to print labels means a) a lower cost in the long run and b) more flexibility and independence to print labels.
How often should the maintenance of an industrial printer be carried out?
Industrial shipping label printers support large volumes of printing and any computer error or glitch can cause a major bottleneck in your warehouse. We advise you to check this machinery every four months to find any possible problems or obstructions.
Is it possible to connect Outvio to my shipping label printer?
Yes. With a few simple clicks, you will be able to link your online store as well as your shipping label printer to Outvio.
Our tool offers you the possibility to manage all your order processing from a single interface, international and intelligent package tracking, branding functionalities, automatic label printing, and much more.
Conclusion
The shipping label printer you choose for your eCommerce store is a fundamental element of your supply chain that will affect the speed at which you're able to process orders and the delivery times you can offer your customers, specially if you have a considerable amount of orders.
After reading this article it should be easier to know what you need to look for in an eCommerce shipping label printer, what you need to avoid, like cheap printers and how to set up your printing device.