Inside this article
Digital touchpoints are a great opportunity for companies to win customers' hearts. Communication with customers throughout the shopping experience can make a true difference between success and failure.
If you're determined to build customer loyalty and retention, keep reading and discover which touchpoints are decisive in the consumer journey and how you can use them to your benefit.
What are digital touchpoints?
Digital touchpoints are the different moments in which a customer, directly or indirectly, comes into contact with a company through online channels. They can also be called 'brand touchpoints' since these contacts happen between the brand and its customers or potential customers.
These touchpoints can occur during or after a sale has taken place. Nonetheless, the importance of after-sales service and communications tends to be overlooked since many eCommerce businesses think that the sale is already done.
Nothing could be further from the truth. The period after the sale is one of the most crucial moments for customer satisfaction, especially in last-mile deliveries. For that reason, it's fundamental not to lose communication with the buyer, and that's what digital touchpoints are there for.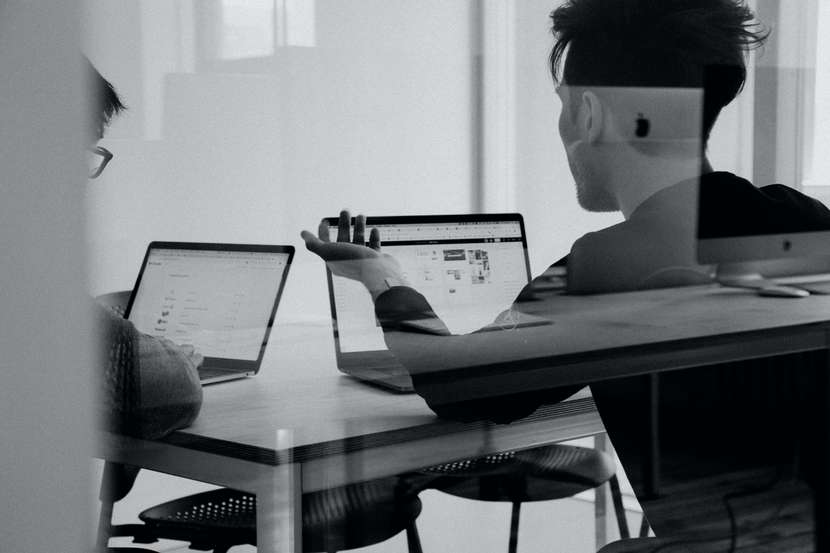 These touchpoints may vary depending on the company or industry, but if you want to increase your sales conversion and build a solid reputation online, you need to understand what encourages your customers throughout the sales funnel.
When classifyin them, you can organize them depending on which stage of the sales funnel the customer is in, or according to the type of communication there is.
For instance, you can take into consideration if the customer is a potential buyer, a consumer or a brand ambassador. However, you can also evaluate the contact between brand and customer in the consumer journey.
How to find digital touchpoints: Mapping the customer journey 
Mapping the customer journey will give you a visual representation of each touchpoint. Knowing what these are is extremely important if you want to find pain points and barriers to sales conversion that need to be addressed.
Benefits of mapping the customer journey
More sales conversions
Higher customer loyalty and retention
Good ROAS
Since the post-checkout phase is crucial to gaining satisfied customers, we'll focus on these post-checkout digital touchpoints: order confirmation, returns, feedback and customer reviews, social media communications, advertising, email marketing, customer support and digital content marketing.
Important post-checkout touchpoints in the customer journey
1. Order confirmation
It's a common —and obligatory— practice to send an order confirmation to the buyer after their purchase. This is the perfect opportunity to make an impact on the consumer journey with branded emails. Here's some of the information you should include:
Information about the purchased items
Billing data
Estimated delivery time and possible delays
Link to the tracking portal
Cross-selling and upselling actions
Use the high open rate of notification emails to create a fully branded consumer journey, while informing the buyer. The good news is that this can be done easily with Outvio. 
2. Returns
Notifying the customer when the return of a product has been processed is the bare minimum if you want to have satisfied customers. Excellent management of returns will considerably increase your repurchase rate as well as customer loyalty and retention.
Apart from this, you need to take into account that creating a smooth return process that enables your customers to process their returns in an efficient and autonomous manner is key to providing a satisfactory eCommerce experience.
This can be achieved by using one of Outvio's main features: the self-service return portal where customers can process returns in just 4 steps, without needing to contact your customer support team.
If this isn't a brand touchpoint, we don't know what is!
3. Feedback and customer reviews
A different way of increasing your sales conversion, apart from providing good customer service and professional management of returns, is by asking for feedback in the form of customer reviews and implementing the recommendations customers provide.
Customer reviews may give you hints about possible flaws in the product or marketing strategy, bring you new ideas for future product launches and provide a clearer vision of what your customers demand and need.
4. Social media communication and UGC
While this type of communication happens all throughout the sales funnel, social media can be a decisive factor when it comes to sales conversions and customer loyalty and retention. In this sense, we recommend researching which channels your customers are using and creating your social media marketing strategy accordingly —using the same channels— to better onboard customers.
"Remember that online store where you bought your favorite socks?" That's the kind of question you want to spark in your customers' brains constantly, and that's why social media is useful!
If you also use user-generated content (UGC), chances are your brand will be spread across social media with 0 costs for you. Use social media as a brand touchpoint and get maximum results with customers' engagement.
5. Advertising
Advertising, ideally, should impact potential buyers and customers before and after the purchase. The reason is simple: You want to drive your sales conversions, but also create a community of brand ambassadors that come back to your eCommerce business again and again.
When it comes to creating catchy ads, it's important to keep in mind that they can appear throughout the entire consumer journey. Use your best-selling products and competitive advantages to design an image or video and some copy that makes your customers fall in love with you.
In this case, a brief affair won't cut it: Aim for long-term customer relations.
6. Email marketing
Whether we're talking about 'thank you' emails, notification emails or upselling and cross-selling communications, these are key touchpoints in the customer journey.
Keeping customers updated with discounts, related products and reminders of an abandoned shopping cart are powerful strategies for any online store focused on building long-term relationships with their customers.
7. Customer support
Although we already touched on the main reasons why customers feel the need to contact your customer service team, there are some other factors behind these touchpoints. For instance, your approach to customer onboarding.
Yes, there's something more than the WISMO question and eCommerce returns: Shipping issues, doubts related to the product and problems with the product are some of the most common topics customer support members face on a daily basis in the live chat.
Try to avoid dealing with these issues, queries and claims, but don't forget the great opportunity that lies behind these customer touchpoints and use them to your benefit. For this, provide quality customer support and improve the customer experience to attract more customers and boost customer loyalty and retention.
8. Digital marketing content
Last, but not least, your digital marketing content, as broad as this topic may seem, can also become an important touchpoint for your brand.
Ideally —and we're talking about blog content specifically— your customers should come across your publications constantly. This is, if your content is SEO-optimized and your target customers have the questions, doubts, problems and wishes you talk about in your blog.
In order to tick all these boxes, make sure that you know your buyers' personas —the real ones, not the one you created for your brand book— and make sure that the terms you're using and the topics you cover align accordingly.
Why is optimizing customer touchpoints online beneficial for businesses?
The customer experience plays a fundamental role when we talk about sales conversion and customer retention. Depending on the phase in which your customer is, you can use different software systems like Hubspot for the pre-sales stage and Outvio for your post-checkout communications and actions.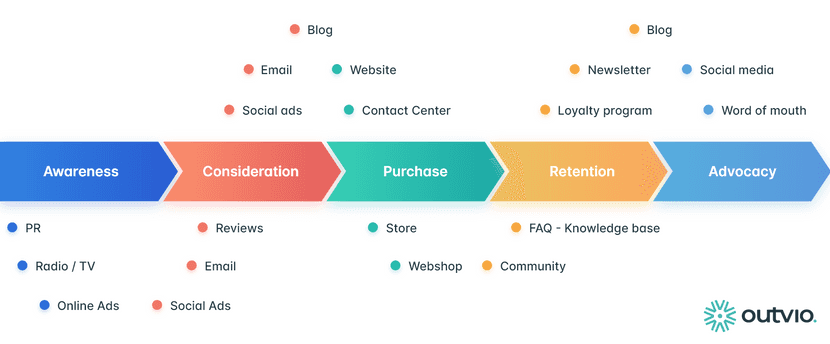 Now that you've optimized all these digital touchpoints, the next step would be to integrate these with your brick-and-mortar experiences.
The demand of omnichannel experiences is proving to be a decisive factor in the way people buy products nowadays. Because of this trend in eCommerce, it's crucial to connect the dots between online data and non-digital information, such as sales online and in physical stores.
Providing the necessary tools to promote mCommerce —even in the physical store— and adopting other eCommerce trends won't jeopardize your business. On the contrary, it will create a seamless and cohesive experience for your customers.
With the right blend of data-driven technology, information and forward-thinking employees, making the right connection at every digital touchpoint will be much easier —and more fruitful.
Conclusions
Any online store that has optimized these 8 digital touchpoints will be able to achieve customer loyalty and retention, a higher conversion rate and, as a consequence, a better customer experience.
Especially in the post-checkout phases, these touchpoints can be used to design a branded experience and improve the feeling and perception of the business in the eyes of customers.
Understanding how they interact with your brand can give you a clear vision of simple tweaks that can drastically change your numbers and customer satisfaction. Customer journey touchpoints can range from shipping methods to payment methods or return rules.
The better the customer experience, the more likely they'll buy from you again. Outvio helps you optimize all post-checkout digital touchpoints, including customer communication and the automation of these messages. Try it out now!