Inside this article
Did you know that after-sales is the most important element in building customer loyalty?
To this day, some still think that once the buyer has paid, the deal is closed. This is far from reality. If you don't offer the right after-sales service, you'll be missing out on a great opportunity to attract customers and build loyalty and retention.
In this article, we explain what after-sales service is, offer some examples of it, and share all the reasons why it matters for your eCommerce business.
What is after-sales service?
What does after-sales mean, exactly? We can define it as the actions that happen after the purchase of one or several items. These actions may be focused on offering extra value to the customer or solving doubts to increase customer satisfaction and foster loyalty.
Because of the way online consumers shop nowadays, it's fundamental to build a close relationship with buyers to guarantee the best shopping experience.
Knowing its meaning will simply not do; you need to take action.
Acquiring products without even seeing or touching them means that customers or potential customers will have plenty of questions and possible concerns about your products. They may even want to return or exchange a product if these concerns aren't quelled before, during, or after the sales process.
This is just one of the reasons why this aspect is important, but there are many others.
Why is after-sales service important?
What you offer in the after-sales process is, at the end of the day, what remains in the memory of the buyers.
Because of increasing competition in the eCommerce space, having an optimal after-sales service is key to building customer loyalty and growing the chances of creating a community of satisfied customers and worth-of-mouth referrals.
The reason behind these benefits is simple: post-sales processes add value to the shopping experience. Exceeding customers' expectations will most likely mean future purchases, transforming post sales into a marketing strategy that boosts sales.
Apart from these benefits, quality post-sales service is important because it helps online stores build a stronger relationship with customers, reinforce their brand image, increase customer satisfaction (thanks to an optimized purchasing experience), prolongs the lifetime value of customers, boosts the chances of receiving positive feedback, and produces a bigger ROI.
After-sales service: 7 examples 
These are some examples of the processes that make up after-sales service in an online store:
1. Returns, exchanges, warranties
Returns, exchanges, and warranties are some elements that affect the after-sales service and, although online stores may not want to admit this, returns, exchanges, and warranties are an unavoidable part of any eCommerce business.
However, this doesn't mean that they are a problem. On the contrary! Returns, exchanges, and product warranties can be used to your advantage when you set up easy processes for the customer, converting what could be an issue (in principle) into an example of good post-sales service.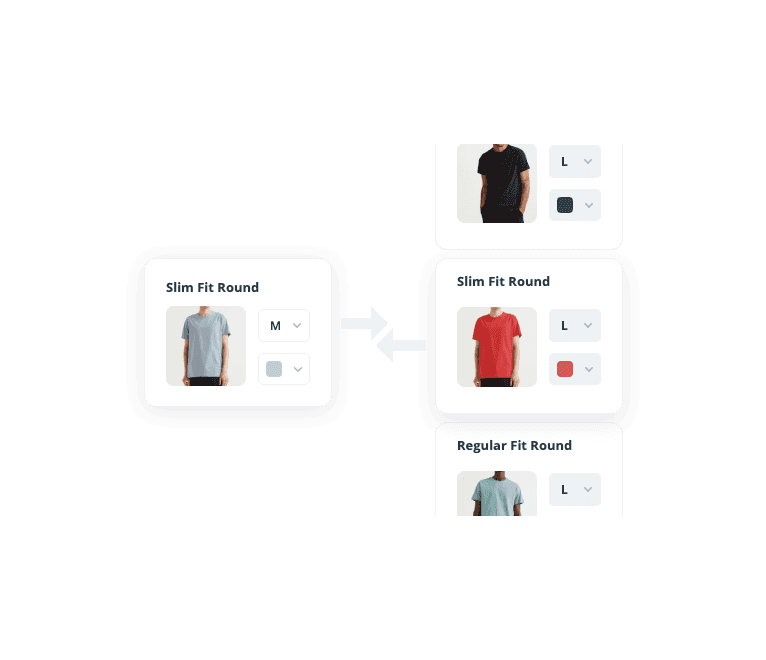 2. Shipping-issue resolution
Another key moment for online customers is the shipping process and the arrival of the parcel. In this sense, it's important to pay attention to the importance of solving shipping issues quickly and efficiently.
If you take these matters seriously, your customers will notice it and their satisfaction will grow. Provide tools to enable them to manage their shipping issues autonomously and automate as many processes as you can to make your eCommerce business more efficient.
3. Customer support regarding doubts and problems
Another reason why customers may contact an online store is to solve their doubts and problems regarding a product they have purchased.
Depending on the nature of your products and the way you market them, it's possible that customers have a hard time understanding how to use your products. They may even realize that the product they ordered isn't really what they wanted.
4. Notifications about the status and location of the order
On the other hand, if everything went well processing the order and shipping it, your customers will certainly be willing to know about it!
Use order information to connect your brand and processes with your customers and keep them updated about the status of their order, whether this is "in process", "shipped", "delivered", "returned", or even presenting an issue.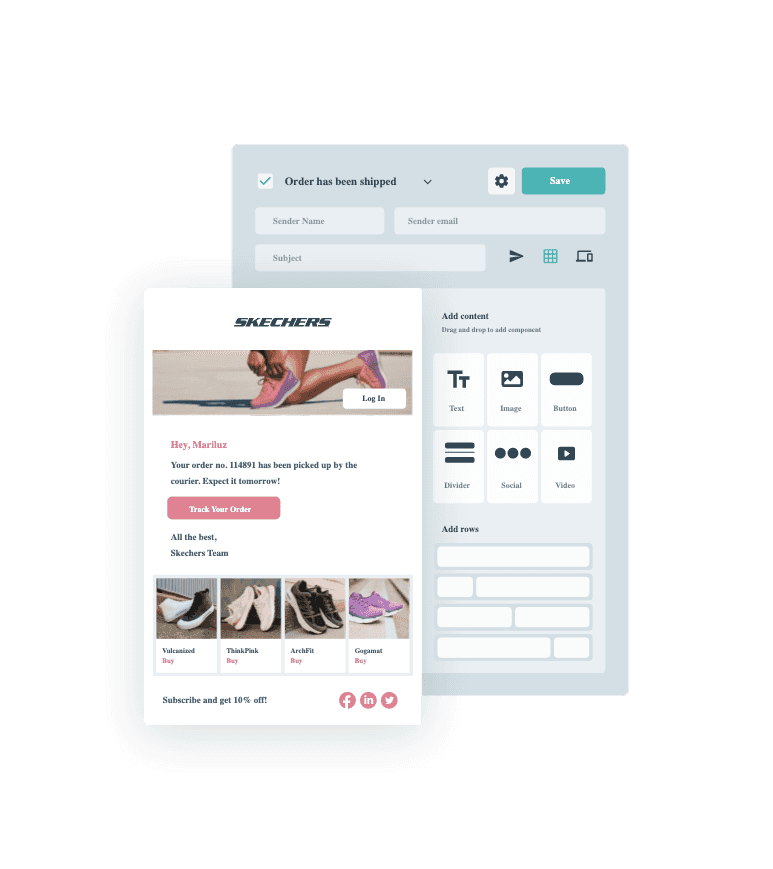 Thanks to Outvio, you can even brand these communications to further optimize your after-sales service.
5. Management of product feedback
Another part of the post-sales process is the management of feedback from customers. Product reviews, online store ratings, and other types of feedback are an important element for new customers or product launches.
These potential buyers may be convinced by the power of social proof, which is why managing good and bad reviews is extremely important since it can have a direct impact on potential customers.
6. Cross-selling and upselling campaigns
Another important touchpoint in the after-sales service is the promotion of related products. These tactics, known as cross-selling and upselling, can be used to boost sales and increase the average order value of your online store.
These cross-selling and upselling strategies can be implemented at the checkout, on product pages, in emails, or on your tracking portal.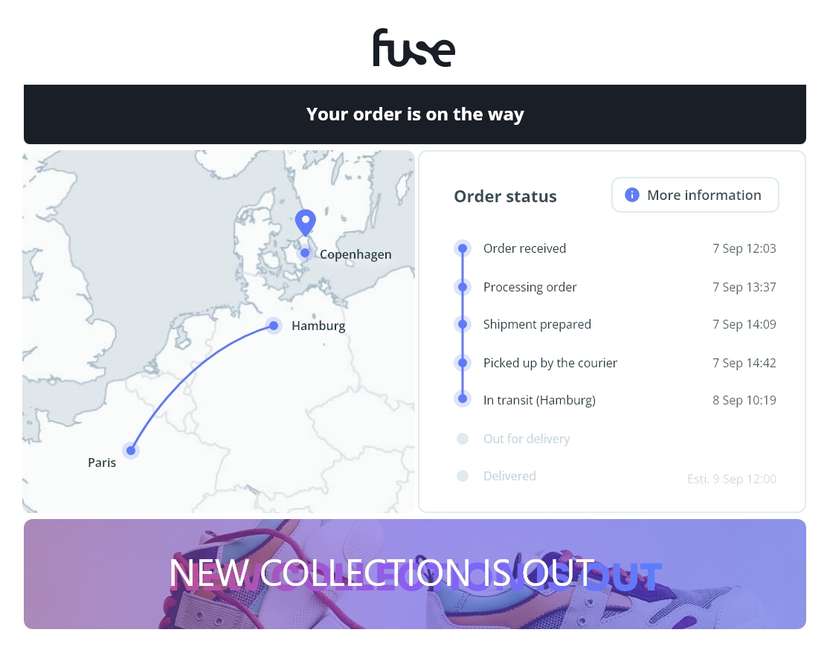 7. Loyalty programs
Loyalty programs are strategic moves that a company can do in order to maximize the profits that come from satisfied customers. 
This will help your online store increase its repurchase rate and customer loyalty & retention. Online stores have realized the potential behind loyalty programs, which is why so many of them are already developing their own programs.
At the end of the day, customer retention is much more profitable than acquiring new buyers.
These are just a few after-sales service examples, but there may be other actions and touchpoints after the sale that can be used to your advantage. Here's how you can use your post-checkout operations to increase the efficiency of your online store.
Automate and streamline after-sales processes with Outvio
Outvio is a post-checkout infrastructure designed to optimize and automate eCommerce operations. Thanks to this AI-based software, you'll be able to manage all post-checkout processes in an organized and logical manner from a single interface.
Outvio allows you to automate order management, customize the purchasing experience after the sale, communicate with your customers in a way that aligns with your branding strategy, and solve shipping issues in a few clicks.
Want to know how Outvio makes your after-sales service an element of success?Discover Outvio.
FAQ about after-sales
What is good after-sales service?
The ideal after-sales service solves the doubts the customer has, prevents future problems, and adds value to the shopping experience.
What's the difference between pre-sales and after-sales?
The pre-sale takes care of the attraction of customers and conversion, while after-sales is dedicated to optimizing the customer's shopping experience and, in the medium and long run, to building customer loyalty and retention.
What is after-sales service in marketing?
The after-sales service can be used as part of the marketing and branding strategy of an eCommerce store. In other words, the quality of this service can be a competitive advantage that makes your customers keep coming back for more.
Conclusions
The after-sales service is an important part of retail, especially online where customers tend to feel less attached to brands and more willing to try new products and companies.
Because of this, optimizing your post-checkout operations to take advantage of all its benefits should be the priority of all online stores looking for growth and success in the long run.
Start using Outvio and take your after sales service to the next level!