Inside this article
If you run your own retail business, you have probably noticed the enormous amount of resources and time required to manage the supply chain. Use SCM software to automate processes and reduce costs.
We have compiled the best SCM software of 2023 and cover all you need to know about these logistics software systems.
What is SCM software?
SCM software is a tool for supply chain management. This type of software offers specific solutions for each process of the supply chain, allowing you to automate other management tasks and ensure traceability. Thanks to this, you'll be able to gather information, analyze it, and create more precise forecasts to make better decisions.
SCM software helps to control the reception of raw materials, the manufacturing of the product, its storage, distribution, and sale.
When you integrate SCM software into your operations, you obtain an overview of all your supply chain processes, improving business management overall.
Benefits of SCM software
Better treatment of data to create reports: more accurate forecasts
Traceability and communication between different supply chain tasks
Centralized information for the entire company
Shorter work times and fewer resources needed
Reminder: we have an article about supply chain management and how to optimize it
Best supply chain management software: Our Top Ten
1. Outvio
Outvio is a post-checkout and logistics software designed for leading eCommerce firms to automate and optimize dozens of processes within the supply chain: order processing, shipping, tracking, returns, and customer service. Additionally, you can use Outvio's features to brand your communications with customers through emails, tracking, and return portals, and review advanced statistics to find possible points of improvement.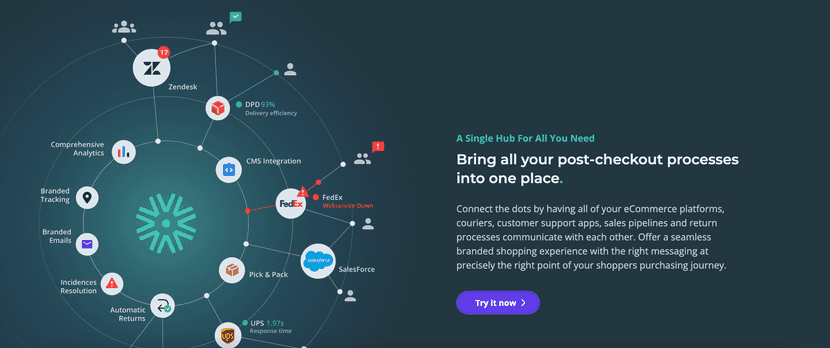 2. Odoo ERP
Odoo is an ERP system dedicated to the overall management of a business. Among its many functionalities, you can control production, transportation, inventory, sales, marketing, and analytics.
3. SAP SCM
We have talked about SAP previously. SAP allows you to centralize the various tasks and general information of a company and expand the tool through SAP modules to add new functionalities.
In fact, among these modules, you can find a specific solution for supply chain management. This way, you'll be able to align the needs and operations of all departments.
4. Aqua
Aqua is a logistics software specialized in the automation of processes related to the supply chain. Its competitive advantage lies in the automation of inventory activities, stock control, and merchandise rotation.
Do you run an eCommerce business that needs inventory improvements? Read our guide on warehouse design.
5. Infor Supply Chain Management
Infor SCM is a cloud-based solution that offers large manufacturers total and smart control of their different processes, from manufacturing to marketing or warehouse management. It can be connected and synchronized with other stakeholders.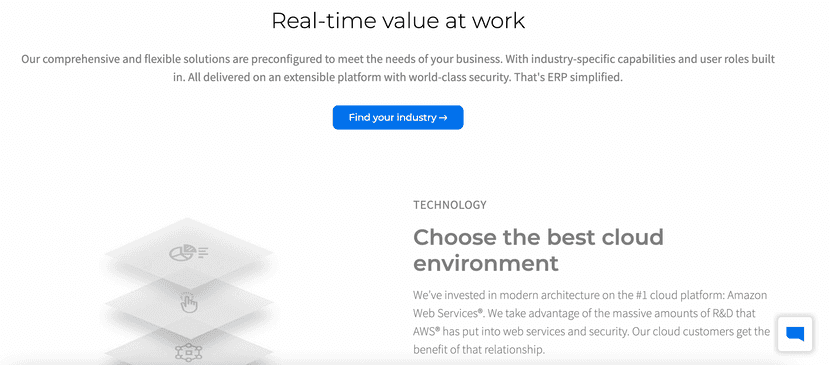 6. Oracle SCM
Oracle SCM is one of the services provided by Oracle to manage production, transportation, sales, marketing, and customer service. Its advanced analytics help you create reports and make better business decisions.
7. Generix Group
Generix Group has advanced features for warehouse management, stock keeping, and supply chain traceability. It can be a good solution for eCommerce businesses that don't need to manage production or manufacturing processes.
8. Vision SCM
Vision SCM is focused on improving customer relationships. In this way, all processes are streamlined and optimized, shortening response times and cutting down on resources. Vision SCM includes all the features of an SCM tool for the production and logistics tasks.
9. Sage X3
Sage X3 offers complete supply chain management software. Its multiple functionalities allow the company to have an overview of its entire business, including production, transportation, storage, sales, marketing, finance, and customer relationship management. Additional features can be included to solve the needs of the business.
10. OpenBoxes
OpenBoxes is an open-source sectoral logistics software designed for supply chains related to the healthcare industry, although it can also be used in other sectors. The tool helps manage different tasks: inventory management, product tracking, counting, sales, and customer management or report generation.
Conclusion
These was our list of the top 10 supply chain management software of 2023. After reading a brief description on them and getting to know which are their strengths and weaknesses, you have probably discarded some of them.
Do a further research on those that seem to align better with your problems and the characteristics of your business to choose the best supply chain management software for you.