Inside this article
We take a look at one of the most critical points in parcel shipping: the last mile. Find out what last mile is and why last-mile deliveries are so important in logistics, plus how to optimize them.
Last-mile logistics pose a challenge to online stores since this is the stage when most shipping issues can arise. Last-mile can feel like a problem or an obstacle course, but it doesn't have to be.
What is 'last mile'?
The concept of 'last mile', also known as final mile, refers to the stage of the shipment when delivery occurs. Last mile also involves all the tasks necessary for the arrival of the parcel to the recipient.
This is the last step of the entire distribution chain, hence the importance of last-mile delivery.
Importance of last-mile delivery
To minimize the number of incidents related to shipping and to shorten delivery times to customers, carrying out last-mile logistics management is essential for the success of your online store and the satisfaction of your customers.
Ecommerce demands fast, on-time, and flexible delivery as well as quality customer service.
Checking all these boxes isn't an easy task. They come at a high cost for online stores, but it means satisfying customers' needs and gaining a competitive advantage over other online sellers.
Another option to reduce the time and costs needed for logistics management is to create a warehouse network. Once the goods are in the warehouse, you only need to contact the shipping company to start the last-mile delivery.
Last-mile deliveries can account for up to 53% of the total cost of shipping. This is one of the reasons why last-mile logistics has a great impact on costs and why eCommerce business talk about the last-mile problem.
Another recurring problem can be related to the migration from cities to rural areas. The difficulty and distance from stores and warehouses —typically located in cities or peripheral areas— also poses a challenge to the costs, delivery times, and purchasing experience of the buyer.
However, these are not the only problems that the transportation sector faces in relation to last-mile deliveries. Customer satisfaction is the focus of many online stores focused on long-term growth.
Because what do customers want? Free, fast shipping, flexible delivery options, and quality customer service.
To achieve this, you can start by automating and optimizing internal processes such as shipping-issue prevention and management, shipment tracking, and the returns process.
If you are determined to take your last-mile logistics to the next stage, take a look at the following tips.
6 last-mile challenges & 6 last-mile trends that solve them
1. Volumetric weight: Packaging optimization
The first step to ensuring that last-mile costs are kept to a minimum while increasing the number of shipping options is to optimize your packaging.
Consider the volumetric weight, the distance that the packages must travel, and the fragility of the products to choose the best packaging for your products.
Learn four tips to get cheaper shipments with packaging optimization.
Expanding delivery methods will lead to happier customers, fewer shipping issues, and overall lower last-mile costs.
Here are some ideas to expand the delivery methods of your online store.
2. Absent recipient: Parcel lockers
Parcel lockers, smart lockers, or PUDOs are some of the names of this delivery method.
This option is gaining popularity and it's becoming easier to find these lockers near high-traffic points such as shopping centers, supermarkets, or gas stations.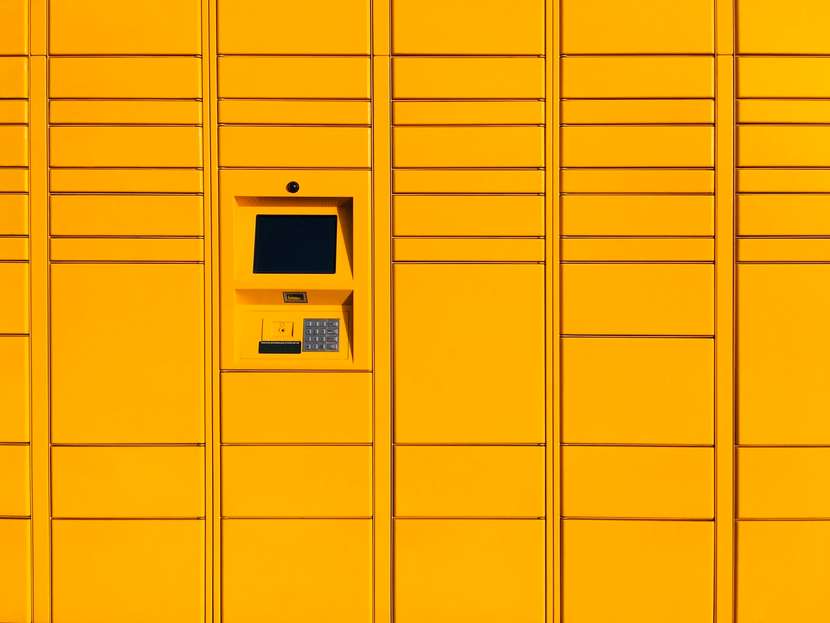 This delivery method allows buyers to go to the pickup point to collect their parcel when it's most convenient for them, minimizing the number of shipping issues and providing a better purchasing experience.
Thanks to a tracking system, the customer will receive a notification once the parcel is available for its collection. Hermes, Inpost, and Amazon lockers can be easily found in the UK, but there are many shipping companies offering this service around the globe.
3. Missing receiver: Collection points
An alternative method to smart lockers is shipping to a collection point. This can be a store or another type of business in a town, city, or near a residential area.
If you have customers in an area with a low population density or that do not yet have smart lockers, you can offer shipments to collection points.
This way, your customers can pick up their parcels at their convenience.
As a negative point, this option is limited to the opening hours of the establishment. However, this isn't the case with smart lockers, which are usually available 24/7.
4. Busy customer: Flexible deliveries
If your customers prefer to receive their order at their home or workplace, you can work with shipping companies that offer flexible delivery options —such as evening and weekend deliveries.
Your buyers will be able to change the time or day of delivery at their convenience to minimize the number of shipping issues related to an absent recipient.
5. Courier reliability: Courier network
Working with different national and international couriers allows you to offer more delivery options to your customers.
To do so, create a courier network with the best couriers in the UK. Royal Mail, Parcelforce Worldwide, DPD, Hermes, and DHL are just some of your options.
6. Sales volume: Traceability with Outvio
If your online business is dealing with a larger amount of orders, it will be easier to track the status and location of the parcel with a post-checkout platform like Outvio. Outvio centralizes all your orders and enables you to process, ship, track, and manage returns in a single interface.
Additionally, you can improve customer communication and obtain metrics about your business such as email open rate, returned items (and recurring reasons for returns), successful items, and courier reliability, among other useful information for online stores.
Wrapping up
Last mile is a delicate process full of obstacles. Solving the last-mile problem and safeguarding the satisfaction of your customers, while reducing your logistics costs, is the key to achieving successful last-mile deliveries.