Inside this article
If you already have an online store and your current platform is too small or you are missing certain functionalities, it may be time to change. Choosing between PrestaShop vs Shopify will be easier for you after reading our article.
Perhaps when you started in the world of entrepreneurship you didn't fully analyze all the eCommerce platforms you could choose from, and now you regret it —or, more needs have arisen. This is totally normal when a business grows.
Well, if you are looking for a new platform for your online store, you should know that there are two CMS (content management systems) that take the cake: PrestaShop and Shopify. But which platform is better? What differentiates them?
Platform overview
On the one hand, PrestaShop is a platform specializing in the creation and management of online stores, which has more than 300,000 online stores around the world. Above all, it has a special presence in Europe and America.
This platform is a free, open-source, self-hosted software, whereas Shopify is a hosted platform only available through a paid subscription plan.
Shopify has been, for many years, the most-used eCommerce platform for the creation of online stores. This CMS offers a complete package that's ready to meet the needs of small and large merchants around the world. You can set up your store on Shopify quickly and easily, even if you are not an expert in technology.
Next, we present the advantages and disadvantages of each of them and comparative tables to summarize the information, as well as other fundamental aspects when deciding on one over the other.
Advantages of selling on PrestaShop
These are some of the advantages of having your online store in PrestaShop:
PrestaShop is a self-hosted platform, which means that it is fully customizable to your tastes and needs
Downloading PrestaShop is free
PrestaShop has more than 4,000 PrestaShop addons (modules, templates, and themes)
It has multi-store function in case you have more than one store
PrestaShop works in multiple languages and currencies
It comes with basic SEO features
Advantages of selling on Shopify
Shopify offers numerous advantages and useful tools when it comes to managing an online store. Some of them are:
Its ease and speed of creation and use
Shopify provides the domain, server, and software (updates included)
Shopify apps that allow you to optimize and expand the functions of your online store (more than 6,000)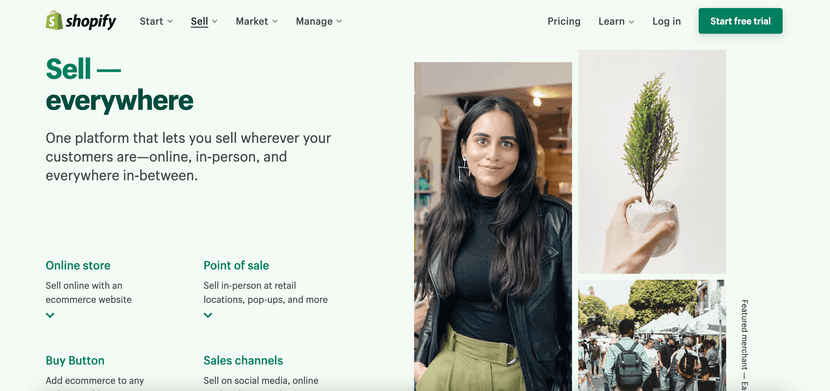 In this comparative table, you can see a summary of each platform's advantages.
Advantages of

PrestaShop

Advantages of Shopify

Open Source

Server, domain and updates included

Fully customizable
Easy and fast to create
+4000 addons
+6000 apps
Scalability
Easy to use
Disadvantages of PrestaShop
On the other hand, PrestaShop also has some disadvantages:
Few free addons. You'll need to consider which functionalities are more important to you. In Shopify, you can find more free options
You need to take care of the security of your customers and online store yourself
The seller is also responsible for the costs of the domain and updates
You need to find and pay for a server that can handle high-traffic days
The translations are automatic, but the quality isn't the best
Disadvantages of Shopify
Shopify also has some downsides. For example:
You have to pay monthly or yearly
Fees. When you make a sale on Shopify through a payment gateway other than Shopify Payments, the platform charges a sales fee that varies depending on the plan you have contracted
Not as customizable as PrestaShop. If your business is growing very quickly, you may want to change certain aspects of your online store that Shopify doesn't allow you to change
In this comparison table, you can see a summary of the disadvantages that each platform has.
Disadvantages of

PrestaShop

Disadvantages of Shopify

You need to install addons or create custom developments

Permanent subscription price

Server, updated and domain aren't included
Sales fee

Customizations are limited
Other factors to consider
You already have a pretty broad overview of what each platform does. However, there are still more aspects that you need to consider before choosing between these platforms (or another)
Cost of creation and maintenance
Opening an online store on any of these platforms entails an expense. In the case of Shopify, the price is much easier to calculate and know, since it works through a fixed subscription. In the case of PrestaShop, downloading the software is free, so you will have to calculate yourself how much the server, domain, and creating the online store will cost.
That said, if you want your PrestaShop online store to work properly, you will need to install addons or create custom developments. The cheapest PrestaShop theme costs around €60, a cheap email template is around €30 and, in terms of functionalities, although there are free addons, there are not many useful free addons.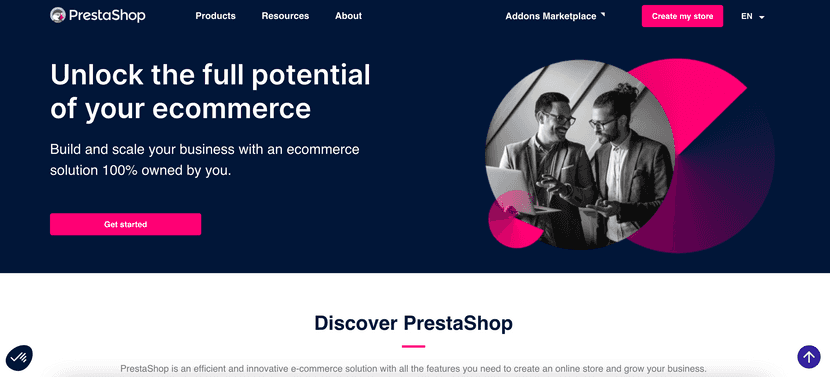 Shopify's most popular plans are the Basic Plan, which costs $29/month; the Shopify Plan, $79/month; and the Advanced Shopify Plan, which is $299/month. Each one has different functionalities and is designed for a specific volume of sales.
If these plans are too small for the size of your business, you can inquire about Shopify Plus, a plan for online stores with a high volume of sales and traffic.
Shopify offers quite attractive and versatile free themes as well as free and paid apps. 
But there are more things to consider apart from the cost. For example:
Ease of use of the platform
At this point, these two platforms diverge.
PrestaShop, unlike Shopify, is open source. This means that it is entirely modifiable, but it makes working with this platform much more difficult than working with one that has a hosted service like Shopify, where any seller without technical knowledge can create their store in a few hours.
If you have a specialist on your team who can help you develop your online store according to your tastes and needs, you can probably open your online store in PrestaShop.
However, if you are starting to sell or have not done so yet, it's likely that you have a somewhat tight budget and don't want to invest so much in the creation of the online store.
If this is your case, perhaps Shopify is the best option for you since, although it isn't as modifiable, it's much easier to create, customize, and manage.
Scalability of the online store
If your intention is to have an online store that can grow rapidly and continuously, you should consider the scalability aspect that each platform offers you.
If you have not yet opened your online store, it may seem crazy to think about expanding your business volume. However, you should know that not all platforms will allow you to migrate from one platform to another. We'll talk about this aspect later.
Shopify has proven wanting to target all types of businesses, whatever their size, and has a plan for larger businesses as well. This plan is called Shopify Plus, specially created for companies with a very high sales volume. With this subscription, Shopify gives each one a personalized budget based on the characteristics of each company (sales volume, shipments, traffic, etc).
PrestaShop also offers the possibility of creating a small online store and scaling as the business grows, thanks to its open-source system and the possibility of changing servers as traffic increases.
Both options come with costs, although the way they are reflected changes.
Shopify works through a subscription plan and PrestaShop through addons and custom developments, server changes, and updates.
Migration to another platform
Migration is the transference of an online store that is on one platform to another platform, without losing business data.
This point is important because in case you regret your choice of platform, it's good to know that you can migrate to another platform and how easy or difficult it is.
For example, some platforms don't allow migration of any kind, so you will lose all your data. This is especially the case for online stores that are located on a marketplace platform or on Wix. Both PrestaShop and Shopify allow you to migrate your data.
In any case, it's better to avoid migrations and choose the right CMS platform for you from the beginning, since this process can be expensive and slow.
Adaptability of the online store
At this point, both PrestaShop and Shopify may interest you.
PrestaShop is an open-source platform, which means that if you want to customize your online store in detail, you can. However, unless you are an expert, you will most likely need the help of a developer or install endless addons that will cost you money and may not do exactly what you want.
Shopify allows you to customize your online store, but it's much more limited than PrestaShop. You can install a multitude of templates and themes, as well as free and paid applications. If you want to further customize your online store, you can, as Shopify's HTML and CSS are editable. If you don't find the functionality you are looking for, you can create it with the "Liquid" coding feature.
If your idea is to configure and customize your online store, you should opt for a self-hosted platform and include a developer on your team to create and modify the store.
Logistics process
This point tends to be left behind when opening an online store, both by sellers and by CMS platforms and marketplaces.
In fact, if you dig a little deeper into online store creation and management platforms, almost none of them offer a complete and adequate solution for shipping and returns management.
This is why using a professional tool like Outvio can radically change the way your post-sales work: from shipping, to shipping-issue management, returns and branding.
Conclusions
This fundamental point links the virtual shopping experience with the physical reception of the product and, although both PrestaShop and Shopify provide some tools and functionality in this regard, they are far from enough to have a successful online store.
Now that you have a clearer understanding of the differences between PrestaShop and Shopify, it's time for you to learn how to improve your customer service and optimize your logistics.