Inside this article
Shopify is an easy-to-use platform. However, it doesn't provide the full scope of tools necessary for managing an eCommerce business these days. For this reason, implementing some of the best Shopify apps can solve the gaps this platform leaves unattended in terms of shipping, customer service, SEO strategies, and upselling techniques. In today's article, we give you a compilation of the best Shopify apps to increase sales.
Best upsell apps for Shopify
1. ReConvert Upsell & Cross Sell
The ReConvert app is designed to help merchants increase their net profit by solving their needs and pain points in a simple way, promoting cross-sales and upsales.
Features
ReConvert Upsell & Cross Sell helps you optimize your website and increase your conversion rate thanks to cross-selling. You'll be able to easily and comprehensively customize your store thanks to its drag-and-drop interface. The app conveniently integrates several functionalities offered by other apps into a single one.
ReConvert Upsell & Cross Sell can be integrated with 17Track, Klaviyo, Loox, SMSBump, MailChimp, or Kit.
Price
ReConvert is available in four subscription plans:
"Free Thank You" plan (free)
"Pro Thank You Page" plan ($7.99/month)
"MVP Thank You Page" plan ($14.99/month)
"VIP Thank You Page" plan ($29.99/month)
There's also a free trial period of 30 days.
Additionally, you can get a special rate if you're an online stores processing over 500 orders per month.
2. Vitals: All‑in‑One Marketing
Vitals is an all-in-one marketing app that helps online stores increase conversion, boost revenue, and build trust.
Features
Vitals: All‑in‑One Marketing helps you garner trust among customers thanks to reviews, Facebook and WhatsApp chats, displaying your Instagram feed, sales alerts, etc. It also allows you to import reviews from AliExpress or other apps, offer volume discounts, set a countdown, write alternative text for SEO, and change currencies, among many other features.
Vitals: All-in-One Marketing can be integrated with apps like Oberlo, Facebook Messenger, Klaviyo, Facebook Pixel, Instagram, and Geolocation.
Price
Vitals has a cost of $29.99/month which includes a money-back guarantee of 30 days. It is also possible to enjoy a 30-day free trial of Vitals.
3. Frequently Bought Together
Personalized recommendations, upsell bundles, and discounts is what this app offers.
Features
With Frequently Bought Together, your customers can add related products to their cart in one click. This makes it easier for them to discover new products and encourages them to add those items to their cart.
Frequently Bought Together can be integrated with Product Reviews, Yotpo Reviews, Jugde.me Reviews, Loox Reviews, Stamped.io Reviews, and Ali Reviews.
Price
Frequently Bought Together offers a one-month free trial. Then, you'll need to choose between these plans:
Plan Starter, without any costs
Plan Professional, with a monthly cost of $9.99
4. B2B/Wholesale Solution
B2B/Wholesale Solution describes itself as all-in-one wholesale solution, that gives a seamless shopping experience to the B2B customers.
Features
B2B/ Wholesale Solution is a highly effective app for attracting wholesale customers to buy in bulk using custom pricing, quantity break or bundles. It can assist you to set product prices easily based on customer tags or tier discounts based on the number of products in the order. This is advantageous since you can quickly set up compelling automatic features. Furthermore, you also have the ability to freely customize the discount's appearance using a specific amount, fixed percentage, or buy-X-get-Y values features.
Price
B2B/Wholesale Solution offers a free plan forever. However, you can also consider one of the subscriptions plans to access more premium features: 
Essential plan: $25/month
Advanced plan: $50/month
Platinum plan: $100/month
Best Shopify customer service apps
5. Shopify Inbox
The Shopify Inbox app is one additional functionality created by Shopify itself to help online stores manage communications with customers more efficiently.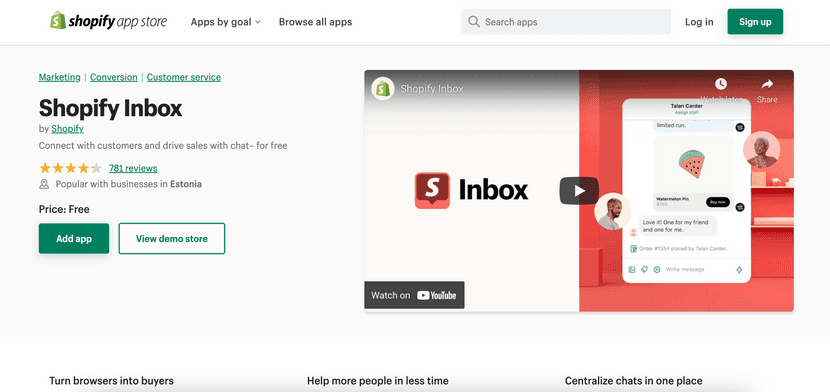 Features
Shopify Inbox is a messaging app that allows you to talk to customers and sell through chat, social media platforms, and email —directly from Shopify. You can customize your online store's chat, enable automatic replies, and take advantage of its other features, all from your administrator area.
Price
Shopify Inbox is free. To use it, you'll just need the Shopify app or have Shopify Inbox on your computer.
6. Tidio ‑ Live Chat & Chatbots
The chat features are the emblem of Tidio, a live chat app powered by chatbots that is used worldwide.
Features
Tidio ‑ Live Chat & Chatbots is an app for improving communication between customers and sellers. You can manage your chat, emails, and messages on Facebook Messenger from a single dashboard. By using smart bots, you'll be able to recover abandoned carts thanks to automatic messages.
Tidio - Live Chat & Chatbots can be integrated with GetResponse, Zendesk, Mailchimp, Google Analytics, and Zapier.
Price
Tidio offers three subscription plans:
The Free plan (free)
The Communicator plan ($19/month, €19 for every additional operator/month)
The Chatbots plan ($49/month)
Best shipping apps for Shopify
7. Outvio
Ship, track & return parcels and brand the customer journey while growing your online store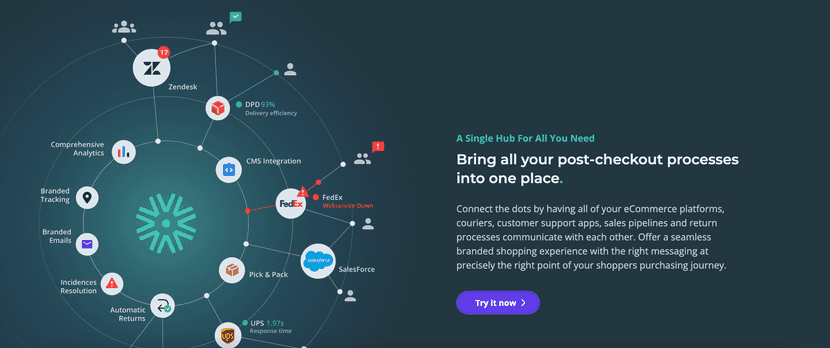 Features
Outvio creates a hub for your Shopify store. Connect all your couriers and third-party apps to Outvio so that you can manage everything related to the post-sales processes from a single interface.
With this app, you can improve shipping and return management, track your orders efficiently and professionally, reduce the number of shipping issues you and your customers experience, and optimize your communication with couriers.
Higher customer satisfaction, better management of resources for customer support, and higher conversion rates are just a few of the benefits of using Outvio.
Price
Outvio offers four subscription plans:
Starter plan: €15/month
Launch plan: €29/month
Grow plan: €99/month
Conquer plan: €199/month
Additionally, online stores that require a higher level of customization can request the Enterprise plan.
Best print-on-demand apps for Shopify
8. Printify: Print on Demand
Printify's app helps online stores create and sell custom products, while providing additional services, like fulfillment and shipping.
Features
Printify is an app that allows you to print on demand with Shopify. It allows sellers to market more than 600 different custom-made products such as T-shirts, accessories, or decor in a way that satisfies customer and store needs.
Its mockup generator provides an image of how the item will look and, thanks to its network of print providers, you'll be able to print your items regardless of where you are. Printify can also ship the items directly to your customers.
Price
Two subscription plans are available for Printify:
Free plan (free)
Premium plan ($29/month)
9. Printful: Print on Demand
Printful, similar to Printify, also provides top-rated print on demand dropshipping and warehousing services to online stores.
Features
Printful is also one of the most popular options when it comes to print-on-demand apps. Printful allows online stores to customize and sell over 340 premium products (from clothing to accessories, homeware or pet products). You can also use Printful to customize your packaging and shipping materials.
Its built-in tools enable users to create product mockups and designs in a simple way. Printful can also take care of the fulfillment for you and ship the items directly to your customers.
Price
Printful is available through three different subscription plans:
The ​​Free Plan (free)
The Plus Plan ($9/month)
The Pro Plan ($49/month)
Shopify apps for marketing
10. Plug In SEO
Plug In SEO is a tool that helps online stores optimize their SEO by fixing broken links, add JSON-LD Schema and alternative texts, and more.
Features
Plug In SEO is one of the top-rated and easiest tools to improve the positioning of your online store in SERPs.
This app can be integrated with Google, Bing, Langify, Locksmith, Search Console, and Judge.me.
Price
Plug In SEO is available through three subscription plans:
Free Forever Plan (free)
Plug In SEO Plus Plan ($29.99/month)
Plug In SEO Pro Plan ($39.99/month)
It also offers a 14-day free trial.
11. SEO Booster ‑ SEO Marketing
This app provides easy-to-use SEO tools that can be used for images, meta tags, schema, speed…
Features
With SEO Booster ‑ SEO Marketing, you'll benefit from an easy-to-use interface that will save you time and effort thanks to automatic features that detect and solve Google problems. The app will help you improve SEO metrics such as store ranking, customer traffic, Google indexing, and loading speed. You'll have all of this data in one place in an organized format.
This SEO tool can be integrated with Pagefly, Judge.me, UpPromote: Affiliate, Growave, LAI AliExpress, and Weglot.
Price
SEO Booster is available on three subscription plans:
The Free Plan (free)
The Pro Plan ($29.99)
The Unlimited Plan ($79.99)
SEO Booster also includes a 7-day free trial.
12. Instafeed ‑ Instagram Feed
Instafeed helps online stores create elegant and shoppable official Instagram feeds that help promote sales.
Features
Instafeed ‑ Instagram Feed helps you maintain a more curated and attractive feed, keeping your content up-to-date and functioning as 'social proof' for potential customers. This can result in new traffic, more time for other tasks, and a better relationship with your customers.
Price
Instafeed has three subscription plans for you to choose from:
Instafeed Free (free)
Instafeed Pro ($4.99)
Instafeed Plus ($19.99)
Conclusion
We hope this compilation with the best Shopify apps helps you choose from the vast number of options available in the Shopify app store.
Scaling your online business will undoubtedly be much easier when you implement innovative and professional tools like these. If you'd like to learn more about how to use Shopify to get the most out of your online store, read our full review on Shopify.