Inside this article
Parcel lockers are becoming increasingly popular in today's world.
The reasons behind their popularity are easy to explain: convenience for recipients, fewer shipping issues for online shops, better management and use of resources for shipping companies and faster delivery times for everyone.
The parcel locker system seems to benefit all parties involved in the shipment of a parcel and, although we're still far from forgetting traditional shipping methods, this practical delivery method will likely become more and more common in different parts of the world.
If you're not yet familiar with parcel lockers, this article will explain what they are, how they work, where to find them and shipping companies that use them, as well as frequently asked questions about the topic.
What are parcel lockers?
Parcel lockers are locations where couriers (and senders) can drop off parcels for later pick up.
Parcel lockers are, essentially, automated post offices. The recipient of the package can go to the post office, enter a parcel code and go to the specific locker where the package has been left. Then, the customer will be able to open it and receive the parcel.
The parcel locker system even allows for special delivery methods like cash-on-delivery.
How do parcel lockers work?
To ship a parcel via a locker as an individual, you need to deposit the package in the corresponding locker. The shipment can be registered and paid for online or at the parcel locker with a payment card.
The courier will collect the parcel and transport it to a parcel machine at the destination, where the recipient will pick it up after being notified by an email or SMS. This message contains the code that they need to enter to collect the parcel.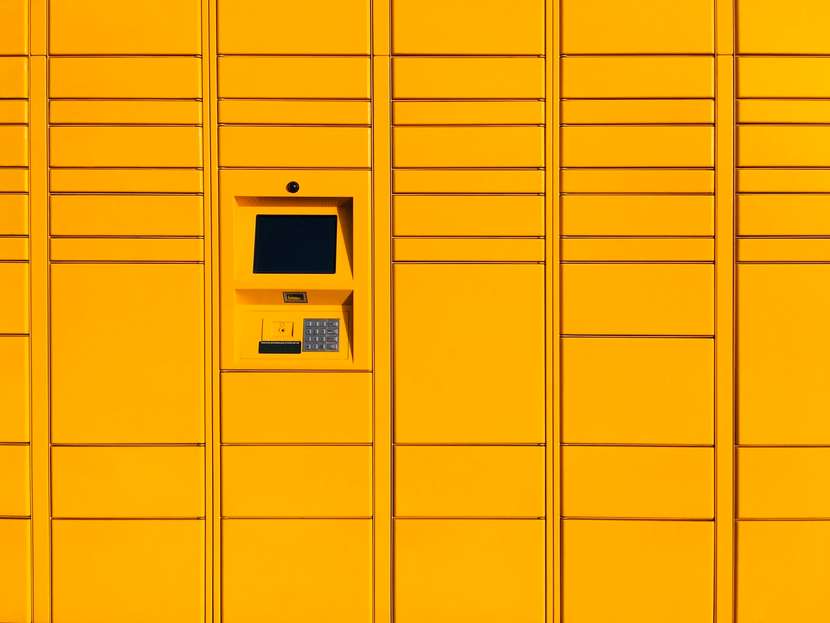 If you, as an online shop, want to deliver through the parcel locker method, you first need to make sure that you can ship your items in this way. To figure that out, you can check your contract with the shipping company or contact them to ask for more information on parcel locker possibilities.
Where are parcel lockers located?
Parcel lockers tend to be located in highly frequented public places (next to supermarkets, gas stations, shopping centres, etc.). Most parcel lockers can be accessed 24 hours a day, which makes them a convenient option for the receiver of the package and minimizes the number of shipping issues caused by an absent receiver.
Shipping companies that have a parcel-locker system
DPD
DPD is one of the most popular subsidiaries of GeoPost. DPD's focus is mainly on urgent and express deliveries, temperature-sensitive shipments and flexible deliveries through the locker system.
DHL
DHL is an international courier, package delivery and express mail service that is part of the Deutsche Post firm. They offer shipments under different branches: DHL Express, DHL Global Mail and DHL Parcel, all with different shipping rates and conditions.
Hermes
Evri, formerly called Hermes in the UK, is a German shipping company with a delivery and collection service.
Inpost
InPost is a private logistics operator with a network of 15,000 parcel lockers throughout Europe. In 2019, the company launched a mobile application, InPost Mobile, that allows customers to easily open the designated parcel locker.
FedEx
FedEx is an American shipping company specializing in services for eCommerce and other businesses around the globe. This courier company is famous for its air delivery service, FedEx Express. However, FedEx offers multiple services, from FedEx Ground to FedEx Supply Chain and FedEx Freight.
UPS
UPS (United Parcel Service) is a courier company primarily known for its ground shipping services. UPS also offers air shipping services for express shipments. UPS is based in the United States, but it operates worldwide. 
You can connect all your couriers in Outvio to optimise and streamline everything that happens after the sale: from shipping to returns, shipping-issue management and customer service
How big are parcel lockers?
Parcel locker measurements vary from courier to courier. Standard measurements range from 44cm wide x 11cm high x 45cm deep to 42cm wide x 117cm high x 45cm deep for larger packages.
Before you decide to ship through a parcel locker system, consult the measurements and conditions for that specific courier.
What can't be delivered to parcel lockers?
Some of the items that can't be delivered to parcel lockers are those prohibited by the courier (explosive and other dangerous materials, illegal products, etc.) and those that, because of their measurements, don't fit in the parcel locker.
Are parcel lockers free?
Parcel lockers are free to use if you're the receiver of the shipment and it isn't a cash-on-delivery shipment.
If you're a sender, you'll need to pay the shipping service online or at a parcel locker location.
For online shops, using a parcel locker is an affordable and fast way to deliver products to customers that minimizes shipping issues caused by absences and increases customer satisfaction.
With the use of parcel lockers, your customers won't need to worry about being at home at the moment of delivery. The package will be available for them in a shorter period of time.
Shipping rates for this kind of delivery are often more affordable than regular deliveries. This can benefit the online shop, in the case that they don't offer free delivery, or the customers if they're paying for the shipping costs.
Are parcel lockers PO boxes?
Parcel lockers can be quite similar to PO boxes, with the primary difference being that PO boxes aren't automated while parcel lockers are.
You can also pay for the shipment at a parcel locker, whereas at PO boxes you can only pick up a package that has previously been paid for.
Furthermore, PO boxes only enable pickups, while parcel lockers accept packages that are being sent out or picked up.
Conclusions
Using a parcel-locker system has benefits for everyone involved in the delivery: from the online store, to the courier and the recipient.
Parcel lockers are convenient option, they minimize shipping issues, save time and reduce shipping costs.