Inside this article
FedEx UK is one of the best shipping options for British online shops when it comes to express international deliveries. In this guide, we will cover everything you need to start shipping with FedEx UK, the advantages of using FedEx and their various national and international shipping services.
Remember that the couriers you choose will define the quality of your deliveries. For this reason, finding the best courier for your needs is essential. Offering a checkout with several delivery options encourages conversion, and it's more likely to improve your customers' shopping experience.
Continue reading about FedEx to find out if their services are what you've been looking for.
Domestic shipments with FedEx UK
FedEx Next Day before 9:00 am. Deliveries on the next day by 9:00 am.
FedEx Next Day before 10:00 am. Deliveries on the next day by 10:00 am.
FedEx Next Day before 12:00 noon. Deliveries on the next day by 12:00 noon.
FedEx Next Day. Deliveries on the next day by close of business.
FedEx Economy. Deliveries within 2-3 business days.
International shipping with FedEx UK
FedEx Europe First: Packages are expected to be delivered between 9:00 am and 10:00 am in major cities across Europe.
FedEx International First: Deliveries are made by 8:30 am on the next business day to specific countries or territories, and throughout the second business day to all other available destinations.
FedEx International Priority: Urgent shipments with delivery between one and three business days. For certain destinations, the delivery can be scheduled for before 10:30 in the morning. Available in over 200 countries.
FedEx International Priority Express: This shipping option offers deliveries by midday in 1 to 3 business days to selected destinations in Asia, Canada, Europe and the U.S.
FedEx International Connect Plus: Day-definite e-commerce delivery service, that combines competitive speeds with attractive prices to meet global customers' needs.
FedEx International Priority Freight: Premium airfreight service for shipments worldwide with a weight over 68 kg within 1-3 business days.
FedEx International Economy: Save on less time-sensitive deliveries from 2-5 days, while still enjoying a reliable door-to-door and customs-cleared time-definite service.
FedEx International Economy Freight: Send heavy shipments and pallets in a simple and affordable way.
Advantages of FedEx UK
Complete catalog of international services
Free packaging for certain shipping methods
Package tracking tools
Safe shipment of valuable goods
Numerous shipping centers
Possibility to create a special shipping service for companies
Having an efficient shipping and return system as part of your eCommerce business is the best way to encourage your customers to return for additional purchases.
FedEx UK shipping rates for eCommerce
FedEx doesn't offer a fixed plan for shipping rates in the UK. Shipping rates are calculated based on the destination, the dimensions, the weight and the level of urgency chosen. Luckily, on their website, you can find a section to calculate approximate rates. They also offer estimates on transit time.
However, as is often the case with many couriers, you can also negotiate a long-term, fixed-rate contract with FedEx UK. In order to establish this type of contract, FedEx will study your company and establish the rates and conditions accordingly.
Maximum weight and volume for shipping with FedEx
The maximum weight allowed for all FedEx domestic packages is 68 kg, while the maximum dimensions are 419 cm (adding up all measurements: length, width and height).
In the event that you want to ship dangerous goods, it's mandatory to contact FedEx and ask for approval beforehand.
The maximum weight of international packages sent with FedEx depends on whether the shipment is a standard or freight shipment.
Standard shipment: 68 kg max
Freight shipment: over 68 kg
FedEx's special services for eCommerce
FedEx packaging
FedEx Envelope: Basic packaging service for documents.
FedEx Reusable Padded Pak: Resistant to water and scratches. An oversized envelope intended for shipping heavier documents that require additional protection.
FedEx Reusable Small Pak: Intended for documents or soft goods. Water-resistant, recyclable and reusable packaging.
FedEx Reusable Large Pak: Intended for larger or heavier documents or soft goods. Water-resistant, recyclable and reusable packaging.
FedEx Reusable Extra Large Pak: Intended for larger or heavier documents or soft goods. Water-resistant, recyclable and reusable packaging.
FedEx Clinical Pak: Packaging for non-infectious clinical samples.
UN3373 Clinical Pak: Designed as an overwrap for exempt clinical-sample shipments.
FedEx Small Box: Self-assembly box designed to hold a single reel of magnetic tape, small documents, catalogs, file folders, videotapes and CDs.
FedEx Medium Box: Self-sealing box designed for binders, books or large documents.
FedEx Large Box: Self-sealing box designed for large stacks of paper, computer print outs, machine parts, etc.
FedEx A4 Box: Self-sealing box designed for customers making international shipments where the A4 style is preferred.
FedEx Tube: Tube-shaped packaging for documents that need to be rolled.
FedEx 10kg Box: A fixed-rate via FedEx International Priority Service up to 10 kg. Only one piece shipments, bill the sender, consignee or third parties.
FedEx 25kg Box: A fixed-rate via FedEx International Priority Service up to 25 kg. Only one piece shipments, bill the sender, consignee or third parties.
UN 3373 Clinical Pak: Specific packaging for infectious biological samples.
Good packaging can help you reduce costs. If you want to learn how, don't hesitate to take a look at our article on how to reduce shipping costs for online stores. 
FedEx UK pickup options 
Through a form: Complete the form to arrange a pickup for your FedEx return shipment.
FedEx Account: If you have a FedEx account, you can select "Schedule a Pickup" when logged into the app.
Drop-off point: Drop off a shipment that is pre-labelled at any of their locations.
FedEx tracking system for eCommerce
Both you and your customers can easily locate packages through FedEx's tracking portal. All you need is the shipment reference number.
Additionally, FedEx offers advanced tracking tools for everyone with a FedEx account:
FedEx Mobile App: Used to track the status of your shipments from your mobile device.
FedEx Ship Manager: Advanced order management tool with international tracking capabilities.
FedEx SenseAware: Order control sensor that informs the user about the physical conditions of each package and its location on Google Maps.
FedEx deliveries for eCommerce
Delivery under indirect signature: A signature is required by the recipient, a doorman or neighbors.
Delivery under direct signature: The signature of someone at the delivery address is required.
Delivery under the signature of an adult: The delivery will only take place if there is an adult at the destination address who can sign.
Scheduled deliveries: Customers can choose the delivery location that suits them best.
Managing shipping issues with FedEx 
To manage any shipping issue with FedEx, you must contact the company through its customer service system or manage the situation yourself using your FedEx account. Regarding claims, FedEx will only accept them if:
The problem doesn't come from a failure in the transport service. In that case, shipping will be refunded
The claim is duly notified
All the necessary information is included
All the costs have been paid
FedEx's return service for eCommerce
FedEx is well aware of how important a good return policy is for eCommerce. For this reason, it offers an efficient return service that facilitates smooth return management for both the online store and the buyer:
The shipping label is printed with certain pre-established information to speed up the process
Customers can also print shipping labels from any location
Tracking of the return shipments
FedEx Global Returns is the international version of the company's domestic return system. It offers the same advantages, but extends to all the countries where FedEx works, with additional customs management.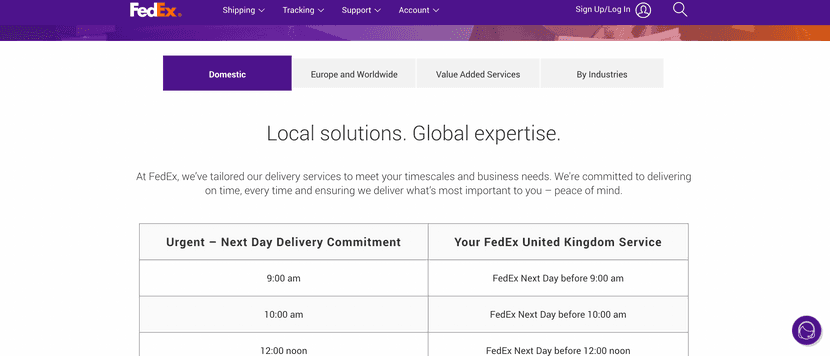 FAQ about FedEx
How does FedEx work?
FedEx asks you to open an account with them in order to start using their shipping services. If you have an online store and want to create a contract with FedEx, you should contact them directly.
Which FedEx location is my package at?
To find out where your package is, check the tracking page in FedEx's website.
Can you modify a shipment in progress?
Yes, all online stores and buyers can make changes to the delivery conditions of their orders through the FedEx Delivery Manager platform.
Does FedEx offer shipping insurance?
The only additional insurance service offered by FedEx is the possibility to declare the value of the goods. This option is available to all shipments whose value doesn't exceed €50,000 in the case of standard shipments or €100,000 in the case of freight shipment.
What is FedEx SenseAware?
FedEx's SenseAware service is a sensor that is inserted into the package so that the end customer has maximum tracking information about their order. This service can be added to individual shipments or you can opt for a monthly subscription.
Conclusions
FedEx is an international courier that can cover different business needs. However, if your online store is in the UK, you should also use local couriers such as Parcelforce or Royal Mail to lower shipping costs whenever necessary.
Outvio can help you create a multi-modal courier network by giving you a central hub for your post-checkout operations where you can connect multiple couriers and shipping methods.