Inside this article
UPS has everything an eCommerce business needs to satisfy its customers when it comes to shipping processes in the UK.
This international courier offers one of the most in-demand express courier services of online shops. They care about the quality of their shipping practices, which is shown in UPS' figures: over 24 million packages are delivered every day by this company. 
In this guide, we will explain how you can ship with UPS as an online shop. You'll find all information related to their company: shipping services, returns, tracking, and frequently asked questions about UPS.
Highlights of UPS
Including UPS among your shipping companies brings flexibility to the checkout of an online shop since both its domestic and international services are of the highest quality. Here are some of its most notable advantages:
Reliable service (on-time and secure)
At-home pick-ups
Up to three delivery attempts
The best transportation service for business and work activities
Free packaging service
Shipments without a weight limit or a number of packages
Includes customs clearance
Safe international returns
Possibility to ship dangerous goods
UPS services in the UK
UPS offers different kinds of shipping services in the UK:
UPS Express Plus: UPS Express Plus offers deliveries within a single business day. For deliveries whose destination is outside the country, the delivery is planned for the next 1-3 business days.
UPS Express: Domestic deliveries within one business day, and international shipments to be delivered in the next 1-3 business days for international shipping under UPS Express.
UPS Express Saver: National shipments are to be delivered in 1-2 business days, or 1-5 business days when the destination is international. 
UPS Express Critical: International service for same-day deliveries. The delivery time is provided when the order is placed.
UPS Standard: Scheduled deliveries for domestic and international shipments. 
UPS Expedited: International service that promises deliveries in the next 2-5 business days.
Express Freight: International service for deliveries in the next 1-3 business days.
Express Freight Midday: International service for deliveries in the next 1-3 business days, with deliveries before the evening in certain postcodes.
| Shipping method | Delivery time | Destinations |
| --- | --- | --- |
| UPS Express Plus | Before 9 am in 1 or 2 business days | Europe, United States, Canada and Asia |
| UPS Express | Between 10.30 am and 2.00 pm in max. 3 business days | Europe, United States, Canada, and Asia |
| UPS Express Saver | Between 1 and 3 business days | Europe, United States, Canada, and Asia |
| UPS Standard | Check conditions | Europe |
| UPS Expedited | Check conditions | Destinations outside of Europe |
| UPS Worldwide Express | Between 1 and 3 business days | International |
Additional services available worldwide:
Direct Delivery Only: Direct Delivery Only ensures a delivery to the address on the shipping label. Direct Delivery Only packages are eligible for Driver release or Letterbox release at the labeled address. Direct Delivery Only is available for residential and commercial packages.
Extended Area Collection and Delivery Service: UPS provides a collection or delivery service in extended, as well as urban areas for an additional charge.
Remote Area Collection and Delivery Service: This surcharge is applied for delivery to or collection from an area beyond UPS' extended areas, which are less accessible for collections and deliveries (domestic and international services).
Collect on Delivery (C.O.D.): Offer collect-on-delivery shipments to your customers and let them pay with cheque or cash. To learn more about this type of delivery, read our article on cash-on-delivery.
UPS tracking
On the UPS tracking page, you can track up to 25 different packages at once. Use the reference number yourself, or let your customers keep track of their own shipment.
UPS offers additional tracking features like UPS My Choice, Quantum View, and Flex Global View.
Shipping issues with UPS
UPS offers a claim center for delayed, lost, or damaged parcels. You can find the section for claims in the footer: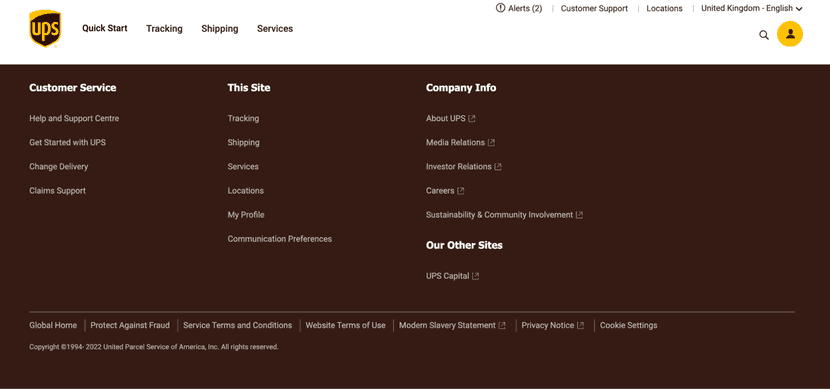 UPS returns
UPS provides the end customer and the online shop with all the facilities to reduce returns.
Not only does it have a collection system at the point chosen by the buyer, but it also allows the printing of physical shipping labels and the use of digital labels.
UPS Returns: Whether the shipment is coming from a nearby city or from across the globe, UPS Returns offers a wide range of possibilities to make returns easier.
UPS Returns Plus: This service speeds up the process of making a return by sending a UPS driver to collect the return package. If they're unable to do so, the driver leaves a return label for the customer.
UPS Returns Pack and Collect: This customizable service gives you complete control over returns. Schedule them at a designated location and time frame. The UPS driver arrives with the packaging and collects the parcel. You can even choose to offer multiple collection attempts, depending on your needs.
UPS Returns Exchange: Special service for exchanges. The driver will arrive with the replacement item and collect the original item for its return. The packaging for the replacement item is reused for the collected item, ensuring the returns process is quick and efficient.
FAQ about UPS
UPS weight and maximum dimensions limits
UPS limits the maximum weight of each package to 70 kg and the sum of its dimensions (length, width, height) cannot exceed 274 cm.
However, the shipping conditions vary from service to service and the violation of these limits can mean additional shipping fees.
What does UPS stand for?
UPS stands for United Parcel Service.
Will UPS deliver on Saturday?
UPS offers deliveries on Saturdays in different parts of the world. Please check availability in your country on their website.
UPS Access Point
There are several UPS Access Points across Europe. To find out your nearest UPS Access Point, visit the official website of UPS or check on a web mapping platform.
Conclusions
UPS is an international courier that can cover different business needs. However, if you operate in the UK, you may benefit from using local couriers such as Parcelforce or Royal Mail.
Outvio can help you create a multi-modal courier network by giving you a central hub for your post-checkout operations where you can connect multiple couriers and shipping methods, automating dozens of fulfillment tasks.