Inside this article
DPD shipping is one of the best options for online shops in the UK that have national and international deliveries.
In this guide, we'll cover everything you need to know to get started with DPD shipping: advantages, domestic shipping services, international shipping services, rates and frequently asked questions.
The parcel service you choose is largely responsible for the quality of your deliveries and shipments. Finding the parcel service that best suits your needs and those of your customers will positively impact your conversion rate and improve your customers' shopping experience.
Continue reading our guide to DPD shipping for online shops in the UK and find out if DPD is the shipping service provider you're looking for.
Shipping with DPD: advantages
Number one shipping company in the European parcel market
Flexible service for senders and recipients
DPD delivers over 7 million parcels to a total of 230 countries and regions worldwide every day
National and international shipping
Deliveries on Saturdays
Express shipping services
As with any parcel service, the transit times and delivery obligations can vary for both national and international shipping, depending on the exact pick-up and delivery location and the type of goods being transported.
DPD domestic shipping options in the UK
DPD 10:30: Delivery by 10:30 a.m.
DPD 12:00: Delivery by noon.
DPD next day: Deliveries will take place before close of business on the following working day.
DPD Saturday & Sunday Delivery: Deliveries on the weekend are available nationwide. 
DPD Swap It: This is the best option for those online shops that deal with product exchanges.
DPD Reverse It: This shipping service is ideal for online returns. It includes collection services to your customers and makes returning a product a stress-free experience.
DPD ContractPak: For shipping documents that need to be signed.
DPD Offshore: For all those locations that pose a logistical challenge (Channel Islands, Isle of Man, Northern Ireland, Scilly Islands and the Scottish Highlands and Islands). Deliveries usually take up two-days, being next-delivery and before-noon delivery possible in certain locations.
Logistics Solutions: This DPD service combines warehousing and shipping for online shops in the UK.
DPD provides special shipping conditions for Scotland.
DPD international shipping from the UK
DPD Classic
DPD Classic is the international delivery service for shipments across Europe and beyond.
DPD Express
DPD Express is the DPD branch dedicated to global air express shipping to over 230 countries.
Air Classic
Air Classic is an extension of the DPD Classic service. It allows you to ship to over 230 countries and provides full traceability and notifications to your customers to enhance their purchasing experience.
DPD Direct
DPD Direct enables international home-delivery service. This is especially useful for online shops that ship to Australia, Bahrain, Belgium, Brazil, Canada, China, Denmark, Egypt, Finland, France, Germany, Hong Kong, India, Israel, Italy, Japan, Kuwait, Lebanon, Libya, Luxembourg, Malta, the Netherlands, New Zealand, Oman, Portugal, Qatar, the Republic of Ireland, Russia, Saudi Arabia, Singapore, Spain, Sweden, the United Arab Emirates or the United States of America.
International Mail
This is the most profitable way to ship overseas parcels with a weight of at least 2kg. There are two international levels to choose from:
DPD Priority international mail for shipments that require shorter delivery times (3-7 days in Europe, 6-10 days to the rest of the world).
DPD Standard international mail service for less urgent packages. The delivery time for this method varies from 7-14 days in Europe and 14-21 days for the rest of the world.
| DPD domestic shipping | DPD international shipping |
| --- | --- |
| DPD 10:30 | DPD Classic |
| DPD 12:00 | DPD Express |
| DPD next day | Air Classic |
| DPD Saturday & Sunday Delivery | DPD Direct |
| DPD Offshore | DPD Priority international mail |
| DPD ContractPak | DPD Standard international mail |
What are DPD shipping rates for online shops?
DPD shipping rates depend on a number of conditions, including weight, dimensions, level of urgency, origin and destination of the goods.
To see an approximation of the shipping rates for an order, you can check out the courier's website.
Creating a contract with a shipping company can take up time and may not be possible for all online shops. If you want to start shipping right away, use Outvio's pre-established rates. We have several parcel delivery companies available in just a couple of clicks.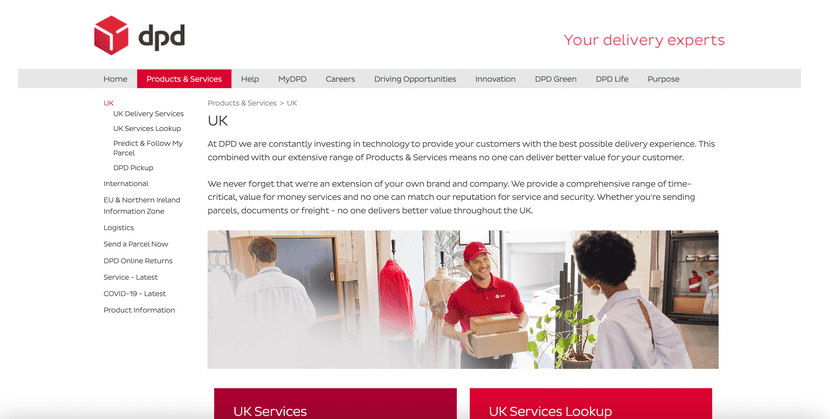 FAQ about DPD
What is MyDPD? 
MyDPD is DPD's online shipping platform for business customers. Using the platform, you can create and manage various shipping orders.
Outvio goes one step further by allowing you to automate all after-sales processes and offering a fully branded experience to your customers thanks to a custom-made tracking portal, personalised transactional emails and a self-service returns page.
Where is my DPD package?
You can check the location and status of your parcel on DPD's website.
Does DPD deliver on Saturdays and Sundays?
DPD offers deliveries on Saturdays and Sundays according to contract.
If DPD shipping methods aren't what you're looking for, you can check out other couriers that also offer professional services in the UK like FedEx, TNT or UPS.