Inside this article
Evri is one of the best shipping companies for online shops in the UK. This reliable courier for online shops offers convenient and simple shipping solutions, attractive prices and a wide range of services related to shipping and fulfilment.
Evri offers B2B and B2C deliveries. Regardless of who your receiver is, Evri has delivery options for both businesses and buyers.
Read on for more on their national and international shipping services, their additional services for eCommerce and the conditions for shipping with Evri as an online shop from the UK.
Evri's shipping options for eCommerce in the UK
Let's try to break down the specific services that will be useful for your online shop, since Evri offers dedicated services for eCommerce.
Evri's domestic shipping options in the UK
For domestic shipments, Evri offers up to 3 delivery attempts, tracking information, a 2-hour delivery time window, flexible delivery options to another location, photo confirmation of delivery to a safe place and a handful of other features available for the following shipping services:
Standard delivery is available from £2.66. Deliveries are scheduled for 2 to 3 days from drop off or collection. You can use a ParcelShop, Locker or a courier to deliver the products.
Next Day delivery is available from £3.76. With this shipping method, deliveries are scheduled for 1 to 2 days. Choose to leave the parcel at a Next Day drop off ParcelShop or Locker by 12 noon.
To ship using courier collection, you can only choose the Standard delivery method, unless you agreed otherwise with the company.
Check out the prices for domestic shipments here. Depending on the weight and type of delivery method, the price can vary from £2.66 to £9.71.
Evri's international shipping services in the UK
Evri only offers one international shipping option for online shops in the UK. To see the conditions and price for this option, go to Evri's website.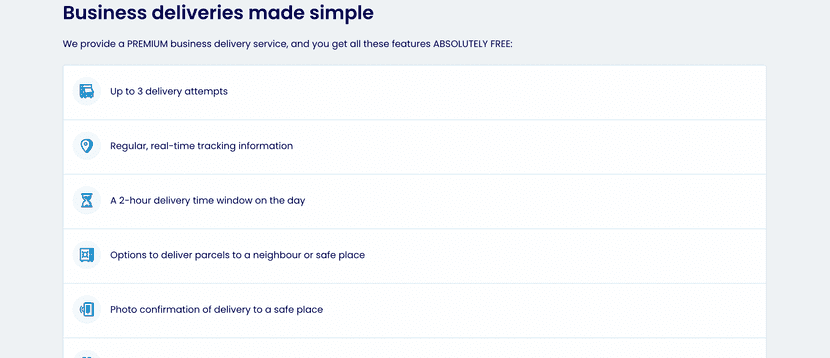 Evri's tracking system
Evri offers a tracking portal for both customers and online shops. You can find this section under the 'Track' tab on their website.
You can also track the parcel on the Evri app. Through this app, both you and your customers can change the delivery method, set preferences for the deliveries, ship parcels and process returns.
Return process with Evri
Evri provides various return solutions for online shops.
You can allow your customers to drop off the packages at a ParcelShop or Locker, or they can call a Evri driver for collection.
There are over 5,400 ParcelShops across the UK. Customers can either print their label at home or at a Print In-Store device, available at most ParcelShops.
If your customers prefer Lockers, they can drop off their packages at more than 1,900 Lockers. In this case, they'll need to print the returns label at home.
If you opt for courier collection, Evri will contact you in order to agree upon a suitable collection date and time.
To process a return with Evri, customers will need to enter an order reference number, their email address, a reason for returning the parcel and, if desired, the product that will be returned.
What are Evri's shipping rates for online shops?
Shipping rates vary greatly depending on the total number of shipments you process with Evri, the weight and dimensions, the destination and origin of the shipment, the level of urgency, etc.
You can easily find out the shipping costs with the help of the shipping calculator or check out approximations on their pricing page.
Evri parcel size and weight limitations
Evri establishes some dimension limitations.
To determine if your parcel surpasses these limitations, add together the 2 shortest sides, multiply it by 2 and add the length. If the total is less than 245cm, your package fits the limits.
For deliveries with courier collection or through a ParcelShop, the maximum length is 120cm. For Lockers, the limits are 66cm x 41cm x 38cm.
Evri's parcel weight limit is 15kg. If this limit is exceeded, additional costs may be charged.
Insurance
Standard liability is included at a rate of £20.00 per parcel. This insurance amount only covers lost parcels, not damages.
FAQ about Evri
Can I calculate my shipping costs with Evri?
Yes, this is very easy to do with the shipping calculator.
Where is my shipment?
To quickly and easily determine the status of your shipment, you can use their online shipment tracking system.
How much is Evri shipping?
Shipping with Evri is quite affordable, compared to shipping with other companies in the UK. You can check the prices for national and international shipments on their website.
How do I print a Evri shipping label?
You can print a shipping label from Evri at home or at one of their ParcelShops with the Print In-Store device.
How can I speak to a Evri UK representative?
If you want to speak to a Evri UK representative, you can start a conversation on this page.
Does Evri work on Sundays?
Evri doesn't collect or deliver parcels on Sundays or bank holidays. 
What are the Evri delivery hours?
Evri delivers from 8am to 8pm Monday to Friday, and between 8am and 6pm on Saturdays.
Conclusions
If Evri shipping isn't what you' are looking for for your online shop, or if you want to create a multi-courier strategy by working with various shipping companies, read our articles on DHL, DPD, ParcelForce Worldwide, FedEx and or TNT.
Outvio can help you create a multi-modal courier network by giving you a central hub for your post-checkout operations where you can connect multiple couriers and shipping methods, automating dozens of fulfillment tasks.