Inside this article
Multi-location inventory management is an essential activity that can make a business fail or succeed. Running several logistics centers can be made much easier with a warehouse management system (WMS), but there are some challenges and problems that may need to be addressed before implementing such a system.
In this post, you'll discover the advantages of optimized multiple location inventory management and some software systems that will help you make your warehouse operations more efficient.
Challenges behind multi-location inventory management
Now that your online business has grown and you need to set up multiple warehouses, the next logical step is to reduce logistics costs by:
Reducing the delivery window: Plan a delivery window that is as short as possible in terms of the distance and the time needed to deliver the products.
Gaining control over the stock: Design a warehouse layout that works for your business, and implement a WMS to avoid having too much stock (generating unnecessary costs), a lack of stock (creating dead time and bottlenecks) or unorganized inventory locations.
Minimizing errors in order processing: Having multiple warehouses that aren't automatically and permanently connected can create duplicate orders or miscommunications between the different warehouses, which can cause delays and forgotten orders.
Preventing bottlenecks: Poor inventory management can lead to slower warehouse operations and angry customers if, for example, an order isn't shipped on time.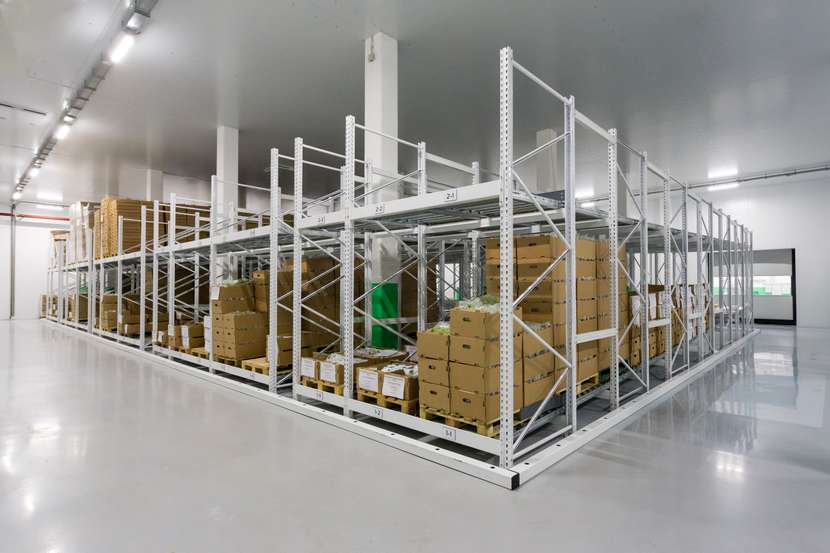 Advantages of multi-location inventory management and WMS
These are some of the advantages of having multiple warehouses to manage inventory and working with a WMS solution:
Faster order processing: Thanks to inventory location systems, the team will be able to find the products faster and, with the help of a WMS, they'll be able to communicate with other warehouses and members of the team to pick and pack products more efficiently.
Lower logistics costs: Having an overview of your stock levels will help you keep them to a minimum, providing safety stock at all times — without all the unnecessary costs. Additionally, working with a WMS provides solid data about product and order traceability: arrivals, departures, destination, price, etc. across multiple warehouses.
Better communication between warehouses: A warehouse management system can be used as a communication channel for different parties, and it can notify you of pending orders in each warehouse or pending product arrivals to the warehouse. Thanks to this type of software system, you'll have more control over the different warehouses and stages in the supply chain.
More customer satisfaction: Lower logistics costs and faster order processing mean that more resources can be put into improving the customer experience by, for example, providing faster shipping times or more flexible delivery conditions. Additionally, having fewer errors translates into fewer queries in customer support, fewer costs for the online store and a better overall experience for the buyer.
Inventory management software systems for multiple warehouses
Now that the arrival, classification and storage of products have been perfected, the next step is to optimize your post-checkout operations with Outvio. This eCommerce platform helps you streamline dozens of processes, from order fulfillment to shipping, tracking and returns.
Outvio will become the hub for your online store, creating a solid and reliable ecosystem that's easy to use.
Connect your CMS, use Outvio's pre-set shipping rates or include your own, and make your operations more efficient within minutes! Start using Outvio now.
Other WMS software that can help you manage your inventory levels and warehouse operations are:
Katana is a manufacturing ERP that gives you a real-time overview of your business, including live inventory and manufacturing management, batch tracking for end-to-end traceability, a Shop Floor App for total floor-level control, open API and a growing channel partner network. Real-time master planning features automate resource allocation based on prioritized sales orders and integrations with eCommerce, accounting, shipping, CRM and reporting services to centralize your operations in one visual platform.
Megaventory is a software system that helps businesses with inventory management, order fulfillment, report creation, manufacturing tracking and data administration.
Zoho Inventory is an online inventory management software with a robust free version and affordable paid plans. Zoho Inventory is better suited for small online stores or inventory and business models that require the essential features of a WMS: out-of-stock notifications, order confirmations, inventory tracking and barcode scanner capabilities.
Conclusion
Multi-location inventory management is a key aspect of operating a business that's developing and working at full capacity with the optimal quantity of resources.
By implementing smart warehouse management systems, you'll be able to overcome all the challenges that come with managing multiple warehouses and enjoy all the advantages it can bring to a flourishing business.