Inside this article
Choosing the best eCommerce CRM software is key to increasing customer satisfaction and building loyalty since it allows online stores to manage customer relations automatically and efficiently. This is possible thanks to the centralization of the workflow and customers' information that efficient customer relations management achieves. The data gathered can later be used to add value to the user experience.
If you don't use CRM software yet, you may be missing out on a great opportunity for growth, check out the best solutions for customer management for online stores.
Top 9 eCommerce CRM software systems
1. Salesforce
Salesforce has been one of the best eCommerce CRM software options on the market for years. Salesforce is an adaptable and flexible cloud system that is easy to use, which makes it the perfect CRM for growing online stores. Interdepartmental coordination and communication is easier and more efficient once Salesforce is integrated in the operations of businesses.
Advantages
Modules to expand functionalities
Professional solution with years of experience in the market
Easy to use, without much training necessary
2. Pipedrive
Pipedrive is a software company that provides CRM functionalities to improve communications between sales and potential customers. With this software system, you can obtain sales forecasts, follow up with prospects or automate email marketing campaigns. It can be a good alternative for online stores that want to improve the sales process and customer service.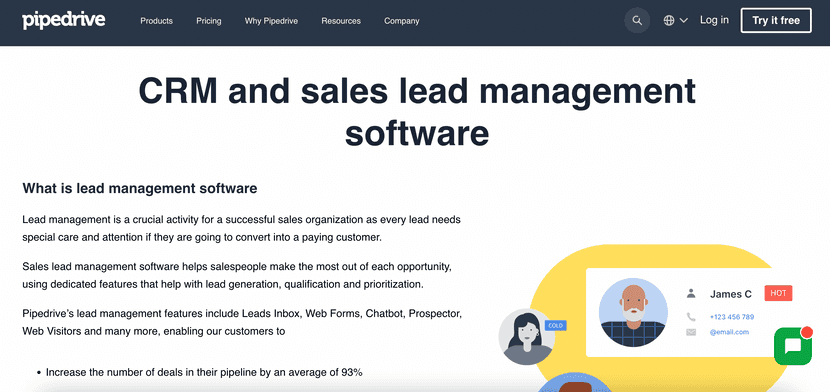 Benefits
More traceability throughout the sales flow
It has a mobile application
Cloud environment with more than 150 installable applications
3. Zoho CRM
Zoho is one free CRM software system that is used by companies of all sizes. However, it's more oriented to smaller teams, making it a great option for businesses without many resources that want to provide quality customer service.
Strengths
Automate tasks such as marketing, sales and customer service
Support available in different languages
4. Sage CRM
Sage includes high-tech functionalities to automate processes in sales, marketing and customer service and unify them in a single workflow. Sage is an intuitive tool that makes tracking leads and customers much easier.
Benefits
Automatic update of customer records in the sales funnel
Overview of the sales cycle
Customer information analysis
5. Microsoft Dynamics
Microsoft Dynamics is a high-performance software that can be used for customer relations management. As with any ERP system, Microsoft Dynamics provides management tools for all areas of a company, from marketing and customer service to production and the supply chain. However, using Microsoft Dynamics requires certain technical knowledge, and its price is considerably higher than that of other options.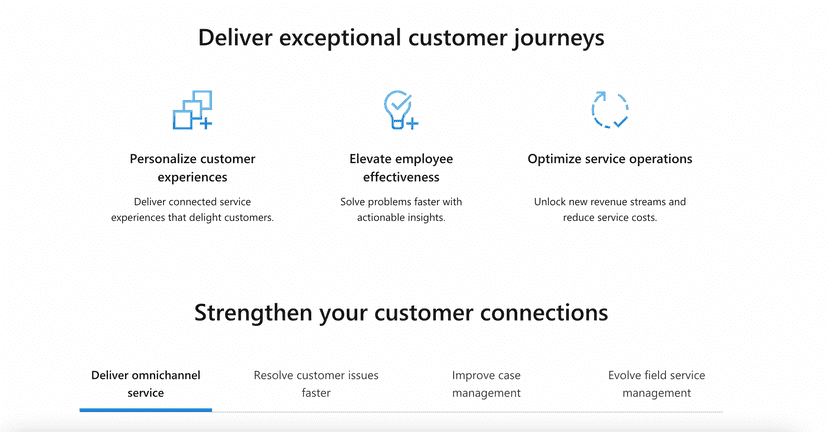 Advantages
Optimize the entire operation of a business
Highly adaptable to business needs
Constantly updated
6. Netsuite
Another eCommerce CRM software to know about is Netsuite. This cloud solution is suitable for omnichannel businesses, since it's a very comprehensive and adaptable tool.
Strengths
Centralize leads and prospects for management
Speed up interaction between customers and help desk workers
Traceability of the product from its production to sale
7. Sugar
Sugar is a complete eCommerce CRM software that can be used to unify sales, marketing and customer service, improving the performance across the different departments. This CRM is easy to use, which makes it perfect for small businesses and employees that are still building their communication processes. The downside of Sugar is that its functionalities are more limited than those offered by other platforms.
Benefits
Ease to use
Wide variety of plans and prices
8. Base
Base combines functionalities for sales and customer service. Its interface is designed to work across desktop and mobile devices, such as tablets or smartphones. Control your sales flow conveniently with this Zendesk tool. You can learn more about it in this article.
Advantages
It uses geolocation for more precise customer management
Synchronize all contact information in a single database
Lower price point than other options
9. Hubspot
Hubspot is a CRM software program specialized in the inbound methodology. The philosophy of the brand is to train organizations to track customer behavior throughout the entire sales funnel. In this way, the company can implement actions based on the needs extracted from Hubspot. For example, by adjusting the services offered in the post-sales stage.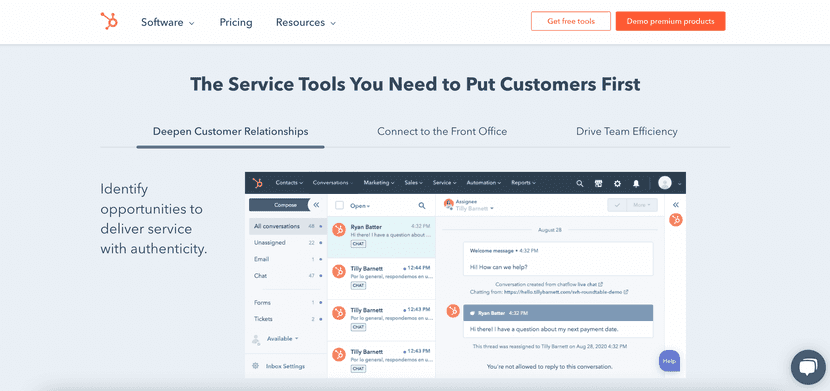 Strengths
Inbound-marketing campaigns management
Department connection (sales, customer service and marketing)
Intuitive interface
Outvio
Outvio isn't a CRM system per se, but an advanced solution for post-checkout operations management in eCommerce. It creates a flexible and intelligent work environment that helps online stores optimize their processes: from customer service to order fulfilment or branding. Create a unique shopping experience for your customers, while alleviating costs and optimizing and accelerating eCommerce tasks.
Connect your store to Outvio and a CRM software system to take your business to the next level today!
Best eCommerce CRM software systems: review
| CRM software | Lowest monthly fee | Free version |
| --- | --- | --- |
| HubSpot | €41 | YES |
| Salesforce | €25 | YES |
| Pipedrive | €12.50 | YES |
| Zoho | €14 | YES |
| Sage | €37.50 | YES |
| Microsoft Dynamics | €42.20 | YES |
| Netsuite | $99 | YES |
| Sugar | $80 | YES |
| Base | €19 | YES |
What is the best CRM software for a small online store?
Pipedrive and Zoho are two great CRM options for midsize businesses, since they are not as expensive and complex to integrate as some others.
What is the best free CRM software?
The free version of Hubspot is one of the most popular options among many companies.
What is the best CRM software for startups?
Sugar is a CRM designed to facilitate client management for startups.
Conclusions
Choosing the best CRM for your eCommerce isn't an easy task. Take into consideration the size of your business, the level of complexity of your operations, your budget and what each of these eCommerce CRMs offer to your business.
Then, evaluate some of the most popular CRM systems, like Pipedrive, Hubspot, Salesforce, Zoho or Sage and decide if they are a good fit for your online store or if you prefer, look into less-known solutions, they may be exactly what you are missing in terms of customer service and relations management.