Inside this article
Email marketing strategies, also known as emailing, are among the most effective techniques to attract new buyers to an eCommerce business and convert existing customers into brand fanatics.
In fact, the conversion rate for email marketing is three times higher than the conversion rate obtained from social media campaigns.
Don't miss the opportunity to learn what email marketing is and why it's such a powerful marketing strategy for eCommerce businesses. We'll also offer some email marketing techniques and strategies to create the best marketing campaign for your eCommerce store.
What is email marketing and why is it fundamental for eCommerce?
When the number of users overflows the capacity of your team, email marketing automation strategies come in handy. This "issue" —if having too many customers can be considered one— tends to happen sooner than planned and can catch you off-guard. For this reason, it's important to know how to create an email and build email marketing that is relevant in the eCommerce sector.
Email marketing is the practice of sending emails with commercial goals to users included in a database. This strategy can be used to have an impact on leads with a specific search intention, whether it's a discount, the purchase of a specific product or the checkout process for an already existing order.
Advantages of eCommerce email marketing strategies
More customer acquisition and higher conversion rates
Better customer relations and stronger brand image
Maximization of ROAS and ROI
Updated and segmented databases
Information to analyze, define and categorize customer behavior
More precise A/B tests 
More resources can be put into other departments and tasks
Through email marketing automation strategies, an online shop can adapt the message depending on which stage of the buyer journey the customer is at, and their interactions thus far. In this way, it'll be easier to transform customers into brand ambassadors once a purchase is made or create more attractive copy to make them convert (buy).
In theory, the inbound marketing circle seems rather simple: A user shows interest in a product or service, you create an eCommerce email marketing strategy to provide new and valuable content, and the potential customer buys for the first time (or makes a second purchase, increasing customer loyalty).
Whenever email marketing is discussed, the conversation seems to revolve around sales. In some way, email marketing can definitively be used to increase sales in the short and long run. However, there's an additional advantage to eCommerce email marketing campaigns: savings.
The advantages of email marketing automation strategies in terms of costs are very positive:
Less resources spent on staff 
Better time management
New processes can be developed 
Less workload in the marketing department
Advertising can be done for less cost
Before we continue with 5 ideas to build a successful email marketing campaign for eCommerce, let's take a look at the 3 main pillars that should be the basis for every email marketing strategy.
3 pillars for a successful email marketing strategy
Without these pillars, you risk creating inefficient campaigns that obtain low conversion and open rates.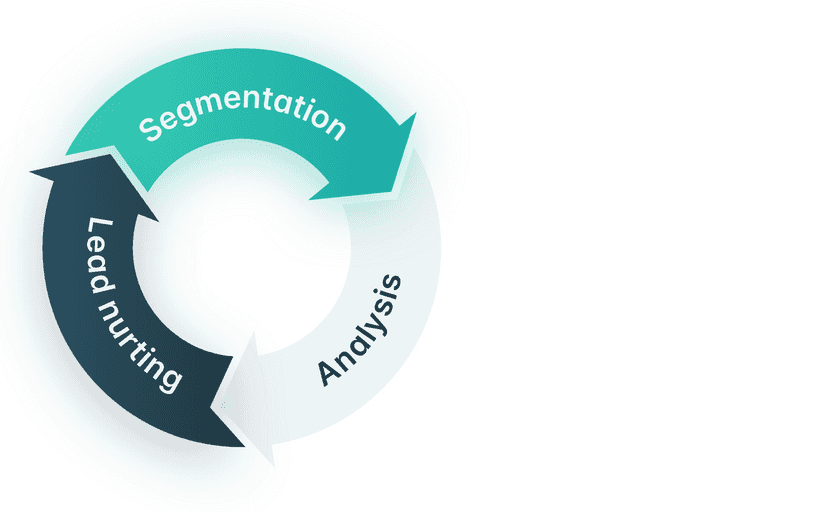 Segmentation
Considering your target audience is fundamental to creating any marketing strategy. For this, you'll need to have a deep understanding of what your customers need and want, what they expect to find from your brand and products and how your product or service solves their issues.
To properly segment customers, the form or landing page needs to be designed for conversion, as it applies to your business: account sign up, purchase, etc. If the purchase intention doesn't fit the intention of the user, it will inevitably affect conversion rates.
Analytics
One of the best advantages of using email marketing automation tools in eCommerce is that it gives the business the possibility to obtain real and updated data without interruption. If you store and organize this information, you'll be able to check the email open rate, the bounce rate, how often customers interact, conversions, the number of clicks, etc. —and change the strategy accordingly to optimize every stage in the funnel.
Lead nurturing
This is more than just a pillar; it's a philosophy in itself. Lead nurturing means being present at every stage of the buyer's journey. For this, the entire sales process needs to be designed with the user at the center. This holistic vision 'feeds' the netizen with every step they take and invites them to continue until they convert. Use all the information you have to give your customers what they want before, during and after the sale.
5 ideas to boost your eCommerce email marketing campaign
1. Use email marketing for customer attraction
You can create an eCommerce email marketing campaign to impact the user, either by promoting the brand or the product(s). Ideally, you would do this for users who have submitted their email addresses through a form. Then, you will send personalized newsletters, using inbound or outbound strategies.
The email marketing automation strategies most commonly used for customer acquisition are:
Welcoming emails
The name is pretty self-explanatory. These emails are sent to whoever signs up for the eCommerce newsletter. The main goal of welcoming emails is to set the tone for future interactions between the brand and its customers. This type of email generates engagement since the user already showed interest in the brand by signing up.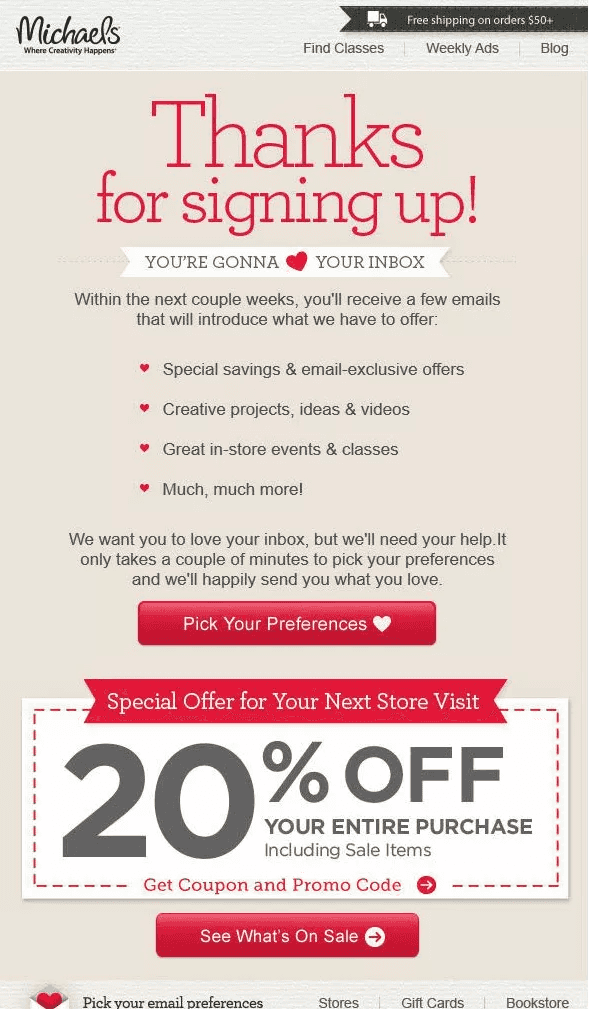 Source: Omnisend
Promotional emails
These can include a promotional coupon or discount on certain products. If your eCommerce business has a wish list feature, use these emails to inform your customers when a product is available or if they can benefit from a specific promotion or discount.
Seasonal emails
These communications remind the user of an event about to happen. They are commonly used for high-traffic campaigns such as Black Friday, Christmas or Valentine's Day.
Congratulations emails
Receiving these emails as a consumer may be seen as predictable, but congratulations emails have a huge impact on people's opinion of the brand and can often lead to new purchases.
Inactive-user emails
These emails can be used to remind users who haven't been active recently of the advantages of the brand and its products or services. In this way, you can increase the number of repeat purchases and loyal customers.
2. Use email marketing for conversion
In the conversion stage, your goal should be to guide customer's behavior and actions to promote sales. For this, you can use different types of emails:
Visited-product emails
When a user visits a product page and leaves without purchasing, they'll receive an email with related products. These communications can be customized in line with factors such as the bounce rate or the time spent on the page.
Cart-abandonment emails
These can help an online store to transform those abandoned shopping carts full of products into purchases. This emailing strategy is indispensable in eCommerce since users that arrive at checkout have a high purchase intention. That means higher chances for conversion.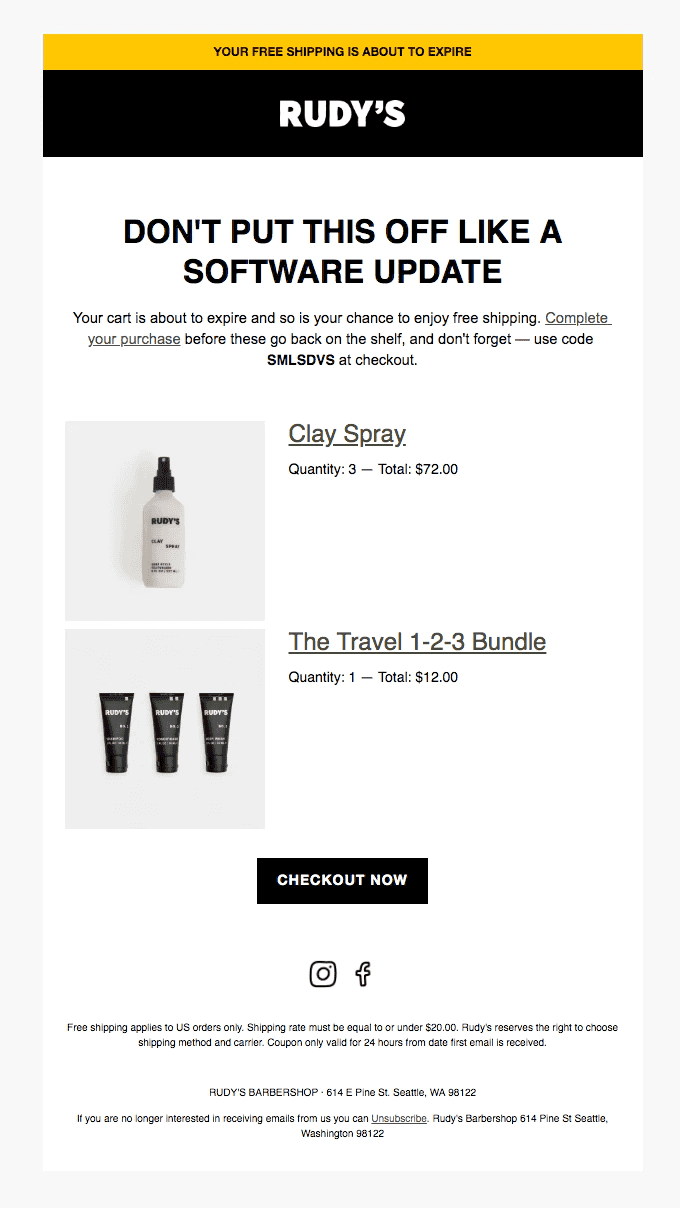 Source: Shopify
3. Use email marketing for customer loyalty
Customer retention and the prolongation of lifetime value are some of the reasons why email marketing techniques have gained popularity in the post-checkout operations of an eCommerce business.
This can be attributed to the existence of the aforementioned inbound cycle: A user that is constantly impacted by eCommerce campaigns can be easily reintroduced into the purchase experience.
Newsletters sent post-checkout have a higher open rate since they are connected to an ongoing purchase.
Buyers are interested in knowing the status of their orders. This is due to the fact that  transactional emails may contain relevant information on the acquired product, such as a commercial invoice, shipping address, order number, and even a return label.
Don't miss this opportunity to include a 'thank you' message, links to social media, promotions and so on. In other words: Add value and differentiate yourself from your competitors.
One clear and successful example of transactional emails are notification emails with tracking or shipping information. These emails keep the customers informed of the status and location of their order. They can also be an excuse to send a special message to increase customers' satisfaction and a retargeting banner to promote cross-sales.
4. Implement email marketing automation tools
As we said in the beginning, email marketing requires special software to enable these various functionalities. Here are the most popular email marketing automation tools for the eCommerce market:
Outvio
Although this isn't an email marketing automation tool per se, Outvio allows you to send emails, SMSs and communications through social media platforms to inform customers about the status and location of their orders, automatically. You can also customize the message by adding related products to increase the chances of new sales.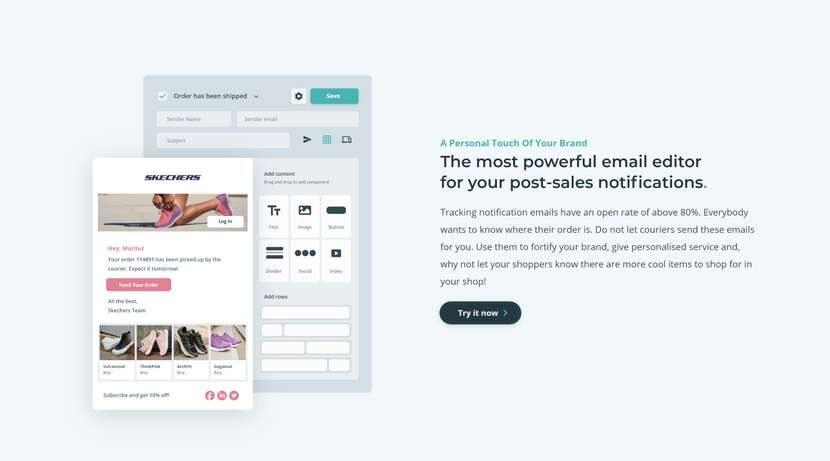 The main advantage of Outvio, at least when compared with the tools below, is that it doesn't require an already existing database. The software system can generate the email database automatically. Customer loyalty will be easier to obtain —and with less resources.
Mailchimp
Mailchimp is an email marketing software that is well known and used worldwide. Mailchimp facilitates communication with customers by completely automating email marketing through a database. This tool also provides data and statistics to better refine eCommerce campaigns, especially in the attraction and conversion stages.
Sendinblue
Sendinblue allows eCommerce businesses to manage and administer databases and contact information through a simple and intuitive interface. This helps businesses to a) better segment customers and b) automate the process of sending emails.
5. Segment, test and analyze
Like with any marketing strategy, you'll need to segment the target audience you want your emails to go to. Otherwise, you'll be spending resources on users that may not have an interest in your products. The resources saved on adequate segmentation can be better spent somewhere else.
Secondly, it's important to test different email marketing sequences. This will help you gather a complete view of what information and designs users expect to find when receiving an email and what they don't have an interest for.
Finally, if you decide to test different ideas and store the data obtained from your email marketing campaigns, you'll be able to a) determine the needs and wishes of your target and b) find out what they aren't interested in In this way, you'll be able to create more successful email marketing campaigns, obtaining a bigger ROI than if you simply stick to the first email marketing ideas you pursued.
Conclusion
Ecommerce email marketing is one of the best marketing strategies an eCommerce business can carry out today.
Now that you're familiar with the kinds of emails that can generate more profits and the best email marketing automation tools, it's time to put your emailing strategy into practice and take your email marketing campaigns to the next level!