Inside this article
Online shopping is shedding light on the importance of optimized eCommerce logistics. Route planning or warehouse layout can cause overruns and blockages in the overall flow of the organization.
If this is your case, it's time to address warehouse layout design. Check out the advantages of warehouse layout design and tips for warehouse layout design optimization.
What is warehouse layout design?
Warehouse layout design is the creation of a planimetric strategy for the physical space, facilities and operative areas of a warehouse to achieve greater profitability in all processes that are carried out inside. Warehouse layout design, or the lack of it, has a significant impact on eCommerce logistics costs as well as on the final profits a company makes.
Before we continue on the topic, it's essential to understand that the warehouse layout design is a matter to be considered at all stages of eCommerce management, not only in the early stages of a business.
It's logical and common that, as demand grows, a business's storage and processing area will also grow. To make sure that you use all your resources to your advantage, implement an efficient warehouse layout design by implementing some changes.
You should internalize warehouse layout design as a regular aspect of eCommerce management.
What are the most costly processes that take place in a warehouse? According to ResearchGate, order picking is one of the most costly tasks when it comes to warehouse activities and should therefore be the first ones you optimize if you're looking to create a more efficient warehouse.
Advantages of an efficient warehouse:
It maximizes the usage of the space
It reduces product handling to a minimum
It eases access to items
It optimizes stock rotation tasks
It improves inventory control and tracking
It does away with unnecessary activities
It speeds up internal management tasks
It prevents congestion at sensitive points in the supply chain
It accelerates picking and packing times
5 tips to design an efficient warehouse layout
1. Plan the location
The location selected for a warehouse plays a fundamental role in the development of the tasks inside the facility.
Before creating and planning your warehouse layout, you should analyze soil permeability, humidity levels and the presence of clay soil or gullies. In the long run, these elements can put your goods at risk and cause severe physical and financial problems.
Another key factor to consider is the location of the warehouse. If you are only going to have one warehouse for several physical stores or if your customers are scattered throughout a vast territory, looking for a warehouse that is as close as them as possible will have an impact on shipping and delivery times and costs.
You should also check other features of the building that can impact internal processes, such as the pillars, walls, piping, etc. Try to look for solutions to whatever problems emerge.
2. Analyze processes following the SCOR model
To design a layout for your warehouse, it is crucial to determine the viability of processes and how you plan to detect potential issues down the line.
One way to do this is by dividing your supply chain into different processes and analyzing how they work independently. This system allows you to ascertain whether there is friction between activities, thereby helping you to coordinate the totality of the supply chain and optimize those activities that seem to need improvement.
Using the SCOR model (supply chain operations reference) to analyze your supply chain is important because many processes change according to the location and layout of a warehouse. The SCOR model helps businesses evaluate and perfect supply chain management for reliability, consistency, and efficiency.
Placing the items in accordance with the turnover of each product, dividing the products into categories, sectors or departments and clear and spacious loading and unloading areas are some of the solutions to common problems detected by using the SCOR model.
This strategy can also be applied to other tasks in the supply chain to provide an overall vision and identify synergies between different processes: sales, finances, production, distribution, etc.
3. Analyze your inventory levels
The availability of stock determines the response and delivery times that an eCommerce business is able to offer to a customer. An optimal inventory must have a sufficient quantity of items to provide the service, but not so many that it results in cost overruns.
When analyzing your stock, consider:
Lifetime and obsolescence of goods
Stock quantity
Cyclicality of demand and the time needed for order processing
Technology used
Time required for a purchase to arrive at the warehouse from a supplier 
Time needed for sorting
4. Use traceability indicators
To successfully monitor performance with quantitative data, first you'll need to plan and implement some or all of our previous tips. Without planning, obtaining information on KPIs can become a real odyssey.
However, this data is crucial to evaluating the efficiency of a warehouse and the impact it has on a business. Establish your KPIs to obtain and compare data and detect anomalies that reflect flaws in the strategy or system. Some if the most common indicators used in warehouse assessment are are costs, speed, productivity, security and sustainability (with regard to ethics and the environment).
5. Automate tasks
Now that you know which areas and tasks can be improved or rethought, it's a good time to incorporate technologies that automate internal processes.
This will help you dispose of unnecessary tasks and reduce costs in the supply chain.
All this automation can be simplified by using software like Outvio, which allows you to reduce processing time by automatically creating picking and packing lists, dividing orders depending on the amount of products and printing shipping labels and documents, automatically.
Outvio speeds up order processing and shipping by 71%.
Automation is a complex topic that is relevant to many areas of a business. For example, in this article, we tell you how to automate your email marketing strategy to boost sales and improve customer loyalty.
The importance of warehouse layout design
A warehouse layout design is a printed or digital document showing how various elements are arranged inside a warehouse.
An efficient layout design should indicate the most efficient way to manage the available stock and processes taking place inside. In essence, the warehouse layout document is a visual representation of the warehouse with its different areas and the activities carried out in each of them.
The layout will provide you with a panoramic view of the entirety of the warehouse so that you can easily identify the best strategies for your supply chain. This is one of the most important tools for warehouse layout design since an accurate representation of the warehouse can be used to improve processes and space usage over time.
To get the most out of your warehouse layout, you should consider all elements involved in the preparation of an order:
Product catalog and item sizes
The entry and departure of goods
The location of different areas
Machinery used for moving the products
Stock rotation frequency
Packing systems
Machinery maintenance
The regularity of courier pick-ups
Warehouse layout designs for eCommerce
The following picture is an example of a basic warehouse layout: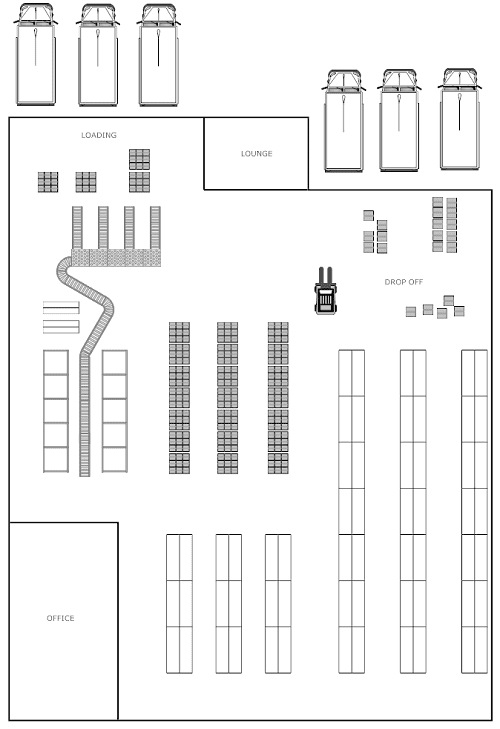 Source: SmartDraw
Functional layout (based on processes)
In this type of layout, the space is arranged according to processes and factors like human capital, tools, machinery and infrastructure. Elements can be grouped according to internal tasks. Functional layouts can be especially helpful for warehouses that manage different types of products but have a lower number of restocks.
Fixed-position layout
This kind of layout is preferred when the goods are fixed (literally or figuratively) to a particular space while the operators and machinery are the elements that change and move around. The fixed-position layout works best for items that are voluminous, heavy or both.
Cellular layout
This model mixes the previous two. Teams are made up of different work cells that have been arranged to handle products with similar characteristics. Cellular layouts aim to promote cost reduction in processes.
Conclusions
Now that you know what is warehouse layout design and the advantages of optimizing the warehouse layout design, it's time to put our advices into practice and reduce your logistics costs and errors to the minimum.