Inside this article
Thinking of selling on AliExpress? Find out how to sell on AliExpress and what are the main benefits and downsides of this eCommerce platform compared to other marketplaces.
What is AliExpress?
AliExpress is a marketplace that has been running for over 10 years. AliExpress has a market of over 150 million users, a presence in more than 200 regions, and translations to 18 languages, making the internationalization of a business a natural step in the growth of an online retailer.
What's the difference between Alibaba and AliExpress?
AliExpress is a marketplace that belongs to the Alibaba Group, which also owns AliPay, Alibaba, and Aliyun. As you can guess by the name, AliPay is a payment platform similar to PayPal, but you're probably wondering what the difference is between Alibaba and AliExpress.
AliExpress is a marketplace like Amazon or eBay that's targeted to individuals, whereas Alibaba is a marketplace for wholesale buyers. In other words, AliExpress is a B2C platform and Alibaba is a B2B.
This means that prices on Alibaba are more competitive when you compare value and quantity, but retailers demand a minimum quantity of products in every order. AliExpress offers retail prices in whichever quantity the buyer chooses, as long as the shop can provide.
Depending on the target of your business, you should choose one or the other, even though both work in a similar way.
You can read our comparison of Alibaba and AliExpress to find out which one is better for your online business.
Advantages of selling on AliExpress
Selling on AliExpress has plenty of advantages. These are some of them:
International platform. This marketplace provides easy access to 20 countries all over the world.
Price control. AliExpress doesn't stipulate prices to sellers.
Automatic translations to over 18 languages.
Small customizations, compared to other marketplaces. There are a range of templates included.
Free to use. Selling on AliExpress doesn't cost anything.
Disadvantages of AliExpress as a selling platform
Selling through AliExpress also comes with some disadvantages, such as:
Sales commissions. Depending on the product category, this fee will fluctuate between 5 and 10% of the price of the product.
Your shop won't be a synonym for quality products.
The translations aren't professional.
The aesthetic of your shopfront is very limited.
How much does it cost to sell on AliExpress?
Selling on AliExpress is free. However, you need to pay the commission fee once you sell a product.
What is the commission fee for sales on AliExpress?
The sales fees on AliExpress change depending on the product. This commission fluctuates between 5 and 10%. Compared to Amazon's fees, these are lower; and, compared to eBay's, they are very similar.
Ultimately, it's a matter of the nature of your product and your customers' preferences.
For the exact commission fee for every product category, check out the following chart.
| Fashion and accessories | 8% |
| --- | --- |
| Shoes and sneakers | 5-8% |
| Jewellery | 8% |
| Watches | 8% |
| Office and school supplies | 8% |
| Beauty and health | 8% |
| Baby | 8% |
| Food | 8-10% |
| Security | 5% |
| Furniture | 5% |
| Home | 5% |
| Garden tools | 5-8% |
| Consumer electronics | 5-8% |
| Home appliances | 5% |
| Phones and accessories | 5-8% |
| PC and accessories | 5-8% |
| Automobiles and motorcycles | 5-8% |
| Electronic components | 8% |
| Toys and hobbies | 5-8% |
| Sports | 5-8% |
How to sell on AliExpress
To start selling on AliExpress, follow these steps:
Create an AliExpress account. Include your business information and go through the prompts. AliExpress will accept your request in the next 2 or 3 days. Once AliExpress has verified your account, go to the next step.
Create your AliExpress shop. Choose a template and set up the shipping methods (courier, rate, delivery time, etc).
Upload your products. Include pictures, a description, information about your brand, etc.
Customize your shop. Considering the app and the desktop version have different layouts, they should be set up independently.
How does AliExpress shipping work?
AliExpress isn't designed to provide a complex logistic solution for sellers. Once you start selling on AliExpress, you'll notice how much time logistic tasks take from other parts of the business.
AliExpress offers a free shipping template. On this template, you can include the courier, the rate, and the destination of your orders (i.e. domestic, Europe, international).
This template will ease the communication with your customers when it comes to shipping. However, the price that you include in the template will always be less than the final price that the buyer will end up paying. This can cause problems and a poor shopping experience for customers.
One aspect of AliExpress that can hold back your growth is its limitation to work with more than one rate and one courier.
Realistically, you will need more than one courier and rate, especially if you plan on shipping internationally or offering express deliveries as well as free shipping.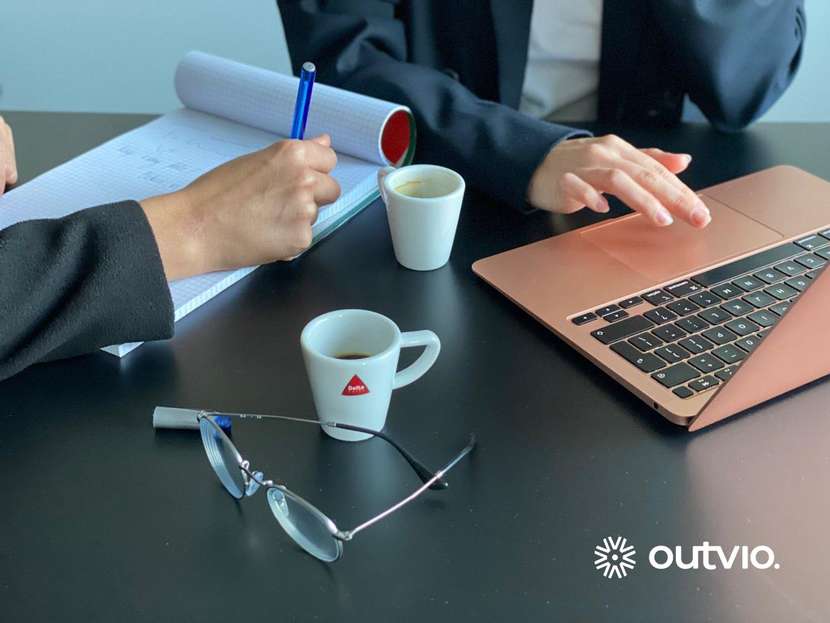 Lastly, another downside of AliExpress' fulfilment options (or the lack of them) is that you'll need to individually print every shipping label and hand in the packages at the office of the chosen courier. The tracking number of the parcel must be also manually included for every shipment you make.
This may not be relevant if you deal with a lower volume of shipments, but as your business escalates, these tasks should be optimized and automated.
This can be easily done with Outvio. The platform that takes all your post-sales tasks to another level by automating and optimizing dozens of processes.
Payment methods supported by AliExpress
Buyers can pay only through methods like credit and debit cards (Visa, MasterCard, Maestro, American Express, etc.). Payment methods on AliExpress are limited compared to the options offered on other platforms, but if your audience is European, these payment methods should cover the majority of your customers' preferences.
Connect your AliExpress account with other sales channels
If you are thinking about opening an online retail business on AliExpress, you probably want to sell through other channels as well.
To do this, connect your AliExpress account with other CMS platforms like WooCommerce, PrestaShop, or Shopify. This will allow you to share your AliExpress shopfront on social media (Instagram, Facebook, Pinterest, etc.).
AliExpress offers decent marketing features compared to other marketplaces. You can implement different marketing strategies to boost sales and increase the level of trust customers have with your business. This means that having alternative sales channels may not be needed at all.
Marketing and branding on AliExpress
AliExpress provides tools for promoting your products and boosting sales. Specifically, you can set up different types of promotions like Coins, Freebies, Coupons, and Campaigns. You can set up the type of discount or offer you want by going to the marketing section and clicking on "Store Promotions". 
You can also take part in their Affiliate programme to promote your products and attract external traffic. You will only pay a commission fee if a purchase is made through promotion on an external page via the affiliate link (CPS advertising).
Statistics and reports on AliExpress
AliExpress doesn't offer many statistics and analytical data for your business. You can download a financial report from the orders tab. This report includes all your orders, delivered and on the way. It also takes into account which orders led to reimbursements. Use this report to keep track of your losses and revenue by filtering the data by date.
If you want additional data, such as return reasons, repurchase rate, successful items or which couriers are causing more shipping issues, take a look at Outvio.
FAQ about AliExpress
Requirements for selling on AliExpress
To sell on AliExpress, you need to be registered as a company or professional seller. You need to include your VAT number, company operating license, the ID number of the company's legal representative, and other business information.
On another note, AliExpress has established that shipments must be made in a window of 1 to 5 days after the purchase.
As a seller within the EU, you need to provide a minimum of a 2-year warranty for eligible products as well.
What products to sell on AliExpress
AliExpress is a marketplace where endless products can be sold, even though some categories are more popular than others.
The most successful products to sell on AliExpress are clothes, accessories, shoes, beauty products, office materials, school supplies, and everything related to technology.
You can check out the commission fees for every product category you sell by viewing the chart under the section 'What is the commission fee for sales on AliExpress?'. If you want to reduce the price of the shipments you make, read our article on reducing shipping costs.
What you shouldn't sell on AliExpress
The commercialization of these articles is forbidden on AliExpress:
Drugs, chemical components, and related products
Explosive substances
Firearms and ammunition
Other weapons
Items for military use; items related to the police or the government
Medicines
Medical equipment
Items for adult use, or obscene materials
Circumvention devices and equipment used for illicit purposes
Illegal services
Collectables and precious metals
Organs, human remains, protected animals and flora
Items that put in danger the security of the nation
Tobacco and related products
Products related to betting and gambling
Poor-quality and dangerous products
Other illegal products
If you sell products that fit any of these conditions, AliExpress can impose penalties for intellectual property rights reasons or the commercialization of forbidden products.
AliExpress can also penalize you for the sale of faulty, duplicated, or incorrectly described products. These fines lead to penalization points that can end up causing the temporary closure of your AliExpress shop.
Wrapping up
We hope that this article solved all the questions you had on how to sell on AliExpress and what are the benefits and downsides of this platform compared to other marketplaces.