Inside this article
Whether you want to step into the multichannel field of eCommerce, or if you are just starting out your eCommerce business and want to begin by selling on a marketplace, Amazon UK is the right place for you to begin. Read this article and discover the main advantages and disadvantages of selling through Amazon, the fees that Amazon sellers face, and other relevant information that can influence your decision.
What is Amazon marketplace?
Amazon is like a market, but online (and much bigger). If there's competition in a farmer's market, you can imagine the level of competition on a global market such as Amazon.
Amazon is an online platform where independent sellers (companies) and Amazon itself can sell products directly to the customer or to another business. Amazon takes a percentage of the sale and, in return, it provides a tool that is ready to use and manages some of the most difficult aspects of selling online: payments, returns, customer support, marketing, pricing, etc.
By learning how to sell on Amazon UK, anybody can start selling products without the complications of creating a website, speeding up the preparation of the online settings. Simply enter some basic information about your company and start processing incoming orders.
How to sell on Amazon UK in 6 steps
To sell on Amazon UK, simply follow the instructions below. You'll be able to publish your first products within minutes.
You'll be able to sell in other European countries from your Amazon UK account (amazon.fr, amazon.nl, amazon.de, amazon.pl, amazon.se, amazon.es, and amazon.it).
1. Open an Amazon seller account
a. Go to https://sell.amazon.co.uk/ and click on "Sign up".
b. Enter your Amazon customer information (email or phone and password), or create an Amazon account by clicking on "Create your Amazon account".
c. Input the following information: 
A business email address
A bank card to make payments
A bank account to receive payments (can be the same card used for payments)
A valid identification document
Registry data from your company, including VAT number
A phone number
Now that you have an Amazon seller account, you need to determine which sales strategy you want to follow. You can be either a reseller, brand owner, or both, and decide what you will be selling if you haven't decided yet.
2. Decide what to sell
There are two different approaches you can take when it comes to deciding what to sell: to choose items in high demand on Amazon or to step away from that and sell the products you already produce or have experience with.
Both of these imply some kind of market research, but typically, high-demand items have more competition and are purchased because of price.
When you market products you already know, it's easier to pinpoint its strengths and weaknesses and compare them with similar items. This strategy enables you to more easily differentiate them from others.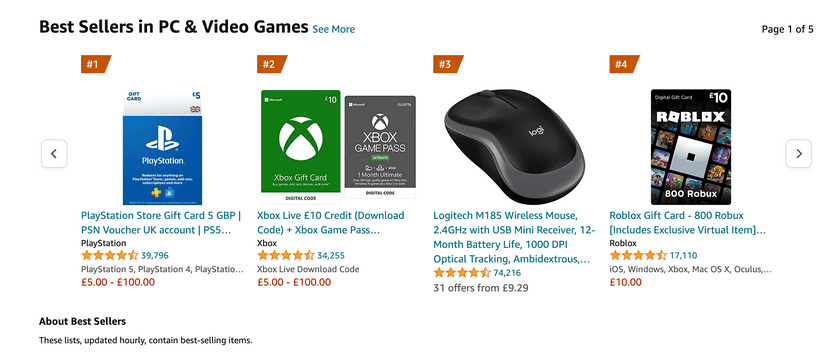 In the first case, you'll need to choose new items constantly (depending on the latest trends and Amazon's top sellers). In the second case, your expertise in the area can be the source of your competitive advantage, a feature that is more long-lasting than top-selling items.
3. List your products on Amazon
To list a product on Amazon, choose an already existing product listing to associate with your items or create your own listing if it doesn't match any other.
Then, you can list a product by inputting a global trade item number (GTIN), like a UPC, an ISBN, or an EAN. Be sure to include the product SKU and other details such as title, pictures, product variations, keywords, featured offer (Buy Box and other promotions), and product description.
4. Start advertising on Amazon
Amazon includes several advertising possibilities:
Sponsored Products: Sponsored products will show on the result pages and product pages.
Sponsored Brands: In these advertisements, you can include your brand logo, a customized title, and up to three featured products.
Amazon Stores: These are places where your brand story and discounted items will appear.
Sponsored Display: This is a program for reaching potential customers inside and outside of Amazon. On Amazon, you will only pay for the clicks your ads receive.
Amazon Global Selling: This program helps advertise your products in foreign markets.
5. Register your brand (Brand registry)
There are many advantages that come with registering your brand on Amazon. This process is called Brand registry.
Brand registry is helpful for businesses since they are able to enjoy special functionalities related to the creation, development, and protection of products (intellectual property).
Some of the advantages of having your own brand are:
More control and influence over your product listings
A+ content creation for better traffic, sales, and conversion results
You can promote yourself through Sponsored Brands and Store pages
Obtaining more metrics
Protecting your brand from counterfeits
6. Decide your fulfilment on Amazon
Once you start selling on Amazon, you need to choose how you want to process your orders and ship your parcels. With Amazon, you have two options: Amazon FBM and Amazon FBA.
Amazon FBM UK
When you choose to do the fulfilment yourself (FBM - fulfillment by merchant), you receive the order, prepare it for shipping, hand it in to the courier, and complete any other necessary steps in the fulfilment process.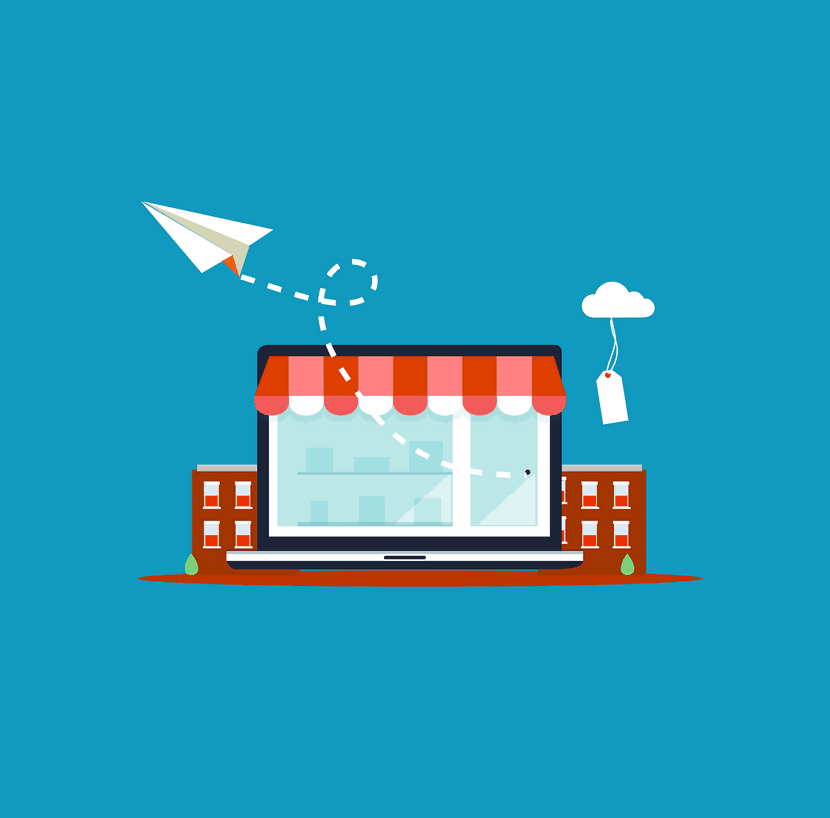 Choosing Amazon FBM doesn't mean doing the fulfilment alone; you can use a tool like Outvio to gain control over your internal operations and optimize and streamline as many post-checkout processes as possible.
Amazon FBA UK
When you choose to have your orders fulfilled by Amazon UK (FBA), they will take charge of the packing, labelling, and shipping of the products.
Delegating these tasks to Amazon can be tempting if you are an inexperienced seller, but you need to consider the additional charges it comes with and how this will affect your profit margins since they can be considerably reduced when fulfilment is outsourced, by Amazon or any other company.
In reality, outsourcing this part can be truly worth it if the volume of orders surpasses your capacities unexpectedly. When you are a smaller seller, you probably have the resources to fulfil all orders you process on a daily or weekly basis, and once your business grows, simply implementing the right tools, expanding your staff, and having the appropriate facilities will suffice.
If you need more information on Amazon's fulfilment options, read our article on Amazon FBM and Amazon FBA.
How much does it cost to sell on Amazon UK?
Once you have decided to sell on Amazon UK, you will incur some charges:
Subscription fee
To choose how to sell on Amazon UK, first you need to select one of these two plans: the Individual plan (for smaller sellers) or the Professional plan.
Under the Individual plan, sellers are charged £0.75 for every sold item. The Professional plan has a price of £25/month, but eliminates the sales commission and includes additional tools for the growth and development of sellers who have a considerable sales volume.
The Individual plan doesn't offer as many tools or functionalities as the Professional plan. In fact, if you have a monthly volume of 40 orders or more, it's already more profitable to use the Professional plan.
Amazon UK selling fees
Sales commissions or sales fees are charged for every sold item and include a referral fee, plus additional fees that are only applicable to multimedia.
These fees, as we mentioned above, aren't charged to sellers under the Professional plan.
Amazon UK FBA fees
For orders managed by Amazon(FBA), there are also charges to fund the fulfilment tasks, storage costs, and additional services.
Amazon UK referral fees
Referral fees represent a percentage of the total transaction. They vary depending on the product category.
Shipping fees
When you manage your Amazon orders from the marketplace, shipping fees will be charged. These vary depending on the product category and the shipping method chosen by the buyer.
Refund administration fees
When a customer returns a product and asks for reimbursement, Amazon will give the seller back the referral fees without the administration fees (20% of the referral fees or £5, whichever is lower).
Amazon's pros and cons
| Advantages | Disadvantages |
| --- | --- |
| Segmented traffic | Competition is high |
| No need for an online shop | You can't migrate the data |
| Potential for internationalization | Seller fees and subscription plan |
| Buyers trust it | |
FAQ
What is ASIN on Amazon?
ASIN stands for Amazon Standard Identification Number. This code is a unique product identifier of 10 letters and/or numbers.
In the case of books, the ASIN code matches the ISBN number, but for other products, the ASIN is created when an item is listed on Amazon. ASINs are different for every market, which means that the same item will have more than one ASIN if it's sold through more than one Amazon marketplace. For instance, when a T-shirt is sold on amazon.co.uk, amazon.de, and amazon.es, the item will have 3 different ASINs on Amazon.
What is product ID on Amazon?
The product ID field is one of the mandatory information sellers need to enter when creating a  product listing. Product IDs can be entered in the form of UPC, EAN, JAN, or ISBN codes.
What is a SKU on Amazon?
A SKU on Amazon, or outside this platform, is a product identification system. This code is used in every inventory file submitted to Amazon to associate a product with the correct product detail page in Amazon's catalogue.
What is Amazon Seller Central?
After having registered as an Amazon seller, you'll have access to Seller Central. This is the hub for all your Amazon operations (sales, product information, inventory updates, payments, and more).
You can also view and download professional reports, see your performance as an Amazon seller, ask for assistance, answer customers' queries, edit product pictures, and even create product listings from your smartphone.
What are Amazon's performance indicators?
Performance indicators are used by Amazon to check your business performance. They can be found in your Seller Central area.
It's important to measure them because reaching Amazon's requirements means benefitting from certain advantages.
Some of the key indicators are the Order Defect Rate (must be below 1%), the Cancellation Rate (must be below 2.5%), and the Late Dispatch Rate (must be below 4%). It's also fundamental to have good reviews.
Is it worth selling on Amazon UK? Our conclusions
We hope that this article solved all your doubts and answered all the questions you had about becoming an Amazon seller. Maybe now you're unsure if selling through Amazon is the best option for your business, or maybe you don't want to put all your eggs in the same basket and you prefer to sell through other channels, too.
In this case, you'll need to sell through a different marketplace or create your own online store or offline store, to increase the number of sales and potentially sell to different buyer personas.