Inside this article
If you want to start selling online and you are considering Ecwid, check out our Ecwid review and find out if this is the right platform for your business.
What is Ecwid?
Ecwid is a platform for creating and managing an online shop in the cloud. There are over one million sellers in more than 175 countries using this platform because it offers one of the easiest ways to connect a website, marketplace, social media platforms and online shop in one interface.
Ecwid claims that the process of creating an online shop with Ecwid "takes around 5 minutes". This is possible thanks to its intuitive editing and designing tools. You can also add an online shop to your website with technology that mimics your current design, without the need for additional software or coding.
Advantages of selling on Ecwid
Opening your online shop on Ecwid comes with many advantages. These are some of the features most valued by Ecwid users:
It can be connected with most platforms: Wix, Squarespace and social media platforms (Facebook, Instagram, Snapchat, Tik Tok)
Creating an online shop on Ecwid is fast and free
It offers multiple payment gateways
Disadvantages of selling on Ecwid
Despite the clear benefits of Ecwid, not all of its characteristics are advantageous. This eCommerce platform also has its cons:
The platform is not 100% translated to other languages. This can be a problem if you don't feel comfortable working in English
There are limited customization options. Although it allows for certain changes, Ecwid cannot be 100% personalized to your preferences and needs
Ecwid pricing
You can create and run an online shop on Ecwid for free (Free Plan Forever) or choose one of their paid subscription plans: Venture (€15/month), Business (€35/month) or Unlimited (€99/month).
To compare the functionalities included in each plan, take a look at the following chart. More specifications can be seen on the official website.
| Features | Free | Venture | Business | Unlimited |
| --- | --- | --- | --- | --- |
| Online shop | ✅ | ✅ | ✅ | ✅ |
| Facebook shop | | ✅ | ✅ | ✅ |
| Instagram shop | | ✅ | ✅ | ✅ |
| Mobile point-of-sale | | ✅ | ✅ | ✅ |
| Sell on Amazon | | | ✅ | ✅ |
| Sell on eBay | | | ✅ | ✅ |
| Facebook, Google, Pinterest and Snapchat advertising | ✅ | ✅ | ✅ | ✅ |
| Mailchimp and automated email marketing | | | ✅ | ✅ |
| Mobile responsive shopping cart | ✅ | ✅ | ✅ | ✅ |
| Android and iOS App store management app | | ✅ | ✅ | ✅ |
| Branded iOS and Android shopping app | | | | ✅ |
What's the sales commission on Ecwid?
Ecwid doesn't charge any commission fees. However, payment gateways tend to present additional charges. These fees don't come directly from Ecwid but should be considered as part of the package.
Can you migrate from Ecwid to another eCommerce platform?
Yes, you can migrate your Ecwid shop to another eCommerce platform through a migration extension, if you wish.
How to create and open a shop on Ecwid
To create an online shop with Ecwid, you need to open an account first. 
Before you open your online shop, you may want to set up some of the features of your website. On the Website, you can add sections that might be of interest to your buyers, like a contact section, a page with your brand and history, etc. You can also add testimonials, pictures and written content.
Select the theme for your online shop, the domain you want for your online business and improve your written content to favor better SEO (titles, meta-descriptions, etc.).
From the dashboard, you can also manage your shop. To add products and edit existing products, go to Catalogue. You can import products manually or through an Excel file. Later on, you can create various categories for your products and gift cards for customers.
These are some of the basic functionalities included in Ecwid's most economic plans. If you choose a more advanced plan, you will be able to set up additional functionalities for your eCommerce business.
How does the shipping process work on Ecwid?
In regards to shipping, Ecwid isn't the best platform to manage orders and shipments since it doesn't offer many built-in tools to ship domestically or internationally.
You can enable multiple couriers and rates in Ecwid. However, your customers will be responsible for choosing the shipping methods and the shipping costs. This is not a huge disadvantage in itself, but it may be not what you want to offer to your customers.
One of Ecwid's features allows you to print shipping labels at home and calculate shipping costs in Ecwid's dashboard. Even though this can be an improvement over a more rudimentary system, you'll still need to go to the post office to send the goods, versus having it all streamlined with software like Outvio.
If you really want to keep shipping costs as low as possible, we would advise you to contact your preferred couriers in order to obtain a special rate for your business. To reduce your shipping cost, even more, read our article on the topic and implement all the useful tips we share!
Payment methods supported by Ecwid
Ecwid is compatible with over 50 payment gateways and accepts payments in different currencies.
Moreover, you can enable in-store payments and other points of sale, like markets, pop-ups and other sales events.
Ecwid automatically updates your stock and synchronizes it across all sales channels. This feature is one of the reasons why users choose Ecwid over other platforms, along with the possibility to connect your Ecwid shop with other sales channels and the flexibility regarding payment locations and methods.
Ecwid allows you to link your point-of-sale system, import your existing products and customer data (inventory, taxes, shipments, orders, etc.) or choose one of the following systems:
Square
Clover
Vend
Alice POS
Payments through Ecwid are safe and easy. There are over 50 payment options. If you're in the EU, you might prefer to use Klarna, PayPal Plus, iDeal, Giropay, Sofort and SEPA.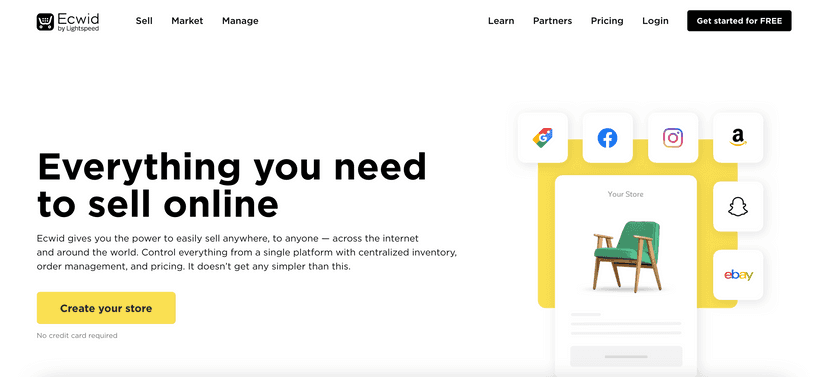 Connect your Ecwid shop with other channels
One of the strengths of Ecwid is how easy it is to integrate your online shop with other sales channels, in marketplaces or on social media, such as:
Instagram
Facebook
WhatsApp
TikTok
Pinterest
Google Shopping
Marketing and branding on Ecwid
With Ecwid, you can manage your various marketing strategies and campaigns from a single dashboard. You can launch your first campaign, create an email list and automate email marketing, among other tasks.
Dynamic emails can make all the difference. These emails will provide you with information in real-time whenever a customer opens an email regarding things like order updates and cart abandonment.
You can connect your Ecwid shop to Google, Facebook and Outvio to take advantage of all the information they offer: open rate, shipped orders, returns, repeat purchases...
Statistics and reports on Ecwid
Go to the Store management section to check reports.
To take advantage of this feature, you'll need to install Ecwid apps that track data from your eCommerce business. If you have a Google Analytics account, enter your credentials to gain access to further information via that service. You can also use Ecwid Mobile to see these statistics wherever you go.
Other Ecwid apps allow you to measure metrics like conversion rate, sold products, revenue in real time, customer data, etc.
Other built-in Ecwid features
ShopApp
Ecwid allows for easier access to your online shop, thanks to an Ecwid app (ShopApp) that is compatible with iOS and Android.
Your Ecwid shop and ShopApp will always be synchronized (prices, availability, pictures, shop changes, etc.).
Ecwid App Market
This platform offers a wide variety of Ecwid apps to facilitate the management of an online shop and improve its functionality.
You can find free and paid Ecwid apps to solve a range of problems and needs related to marketing, design, dropshipping, catalogue and order management, accounting, shipping, analytics and reporting, customer support and rewards, among other areas of your business. You can also search for options in the general tools section.
Find the Outvio app in the shipping section or simply click here.
Ecwid mobile
You can create your shop, add products, manage orders and inventory, select payment methods and shipping options, among others, all from your smartphone. 
Thanks to notifications from the mobile app, you'll be informed of all new updates and changes, orders and communication with customers.
The app also gives you access to tracking numbers and order details. Furthermore, you will be able to leave notes to other members of the staff, create promotional discount codes, set up free shipping, sell on social media channels and carry out cart-recovery strategies.
FAQ about Ecwid
Ecwid and dropshipping
Use your Ecwid shop to do dropshipping. You can download Ecwid apps for dropshipping to make the process easier and more efficient.
Ecwid domain
In the Website section within the Ecwid dashboard, set up your domain to further customize your online shop.
Wrapping up
We hope you found helpful our Ecwid review. Perhaps you discovered some features that the platform has, or some disadvantages of Ecwid. To make the best decision for your business, the first step is to get to know your options.