Inside this article
Dropshipping is a sales method that's often marketed as a fast way to get rich with little effort. However, running an online store that operates exclusively under the dropshipping system isn't easy and, most of the time, its managers don't become rich overnight.
For those who are still unsure what dropshipping means, here's the simplified explanation: A dropshipping business sells products that are sent directly from the supplier or manufacturer to the customer. The business itself doesn't physically handle the products at any point.
In fact, only 10% of dropshipping businesses have a high success rate, according to data provided by Cloudways. That means that most dropshipping companies actually fail. This can be due to many different factors, some of which are covered in this article.
Keep reading to learn the main advantages and disadvantages of dropshipping and find out for yourself if this is really the best strategy for your business.
Advantages of dropshipping
Dropshipping offers multiple advantages to online retailers. These are just some of them:
1. Lower costs & fewer responsibilities
One of the main and most important advantages of working with a dropshipping method is that the costs of order processing tend to be lower. This can be easily explained if we take into account that all of the tasks that follow the placement of the order are outsourced in this case — such as the picking and packing of products and the shipping, as well as other processes like stock control, storage activities, receiving goods and re-stocking (and all the costs associated with them).
However, the following statistic seems to show that potential retailers, although still interested in a dropshipping business, are feeling more cautious towards this model: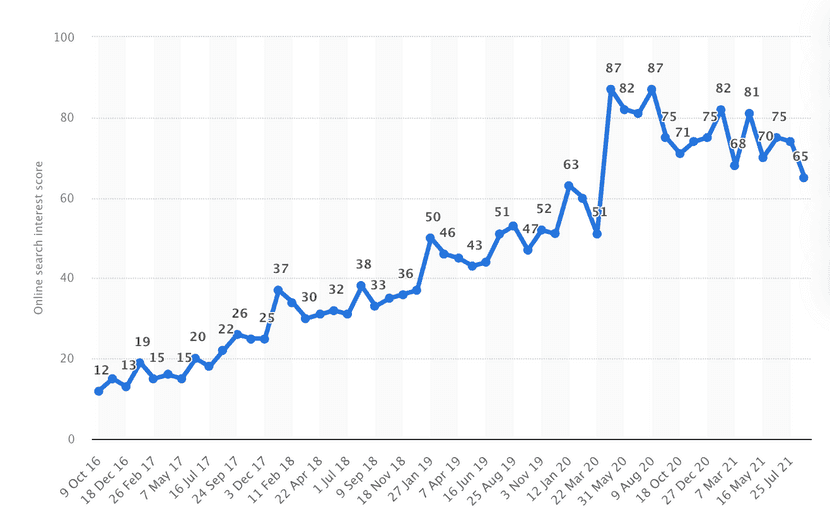 Source: Statista
2. Higher profit margins
If you choose the right products — we'll talk about what these are later — you can benefit from high profits with dropshipping. For this to happen, the wholesale price needs to be low compared to the retail price. It's therefore important to choose high-demand products that are not yet very popular among sellers. One of the ways to do that is by taking advantage of the geographical and financial benefits that come from an international network of trade.
3. Low startup costs
Another reason why entrepreneurs jump on the dropshipping wagon is the low cost of setting up a dropshipping online store. For these businesses, the only cost that they'll need to absorb is that of creating the website since products don't need to be ordered, registered or stored.
As your online store operations scale up, these costs will increase, but they'll still be low in comparison to those associated with more traditional methods where retailers handle and process the orders themselves.
4. It's fast and easy to start
As we mentioned above, with dropshipping, you'll only need to look for the products you want to offer, find reliable suppliers that offer a good cost-quality relationship and create your online store. Once these tasks are complete, you'll need to work on your marketing strategy — as is the case with any business — but, in principle, you won't need to prepare anything else.
Traditional retailers, meanwhile, need to figure out their distribution channels, shipping companies and rates; find packaging and work on its design to include the branding; find and pay for a warehouse; and hire employees to manage all the supply chain operations, from the sourcing of raw materials to the production of goods and the processing of orders. In a dropshipping business, all of these processes are outsourced.
5. Flexibility in terms of location and products
Dropshipping businesses typically rely and thrive on competitive pricing. This means that, in order to be successful, retailers need to find affordable products that have high demand, low buying prices, as few competitors as possible, and a profitable margin after the sale is complete.
Therefore, the tendency is often to source products from locations where the cost of production is relatively low and sell them in markets where the retail price is relatively high. Because you don't have to physically handle these products, you can give the order to ship the product directly to the supplier, or, even better, have the process automated so that your suppliers receive the order as soon as the customer makes a purchase.
6. Cost-effective solutions for special products
If you're not the producer of certain special items, it's simply not worth it to receive and store these products until they sell. This applies to different types of products: items with large dimensions or a high weight; fragile products that need special care in the handling and shipping; valuable products, like jewelry or antiques, since they need a level of security that not all warehouses can provide; and any other products that require special conditions in terms of temperature, light, etc.
All these items are better kept in the producer's facilities until they are sold. This way, the brand can ensure maximum quality at all times, and the customer will be satisfied with the purchasing experience and products.
Disadvantages of dropshipping
However, selling through a dropshipping model also has its disadvantages:
1. Limited control over the quality
Along with the lack of responsibilities in terms of handling orders, managing personnel and carrying out other associated activities, comes a lack of control over the products you sell and over the supply chain overall.
If you want to build a long-lasting eCommerce business, focusing on building customer loyalty and retention is the first step — and this is only possible when you have satisfied customers.
In a dropshipping business, the product isn't ultimately yours, and, if you want to sell quality items, you'll need to thoroughly test them. If you work with unreliable suppliers, your business will suffer. 
In other words, with dropshipping, you are totally reliant on suppliers. Moreover, once your sales start to grow, you'll need to look for other suppliers or agree with your current ones to increase their level of production. In this sense, scaling up your business while offering the same amount of quality and consistency can be a true challenge to overcome.
2. Reliance on suppliers 
Apart from the dependence on suppliers in terms of production and product consistency, you'll also be relying on suppliers to efficiently fulfil orders. Remember that in a dropshipping business, external parties take care of not only the production and order processing, but they also pick the right items, pack them in a safe and cost-effective manner and ship them with the appropriate courier and method — all to ensure timely delivery and a pleasant purchasing experience for the customer.
In this sense, it's important to incorporate some kind of system that connects their warehouse to your online store. Only with such a system can you be certain that the information you have on the manufacturing and warehouse processes are updated and accurate. This is one of the most important decisions to make if you want to turn the reliance on suppliers into an element that won't totally harm you.
3. Higher likelihood of supply chain issues
While having your supply chain outsourced doesn't necessarily mean the processes will be less effective, it's true that some suppliers may not have the right quality and control systems set up to ensure timely deliveries, prevent human errors and achieve the best combination of costs and performance.
Unless you decide to connect your software systems with the supplier's, you won't be able to see when items are getting restocked or are ready to be sold. You also won't be able to determine the average time required to prepare an order or assess the performance of certain couriers. These are all things that can be done when the supply chain processes are in-house.
Keeping supply chain activities within your facilities — and combining them with the right eCommerce solutions — is a safer way to oversee employee performance and thereby guarantee the long-term profitability and sustainability of your business.
4. Lack of branding
The outsourcing of the production and shipment of items has one major disadvantage: If you want to create a fully personalised customer journey, you'll need to supply the packaging materials to your suppliers. Otherwise, the items will be sent without any kind of specialised branding associated with your company. In fact, these parcels and products may only include the branding of the producer, giving you a brand impact of 0%.
Many retailers in the dropshipping sector don't actually care about brand awareness — that's a legitimate choice — but they may be missing the bigger picture: The long-term sustainability of a business only comes with repeat purchases. And repeat purchases are highly unlikely if your customer doesn't even remember who they purchased the product from.
5. Customer support is a complex task
Offering customer support when you don't even get to see the products can be tricky, especially if and when there are claims.
This part is especially difficult if you work with more than one supplier since tracking the quality of the products and the delivery experience gets increasingly complicated as you add pieces to the puzzle.
There may also be warranty issues. For instance, it may be the case that in the market where you sell, the minimum warranty period is 2 years, but your supplier only offers a year-long guarantee — or no guarantee at all. If this is the case, the seller has the responsibility of offering (and paying for) compensation or repairs. This can become a significant issue if the quality of the products isn't consistently up to standard.
6. High competition
Dropshipping, as we previously explained, tends to be linked with a sales strategy that is purely based on price. This means that unless you find the right products (high-demand, low-competition, profitable retail price), you'll be competing with dropshippers that potentially have the same product with a similar (or identical) price and similar shipping conditions.
This is why, ideally, we recommend that you stay away from markets that are already well-exploited, and instead find products that are in the early stages of market penetration. That way, you can get ahead of competitors and build a name for your brand.
However, building an online store with a solid catalogue and consistent products is very difficult, especially once you realise that product profitability and competition is changing constantly for dropshipping products.
7. Permanent product chasing
Along with the competition issue described above, online stores that sell dropshipped items have the ongoing task of product hunting to find new and growing trends. Otherwise, once the popularity of your items falls, sales will follow.
This is a major reason why 90% of dropshipping businesses fail, and the issue can only be prevented by offering new, trendy products or by establishing a more traditional business approach — one where you store and even produce your own products, build a solid presence and profit from a solid base of customers.  
8. Managing demand can be challenging
As your sales grow, it can be quite difficult to forecast and align your goals and deadlines with your suppliers'. This can end up affecting not only future or potential customers but also those who were convinced to place an order only to realise that you were out of stock and that you can't deliver the purchased item. This has only one solution: to cancel the order and reimburse the money.
Your supplier may need days or weeks to receive or produce the goods, or they may not even be able to cope with the demand at all — and you'll be left with no quick or satisfactory solution for the customer. This doesn't happen when you can forecast demand and adjust your production rhythm to match it. In other words, while it's always possible to experience stockouts, the response time is much shorter if all the operations are centralised in a single location.
9. Shipping is complicated
Managing multi-product orders is another frequent challenge for dropshippers, especially when different suppliers are involved or when the production time or order processing time varies. Naturally, when a customer places an order with different products, they expect to receive them all at the same time and, most importantly, to pay the shipping costs (if there are any) only once.
For you, as a retailer, different suppliers mean different shipping costs that need to be supported by the seller, not by the customer. This is another downside of dropshipping as it involves more than just costs; it also involves more complex operations.
When multiple suppliers are involved, the retailer must coordinate the delivery of the different products. This is much more complex than it may sound. You'll need to take into account where the customer is located, where the supplier is located, the weight, the dimensions and any other specific features of the products that can impact the shipping time, cost and method used.
If a customer buys three products from three different suppliers, that means you're hit with three different shipping rates. You're therefore forced to either eat some of those costs or charge sky-high shipping rates and risk losing the customer. Neither one is an ideal option. And this is one of the biggest obstacles of dropshipping.
The bottom line
These were the main pros and cons of dropshipping that you should be aware of before starting a business where operations are outside your control.
Dropshipping can be used strategically to make a profit on items with special characteristics in terms of weight, dimensions and fragility. In those cases, outsourcing supply chain tasks like picking, packing and shipping may make perfect sense. 
On the other hand, if you sell products that are small, lightweight and easy to handle and ship, then dropshipping is an option that could reduce your profit margins. That's why it's so important to calculate your costs accurately and choose dropshipping only if it's a sustainable option.
If you've decided to open a dropshipping business after considering all of its advantages and disadvantages, the next step is to find the best products and suppliers. Then, you can create your online store and start selling in a matter of days!
Regardless of whether you open an online store that takes full control of all operations or a dropshipping business, you can be certain that working with eCommerce software like Outvio will help you to improve the purchasing experience and set your brand apart from your competitors.