Inside this article
How does Squarespace work? Are you thinking of selling on Squarespace and want to know all its advantages and disadvantages? Read our Squarespace review and find out if this eCommerce platform is the right choice for your online store.
What is Squarespace?
Squarespace is a platform for the creation of websites and online shops. This hosted platform currently has almost four million users. 
One of the reasons why Squarespace is so successful is surely its pre-set designs, which are customizable to some extent. Creating an online shop on Squarespace is an intuitive process with professional and attractive results.
In this article, we'll cover the essential information about Squarespace, including the advantages and disadvantages of using the platform for your online retail business and which built-in features you can expect.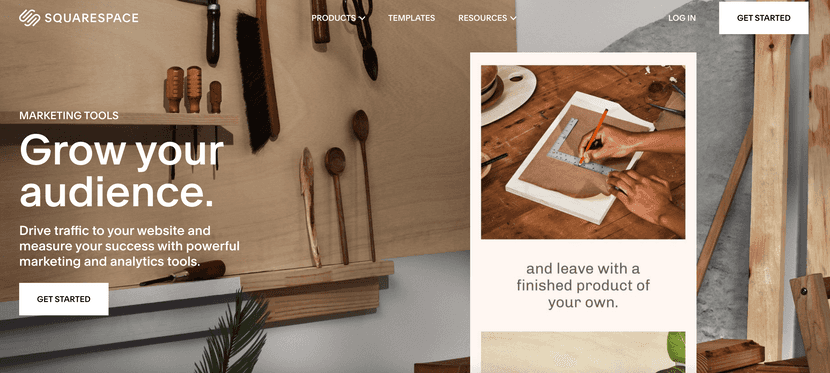 Pros of Squarespace
It's an all-in-one platform
Squarespace's software allows you to create an online store in just a few hours. Squarespace's solution includes analytics features and marketing possibilities, while the back and front ends are pre-built and ready to be adapted to the aesthetics of your brand and the specifications of your business.
Squarespace takes care of the payment solutions and some shipping possibilities (for certain countries only), and it can be connected to other platforms like a marketplace, social media channels, Mailchimp, etc.
Squarespace's interface is fairly simple to use
Squarespace's main competitive advantages are its visual elements and its usability. Squarespace, like many other eCommerce platforms, provides a ready-to-use solution that is quite intuitive.
For instance, many of its modules and blocks can be edited with a simple drag-and-drop editor. You can also customize the backend of your store to a certain extent by making small alterations to the code in an easy way.
Attractive pre-built templates
Squarespace's pre-built templates are some of the most curated and attractive designs on the market. For eCommerce, there are over 10 designs to choose from. Although this isn't a huge number, the designs are very sophisticated and can be edited by accessing and adapting the code.
Unlimited storage
Squarespace offers unlimited storage. This means that you can upload as many products as you want, with all the images, videos and any other information you need to market and sell your items successfully.
Unlimited bandwidth
Squarespace plans include a hosting service that's adapted to traffic changes. This means that, regardless of the traffic your website receives, it will be available 99.99% of the time.
No commission
Under the Basic Commerce and Advanced Commerce plans, there's no sales commission to pay. And unlike other platforms, Squarespace doesn't charge for every sale you make. However, payment platforms may charge a fee for every transaction.
Squarespace Enterprise
Squarespace has a premium plan for bigger retailers, Squarespace Enterprise. This plan offers some of the functionality that other Squarespace plans lack, such as multi-store management, complete customization of the store, SEO assessment, faster loading speed, role management and even a designated account manager.
Cons of Squarespace
Squarespace also has some downsides that may push you to choose another platform. These are some of its disadvantages:
Squarespace isn't designed for eCommerce only
Squarespace is a platform designed for the creation of websites of various types. That's why its eCommerce plans aren't very advanced and are better suited to smaller online stores.
Although they have a couple of more advanced eCommerce plans, they aren't sufficient for a bigger online retailer. If you're determined to use Squarespace for your eCommerce business, it's very likely that you'll need to switch to Squarespace Enterprise once the business reaches a certain size.
Lack of multilingual functionality
Squarespace isn't designed to handle an online store with versions in different languages. If you want to make your eCommerce website available in other countries and markets with different languages, you'll need to create a new website for each.
This means that if you sell on multiple markets, you'll need to somehow connect them or manage every front end individually.
Lack of multi-currency functionality
Even if you decide to sell only in English, Squarespace can create friction in the customer experience when it comes to different currencies. On Squarespace, you can only choose one currency. This currency will match the one in your payment processor.
If you want to sell in other currencies, you'll need to set up different stores.
Payment gateway options are quite limited
You can only choose to process payments with Stripe and PayPal. Additionally, and only by accepting Stripe as a payment gateway, will you be able to also use Afterpay and Clearpay as other payment solutions.
Slow loading speed
As your online store on Squarespace grows, the loading speed can be affected. According to Squarespace, keeping each page under 5 MB is the best way to prevent slow loading speeds.
However, with the current needs and preferences of online customers, providing multiple pictures and videos of the product is basically an obligation if you want to successfully sell — and topping 5 MB isn't tough.
Few Squarespace extensions
The marketplace of Squarespace Extensions is quite limited. There are around 30 Squarespace extensions that target everything from fulfillment and shipping to finance, inventory management and sales and marketing.
However, compared to those available with other solutions such as WooCommerce, PrestaShop, Shopify or Magento, these extensions are relatively limited and don't provide all the necessary functionality to run an online store with a considerable volume of sales.
Templates are designed for certain businesses and sizes
The templates, although curated and attractive, are somewhat limited. There are around 12 templates to choose from.
Despite the number of options, the designs are all made for smaller businesses. If your product catalog is extensive, you'll need to adapt these pages to make sure that their loading speed is optimal and that they include all the information the customer expects to find. Achieving both may be a challenge. 
Limited SEO customizations
In Squarespace, you can add a meta title and meta description to each page. You can also change the domain to avoid having "squarespace.com" at the end of your domain name, optimize URL slugs and much more.
If local SEO is part of your marketing strategy, you can include your physical location to make the process of finding your business on Google even easier.
Other than that, Squarespace doesn't offer tools such as a keyword finder or an SEO plugin or extension. However, if you know the fundamentals of SEO activities, these tools aren't needed.
Wrapping up
Squarespace is constantly evolving and the functionalities and price they offer make the platform a valid option if you want to build a website. But is it the best option for your eCommerce business?
For online stores, we'll say it depends. If you already have an online store and you're switching to Squarespace because your current platform can't provide the functionalities you need, Squarespace probably isn't the right solution for you — unless you go for the Enterprise plan. 
If, on the other hand, your online store is just starting, Squarespace may have all the features you need. Now that you've read about the pros and cons of Squarespace for online stores, you can evaluate the impact the disadvantages may have on your business, and if the advantages of using Squarespace fit the needs of your eCommerce.
Once your online store is on Squarespace or any other major eCommerce platform, be sure to connect it to Outvio to streamline all your post-checkout operations, from order processing to shipping, tracking, returns and incident-handling.
Sign up and use Outvio's smart functionalities to deliver the best customer experience.