Inside this article
Building a digital transformation strategy is a necessary decision for any business in almost every sector if they want to be competitive and successful.
Although its advantages are quite clear, it's still common to see digitization attempts that fail to achieve the expectations of today's world. Why? Because of their approach to the process. They don't invest the necessary resources to start their digital journey.
In this article, we will define what is understood by digital transformation and we will share 7 tips to create your digital transformation strategy. Can the beginning of the journey define what the end will be like? Let's find out.
What is a digital transformation strategy?
Digital transformation strategy is a concept that defines all the necessary steps to carry out the integration of digital technology into all areas of a business. This may mean a total digitalization of the business, or the transformation and modernization of all those areas that were left outside the digital world, prior to digital transformation.
1. Establish common performance guidelines throughout the organization
The biggest challenge when creating or carrying out the digital transformation strategy is the change of mentality required to step out of one's comfort zone.
At the end of the day, every organization is used to certain processes. But a 'this-is-how-we-do-things' type of mentality can only hold back the growth of any business in today's world, especially when we talk about the digital ecosystem.
Digital transformation means that new processes will be implemented, which can generate problems from the beginning in almost every department.
Sharing a common view of the businesses and a ready-to-evolve approach is fundamental to minimize these problems and speed up the digital transformation strategy.
For this, leaders and executives need to be the first advocates of this new business policy. Rowing in different directions will make it impossible to arrive at your destination.
Create a plan —the rowing directions, if you will— and define goals and roles. This document needs to clearly state the tasks of each department and position.
A digital transformation plan should address:
Starting situation
Goals
Business values
Internal structure
Scheduled digitization actions
New and old resources and technologies
A monitoring methodology for results
2. Start your digital transformation strategy by departments
Unfortunately, bringing an entire business to the digital world can't be done overnight; it's a process that can take weeks, if not months.
Analyzing and identifying urgent areas and problems that need attention is key to implement changes in a gradual but also successful way.
It wouldn't make sense to start the digitization process in the financial and accounting department if you can put more resources into gaining traffic or providing better customer service.
You can even use this transformation to improve the training process of new and older employees and streamline human resources' activities with up-to-date software. Having educated employees means better results in the long run.
Prioritizing certain elements and tasks can translate to easier and faster penetration in the digital market and a premature stagnation of sales.
3. Base your strategy on a scalable tool
Where and how you build your business can condition future operational capabilities. For this, choosing a platform that can satisfy your earliest needs and goals is fundamental, but so is its ability to adapt to future needs, problems, and potential growth.
Over time, every business tends to accumulate content, resources, and other data. If you plan to have a scalable business, take into account the increase of information that needs to be managed once the business starts growing.
Apart from scalability, you'd need to consider:
Adaptability. All content management systems (CMS) have certain limitations in their performance. This means that you will need to use additional plugins to optimize tasks such as internal notifications, customer service, and email marketing.
Information is up-to-date. It's important that the platform you use for your business or online store is updated and synchronized in real time. Correcting small errors is part of the daily tasks of any business online.
Everything is easy to migrate. In the case that you want to move your online store from one platform to another, you will appreciate having a tool that allows you to do so. Otherwise, you can lose all your data and would essentially need to start from scratch.
4. Implement an ERP system in your company
Digital transformation can feel like a decentralization of tasks and departments. And even if this decentralization of work is purely abstract, remote positions or tasks can be part of your business model.
This involves having a control system to monitor the performance of tasks and departments. Having an ERP system like SAP can help your organization review processes faster and connect departments —avoiding miscommunications, among other things.
An ERP system can help you monitor the daily work of the entire company, divide it into groups and subgroups, and speed up dozens of tasks that can take a considerable amount of time for any medium-sized or large business.
5. Transform the classical funnel to a flywheel model
One of the greatest advantages of moving the purchasing stage to a digital medium is how much easier it becomes to improve the customer journey and reduce frictions that used to make them leave the sales funnel.
By having a digital tool and record of the whole process, you can discover which areas of your business need fixing, the problems your customers have, what interests them, and how to respond accordingly.
This information will help you be more specific in your actions and guide the customer to check out with better conversion rates.
But converting more isn't the only benefit; you will be able to constantly reintroduce the buyer in the cycle. The finite funnel becomes a circle.
However, if you want to aim at having a sales circle over the classical funnel, you would need to consider it from the beginning of your digitization plan.
Experimenting with different strategies and elements are key to achieve this information and  get the best results. Start by:
Optimizing the web. Consider the search intention of your target and analyze the bounce rate to find the most effective content and format
Eliminating barriers in the purchasing journey and integrating other sales and marketing channels to add value
Monitoring user behaviour and automating replies based on location or interaction
6. Diversify your marketing actions
The constant expansion and diversification of sales and marketing channels in the digital world can slow down the initial take-off of a business.
It can be difficult to know where to put more resources when operating in a new environment. So, unless you are very clear about where your target is, our advice is to diversify your marketing actions. If you put all your eggs in the same basket, chances are you are missing out on some great opportunities.
Create test campaigns to analyze the response to different media. This can help you find your natural source of leads without a high resource investment.
7. The impact of Big Data and Data Science
Once you implement your digitization strategy, your business will be able to collect large amounts of data and analyze it to make predictions. This is known as Big Data and Data Science, and all the leading brands are using it to support their decisions with measurable data.
Basing decisions on objective data means greater chances of growing, development, and innovation.
Programs built with machine learning technology allows businesses to observe unconscious habits that not even the consumer is aware of. The following graphic represents a complete data analysis model for extracting and making business predictions.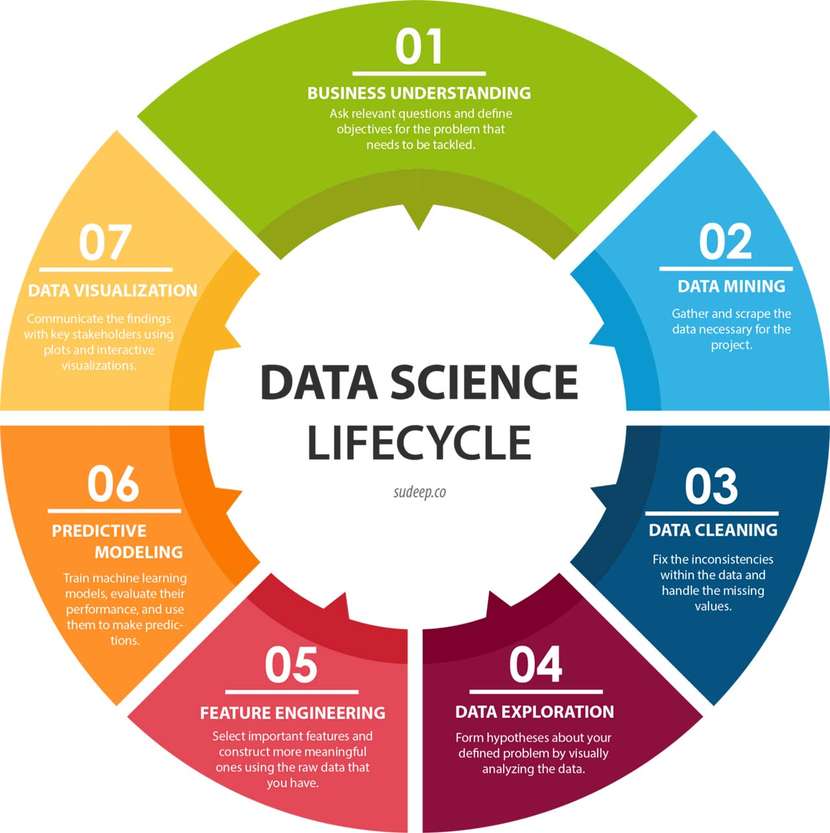 However, although Big Data and Data Science bring many benefits to any business, not all companies are prepared for the collection and treatment of so much data. They may not have the appropriate technology for it.
If this is your case, we can recommend Tableau. This business intelligence software provides raw data in a manageable dashboard for the user, offering a simpler overview of all the information.
Conclusions
Your post-checkout operations are the perfecto opportunity to implement your digitization strategy. You can start by integrating new methodologies for order management and processing if you are an online store.
Although logistics can't be totally digitized and automated (since they will always be linked to the physical world), it's one of those areas that will bring you the fastest and most direct results.
Outvio allows you to centralize all the orders, regardless of their status, in a single dashboard. Process all orders automatically in an organized manner and automate the selection of the best shipping rate for each shipment, among many other logistical, sales, marketing, and statistical functionalities.
Additionally, you can automate email notifications with any update on the order. This is especially useful if you work with more than one courier, since you'll be able to create a consistent purchasing experience no matter who delivers your products.
Sign up and automate the shipping, tracking and label printing and create a consistent purchasing journey for your customers, reducing costs and warehouse tasks by up to 50%.