Inside this article
Commercial invoices are one of the most common documents related to international shipping and returns. They are essential for any online store that exports or sells its products abroad or to territories with other tax systems.
Not knowing about the invoice for export can lead to bad purchasing experiences and losing customers, to say the least.
But...
What is a commercial invoice?
The commercial invoice is one important document used in international sales operations. It helps calculate the taxes and duties to be paid in customs clearance, and it also serves as proof of the sale between exporter and importer.
The commercial invoice is often confused with other documents such as the proforma invoice, the bill of lading, the customs invoice or even with the packing list. These documents aren't exactly the same as the export commercial invoice, so they shouldn't be used in the same way.
Filling in a commercial invoice for export shouldn't be a difficult task. However, it's important that you keep in mind that any error can have negative consequences for your online store and your buyers —everything from a delay to the complete cancellation of the shipment.
Automating this task is, without a doubt, one of the best ways to avoid shipping issues that can be caused by human error and to keep your international customers as happy as your domestic ones.
Commercial invoice vs. proforma invoice
The main difference between these two invoice types is that the commercial invoice has an accounting value, while the proforma invoice has a purely informative value.
Apart from this difference, commercial invoices are used for exports and imports, while proforma invoices are mostly used domestically. Proforma invoices can be used as a base for the commercial invoice as long as you add all the necessary data that isn't included in the proforma invoice.
Format of commercial invoice
This sample commercial invoice includes all the necessary information requested for customs clearance.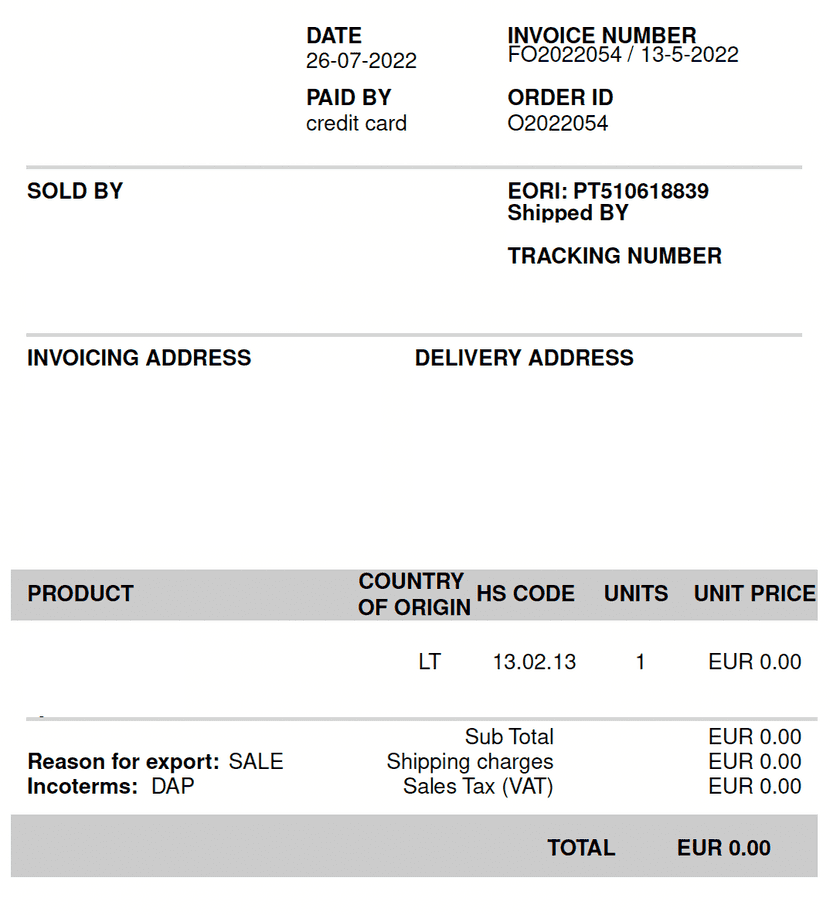 How to fill out a commercial invoice
The fields that need to be included and filled out in every export commercial invoice, regardless of the format, are:
Issue number and serial number, if needed
Invoice issue date
Order number
Total value of the sale
Currency
Payment method and due-date
Information about the online store, which acts as the exporter in this case: name, address, phone number, EORI number or any other tax identifier, etc.
Information about the importer, which is, in this case, the buyer: name, address, phone number, EORI number or any other tax identifier, etc.
Information about the person that should be notified upon the arrival of the package
Number of bill of lading
Forwarding agent
Tariff code (HS code)
Description of the goods (number of packages, units, weight, etc.)
Origin of the goods
Exporting date, means of transport and destination
Signature of the shipper
To find out which requirements must be met in the destination country, you can visit the Access2Markets portal of the European Commission and input the tariff code, the country of origin and the country of destination to find out what the commercial invoice looks like in that country.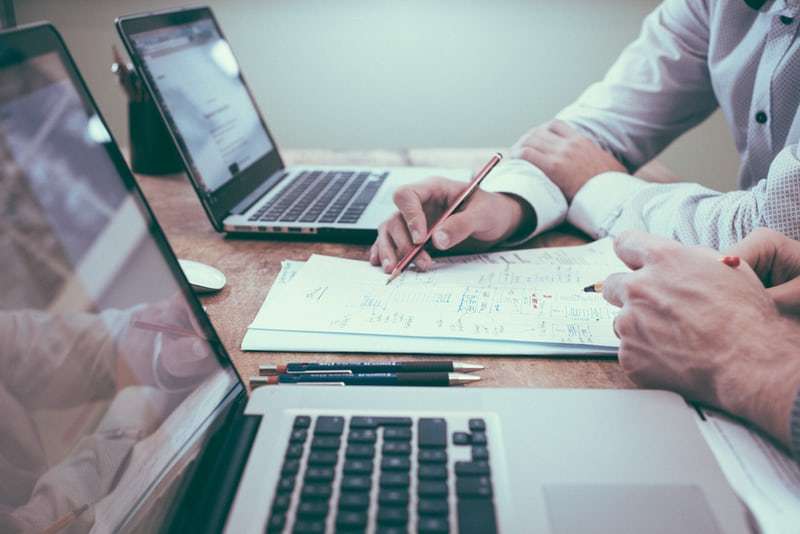 Where to put commercial invoice on package?
Commercial invoices must be printed and included in a transparent envelope with the package, for later verification at customs. If you're wondering how many copies of the export commercial invoice you have to submit, the answer is three.
Create a commercial invoice for export
Creating a commercial invoice isn't a difficult process, but it can be tedious and you may feel that the time could be better spent on other activities.
To make your export operations more efficient, use a pre-designed template from the internet and simply fill it out or, even better, use software to automatically generate commercial invoices whenever they are necessary.
Conclusions
A commercial invoice is a fundamental part when shipping internationally or to a different customs area.
After seeing what it is, how it looks and the different fields it needs to include, surely it will be easier to create the right commercial invoice for export every single time. You can use the format of commercial invoice we give you, or create your own.
However, the best way to create commercial invoices is by using an advanced software system that creates them automatically based on the order information, only when it's needed.
This is possible when you use Outvio. Sign up and start creating commercial invoices automatically now!