Inside this article
Order management is one of the most important — and unavoidable — parts of running an eCommerce business. It's also a major source of costs, which is why the biggest players in the retail industry are increasingly choosing to optimize complex order management processes. 
Continue reading to find out which software systems are best for eCommerce order management and which processes you should pay special attention to.
What is order management?
Order management is the fulfilling and handling of an order after a customer has placed it, ending with the delivery of the parcel. Order management encompasses the picking and packing process, the shipment, tracking and even possible returns or exchanges.
To put it simply, to process or manage an order is to carry it through all the steps necessary for it to end up in the customer's hands.
In order to efficiently manage orders, eCommerce stores and online retailers are increasingly looking for ways to optimize the process with order management systems (OMS) that can automate and streamline as many eCommerce order management processes as possible.
Order management systems for eCommerce
Order management software can refer to a wide range of systems, including everything from ERPs to CMSs. However, thanks to the rise of the eCommerce industry, solutions specialized in order management are becoming more and more common.
Take a look at these eCommerce order management system examples and choose the one that best suits your needs and size:
Outvio is the only order management softwarethat automates and optimizes all the post-checkout processes from fulfillment, shipping, tracking and notifications to customer support, returns and analytics. An automated order system speeds up operations and minimizes the chances of human errors.
Kibo Commerce is a headless eCommerce platform. Although more complex than others, it's the only one that is built for an omnichannel experience. As with any other eCommerce platform, it helps online retailers receive and keep track of orders and their statuses.
Skubana is an order fulfillment systemthat mainly focuses on inventory management. It helps manage and track old inventory and uses predictive models to forecast future demand. In this way, it helps manage orders by ensuring optimal stock levels.
There are other order management apps that can help you with additional steps of the order management process. But with the help of the systems mentioned above, the most important tasks will be covered.
Order management processes in eCommerce
Managing orders is a process that starts whenever you sell something online. However, it's important to keep in mind that you also need to account for stock and staff availability in order to proceed with the eCommerce order management process flow, which is as follows:
Order placement
The first process that gets the mechanism started is the placement of the order. When a customer makes a purchase from your online store, your eCommerce platform will receive the order details and you can share this information with your warehouse solution (WMS) and staff.
Order details are sent to the warehouse
Ideally, this process should be automated, especially if your online store handles a considerable volume of orders and your order fulfillment time needs to be as short as possible. Working with an order management system for eCommerce such as Outvio is the perfect way to automate this step.
Integrate your CMSs and/or marketplace platforms to Outvio to connect all of your eCommerce processes in a single hub for improved order management and shipping
Order processing
At this stage, your picking and packing processes will be initiated in the warehouse. Warehouse operators should use picking lists to efficiently collect the products from dozens of orders simultaneously and transport them to the packing area, where the orders will be prepared for shipment.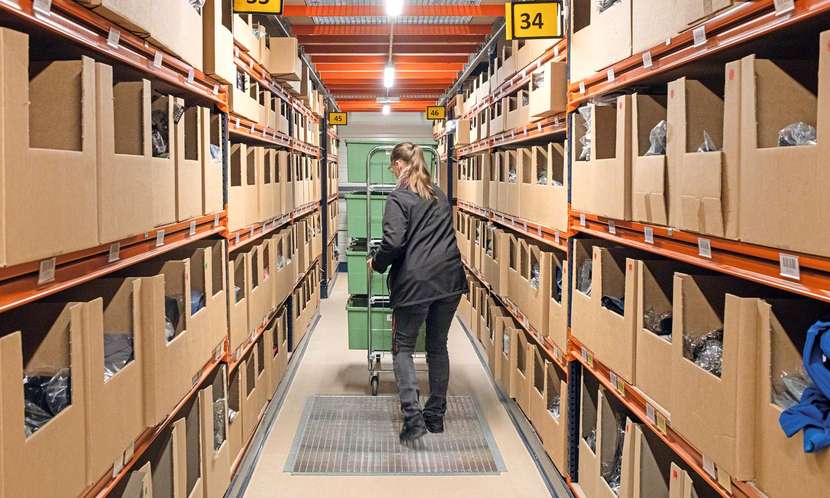 The last step of the preparation of the order for its shipment is the printing of the shipping label. Once it's printed and attached to the package, the order is ready to be shipped.
Check our article on order fulfillment management
Order shipping
Now, the last step is to hand the parcel to the courier so that it can be delivered to the customer. For this, you'll need to coordinate with the courier companies so that they come on a planned schedule to pick up orders and ship them out. Ideally, this should also be automated.
With Outvio, you can keep track of recent and current courier pickups and schedule new ones, only with the click of a button. It's all centralized
Sending the tracking information
Now the order is on its way to the customer and you need to let them know that the delivery will soon take place. Some companies choose to rely on the courier company for this type of communication. However, they're missing a great opportunity to make an impact on the customer.
Leaders in the eCommerce industry are aware of the importance of customer relations and use every possible excuse to strengthen them with customized messages. Since you already need to inform your customers about the status of their orders, why don't you use this opportunity to better showcase your brand and products?
Parcel delivery & quality review
The parcel has been delivered and, assuming everything went well, you won't need to deal with the order again. But what if the customer wasn't fully satisfied?
If that's the case, you'll most likely need to find out the cause behind their dissatisfaction and offer an appropriate solution. This is a common scenario in online shopping that is typically fixed by enabling returns and exchanges or offering a discount and a replacement if the issue affects the quality of the product.
For instance, there might be a problem with the size of the item or the courier wasn't careful enough with the package and damaged it. Regardless of what happened, customer reviews and satisfaction play an important role when it comes to building loyalty and acquiring new buyers, and the situation should be handled accordingly.
Outvio helps you edit and design a returns and exchanges portal that enables your customers to manage their returns autonomously according to your rules
In general, the order lifecycle of a company can be as simple or as complicated as the business wants it to be. The order-processing steps we discussed are triggered by a purchase, but there are other tasks related to the preparation of orders that aren't included in the management of orders per se. Inventory management is one example, since, without sufficient stock, it will be impossible to fulfill orders. If customers can't place an order — or if they can but they don't know when it'll be delivered — the hold-up can be a source of dissatisfaction.
Conclusions
Order management is a complex but indispensable part of every eCommerce business. Having an efficient order management process flow means that your orders will be delivered in a timely manner. This can have a direct impact on customer satisfaction and will contribute to the growth of your business.
If you're ready to manage orders more efficiently, the first step is to familiarize yourself with the processes involved in order management and how you can automate them in order to optimize operations and boost productivity.
Outvio is, without a doubt, one of the most revolutionary order management systems for eCommerce because it centralizes all post-checkout operations into a single platform, including fulfillment, shipment, tracking, notifications, customer support, returns and exchanges. It even provides eCommerce analytics as well.