Inside this article
Parcelforce Worldwide is a courier company operating in the United Kingdom. Parcelforce Worldwide is part of the Royal Mail Group and is organized within the UK Parcels, International and Letters division.
This shipping company delivers to destinations within the United Kingdom and to the rest of the world.
The advantages of working with Parcelforce Worldwide for online shops in the UK are countless. This is one of the best couriers in the country, both for the businesses themselves and for their customers.
In this eCommerce guide, we'll walk you through these advantages, what their national and international services are, how to calculate Parcelforce's shipping rates, and where you can check them out. Plus, we'll answer some of the most frequently asked questions about this company.
Advantages of Parcelforce Worldwide
These are some of the advantages of shipping with this UK-based company:
Safe delivery options for high-value goods
Domestic and international services
Deliveries 7 days a week within the UK
Flexible delivery options: at-home delivery, to post office, etc.
Messages and personal delivery options offered to your customers
Parcelforce national services
Parcelforce Express 9: Delivery on the next working day by 9am
Parcelforce Express 10: Delivery on the next working day by 10am
Parcelforce Express AM: Delivery on the next working day by 12 noon
Parcelforce Express 24: Delivery on the next working day by close of business
Parcelforce Express 48: Delivery within 2 working days
Parcelforce Express 48 Large: Delivery within 2 working days for items upto 2.5m long
All these services are available from Monday to Friday, unless Saturday delivery service is selected.
Parcelforce international services
Parcelforce Global Express: Deliveries are scheduled for next working day
Parcelforce Ireland Express: Deliveries are scheduled for the next working day in Ireland
Parcelforce Global Priority: Deliveries are scheduled for 3 working days
Parcelforce Global Value: Deliveries can take up from 5 to 8 days
Parcelforce Global Economy: Deliveries can take up from 28 to 46 days
HM Forces: Delivery times vary
Package tracking is only available for Global Express, Ireland Express and Global Priority.
Shipping rates with Parcelforce Worldwide
Shipping rates vary from order to order. Some of the elements that influence shipping rates are weight, dimensions, distance from origin to destination, and level of urgency.
To check the shipping rate for an order, go to Parcelforces's website and get the specifications for this shipment.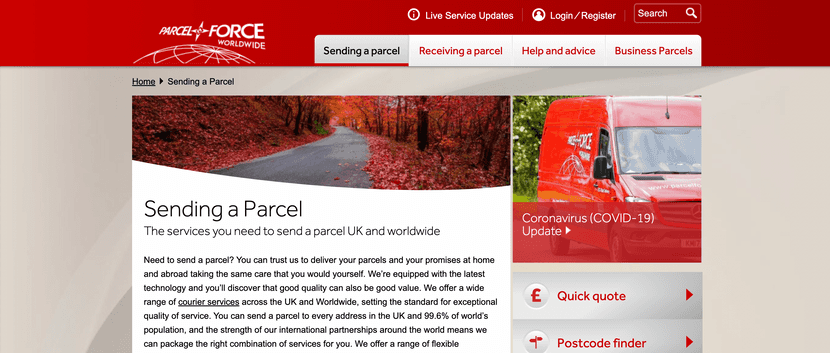 Tracking shipments with Parcelforce
Parcelforce offers a tracking system for many of their services. You can keep track of the status and location of the shipments and manage any possible shipping issues by contacting the courier through their support channels.
Your customers and your business will benefit from their tracking portal.
How to return a parcel with Parcelforce Worldwide
To return a parcel, you can use their next-day delivery service (which includes tracking features) and you can track your parcel's progress all the way.
Their return system enables you to offer at-home pickups or drop-offs at a local post office or Parcelforce Worldwide depot.
Returns are possible for both national and international customers through a wide range of delivery services.
Internationally, you can enable returns with Parcelforce in more than 220 countries.
Maximum weight and dimensions for shipping with Parcelforce Worldwide
The maximum weight allowed by Parcelforce for individual parcels is 30kg. If you surpass this limit, additional fees may be charged.
In terms of dimensions, packages can be up to 1.5m in length, and the length and girth combined should not exceed 3m.
For Large Parcel Delivery (Express 48 Large) the weight limit stays the same, but the dimensions vary. Packages can be up to 2.5m in length, and the length and girth combined can't go over 4m.
For international parcels, Parcelforce establishes similar limitations as domestic shipments. This is a maximum weight of 30kg and length of 1.5m. The length and girth combined should not exceed more than 3m.
However, HM Force has special shipping conditions. The maximum weight is 30kg, except for HM Ships (BFPO 200 – 499). These have a maximum weight of 11kg and all operations are restricted to 2kg. BFPO 5000 – 6000 is limited to 10kg.
Contact information: Get in touch with Parcelforce
You can get in touch with Parcelforce through their customer service phone at 0344 800 4466 if you are in the UK.
If the enquiry fits in 280 characters or less, you can also contact them on Twitter.
FAQ about Parcelforce
Is Parcelforce part of Royal Mail?
Yes, Parcelforce belongs to the Royal Mail Group.
When do they deliver?
Parcelforce delivers every day of the week.
Does Parcelforce deliver on Saturdays?
Yes, you can select deliveries on Saturday through their Saturday shipping service.
Where can I find my Parcelforce parcel?
You can track your parcel on their tracking page to know the status and location of the package.
Will Parcelforce deliver tomorrow?
Parcelforce will deliver on the next working day for domestic shipments under the following services: Parcelforce Express 9, Parcelforce Express 10, Parcelforce Express AM, and Parcelforce Express 24.
For international shipments, Parcelforce delivers on the next working day under the Parcelforce Global Express and Parcelforce Ireland Express shipping services.
What time does Parcelforce deliver?
Parcelforce delivers Monday to Friday from 7:00 to 17:30. Saturday deliveries are also available from 7:00 to 14:00.
Conclusions
If the shipping company Parcelforce Worldwide isn't what you were looking for for your online shop, you can read our articles on other national and international couriers like UPS, FedEx, TNT, and DHL. They may offer exactly the services your business and customers need.
Outvio can help you create a multi-modal courier network by giving you a central hub for your post-checkout operations where you can connect multiple couriers and shipping methods, automating dozens of fulfillment tasks.