Inside this article
Are you wondering which ERP systems are the best? In this article, you'll find out what an ERP system is and which priorities and needs to consider as you select the best ERP system for your digital business.
With this knowledge, choosing the best enterprise resource planning system will be much easier.
What is an ERP system?
Enterprise resource planning systems, also known as ERPs, are software systems for the management and monitoring of all processes within a company. 
They serve as a database —and a synchronized point of information— for all departments, thereby speeding up communication across the business.
The best ERP systems integrate many functionalities to automate tasks in different departments such as marketing, sales, logistics, post-checkout, finances, etc.
If needed, some of the best ERP systems come with the possibility to add modules to further expand their functionalities. In this way, ERP systems can be transformed into hubs for activities and information.
Now that you know what an ERP system is, let's take a look at the best ERP systems in 2023.
The best ERP systems in 2023
1. SAP
SAP is one of the best ERP systems in the world for large companies. SAP offers solutions to ease data processing and the flow of information between departments and even between organizations.
SAP has a "continuous innovation strategy" approach that helps businesses grow without limits, or, at least, without the limitations that are often imposed by an ERP system.
We won't dive too deep into SAP since we already have an article that covers everything you need to know to understand what SAP is and why this system is so popular.
2. NetSuite (by Oracle)
Netsuite was one of the pioneers in the cloud computing revolution, being the first SaaS company in the world. Today, NetSuite belongs to Oracle and offers one of the best ERP systems for omnichannel companies all over the world.
Modules can be added to Netsuite to expand the functionalities of the ERP system, without compromising the deployment speed or the usability of the software system.
3. Sage
Sage is a British multinational business software company dedicated to offering an ERP system. Together with SAP and Netsuite, Sage is one of the most popular choices available.
Some of the competitive advantages of Sage are its usability, its level of customization (depending on size, industry or type of need), its short implementation time and its automatic back-ups that reduce the cost of data storage and reconciliation.
4. Infor
Infor is a multinational SaaS company. Originally, Infor was created as an ERP system for finance and resource planning, supply chain management and customer service. Nowadays, Infor has also developed specific solutions for different industries and an easy-to-use interface.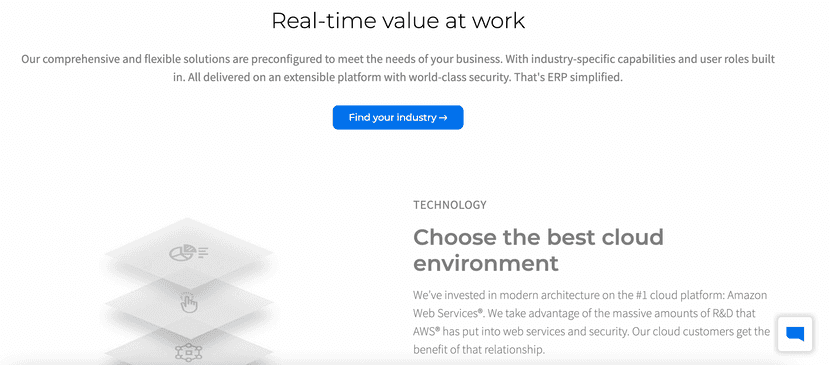 Infor is best suited for manufacturing companies since those were the original users of the platform at the beginning, but it still offers great tools and systems for other types of businesses as well.
Infor drives productivity by speeding up mainly production processes and fixing issues quickly. As a bonus point, Infor has a user-friendly interface that is consistent and highly effective.
5. Syspro
Syspro is a leading global ERP specialized in key manufacturing and distribution industries. 
Syspro stands out from other ERP systems because of its focus on the manufacturing and distribution sectors and its approach to technology. This makes Syspro the perfect choice for businesses that manage production, but it can be adapted to multiple sectors and business types.
6. Microsoft Dynamics GP
MS Dynamics is a growing ERP by Microsoft. Microsoft Dynamics, which can function in conjunction with other systems, can be used to convert customer information into a source of sales, improve your marketing strategy and customer relations, personalize and optimize customer service, streamline finance-related tasks and adapt and speed up the supply chain of the company.
Microsoft prioritizes customization, usability and lower costs with this ERP system by, for example, allowing companies to customize the platform with simple codes.
7. IFS
The IFS ERP system is one of the best options for managing and strengthening business operations.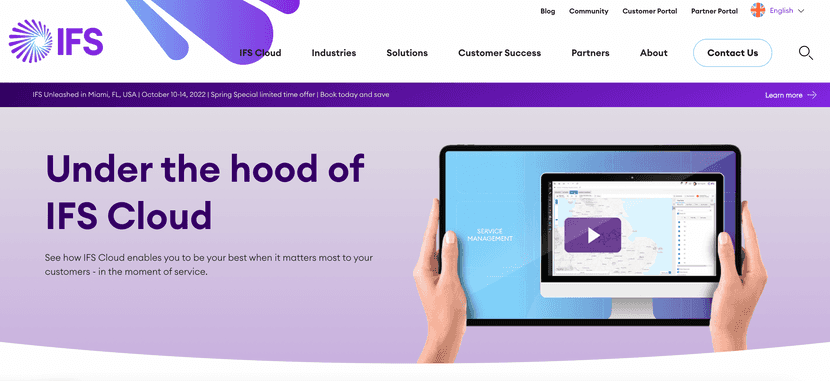 IFS is designed to drive business efficiency, reduce unnecessary costs and provide insights, all in a single platform.
This can be achieved through task automation and limiting the number of tools needed to carry out different processes, thereby minimizing integrations and the use of third-party tools.
8. Acumatica
Acumatica is an ERP system that works in the cloud and aims to improve business efficiency thanks to a user-friendly interface, cross-module workflows, responsiveness, high adaptability through low-coding or no-coding and the possibility to add or reduce the number of functionalities in the system as required for your business.
9. Odoo ERP
Odoo is also one of the best ERP systems in the market thanks to its functionalities and its top-notch user experience.
Odoo is designed to promote compatibility with other software, centralizing different processes in a single platform that is accessible from any device. This software system is also open-source, which means that it is highly adaptable to the necessities of every business and industry.
10. ERPNext
ERPNext is an ERP system that offers a free version, which is geared toward smaller companies, and ERPNext for Enterprise, which is for larger companies.
The Enterprise version includes a warranty for replicable bugs, aid during implementation, devOps support (installation, custom configuration on your servers, etc.), developer support for customizations and functional support to help you manage your configurations, permissions, workflows, notifications and module configurations.
ERPNext for Enterprise also comes with additional DB functionalities that will help larger companies to ingest their considerable data volume on a regular basis with ease.
11. Dolibarr
Dolibarr is an open-source ERP system that was designed with one principle in mind, and that's simplicity —in terms of the development, installation and use of the ERP.
Dolibarr offers a multi-user system that includes its own permission system (with several levels for each feature) and an interface that can be customized through themes.
12. Katana
Katana is a manufacturing ERP that prioritizes usability and functionality, offering a platform that is powerful and easy to use.
This ERP system is constantly evolving and adding new functionalities based on customers' demands. In this way, Katana scales with your business. Its end-to-end platform can be integrated with popular eCommerce platforms, accounting and reporting tools, and even allows you to create custom workflows with Katana's open API to better define your processes.
Comparison table
| ERP NAME | PRICE | COMPANY SIZE | DEPLOYMENT |
| --- | --- | --- | --- |
| SAP | $$$$$ | Large/ very large | On-premise |
| ORACLE | $$$ | Mid to large | Cloud-based |
| SAGE | $$ | Small to mid-sized | Cloud-based |
| ERPNEXT | $$$ | Mid to large | Cloud-based |
| DOLIBARR | $ | Small to mid-sized | Cloud-based & SaaS |
| KATANA | $$$ | Mid to large | Cloud, SaaS, Web-Based |
| ODOO | $ | Small to mid-sized | On-premise & on the cloud |
| ACUMATICA | $ | Small to mid-sized | Cloud-based |
| IFS | $$$$$ | Large/ very large | Cloud, SaaS, Web-Based |
| MS DYNAMICS | $$$ | Mid to large | On-premise & SaaS |
| SYSPRO | $$$ | Mid to large | Cloud, SaaS, Web-Based |
| INFOR | $ | Small to mid-sized | Cloud, SaaS, Web-Based |
You may be able to avoid spending a great investment in an ERP system by choosing a post-checkout platform like Outvio.
Our infrastructure will provide traceability in processes that are carried out after the sale, from fulfilment and shipping, to tracking, returns, customer service and communications to statistics about your sales results, repurchase rate, returned items or courier reliability.
Outvio is the outstanding solution for all those online stores with customers at the center of their business operations, providing a single platform for order processing and customer satisfaction.
Wrapping up
Now that you've seen the best ERP systems in the market, you probably have a better idea of what you're looking for in an ERP system. Because enterprise resource planning is a complex task, most of these software systems offer a free trial.
If you're still unsure of which ERP system is best for you, or if you want to check which one caters best to your needs and team, try out your favorite for starters. If it doesn't work out, you can always come back to this article to see what the other ERPs offer.