Inside this article
In this article, we analyze and compare two of the most successful and popular marketplaces in the world: Amazon vs eBay.
Both of these platforms are extremely popular worldwide. However, the type of buyer they attract and the products sold on these platforms are different, and so are their way of handling shipping or sales, for example.
This all boils down to different advantages and disadvantages. We have created comparison tables to share this information in a visual way, plus additional features that may be interesting for your business or may make you choose another platform.
Advantages of Amazon
Amazon has many benefits that can make selling your products easier. For example:
High and segmented traffic. Amazon's popularity means that gaining visibility is easier than on your own. Those users that end up on Amazon have a high purchase intention
Selling on Amazon is faster than creating an online store. Skip this step by simply registering on Amazon as a seller and uploading your products
Internationalization potential. Amazon includes features that make selling in foreign markets an easy and natural business decision
Brand reputation. The trust Amazon's consumers have on the platform means that they will immediately trust your company just for being on Amazon
Advantages of eBay
Selling on eBay also has its benefits. Some of these are shared with Amazon since they are both marketplaces.
High segmented traffic with high purchase intention.
You don't need an online or physical store to start selling
Internationalization potential, thanks to its portals in different countries and business tools which publish and translate product pages automatically
This marketplace is popular and well-established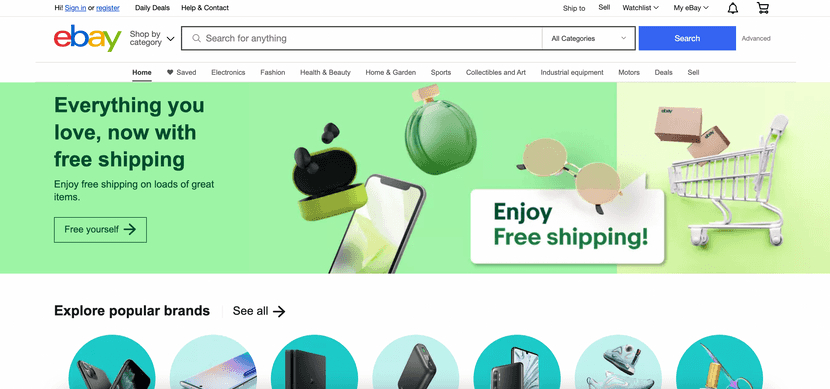 eBay has some benefits of its own:
150 free monthly ads
eBay's fees are fixed. This makes budgeting easier
The price of the products depends on the seller. There's no competition against the marketplace (like on Amazon)
Direct contact with your customers
In this comparative table, you can see a summary of Amazon and eBay's benefits.
| Amazon | eBay |
| --- | --- |
| High and segmented traffic | High and segmented traffic |
| You don't need an online store | You don't need an online store |
| Internationalization | Internationalization |
| Trusted by buyers | Trusted by buyers |
| | 150 free ads/ month |
| | Fixed rates |
| | Control over the prices |
| | Direct contact with customers |
Disadvantages of Amazon
Selling on Amazon also has some drawbacks, including:
Competition against other independent sellers and against Amazon itself
Fees (sales fees, shipping fees, referral fees, return fees just to name a few)
Subscription. To have a profitable business on Amazon, you will need to pay for the Professional plan (€39/month)
You don't have control over the price of the products, nor does it offer customization, marketing, or customer service tools
Disadvantages of eBay
Some of the disadvantages eBay has are also found on Amazon. However, selling on eBay can be more advantageous, depending on what your priorities are.
Competition-wise, you are only competing with other sellers
There are also fees (sales fees and publishing fees), but they are fixed, which makes budgeting easier
Subscription plan. You also need a subscription plan to professionally sell on eBay. Choose from the Basic plan (€20 approx.), the Advanced plan (€40 approx.), or the Premium plan (€150 approx.)
eBay also is very limiting when it comes to customization features and marketing functionalities
In this comparison table, you can see a summary of Amazon and eBay's disadvantages.
| Amazon | eBay |
| --- | --- |
| Competition against other sellers (and Amazon) | Competition with other sellers |
| Fees | Fees |
| Subscription plan needed | Subscription plan needed |
| Lack of control over prices, marketing, customer service, returns... | Basic marketing and sales functionalities |
Now that you know a little more about the advantages and disadvantages of selling on these marketplaces, it's time to learn about other key elements that can help you make the final decision.
For example, you should ask yourself if you want to differentiate yourself from your competitors by price or by offering a different product. If you want to attract customers with high purchasing power, you'll need powerful marketing or customer service tools.
And, although the ideal situation is to offer great customer service and quality products, you need to think about your target's wants and needs and the profitability of your business.
The following features will help you choose between Amazon and eBay:
Internationalization
Both Amazon and eBay have systems that make it easy to expand your business to other countries. However, the tools they provide for this are quite different.
On eBay, sellers only need to publish their ads on the foreign portals where they want to sell their products.
On Amazon, you need to register with a new account in every country where you want to sell your products.
Bidding and auctions
This sales method is one of the main attractions of eBay and one of the aspects that has always differentiated it from its competitors.
By selling through bidding, you can increase the traffic of your eBay products. This traffic can be used to monetize the visits thanks to eBay's affiliate program.
But going back to sales methods, eBay also offers traditional selling methods to attract buyers with more standard ways of purchasing.
Counterfeits and poor-quality products
This is one of eBay's negative points. Because their quality verification systems are not as thorough as Amazon's, you may find questionable or even counterfeit products on eBay.
The quality of these products depends entirely on each seller, but the reputation this can create for the marketplace can affect your business, so it's something to consider.
Prime sales and shipping
Amazon has a subscription plan for buyers: Amazon Prime.
This plan offers many advantages like fast and free shipping, access to Amazon Prime Video, Amazon Prime Reading, exclusive offers, storage space on the cloud, Prime Gaming, Prime Music, Prime Day offers, Amazon Hub Locker and discounts for Amazon Family and Prime Student.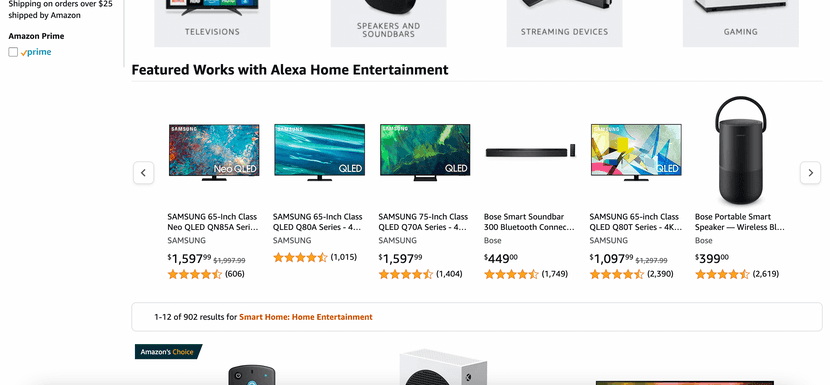 As a seller, these benefits may not apply to you directly. In fact, offering Prime shipping means additional costs and rules caused by outsourcing your logistics to Amazon.
If you want to offer quality customer service but you don't feel ready to do it alone, you can use Outvio to streamline all your post-sales operations, from shipping to tracking, returns, and support. Outvio can be integrated with Amazon, eBay, and other eCommerce platforms like Shopify or WooCommerce, as well as with over 30 local and international couriers.
Amazon's KPI
Amazon uses a series of performance indicators to evaluate how your business is doing. These KPIs can make a seller qualify for the Buy Box and other marketing features. Amazon will also take into account the reviews that your store and products receive.
Amazon and eBay's logistics systems
The logistics aspect is a crucial aspect of any business dedicated to sales.
eBay's shipping functionalities are very basic and make the fulfilment process more difficult for sellers with a larger volume of orders. You need to include the shipping rate and courier for each sale, and specify whether the buyer or you as the seller will bear the shipping costs.
eBay has a shipping management tool that is outsourced. This tool provides some additional basic functionalities to compare rates and print labels. Everything else is your responsibility: tracking the order, communicating with the customer, managing delays, losses, and problems with the label.
Amazon, on the other hand, has more functionalities, but using them implies paying additional fees. You can outsource these tasks with Amazon FBA or do it yourself (Amazon FBM).
As you can see, finding a complete and professional solution integrated in an eCommerce platform is almost impossible.
If you are already a professional seller and you are concerned about the purchasing experience you are providing, you can use Outvio to optimize and streamline all your post-sales operations: from order management to shipping, returns, remarketing, and customer service.
For us, it would be reckless to recommend one marketplace over the other, since the target they have is different.
You should base this decision on your business model and the customers you want to attract. Read more information about Amazon and eBay on these articles or consider creating your own online store to sell across several channels. This is one way to avoid putting all your eggs in one basket and will help you expand your target and business.