Inside this article
In today's article, we're going to see the two models for managing logistics offered by Amazon: FBM (Fulfillment by Merchant) and Amazon FBA (Fulfillment by Amazon).
We will review the characteristics of both options and take a look at their advantages and disadvantages so that you can select the one that best suits your needs.
Let's start by defining what fulfillment is. Fulfillment in logistics is the process that consists of storing, packing and shipping orders, as well as managing exchanges and returns. Having an effective and professional fulfillment system gives customers a good impression of your business and diminishes the workload in other aspects of your operation, like customer service.
Now that we're clear about what fulfillment is, let's analyze each of the options that Amazon offers. In short, we can say that the difference between the two lies mainly in who carries out the fulfillment. In FBA, Amazon manages the storage, packaging and shipping of orders, while in FBM, it's the merchant or seller who takes care of it.
Although more responsibility falls on the sellers in the latter case, they can benefit from many advantages that FBA sellers can't. Let's take a closer look at what each model offers and their pros and cons, and then you can decide which one is right for you.
What is Amazon FBM? The alternative to Amazon FBA
With Amazon FBM (Fulfillment by Merchant) you can fulfil your orders and take care of the whole post-sales process, from processing the order, to providing quality customer service.
Basically, choosing Amazon FBM means that you'll process and ship your orders normally. You receive an order, prepare the products and package, print the shipping label and hand the parcel to the courier or drop it at a post office.
Additionally, not outsourcing the fulfilment implies that you'll take care of any possible shipping issues, such as delays or losses, as well as returns and customer satisfaction pre and post-sales.
Because tasks will continue to emerge from the time of sale up until the product arrives at the buyer's door, working with a tool that facilitates the various logistics will make everything much easier to handle. For instance, you can use Outvio to automate and streamline everything that happens after you make a sale.
If outsourcing these tasks to Amazon FBA seems too expensive for you, a good alternative is to stick with Amazon FBM and use Outvio. Outvio helps you to streamline your logistics, save time and resources, and limit errors in the fulfillment process.
Disadvantages of Amazon FBM
FBM requires that you spend more time managing shipments, returns, shipping incidents, etc.
You'll need to work further on your branding and customer service to make sure that they don't damage the reputation or finance of your online business.
Advantages of Amazon FBM
You can control the entire sales process, from order placement to delivery.
With FMB, it's possible to offer customer service that is branded and personalized for each buyer (if you have a customer database). This isn't possible if you outsource the fulfilment to Amazon.
No unexpected costs, since you won't be facing any additional fees, such as warehousing fees, fulfillment fees, etc.
Less paperwork and headaches. Amazon constantly changes its policy and applies different fees, requirements and changes. Being in control of the post-sales operations means that you'll be able to do things exactly as you wish.
You can reduce shipping costs by creating a multi-courier network that utilizes different couriers, different rates, etc. and by optimizing packaging for every shipment.
How does Amazon FBM work?
Once you have set up your Amazon seller's account and you have created your listings or added your products to already existing listings, you'll need to choose the fulfillment method you want to use.
If you choose to do the fulfillment in-house, you'll need to ship the orders, handle returns and provide customer service.
In order to provide the best shopping experience, you'll need to work with reliable and efficient couriers that are fast and cost-effective.
This is extremely important if you want to qualify for Prime shipping and obtain the Buy Box.
Advantages of Amazon FBA
With FBA, you can offer express shipping to your customers. Thanks to Amazon Prime, shipments will leave the facilities without additional charges and reach your customers within two days.
Fulfillment by Amazon or FBA can be very useful when it comes to dropshipping. Your product supplier will send the products directly to the Amazon fulfillment center and from there Amazon will ship them and handle any possible returns and refunds.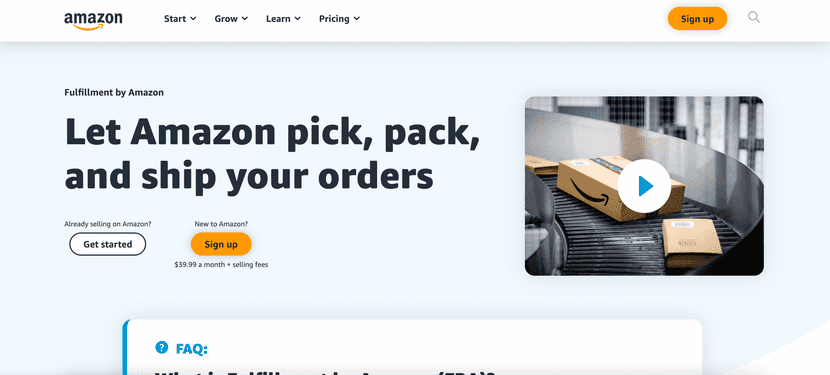 Disadvantages of Amazon FBA
It causes additional costs for the seller. Amazon will charge you multiple fees for managing your shipments, returns, payments, etc.
You don't have control over customer service. Amazon will take over.
Amazon receives the payments, but this money won't be sent to you immediately.
How much does Amazon FBA cost?
When you sell products under the FBA fulfillment program, you'll need to pay multiple types of fees, including:
Monthly inventory storage fees are charged for the items in fulfillment centers. These are paid based on the month and your daily average volume of inventory.
Long-term storage fees are paid in addition to monthly storage fees for products that have been in the warehouse for more than 365 days.
Removal order fees are charged every time an item is removed from Amazon's inventory.
Return processing fees are charged every time a customer processes a return in certain product categories.
Unplanned service fees are also charged if items aren't prepared as specified by Amazon.
You can use the Amazon calculator to get an estimation of the costs you'll face.
These are the main features of Amazon FBM and Amazon FBA. In a nutshell, you can either pay for a service and lose control over all of your post-sales processes or manage your own logistics and customer service, by yourself or with the help of a professional tool like Outvio. The choice is yours. 
It all depends on your priorities and the kind of purchasing experience you want to provide.