Inside this article
Fulfillment is one of the most complex logistical aspects of managing an eCommerce store. Unsurprisingly, the fulfillment stage is when picking and packing errors happen, and it can be one of the biggest sources of losses.
Amazon sellers are well aware of this, and some of them try to prevent such errors by outsourcing the service (Amazon FBA). However, they may be missing out on a great opportunity to gain control of their operations and create an unforgettable and personalized experience for their customers.
Let's take a look at whether it's better to take full ownership of your operations with the Amazon FBM model or if it's more profitable to outsource these tasks with the FBA service.
What is the meaning of FBA? How does Amazon FBA work?
FBA stands for "Fulfillment by Amazon." The FBA service is a way to externalize fulfillment activities, such as the picking and packing of products, as well as shipment, to Amazon, in exchange for a fee (the Amazon FBA fee).
If you decide to outsource your fulfillment with the Amazon FBA service, the marketplace will also take care of the tracking of the shipment, the management of shipping issues and other tasks related to customer satisfaction, like the resolution of claims and doubts or the handling of returns and exchanges.
Apart from the Amazon FBA fees (inventory storage fees, long-term storage fees, fulfillment fees, unplanned services fees, removal order fees and returns processing fees), your eCommerce business also needs to comply with certain Amazon FBA requirements that can affect the products you're able to fulfill with them and how you prepare them prior to shipment.
Under the FBA model, sellers ship their products to an Amazon Fulfillment Center where Amazon will store the items until an order is placed. Then, they'll carry on with the picking, packing and shipping of the product, and they'll take care of any returns, exchanges and customer support.
Is Amazon FBA worth it?
If you're just starting out and you feel unsure about what your customers' expectations are, the FBA service can help you gain time to figure out what your fulfillment process will be like once you reach a certain size.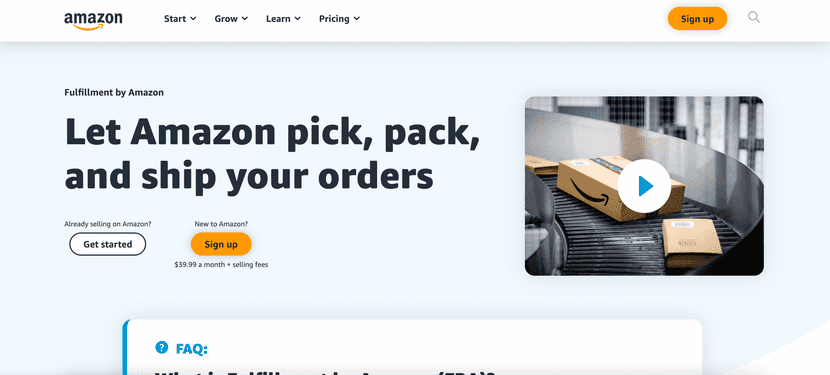 In terms of costs, the FBA service will definitely have an impact on your profit margins, but it will also ensure a professional service to your customers and provide you with the possibility of being part of the Amazon Prime offer. That said, fulfilling your orders via FBA means that you won't have contact with your customers and that the purchasing experience will lack your branding (from the packaging to communications). So, if you're aware of the importance of eCommerce branding, the FBM option is likely a better fit for your business.
What does FBM stand for? How does Amazon FBM work?
FBM stands for "Fulfillment by merchant." Under the Amazon FBM method, sellers conduct the picking and packing of products in-house, followed by the shipment of the parcel and any other activities included in the logistics flow.
The Amazon FBM method is, in other words, the traditional method of fulfilling orders without outsourcing the physical elements of the process. A customer places an order, and the eCommerce business receives an alert and starts the fulfillment process. The warehouse operator picks the products, packs them, prepares the products for shipment and continues with the shipping process (courier and rate selection, label printing, etc.).
Obviously, when orders are fulfilled by merchants, the costs for processing the orders are lower, but unless you have advanced fulfillment software to make your post-checkout operations more efficient, you'll need to spend a lot of resources on the picking and packing, the shipping, the communication with customers and your branding strategies, in order to provide the best customer service.
FBM vs. FBA
Are you still unsure about the difference between FBM and FBA? 
If you decide to do the fulfillment in-house (FBM), you'll gain:
Control over the entire sales process, from order placement to delivery;
The opportunity to use your branding to create a more personalized purchasing experience; and
More insights about your eCommerce business (opinions, flaws, strengths, etc.).
In a nutshell, when you outsource a service (FBA), there will always be:
A cost associated with this service;
A lack of control over the order processing and customer communication; and
A 100% guarantee that your products will be Prime eligible.
On the other hand, if you have a dropshipping business and your margins are large enough, the FBA method could be more profitable for you, since branding and customer service aren't usually important elements for the success of a dropshipping store.
The ultimate Amazon FBA alternative: Outvio
If you've decided to take full ownership of your branding and communications, integrating your Amazon account with Outvio is the best way to fulfill your orders efficiently while simultaneously perfecting the customer experience.
Outvio gives you the tools to:
Optimize your fulfillment process with on-screen picking lists
Select the best courier and rate automatically, for every shipment
Create a tracking page with your branding
Provide a self-service returns and exchanges portal
Send order notifications via email, SMS and WhatsApp
And much more!
Try Outvio now and see for yourself how easy it is to fulfill your Amazon orders!
Conclusions
There are pros and cons of using FBA or FBM. Determining which one is better for your business comes down to the importance of branding for your eCommerce store and how much effort you put into building a personalized purchasing experience, as well as the level of control you want to have over your business in terms of the quality of the delivery and customer service you provide.
If these factors are key pillars for the success of your online store, you should definitely consider choosing FBM over FBA.
Are your operations too complex to handle without help?
Try Outvio to transform your fulfillment flow into a competitive advantage and gain the upper hand over FBA sellers.