Inside this article
Amazon Buy Box is a great way to reduce friction in the checkout process and boost sales by providing added value to customers.
Currently, the estimates indicate that around one-third of online sales are made on Amazon. And, around 82% of these sales come from the Buy Box. That figure is even higher when you look at the data from mobile devices.
So let's explain what exactly Amazon's Buy Box is and how you can win it.
What is Amazon Buy Box?
The Amazon Buy Box is a feature that simplifies purchasing activity, providing an "Add to Cart" and "Buy Now" button that reduces the number of steps the buyer needs to go through.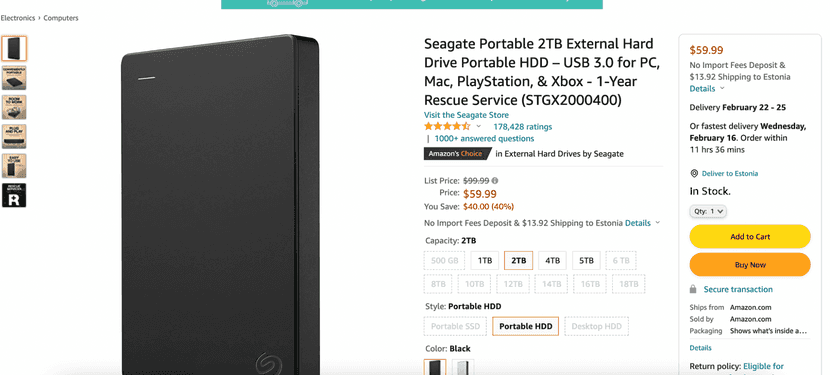 The Buy Box features are visible at the right of the product page in desktop browsers and after the details of the product on mobile devices.
The Amazon Buy Box algorithm determines the best offer (in terms of price), specifications, and seller performance, and promotes a specific seller and item in accordance with it.
The Buy Box also speeds up the selection of certain aspects related to the order, like the number of products that should be added to the cart, the product attribute, or the shipping method.
How to win the Amazon Buy Box in 5 steps
To increase the possibilities of winning Amazon Buy Box, follow these five steps:
1. Choose a competitive price for your products
Many Amazon sellers decide to stand out with low prices. However, in the long run, starting a war on prices can only mean problems for sellers, yourself included.
Instead of impulsively marking down your products, go to Manage pricing to see the best current offer on the market or obtain a report with pricing recommendations to set the best prices for your business and boost your Amazon Buy Box eligibility.
If you want, you can also set up automatic price changes with the pricing automation tool provided by Amazon. For this option, go to the "pricing" section in Seller Central. To automate the pricing process, assign a name to the rule and choose the parameters that will trigger a price change.
The options are:
Competitive Buy Box. This rule sets the price of your product over the current Buy Box offer or below it.
Lowest competitive price. If you want to place yourself as the best deal for a specific listing, you can establish a lower price than others (even those who aren't using the Buy Box).
External competitive price. Choose this rule to make the price change depending on the prices offered outside Amazon. Attention: having prices drastically higher or lower than those on Amazon can reduce your chances of winning the Buy Box.
Depending on sales volume. Create a special offer for users purchasing a certain quantity of your product. This can be useful for items you want to clear out because of seasonality or an update to the product features. You can also apply this rule to items that are often purchased for team events or social celebrations.
Price synchronization. If you commercialize your products through several listings, you can synchronize their prices and selling conditions so that they are automatically updated.
2. Fulfill your orders under the Seller Fulfilled Prime system
It's easier for Prime sellers to win the Buy Box compared to those who manage their orders through FBM, even if they have the same rates in their seller accounts.
However, if you can store and ship your items yourself while complying with Amazon Prime standards, and if you have a solid history, there is an even better chance of winning the Buy Box over FBA sellers.
3. Offer the best shipping conditions (free and express shipping)
Even though this aspect is related to the previous one, the importance of a good post-checkout experience is worth mentioning. The impact of a satisfied customer is one of the criteria Amazon takes into consideration when considering Buy Box eligibility. For this reason, always make sure that your customers receive the products under the best possible shipping conditions (rates, delivery times, and couriers).
To do so, you'll need to work with professional couriers that can deliver your products to all the destinations you currently ship to. Creating a network of local and international shipping companies is the best way to make sure that you can provide fast and affordable — if not free — shipping, without compromising quality.
4. Provide quality customer support
Amazon will take into account all the metrics visible in Seller Central; the better your statistics, the more likely you are to win the Amazon Buy Box.
Some of Amazon's requirements are to have an average response time of fewer than 24 hours, a quick response rate of less than 12 hours (in at least 90% of cases), and a delayed-response rate of less than 10%.
To speed up your reply rates, you can create customizable templates for the most frequently asked questions.
Last but not least, always be clear about your return conditions (status of the product, shipping method, costs, etc.). This reduces the chances of a product being returned, and eases the process for both customers and sellers.
5. Optimize your stock management system
Not having enough stock in your warehouse (or in Amazon's warehouse if you're working with the Amazon FBA fulfillment system) will automatically exclude you from the Buy Box. To avoid this, automate an alert system to efficiently manage your stock with "Selling Coach" and optimize your warehouse design to store more products at no extra cost.
These were some of the basic factors to take into account if you're looking to win the Buy Box. But if you want to have even better chances, consider these metrics as well:
Valid tracking numbers. This rate measures the number of orders that include complete tracking information.
On-time deliveries. This is the percentage of orders that are delivered on time. This rate must be around 97%, but the higher, the better.
Seller rating. In this regard, the level of satisfaction in customer reviews is just as important as their quantity. Attention: the seller rating is entirely different from product reviews. Make sure your customers don't leave product reviews on your seller profile.
Cancellation rate. If you frequently cancel orders, it will harm your seller account. This rate must be under 2.5%.
How does the Amazon Buy Box algorithm work?
As we said earlier, the majority of Amazon users make their purchases through the Buy Box section. When a buyer clicks on the Buy Now button, the seller that meets the criteria and offers the best conditions for the customer will be displayed as the first option.
Don't forget that Amazon is a user-centred platform, and so is its algorithm. Meeting the requirements to qualify for the Buy Box can be relatively simple, but being the only seller featured in a listing isn't.
If a listing receives 100 visits and your version of the product is viewed 65 times, your Buy Box percentage is 65%. If there is more than one seller with the same product at the same price and with the same metrics — as unlikely as this may seem — the Buy Box percentage will be shared among them.
Now that you know the basics of how Amazon's Buy Box algorithm works, you can probably better understand its purpose: to offer the product with the best purchasing conditions to customers in as few clicks as possible, making a purchase possible in one or two minutes.
Amazon's Buy Box algorithm favours sellers with the best metrics and products. For the seller, winning means:
A boost in sales (or at least more chances for them to happen).
The possibility to create PPC campaigns on Amazon, which helps you gain further visibility.
An improvement in the customer experience, which leads to better repurchase rates.
Requirements to be Buy Box eligible
To obtain Buy Box eligibility, an Amazon seller must:
Be subscribed to the Professional plan.
Have optimal performance indicators including an order defect rate below 1%, a cancellation rate below 2.5%, and a late shipment rate below 4%. The volume of orders must also be optimal, although the required volume changes depending on the product category.
Sell new items that include a Buy Box. Selling second-hand items makes you eligible for another Buy Box, dedicated to pre-loved products.
To check your Buy Box eligibility and determine which products need improvement,go to the inventory management section in Seller Central. Click on the preferences section to see the data relevant to this feature. There, you'll be able to see which products are eligible to appear as a featured offer (Buy Box).
In order to see if you're currently winning the Buy Box and how often your products are viewed, check your Buy Box percentage and read Amazon's suggestions to increase your possibilities. You can do this from the Pricing section in Seller Central.
What is a good Buy Box percentage on Amazon?
It changes from listing to listing. Depending on the type of product and competition, a good Buy Box percentage can be 2% and be profitable, or 12% and still not bring many sales.
If you are winning the Amazon Buy Box and you notice an increase in sales, it means it's a good Buy Box percentage.
Conclusion
There are a number of criteria that the Amazon Buy Box algorithm takes into account in order to determine who wins the Amazon Buy Box. If you already meet the minimum requirements, the only thing left to do is to continue to improve the customer experience and thereby increase your chances of winning the Buy Box.
The customer experience can be improved in two ways: by offering better shipping and delivery conditions — regarding shipping costs, delivery times and flexibility — and by providing quality customer support, with professional and fast incident resolution, consistent customer replies, and a clear return policy.
This can all be done by connecting your Amazon account to Outvio. Sign up and integrate with Outvio within minutes!
If you want to know more about the Amazon marketplace, whether you already sell there or not, you can read our full Amazon review to discover more important functionalities of the platform.