Inside this article
Delivering exceptional customer service is key for the success of any online store. And, with the increasing demand for efficient and personalized support, eCommerce firms are turning to customer service platforms to streamline their operations and enhance the post-purchase  experiences.
Explore the similarities and differences between these three customer service solutions (Gorgias, Zendesk, and Freshdesk) and decide which one is better for your eCommerce and budget.
Key features: Gorgias vs Zendesk vs Freshdesk
Gorgias, Zendesk and Freshdesk are well-known customer service software solutions in the market, sharing a couple of features, but being very different in some other aspects. These are some of their similarities:
Multichannel support
Gorgias, Zendesk and Freshdesk all offer centralized communications with customers in a single software tool that facilitates and speeds up the resolution of doubts and incidents.
WhatsApp, Facebook, Instagram, email and chat conversations can all take place and be professionally managed in one interface. This practice is currently trending as an omnichannel or multichannel experience.
Basic automation
One of the main advantages of Gorgias, Zendesk and Freshdesk is that they automate customer service processes.
In this way, businesses can send instantaneous responses, even when they aren't received during business hours or working days, and provide a world-class customer service experience.
Adding notes to a ticket, assigning it to an agent or sending a CSAT survey to clients are some examples of processes that can be automated with these tools. 
Ticketing system
All of these customer service software solutions enable businesses to create, manage, and track customer support tickets, and assign them to specific agents or teams, and add categories, levels of priority as needed.
What is Gorgias
Gorgias is a customer support software solution designed for eCommerce stores, providing additional functionality and information not available with Zendesk and Freshdesk.
For example, with Gorgias online stores can look up and edit order and shipping information, check return and exchange history, see internal notes, etc.
Gorgias pricing
Gorgias, as opposed to Zendesk and Freshdesk, works with a pricing plan that charges per tickets managed. Making it the perfect solution for online stores with a large customer service team or with complex operations that require interdepartamental communication.
As of the pricing plans for Gorgias software, online stores can choose from: Starter ($10/month), Basic ($60/month), Pro ($360/month), Advanced ($900/month), Enterprise (custom price).
Each of these plans include a number of tickets in the price, except for the Enterprise plan, which is based on the number of tickets.
Gorgias also offers some other features: Automation add-on ($450/month – additional to the price plan), Voice add-on ($30/month – additional to the price plan) , SMS add-on ($20/month – additional to the value of the chosen plan).
Gorgias for eCommerce
Gorgias is right now one of the best eCommerce customer service software solutions out there. As it is designed to be used by online stores, it has some of the features that, generic tools such as Zendesk and Freshdesk miss.
Gorgias integrates with eCommerce platforms like Shopify, Magento, and WooCommerce, with enables customer service agents to access customer and order data directly within Gorgias, increasing the quality of the support service.
It can also transform a social media comment into a ticket, allowing businesses to manage potential complaints fast and with simplicity.
Gorgias' automation rules enable agents to automate repetitive tasks, maximizing their availability for other issues.
What is Freshdesk 
Freshdesk is designed to help businesses manage and streamline their customer support processes, allowing them to efficiently handle customer inquiries, issues, and tickets, regardless of their industry or size.
In opposition to Gorgias, Freshdesk works with different kinds of companies and it's built specifically with eCommerce operations in mind.
Freshdesk pricing
Businesses can choose to use Freshdesk at no cost, under the Free plan, or one of their paid plans: Growth (€18/agent/month), Pro (€59/agent/month), and Enterprise (€95/agent/month).
In this sense, it's important to note that Freshdesk charges per agent with access to the tool, whereas with Gorgias, companies can manage their tickets with as many users as they need, at no additional cost.
Freshdesk for eCommerce
When it comes to eCommerce operations, Freshdesk isn't as good as a solution as Gorgias. The reason why it's simple. Gorgias is a customer support tool designed for online stores and eCommerce businesses, whereas Freshdesk is a generic customer support software system catered at many types of businesses.
Although an eCommerce company can use Freshdesk and efficiently solve customer claims and issues, with Gorgias, your support team obtains more information about the order, shipping, return, etc.
What is Zendesk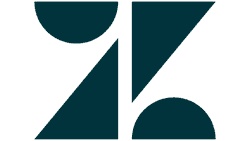 Zendesk is a customer service software company used by organizations of all sizes, from small businesses to large enterprises, across various industries.
It helps businesses deliver personalized and efficient customer support experiences, fostering customer satisfaction and loyalty.
Zendesk pricing
Zendesk offers different pricing plans: Suite Team (€59/month/agent), Suite Growth (€99/month/agent), Suite Professional (€125/month/agent), and the Suite Enterprise plan, billed according to the needs of the firm.
In comparison to Freshdesk and Gorgias, Zendesk is a more expensive solution, that, although well-known and complete, may not be the most affordable or even logical decision for an online store.
Zendesk for eCommerce
As for eCommerce businesses, Zendesk isn't the best option, as it's not designed for online stores like Gorgias.
This means that, although eCommerce businesses can use Zendesk to provide customer support, having a unique source of information is a much better decision for this kind of businesses.
Gorgias doesn't have all the needed functionality that an online store will need to provide a positive customer experience, but at least the customer service functionality it offers is solely designed for eCommerce businesses.
Which is the right customer support app for eCommerce?
When it comes to choosing the right customer support app for ecommerce, Gorgias emerges as the top contender.
While Zendesk and Freshdesk are reputable solutions, being Gorgias specifically designed for online stores, it can offer additional functionality and tailored features that cater to their unique needs.
Moreover, Gorgias' pricing model, based on the number of tickets managed, offers flexibility and scalability for eCommerce businesses with complex operations and large customer service teams. In contrast, Zendesk and Freshdesk charge per agent, which may not be as cost-effective for online stores requiring extensive support coverage.
In conclusion, Gorgias emerges as the ideal customer support app for eCommerce businesses. However, it is important to note that Gorgias doesn't offer the necessary solution for the management of orders, shipping, returns, or exchanges, or post-purchase customer notifications.
To get these functionalities, try Outvio and start leveling up your order processing and enhancing the customer experience.