Inside this article
If you are thinking about opening your own online store, you have probably thought of doing so with Shopify. In this article, we are going to focus on Shopify's smallest plan, Shopify Starter.
Shopify is one of the most-used eCommerce platforms worldwide for selling online. Its intuitive interface makes creating an online store on Shopify a simple and fast process. Additionally, you can customize your store with templates, apps, and if you have the knowledge, with small code modifications.
If you want to know more about Shopify, how it works, how to open a store on Shopify or the plans it offers, you can read our full Shopify review.
Shopify Starter doesn't offer a complete solution for creating and managing an online store. After reading this article, you'll know whether Shopify Starter is right for you or not.
What is Shopify Starter?
Shopify Starter is the most affordable plan offered by Shopify ($9/month).
However, Shopify Starter doesn't include hosting or a domain, unlike Basic Shopify, Shopify, and Advanced Shopify plans.
Its functionalities are very limited:
Overview dashboard
Financial reports
Customer profiles
Orders and product management tools
Mobile POS and hardware accessories
Reminders via email about abandoned carts
QR code with product details
Physical store inventory
Gift cards
Fragmented payment options
Personalized discounts and discount codes
Access to the Shopify admin
Additional sales channels through buttons
Shopify Starter is perfect for temporary sellers that commercialize their products physically or online.
If what you really want is to create a successful eCommerce business, then Shopify Starter might not be the right plan for you.
With these features and price point, perhaps you should consider the Basic Shopify Plan. This option comes with many more features, as well as a domain and hosting, at an affordable price.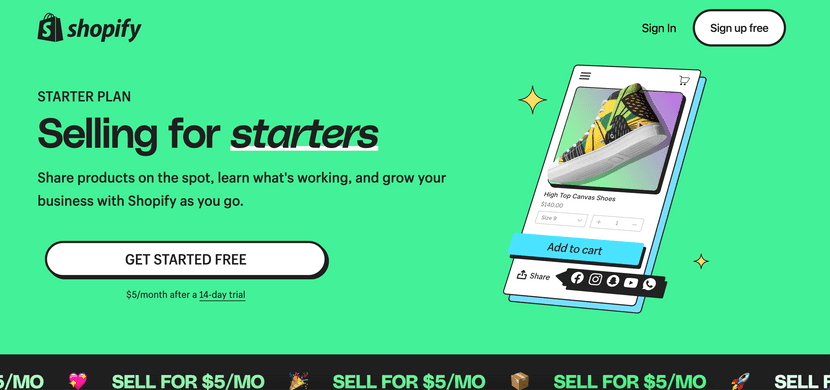 Shopify Starter is for you if…
Shopify Starter may be a right choice if you want to turn your website into a business quickly and easily.
Thanks to Buy Buttons, you can turn your WordPress, Squarespace page, or any other site where you publish your content into an online point of sale.
Shopify Starter can also be used for events, fairs, pop-up stores, and other physical locations, as it provides an app to enable digital payments through iOS or Android devices.
Shopify Starter isn't for you if…
If, for you, the functionalities of a platform are more important than a small price difference, we definitely recommend that you investigate other Shopify plans such as the Basic Shopify Plan, the Shopify Plan, or the Advanced Shopify Plan.
Here is a summary table of what the Basic Shopify Plan offers.
Features

Basic Shopify

Plan

Personalized customer support

YES
Online store
YES

Sales channels

YES

Free SSL certificates

YES

2 accounts

YES

Up to 4 store locations

YES

Reports

NO

International prices

NO

International domains

NO

Credit card surcharge for online sales

2.4 % + €0.25

Bancontact fees

2.4 % +

€

0.25

iDEAL fees

2.4 % +

€

0.25

Transaction fee for a different payment gateway (not Shopify Payments)

2%
In short, Shopify Starter may not be enough for you if…
You don't know how to open an online store
You have no programming knowledge
You don't have a website where you can market your products
You want to offer quality customer service
You want your business to scale
Shopify Starter vs Shopify Basic: Comparison
| Features | Shopify Starter | Shopify Basic |
| --- | --- | --- |
| General dashboard | ✅ | ✅ |
| Financial reports | ✅ | ✅ |
| Customer profiles | ✅ | ✅ |
| Order management tools | ✅ | ✅ |
| Product management tools | ✅ | ✅ |
| Mobile POS and hardware | ✅ | ✅ |
| Emails for cart-conversion | ✅ | ✅ |
| QR codes with product details | ✅ | ✅ |
| Store locations | ✅ | ✅ |
| Gift cards | ✅ | ✅ |
| Fragmented payments | ✅ | ✅ |
| Personalized discounts and discount codes | ✅ | ✅ |
| Access to Shopify's dashboard | ✅ | ✅ |
| Sales buttons in other channels | ✅ | ✅ |
| Personalized customer support | NO | ✅ |
| Online store | NO | ✅ |
| Multiple sales channels | NO | ✅ |
| Free SSL certificates | NO | ✅ |
| 2 user accounts | NO | ✅ |
| Up to 4 store locations | NO | ✅ |
If you aren't sure about Shopify, you can create a store on this eCommerce platform for 14 days at no cost. Then, you'll need to choose the best plan for your business.
Conclusions
Shopify Starter isn't the best option if you want to build a successful online store, but it can be convenient for fairs and other temporary events, or if you already have a website and your product catalog is small —and will continue to be.
Remember that, regardless of the CMS you choose, Outvio allows you to connect your online store to our post-checkout platform to automate and streamline dozens of process, from fulfillment to shipping, tracking, returns and customer support —while providing marketing tools to personalize and improve customer communication and reducing eCommerce costs.
Sign up now and take your online store to the next level today!