Inside this article
Split shipments are a necessary evil in the eCommerce operations of today's online retailers. Although they are not that usual, at least in most sectors, it's important to know what they are, why they occur, how to manage this type of shipment, what it means for the customer and for the retailer and how you can reduce unnecessary order splitting.
With the right strategy and software system, you'll be able to split orders without increasing the cost of every order. Keep reading to discover how.
What are split shipments?
Split shipments are orders placed by customers that need to be divided into two or more parcels because of the dimensions, weight or availability of the products in the order.
Split shipments also save costs on shipment by making them easier to manage and more affordable because of a reduction in the real and volumetric weight.
For the customer, split shipments shouldn't be an issue in itself. This is, as long as the delivery time is the same.
However, it often happens that the parcels arrive on different days, taking even longer than expected. As with any shipment, receiving the order later than promised, isn't a good look.
Some shipping solutions, such as Outvio, give you the option to split an order when there are some products missing, but you can also ship multiple packages from a single shipment by only clicking a few buttons. Try it now!
In any case, you can always ask the customer what is their preferred option and go from there.
How to ship multiple packages
When dealing with split shipments, online stores can choose to process them in two different ways: as a single shipment with multiple packages (one tracking number) or as two independent shipments with two different tracking numbers.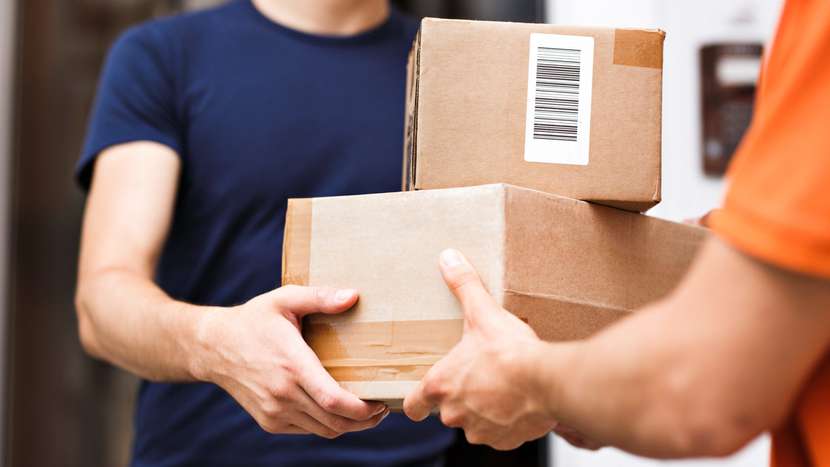 The truth is that, regardless of which one you choose, you need to inform customers about how they will receive the order, this is, in two or more different parcels. Then, you will need to provide the tracking information so they know when to expect the parcels.
Another reason why retailers may choose to split an order into multiple packages is that the products need to be fulfilled from different locations, such as a warehouse and a physical store.
Orders that contain multiple products available at different locations, far away from each other, should be split as a way to save costs and shorten the delivery time. However, if these items are at separate locations that are somewhat near each other, it may make sense to consolidate the shipment in a distribution centre prior to its final journey to the customer's location. 
For this reason, whether you choose to do partial shipments or split orders with multiple shipments or within a single tracking number, your tracking software should support your decisions all the way!
To put it simply, you need to work with an accurate shipping platform that provides updated information about the order and its location to both you and your customers. This is the only way you will be able to successfully split shipments without seeing an increase in the number of support tickets and WISMO calls.
Advantages and disadvantages of partial shipping and order splitting
There are some advantages and disadvantages of splitting orders and doing partial shipments.
For the customer, it enables faster deliveries than if they were to receive a consolidated shipment with all the products at once.
When orders are split into more than one parcel, the order may not be delivered in full, since parcels often arrive separately and even with delay — at least one of them.
Additionally, when the retailer doesn't communicate with the customer to inform them on what to expect, they can be confused and even gain some angry customers claiming they received the wrong order or a package with missing products.
However, this is only an issue if you don't work with the right tools to keep your customers informed at all times about the status and location of their order and parcels.
For retailers, splitting orders when it's not necessary can be more expensive than consolidated shipments. In terms of logistics, partial shipments are more complicated since it's not an usual way of fulfilling orders.
Split shipments also have the added disadvantage of the cost of packaging. Because these orders are split into two or more parcels, the cost of packaging per order can double or triple.
How to reduce split orders
Split orders happen for a number of reasons: a customer that added new products to their order, the purchase of products that are out of stock, products with large dimensions or too heavy to be shipped safely in one parcel, etc.
While some of these factors can't be avoided (the weight of products can't be changed most of the time), some can be easily prevented with some simple practices:
For example, if you find yourself often splitting orders due to a stockout situation, doing regular sales forecasts will help you prepare each product for its current and upcoming demand. This way, you'll be able to meet customers' expectations and fulfill their orders without shipping multiple packages.
If you sell products with dimensions that make it challenging to fulfill multi-product orders, one thing you can do to reduce the space they take by extracting the air they may contain.
This applies to items such as pillows, cushions, duvets, etc. But it's definitely impossible in the case of furniture or decor pieces. In this case, the best way to make them smaller tends to be shipping the item unassembled, just like the Swedish giant does.
In any case, a good practice to have in order to avoid unnecessary costs is to ask customers about their preference. It's possible that they would rather receive the order in full with a later delivery day than having to receive two parcels for the same order, with what this implies: two delivery dates and the need to be at the delivery location.
Conclusions
As we revealed in the beginning, splitting orders into multiple packages is a necessary evil in the eCommerce industry that requires advanced software that enables you to process these orders in this way in the first place.
Some of the platforms out there generate two shipping labels and two tracking numbers, which basically means two unrelated shipments. This is something to avoid, as it creates confusion in the customers — they only placed one order — and significantly increases shipping costs without a real need.
In opposition to this, you can create one single shipment with one single tracking number, and two parcels with the right platform. (Like you would when you connect your store to Outvio and manage all your shipments in an efficient and automated manner).
Apart from the ability to ship multiple packages as one single shipment, it's important to have one or multiple channels where you can communicate with your customers to:
Let them know that they will be receiving two parcels instead of one
Giving them the tracking information to know when they will receive the parcels
Communicate every step of the fulfillment and delivery process with your own branding and style, as it will be checked multiple times until the order is fully delivered
All of these things, and more, can be done in a simple and automated way when online stores choose to work with Outvio. The post-checkout platform where everything that takes place after the sale is automated and streamlined: fulfillment, shipping, tracking, notifications, returns and exchanges, incident management…
A unique hub for all your after-sales operations. Sign up now!