Inside this article
Shopify Plus is quickly becoming the go-to eCommerce platform for the biggest players in the eCommerce industry. 
Shopify Plus, compared to other plans from Shopify, provides key features for high-growth online stores and a better pricing model that quickly pays off.
Discover what exactly Shopify Plus offers, how much it costs, how it differs from other Shopify plans and who makes the ideal Shopify Plus client. 
What is Shopify Plus?
Shopify Plus is the most advanced and complex plan for online shops using Shopify. The Shopify Plus plan provides certain features that are of great value to big online retailers that operate internationally and in multiple languages.
Some of the benefits of using Shopify Plus are:
More customisation possibilities for the company
More reliability in terms of uptime and product launches
Advanced omnichannel and multi-store options
As with any eCommerce platform, there are also some reasons why certain businesses may choose to use another Shopify plan or an entirely different CMS for their online stores. But how can you compare the benefits of Shopify Plus to those from other Shopify plans? Keep reading to find out.
Benefits of Shopify Plus
Those were some of the main advantages of Shopify Plus. Other Shopify Plus features include:
1. High performance
Even when the traffic in an online store skyrockets, Shopify Plus ensures high performance during product launches, special eCommerce events (Christmas, Black Friday, etc.) and any other sales periods where platform reliability is key to the success of the business and customer satisfaction.
This is a feature that is extremely important for a business with an extended catalog of products, frequent product launches or a green thumb for viral marketing campaigns that bring website traffic.
With other eCommerce platforms, it's sometimes the case that the server isn't prepared for all the traffic the online store receives, crashing it and causing considerable losses and unsatisfied customers in the process.
2. International approach
Shopify Plus was designed and built to be used by international companies (and international companies-to-be). However, to truly run an international online store, you won't simply need to translate the website into the multiple languages your customers use —not only to offer local currencies— but also to customise the storefront to the different needs and wishes of the customers in each market. That can include the language, currency, product selection, promotions, layout, etc.
Shopify Plus allows retailers to create multiple storefronts to accommodate the needs and preferences of each market, with the advantage of having a single back end. As a consequence, your online store(s) will enjoy the benefits of the headless architecture.
3. Hosting solution
Shopify Plus, as you may have guessed from the first point, is still a hosted solution — but it's designed for businesses with high traffic that need 100% uptime. Shopify Plus still offers a hosting service, while extending the customisation features.
When establishing all the features and functionalities of Shopify Plus, the Shopify team knew how important hosting is to their clients. One of the main selling points of this eCommerce platform is, at the end of the day, the fact that it's ready to be used in a matter of days or weeks.
Shopify Plus doesn't leave this aspect out; it provides a hosting solution that meets the requirements of the online stores and its customers.
4. Customisation possibilities
Shopify Plus, compared to Shopify, allows online stores to customise their websites in terms of design and functionality. This means that regardless of the way you decide to run your operations, Shopify Plus, and its team, will help you make these customisation possibilities and aesthetics available to you and your team.
The customisation Shopify Plus provides is one of the main reasons why businesses choose to buy the Shopify Plus plan. The online store Rebecca Minkoff, for example, used Shopify Plus to create a 3D experience that better showcases its products to customers, thereby boosting its conversion rate by 30%.
5. Automated processes
Shopify Plus has created a series of workflows and functionalities to automate online stores' operations like canceling orders with a high probability of fraud, hiding out-of-stock products or automating marketing campaigns, among other processes.
"Flow" is one of Shopify's functionality that is specially useful in the Shopify Plus plan. This feature is also available to other Shopify users that meet certain requirements. The way it works seems simple: Certain triggers and conditions are set to automatically execute a determined action.
By using Shopify Plus in conjunction with Flow, you'll get automated processes that bring more efficiency to your online store operations and require less attention from workers.
6. Omnichannel infrastructure
Shopify Plus provides an infrastructure that's ready to be connected with social channels such as Facebook, Instagram and Messenger. By linking these platforms, online stores will be able to benefit from the opportunities of social marketing and social selling.
The next step to being part of the headless commerce trend is, of course, to be present at every digital touchpoint with your customers. Nowadays, this is only possible when you build an online profile for your brand on their go-to social media platforms.
Additionally, you can install Shopify apps and Shopify Plus apps to quickly expand the functionalities and aesthetics of your online store.
What's the difference between Shopify and Shopify Plus?
Shopify, in its Basic, Shopify and Advanced plans, is a ready-made solution that's designed for use by small and medium-sized online stores. Shopify Plus is an advanced plan for online retailers processing a large volume of online orders (thousands per month).
The difference in features and cost that come with Shopify Plus, although worth considering at first, will quickly pay off once you reach a volume of a few thousand orders per month. This can be clearly seen when we look at the difference in the transaction fee for both plans and the added value of the advanced features.
Shopify Plus vs. Shopify Advanced
In the following table you can see the main differences between the Shopify Plus and Shopify Advanced plans.
| Shopify Plus | Shopify Advanced |
| --- | --- |
| Unlimited customizations | Limited customization possibilities |
| Transaction fee: 0.15% | Transaction fee: 0.5% |
| Price of the plan: starting at $2,000 USD per month | Price of the plan: $299 USD per month |
| Unlimited accounts | 15 accounts |
| Unlimited processing points | 8 processing points |
Who uses Shopify Plus?
Shopify Plus is an ideal Shopify plan for online stores processing at least a few thousand orders per month. Online stores with fewer orders may also want to use Shopify Plus to get the added functionalities and customisation possibilities it provides.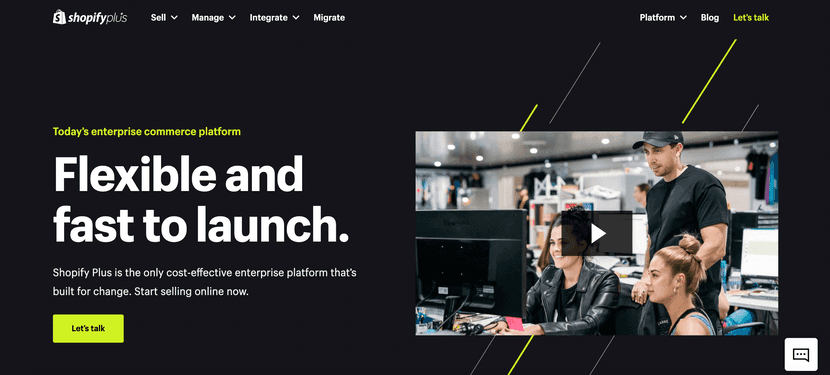 Some major online stores using Shopify Plus are Decathlon, Gymshark, Knix, Huel and Rains. The size of these companies makes Shopify Plus a wise choice in terms of figures and functionalities, since it's an opportunity to grow the business in a smooth yet profitable way. But what's the price of Shopify Plus?
How much is Shopify Plus per month?
The starting cost of this subscription plan is $2,000 per month.
However, eCommerce businesses of a considerable size can also be charged a variable fee. Depending on the size of your business, the volume of online orders and the features you need, you can agree on a specific pricing model with a Shopify Plus expert.
How to get Shopify Plus?
If your online store is already using Shopify, you will need to contact a Shopify Plus expert to upgrade to Shopify Plus. 
It's also possible to create your online store directly on Shopify Plus if you're starting from scratch, or to migrate from another eCommerce platform such as Magento (Adobe Commerce), PrestaShop or BigCommerce.
The whole process of building a store on Shopify Plus or migrating your existing store shouldn't take more than 90 days, according to their website.
When to upgrade to Shopify Plus
Upgrading your Shopify Plan to Shopify Plus is a good idea — and often a necessary step — once an online store surpasses a certain threshold of online orders. It might also be the right time to upgrade when you discover the need for the benefits and advantages that the advanced platform offers.
In any case, if you're wondering when to upgrade to Shopify Plus, consider your budget, your costs and the implications of migrating to Shopify Plus since it could be more profitable to pay for a more expensive plan than to keep a more affordable plan and pay higher transaction fees.
Further optimize your eCommerce store
With Outvio, you can automate dozens of processes taking place after checkout, including fulfillment, shipping, shipping-issue management, tracking, returns and even after-sales marketing. Outvio offers opportunities to brand the customer journey and boost your cross-selling campaigns with email marketing and custom-made tracking and returns portals.
But don't take our word for it — sign up, connect your Shopify Plus store and discover all the advantages of powering your eCommerce with Outvio's features.
Why Shopify Plus? The final word
Switching to Shopify Plus should only be done once the price, features and advantages of the Plus plan have been carefully considered and determined to be beneficial to the business in question.
Shopify Plus can be used to accelerate a brand's growth and, if you decide to upgrade, you'll be running your online business on Shopify Plus and enjoying all of its advantages within a matter of weeks.
Streamlined operations and a perfected eCommerce platform are the engines of any online store set for success.
Start using Outvio and take your post-checkout operations to the next level!