Inside this article
Delivering items to your customers may be one of the most challenging tasks your eCommerce business will face. Shipping issues and delays, missing recipients, high costs… there are endless reasons why this process has received so much attention from online retailers lately.
With the increase in customer demand for fast and flexible deliveries, alternative shipping and delivery methods are gaining popularity. Solve the most common eCommerce issues and save on shipping costs by using pick-up points.
What are pick-up points?
Pick-up points are locations where online orders or parcels can be sent to or dropped off at (in the case of exchange and returns). This service is also known as 'curbside pick-up', 'click and collect system', or 'shipment to drop off location'.
Pick-up points provide more flexibility than home deliveries and cost less for online stores, and there are more advantages to it.
The way it normally works is quite simple: when placing an online order, the customer will choose a convenient location. Once it reaches the destination, the recipient receives a notification to pick up the parcel.
How do pick-up points work?
Pick-up locations are a comfortable way for the customer to receive their purchase, and a cost-saving solution for online stores to deliver.
To implement this system, work with a courier that can ship to pick-up locations (whether these are parcel lockers or a post office). If you will be fulfilling orders from your physical stores, the other option is to set up a specific area in your store for pick-ups.
Then, when orders are processed, customers will receive a notification with the necessary information to collect their package from the pick-up location.
Depending on the type of pick-up point, customers may experience a limitation in terms of available times if the locker or pick-up location is inside a building or if the business has specific working hours (like in a post office).
As we mentioned above, shipments to pick-up points can be done through different systems, which we've outlined below.
Click and collect, BOPIS, and BORIS
This first way to deliver items implies that the orders are shipped from the warehouse to the physical store, or not shipped at all (only being processed and set aside for collection).
After customers purchase their items from your website, the order will be sent to the store, where they will prepare it and update the customer once it's ready to be collected.
Stores normally choose to designate a special area where customers can go to collect their orders, instead of queueing at the cash register.
BOPIS and BORIS orders work similarly to the click-and-collect system. The difference is that BOPIS orders refer only to those that are bought online but picked up at a store, and BORIS orders are simply bought online but returned to a store.
In other words, "click and collect" orders include BOPIS and BORIS orders.
Interested in the topic? Learn more about BOPIS in retail
Parcel lockers
Parcel lockers are already an extended shipping and delivery option in many countries. In other markets that have a more traditional approach towards buying online and receiving items, it's becoming more popular and accessible to the general public.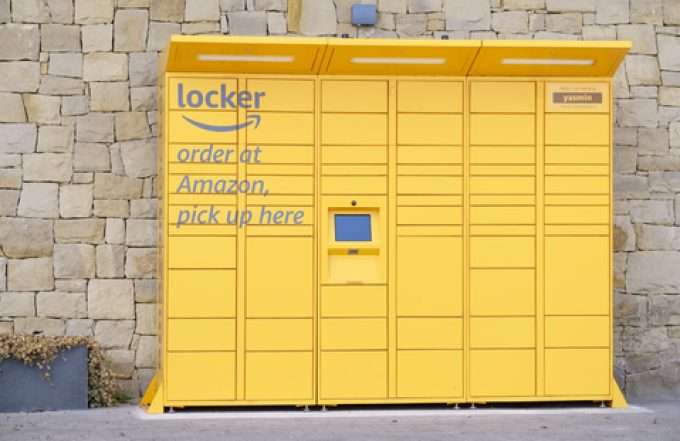 This option provides even more flexibility than BOPIS orders since parcel lockers can be located on streets, next to supermarkets, or beside gas stations, making them available 24/7.
While others may be indoors, the collection window is still bigger than post office working hours or home deliveries.
Post office
Similarly to parcel lockers, some shipping companies offer designated parcel boxes where they can drop off the packages without delivering them to customers.
The downside of this pick-up option is that the available time for buyers is somewhat limited, although it also prevents second-delivery attempts and reduces shipping costs for businesses.
Advantages of home delivery
Convenience
Although for some customers it may be more comfortable to drop by a pick-up point to collect their online orders, many buyers may not have the means to go to a pick-up location, either because of distance, or lack of vehicle or pick-up points.
For many consumers, having the goods delivered to their home or workplace is simply more convenient than having to change their route to receive their parcels. In fact, many buildings nowadays have a designated area to leave parcels — or even a person in charge of all the mail. This helps both the customer and the online store tremendously since it reduces the need to schedule a second delivery in case the recipient fails to be at the address when agreed.
Time-saver
Because customers don't need to change their schedule, shipping parcels directly to the customer can save them time. These types of shipments — although more expensive — also tend to be faster.
Fast deliveries are appreciated more and more by online customers, which is why the speed factor should be seriously considered when shipping your online orders.
More users
As most consumers are used to home deliveries, offering this type of shipment is simply logical, as you can reach more customers this way. The popularity of home delivery also brings another advantage to your business: a faster checkout process.
If the customer has an account in your online shop or if you enable users to automatically fill out the fields, selecting home delivery is a much faster process than choosing a pick-up point.
No size limitations
If you sell items of greater dimensions, shipping the order to a parcel locker may simply not be feasible. If the usual dimensions of customer orders fit parcel lockers, but the items you ship are somewhat heavy, it may also be more convenient to just have them shipped over to their homes.
Additionally, if you sell appliances or furniture, pick-up point shipments simply don't make any sense. 
Popularity among couriers
Last, but not least, one of the significant advantages of home deliveries vs. deliveries to pick-up points is that not all couriers work with a parcel-locker system or curbside pick-ups.
For this reason, if you want to enjoy cheap shipping rates, you'll need to ship your orders through different shipping methods and couriers.
In this sense, creating a network of couriers and automating the selection of the most affordable rate for every delivery is one of the biggest perks of using Outvio
Outvio also allows you to smoothly display your pick-up point locations on the checkout page for an optimized customer experience and increased sales.
Advantages of deliveries to pick-up points
Flexibility
Followed by speed, flexibility is one of the main drivers behind online orders. For this reason, offering deliveries to pick-up points where customers can freely collect their parcels is a great competitive advantage.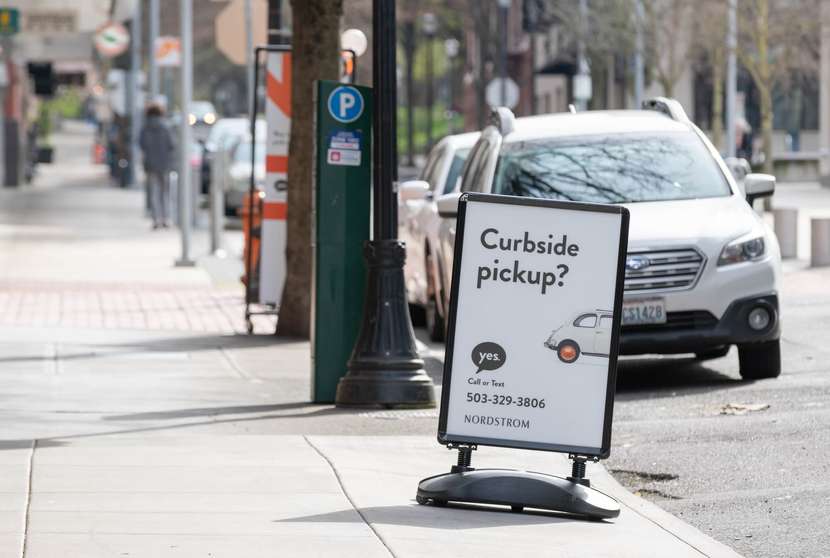 Pick-up locations can be found in cities and major residential areas and can either be in public spaces or businesses such as supermarkets and malls. Buyers can go to the closest pick-up point to collect their order over a wider timeframe than if they had to stay at home waiting for the courier to arrive.
Guaranteed deliveries
One of the biggest advantages of shipping to a pick-up point is that your customers won't miss a delivery ever again. This reduces the operations for your eCommerce business, lowers the number of resources you need to invest in the delivery process, and increases customer satisfaction, making them more prone to buy from you again.
If your eCommerce shop is frequently experiencing second-delivery attempts, offering this kind of shipping option can be the perfect way to prevent them from happening in the first place. Additionally, it means that the products will arrive sooner, and your customers will perceive this as an advantage rather than an inconvenience.
Lower shipping rates
Because this shipping method transports dozens of parcels to the same location, couriers typically offer it service at a cheaper rate.
If your eCommerce business doesn't take responsibility for these costs, your customers will be happy to see that they have a more affordable shipping option than home delivery. On top of this, some of your customers may actually find shipping to the pick-up point more convenient.
If, on the other hand, you offer free shipping for most of the orders you process every day, knowing that your online store's shipping costs are lower will give you bigger profit margins without damaging your relationships with customers.
If shipping rates concern you, sign up for Outvio and automatically select the best rate for every order.
Less stressful
Customers can check which pick-up point is closer to them, and their availability. For instance, some buyers may have busy schedules that prevent them from collecting the parcel during the day. In this case, they can choose a parcel locker that is available 24/7 so they can drop by without any stress.
Compared to a long wait at home for the courier to come, this option is more convenient and even faster for people with busy schedules or those buyers that have quick access to drop-off points.
Increased customer satisfaction
With all the benefits we already discussed, it won't be a surprise to discover that customer satisfaction increases when an additional shipping method that makes their lives easier is added to the checkout page.
Whether they choose it because of money, time, or accessibility, the truth is that pick-up locations are gaining popularity thanks to their convenience for customers and low cost.
| Advantages of home delivery | Advantages of deliveries to pick-up points |
| --- | --- |
| Convenience | Flexibility |
| Time-saver | Guaranteed deliveries |
| More users | Lower shipping rates |
| No size limitations | Less stressful |
| Popularity among couriers | Increased customer satisfaction |
Conclusions
The popularity of pick-up-point shipping is constantly growing. The benefits of it vs. home deliveries are worth considering.
Flexibility and convenience, availability, costs, and the fact that they can be faster all make customers feel like they are getting the best possible option in terms of cost and quality.
As important and useful as home deliveries continue to be, expanding your shipping options will be greatly valued by buyers and will definitely have a positive impact on your sales numbers.