Inside this article
Flexibility is becoming more and more relevant when it comes to building a positive purchasing experience for the customer.
As an online store, it's your duty to ensure that your customers end up as satisfied with your brand as possible. In the future, this investment will pay off with improved customer loyalty and retention and positive reviews. So how can you provide more flexibility? One of the ways is to enable more delivery options, like BOPIS.
In this article, we'll tell you all you need to know about BOPIS in retail, to help you create the best customer experience.
What is BOPIS in retail?
BOPIS stands for "buy online, pickup in-store."  Giving the option to make BOPIS orders allows customers to enjoy the convenience of purchasing online along with more flexibility regarding the delivery. They can choose to go to a physical store to pick up the products, select curbside pickup or even get the parcel from a parcel locker.
BOPIS in retail is one of the best ways to optimize the checkout page of an online store. Whenever a buyer wants to make a purchase online, they will be pleasantly surprised to find that BOPIS and other flexible delivery options are available.
By offering a BOPIS service, a customer can add items to the cart, select the location for pick up and complete the checkout process as usual.
Later on, we'll explain the various advantages of BOPIS orders, but for now, that's what BOPIS in retail means.
How does BOPIS (Buy online, pickup in-store) work?
As we just explained, BOPIS orders are carried out normally, with the exception of the shipping costs.
BOPIS orders are the perfect candidate for free shipping offers. Normally, online stores provide pick-up in-store or curbside pickup at no cost, which is why many customers choose this option.
Once the products have been purchased, the buyers will receive a notification to pick up the order at their convenience. If they select in-store pickup, they'll need to consider the store's business hours as well.
Generally speaking, buy online, pickup in-store is a strategy used by omnichannel eCommerce businesses. By this we mean online stores that also have physical points of retail.
However, it's also possible to offer something similar to BOPIS, like the aforementioned parcel lockers. Offering this kind of service for free for your customers probably only makes sense if the online store owns these parcel lockers or can deliver the orders there at a cost that the business can assume.
BOPIS orders: Advantages and disadvantages
BOPIS is a delivery system that has advantages for both the customer and the online store, hence its popularity.
Some of the advantages are:
BOPIS can be advantageous in terms of boosting offline sales. When customers decide to physically retrieve the products, it's likely that they will browse the store for other new products that they may have missed online.
More opportunities to sell. This is a direct result of merging store inventory with distribution centers' inventory. If an item isn't available at the physical store, the customer can purchase it anyways by having it shipped from a distribution center to the store for pickup. BOPIS in retail has transformed distribution centers into stores — and stores into distribution centers as well. And this improves business potential immensely.
BOPIS comes at a lower cost for the online store (if any cost at all) and is typically free for the customer. This makes last-mile deliveries considerably cheaper.
Speedier deliveries. Although this may seem to only be a benefit for the customer, it also has an impact on brand reputation and customer loyalty and retention.
Fewer shipping issues. The order is prepared with the certainty that it won't be stolen from a doorstep nor will the items arrive broken because of a lack of care during the transportation process.
Enabling BOPIS orders also has some negative effects on the store. For instance:
The store will need to train people to fulfill these orders at their physical stores. If the retailer is a "pure player," this will mean setting up a system to deliver these orders to a parcel locker that can be either fixed by the online store or selected by the buyer during the checkout process.
The convenience of BOPIS during the purchase process can lead to an inconvenience in the physical location if the customer needs to join long queues to receive the parcel. To avoid this, the best solution is to offer a designated pickup point in the store, for example, through a locker system inside the facility.
Merging orders with inventory can be difficult. Unless you have a system to merge all the inventory you currently have in the store and warehouses, fulfilling orders can be very challenging.
Lowers the cost of returns and exchanges. Customers will typically see and touch the product in person, and they even have the option to go to the fitting room to try on the clothes if needed.
How to overcome its disadvantages: 3 Tips
Implement an inventory system to keep track of online orders and inventory. Only by doing so will you be capable of merging online orders with the inventory you have available at the store and in the warehouse. This is one of the greatest challenges of BOPIS in retail.
Train your employees to use these tools and designate a specific area for BOPIS orders. This is the best way to prevent bottlenecks in the fulfillment process and speed up the process for the customer.
Last but not least, if you work with the right CRM system, you'll be able to gather all the items a customer bought and combine them into one order, avoiding unpleasant and unnecessary situations like making them queue twice or having to go to the store two days in a row.
4 Examples of BOPIS in eCommerce
1. The Home Depot
The Home Depot is one of the most successful home-product retailers in the world. Part of the reason behind its success can be attributed to its buy online, pickup in-store strategy.
The company realized that some of their customers don't actually need to go to the store but choose to go nonetheless because it's an enjoyable experience for them. Shopping online is convenient, but physically discovering products can be exciting (and more profitable).
The Home Depot created an app to help consumers find and purchase products quickly in a variety of ways — for instance, through a BOPIS service. In fact, as you can see from the banner, in-store pickups are a great competitive advantage for The Home Depot.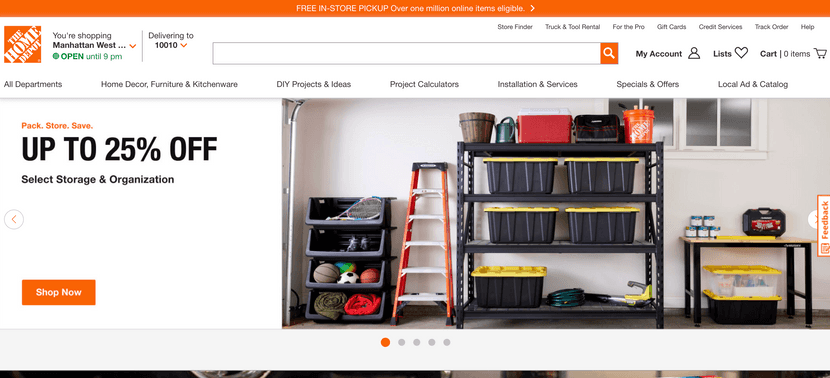 Additionally, and to make the experience even more enjoyable, The Home Depot implemented AI-based technology like voice search and augmented reality, which had great results with regards to the customer experience.
Customers can even search for a type of product by using only a picture thanks to the image search feature of the Home Depot app, and then find its location in the store without needing to contact anyone.
However, if needed, customers can use the live chat inside the app to ask for support and obtain more detailed information or to process BOPIS orders.
2. Nordstrom
With the rise of eCommerce, Nordstrom started suffering the consequences of the online purchasing model. However, this was the perfect opportunity for the company to move from a multichannel model to an omnicommerce strategy, which brought about many benefits.
But how did exactly Nordstrom create an omnichannel experience that satisfies customers needs on and offline? With loads of creativity.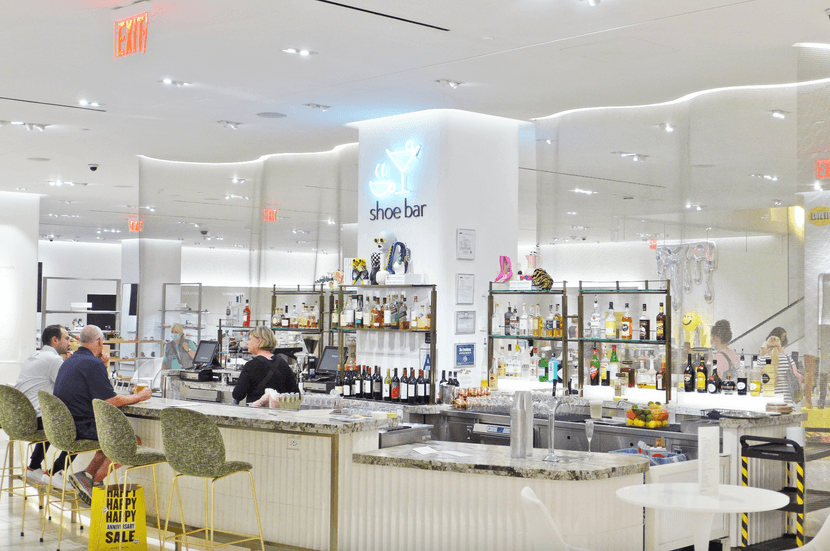 Source: Eater
For example, they created a bar on the floor dedicated to shoes and started providing beauty services as part of the physical store experience. In a nutshell, their offline actions were focused on adding value to the customer experience in as many creative ways as possible.
Another advantage that Nordstrom used to its benefit is related to discounts. While other retailers choose to offer frequent discounts on and offline, Nordstrom keeps them to a minimum online and places dated inventory in its outlets, known as Nordstrom Racks. This helped them achieve more full-price sales than their competitors.
On the online sphere, a curated product mix that is adjusted to the buyer persona of Nordstrom, instead of that of the brands they sell, has made it possible to sell to different types of customers and successfully market brands with different customer profiles, from Vans to Valentino.
And, thanks to Nordstrom's delivery options, customers can make BOPIS orders, select curbside pickup, schedule pickups for that day or the next, or enjoy more traditional delivery options like free shipping, shipping to a store, express shipping or international shipping.
3. GAP
Gap was originally created to fill a generational gap in the market (hence the name). Throughout its over 20 years of existence, Gap has been focused on continuously filling this gap and improving the customer experience.
Today, Gap is a fully omnichannel eCommerce business that offers BOPIS orders, "find in store, buy online," an app for buyers and technological devices across its physical stores.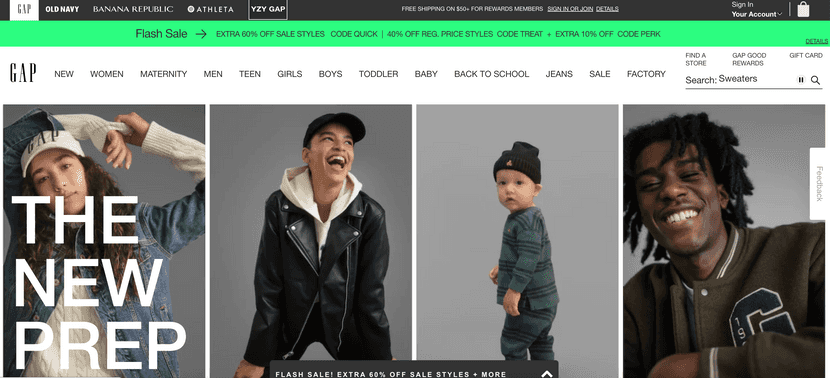 Since 2017, Gap has been using technology to improve customer support at its physical locations. This technology enables shoppers to purchase products without queueing. Additionally, Gap has installed scanners to check prices and devices that can be used to request a different size or color without leaving the fitting room.
Online, Gap customers can find products that suit their interests — thanks to segmentation and their purchasing history — and then request a home or in-store delivery.
4. Target
The retail giant Target was one of the first companies to see the potential of mobile commerce. As soon as they realized that smartphones can be used for more than just offering discounts, they started embracing all its possibilities to create a personalized shopping experience. 
A consistent experience across physical locations, web and phone is exactly what omnichannel eCommerce is all about.
Target's Cartwheel app helps customers to build shopping lists and find everything they're looking for once they enter a Target store. In this way, having an extensive catalog is very beneficial, giving customers the best of both worlds.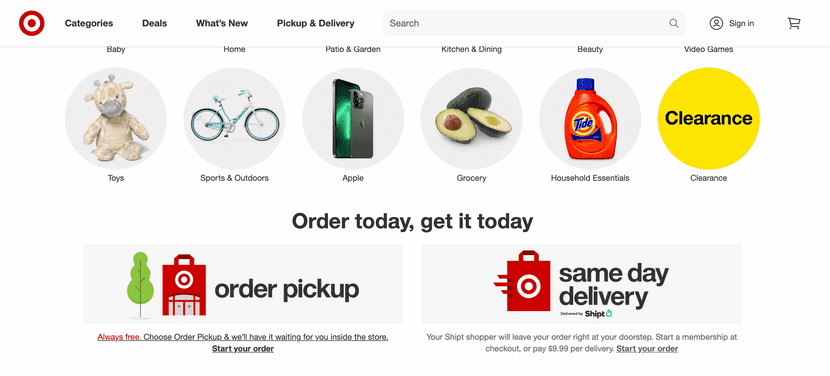 But perhaps one of the best decisions Target made was the BOPIS (buy online, pickup in-store) service. This option appeared to be extremely valuable for users, with BOPIS orders reaching close to 50% of all sales during peak season.
Together with the buy online, pickup in-store service, Target launched a curbside pickup program to make the collection of orders even more convenient for the customer.
This is how Target stepped away from classical moves like free shipping or subscription programs to truly deliver a flexible and personalized shopping experience that embraces all the benefits of BOPIS.
Use Outvio to streamline all your operations
There's nothing like a professional software system to make sure that all your online orders are synced, connect store and warehouse inventory, and provide the best purchasing experience to both online and offline customers.
Outvio is the best tool for online stores focused on perfecting the customer journey while optimizing their operations. Outvio covers everything that happens after the checkout, from order processing to shipping, incident handling or returns. It also gives you full control of your operations and the means to overcome eCommerce challenges and strengthen your brand message.
Among other things, you'll be able to automate the return process, offer returns to the store, and provide different shipping methods such as home delivery or pickup at a parcel locker. But these are just some basics related to BOPIS — Outvio provides much more than that.
Conclusions
Whether you're one of the pure players of eCommerce or you have physical retail points, offering BOPIS means that you'll be able to improve the customer experience and overcome some of the major challenges of online sales, such as last mile deliveries, shipping issues and shipping cost strategies.
To start implementing this service, make sure that your infrastructure is ready to assume the requirements of BOPIS in terms of data collection, updates, synchronization and space.
Then, merge your in-store inventory with warehouse inventory and unify offline and online transactions to build reliable customer profiles.
Choose how you want to implement BOPIS in your eCommerce and under which conditions — and then test and perfect the system until your customers fall in love with your store!
Remember that convenience is a core reason why buyers choose a business, and it should be at the heart of your actions too. A buy online, pick up in-store model is just one of the ways to improve the customer experience, but you can't stop there.
Work with the right technologies to fulfill orders professionally and efficiently, and use any opportunity to make the best impression, every single time.
Sign up and discover how Outvio can help you do just that!