Inside this article
Following global trends is vital to make the right investment decisions. In fact, the biggest advantage of an experienced investor is predicting the situation in different industries and macroeconomics. It's not something you can easily learn; there are numberless variables to take into account. If you really want to make a profit, you need to catch a trend in the beginning.
For instance, in the beginning, crypto investors multiplied their investments by more than 100. By the time the trend boomed, new regulations had been set in place and frauds became so common that the industry has been suffering a decrease for over a year.
When it comes to investing in eCommerce, all investors know that only 10% of startups survive and become profitable. The tricky part is finding those that will make it. The risk is high, but the reward on the other hand, can exceed the investment many times over. In 2021, venture capitalists invested more than $675 billion in startups worldwide, doubling the all-time high in 2020.
In this article, we will look at the most profitable niches within the eCommerce industry and give insights about what to pay attention to when investing, and where you can find eCommerce companies with the highest potential.
What is an eCommerce company?
An eCommerce company is one that operates online. This could be an online-only shop, or a brick-and-mortar store with an online presence. eCommerce is simply the process of running a digital store.
The eCommerce industry continues to boom, as it still has many benefits to reap: automation isn't fully implemented in many online businesses, and there's a long list of new developments that not every company has been able to implement yet (i.e. warehouses and order management).
As eCommerce grows, so do the pain points of online retailers:
Customer demands are more and more difficult to meet
Peak season sales are becoming more and more frequent —with the consequent demands in supply chain management
Instabilities in the current climate make it difficult to run an eCommerce business without advanced software solutions that help solve and prevent some of the most common issues while keeping profitable operations
As more companies choose to invest in eCommerce software solutions, the stock value of these companies also rises, which is why the perfect time to invest in an eCommerce company is as soon as possible.
When you first decide to invest in eCommerce, the most straightforward option may seem to be simply researching fast-growing eCommerce companies like online retailers.
However, in the eCommerce industry, there are other businesses that aren't direct-to-consumer (DTC companies), but rather B2B businesses that provide some kind of service or product to online retailers.
These can be sales platforms like marketplaces, CMS', or website builders, logistics or delivery providers (such as shipping companies or 3PLs), or software companies that automate and streamline processes, like order management software or payment platforms.
Why investing in eCommerce is profitable
With so many global opportunities to invest in eCommerce, choosing a specific company to fund may take work. First, you need to decide if you want to go for the big players, such as marketplaces or CMS'. These, although safer, have a lower ROI than smaller companies with high potential (startup companies).
Regardless of which company you end up investing in, there are some crucial factors that make investing in a relatively new and fast-growing eCommerce company attractive, which we've outlined below.
It's in a booming industry
Because of the development that the eCommerce industry experienced during the 2020 pandemic, the 19% of growth will likely continue due to the permanent changes that took place in human behaviour and purchasing habits.
This wasn't only noticed by retailers and consumers, but most importantly, investors. In the last year, eCommerce-related companies such as Katana (ERP for manufacturing), Logiwa WMS (warehouse management system), and Amaryllis (a payment facilitation platform) received an investment round of at least $10 million.
From the $35,000,000 that Katana raised in October 2022, to Logiwa's investment ($10,000,000 in November 2022), and Amaryllis' $10,000,000's in May 2022, there are plenty of examples of the growing importance of eCommerce when it comes to investing.
It works on new developments and ideas
Retail businesses that thrive digitally are well aware of the importance of new developments and automation. At the end of the day, scaling their operations with ease enables companies to sell more at a lower cost and faster speed. This can become their main competitive advantage since it allows them to compete against retail giants like Amazon.
At Outvio, we are aware of the impact that new trends and obstacles have on the eCommerce industry. Only by being up-to-date can you work on solutions to solve issues for retailers and create workflows that enable them to scale operations with the best technology.
Together with their employees, software solutions are the biggest assets and game-changing factors an eCommerce business can have. That's why investors aren't only attracted to the companies implementing these technologies (retailers), but even more to service providers that develop these systems in the first place.
It has a unique offering
As ideal as it would be to be the only player in a market, having competitors helps companies to see the profitability and potential a market has, and gives insights into what they do right and wrong. It can also shed light on what issues retailers might start experiencing soon, even if you are not encountering them right now.
Most importantly, when several companies compete in the same niche without falling into bankruptcy it means that the market is big enough to adapt to several players.
Having competitors highlights the importance of what you do, but working on a unique offering makes your company stand out from them. In this sense, having a broader vision and a think-outside-the-box philosophy is a key to the success of any business.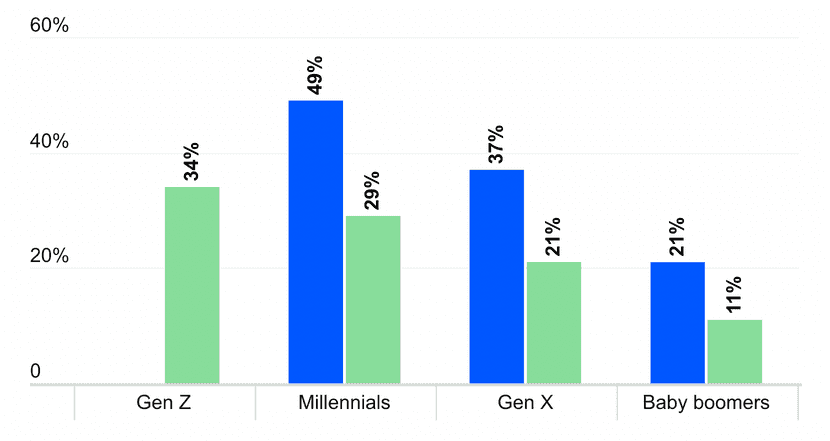 Graph shows the level of comfort with investing in cryptocurrencies (2021 vs. 2022). Source: Bankrate
This is possibly one of the major reasons why so many investors are switching from stock markets and cryptocurrencies to eCommerce businesses. The niche is smaller, but the price of shares isn't as high and the return on investment can surpass the initial investment by far.
It shows promising business metrics
As important as the previous factors were, in reality, what really makes investors choose a company is their numbers. Although current figures may not be favourable to all — the current economical scene isn't promising for most investments — looking at past trends and industry forecasts for the years ahead can provide trustworthy indications that ease the assessment process when evaluating the real chances of growth of a company.
In 2021, retailers spent 53% more on eCommerce solutions than in the previous year. This may have been a result of the increased gap between retailers and marketplaces like Amazon, which brought more business opportunities, but also challenges in terms of fulfilment and shipping.
To combat these challenges, these sellers needed professional eCommerce software solutions, which is why it makes sense to invest in these companies as demand increases.
How to find eCommerce companies to invest in
Now that you know what to look for in a company, you may be wondering where you can discover the ones that have potential to grow exponentially (and are open to investments).
While finding big eCommerce companies is relatively easy, these aren't the companies you want to invest in if you are interested in a bigger ROI. These are the best places to start looking for the companies with the biggest potential to grow:
Startup-related websites
The first tip to find eCommerce companies that are still in the earlier stages (pre-Seed, seed, series A, and even series B) is to look for websites that collect and write information about startups. Even better is if you are able to find eCommerce startups.
As these companies tend to focus on different markets and come up with rankings frequently, checking those regions or niches in which you have the highest interest is the best way to start.
Aggregators
Another way is to look at the investments that aggregators do, or even investing in some of the companies owned by an aggregator. These tend to be growing companies with high potential and less popularity when it comes to investments since they may still not be in the stock market.
Corporate accelerators
Corporate accelerators help develop promising projects. They can give you insight on eCommerce companies that are growing (and already sparking interest in the market). M12 or Wayra are just some examples of corporate accelerators. Other trusted accelerators in Europe are Antler and Entrepreneur First.
At the end of the program, these companies will show their progress. This moment is much anticipated by eCommerce investors that use the so-called "demo day" to find potential partnerships.
Incubators
Similarly to accelerators, incubators can be the perfect source for growing eCommerce companies that are still in the early stage of investments. While accelerator programs may be faster, incubators tend to offer more stable and long-lasting business projects, making them a better and safer choice for investors.
Conclusions
eCommerce investments can become a juicy revenue channel in the short-to-medium run. Businesses like online stores and SaaS (software as a service) have immense potential for growth, especially in the post-COVID era. And, despite how much the eCommerce industry has grown in the past decade, there's still room for developments and new business ideas worth investing in.
From payment platforms to order management solutions, there are thousands of companies in the world that see the possibilities of this niche. Once you have studied the key factors that set up eCommerce companies for success, investing in the right company will be easier and safer.
At Outvio, we couldn't turn a blind eye to what is still to be done in the eCommerce industry. This is why we work on new functionalities and ideas every month. We are confident that, regardless of the size or market of the online store, we can help retailers bring their operations to a whole new level, maximising their resources and considerably increasing their revenue.
Our revolutionary vision caught the attention of investors in 2021, which is why we are more than sure of the profitability of this industry and what is yet to come.