Inside this article
Are you wondering what the biggest online retailers in the world are? Take a look at our selection of the 10 biggest online retailers and what you can learn from them to take your eCommerce store to the next level.
1. Amazon
Amazon is one of the biggest online retailers in the world. For those that need more information on this company, we'll give a brief overview of what Amazon does.
Amazon was originally founded as a digital marketplace for the commercialization of physical products. Nowadays, Amazon offers different digital products and services such as Amazon Music, Amazon Books, Amazon WMS, and Amazon Web Services.
The success of this company is guided by two main principles: customer focus and operational optimization. These two strategic moves have made Amazon the large merchant it is today, generating US$469.822 billion of revenue in 2021 alone.
2. Jingdon/JD.COM
JD.com, also known as Jingdon, is a company that commercializes products through an online store and marketplace.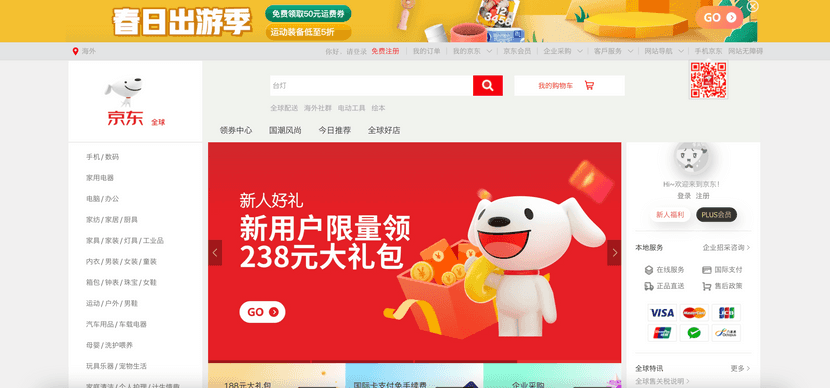 The diversification of services and products offered by the Jingdon group, as well as their efforts to control the supply chain across all its stages, are some of the main differentiators of this company.
Moreover, JD has the largest drone delivery system and infrastructure in the world with their own robotic delivery services, drone delivery airports, and driverless deliveries with an autonomous truck.
Jingdon's commitment to innovation and optimization across the supply chain and last-mile has translated into revenue of US$149.325 billion in 2021.
3. Alibaba
Alibaba is a Chinese marketplace that is mainly targeted at other companies. In other words, Alibaba is a B2B company. Alibaba, like AliExpress, belongs to the Alibaba Group.
Some of the reasons for the success of Alibaba are the fact that they don't charge fees for selling. Instead, Alibaba's profits mainly come from advertisements and keyword bidding within platforms. This makes up 57% of their profits.
The second most important source of profits for Alibaba is the services they offer, which provide information on consumer behaviour. This makes up 25% of Alibaba's profits.
In total, Alibaba's revenue in 2021 was $109,480 billion.
4. Suning
Suning is one of the biggest retailers of household devices in China. Apart from TVs, sound systems, washing machines, air conditioners, and small appliances, the company also offers installation and repair services.
Suning approaches selling across the digital and physical channels as a sales and marketing opportunity. All products are available at the same time and price on both channels, making it just a matter of preference to choose one channel over the other.
Sunning's 3C model (computer, communication, and consumer electronics) has contributed to the company's many successes, manifesting economically into revenue of US$39.610 billion in 2021.
5. Meituan
Meituan Dianping, also known simply as Meituan, is a Chinese company that is aware of the necessities of current society: lack of time, but the willingness to eat healthy, specifically in a culture where food means so much —as it does in China.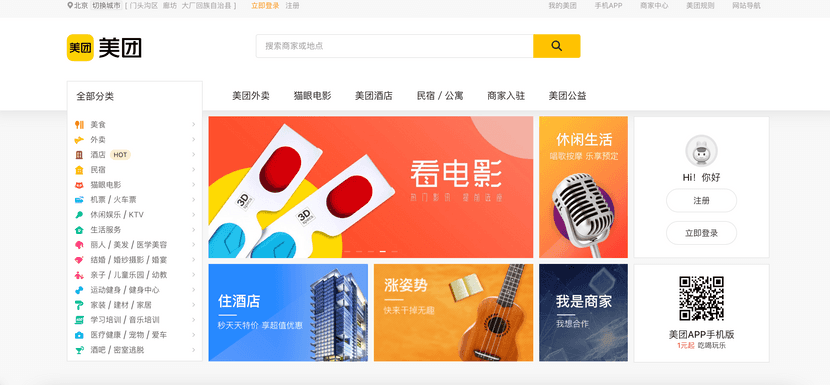 Their platform was designed from the very beginning to help people eat and live better. The user experience explains why Meituan Dianping has become the world's largest provider of food delivery services today, with over ten times the daily average food delivery transactions of  Delivery Hero or GrubHub.
Meituan Dianping's success can be traced to its user-centric strategy that enabled them to adapt what was created originally as a marketplace, into the construction of a delivery network. The investment of resources was transformed into the best user experience, with fast and reliable deliveries and a revenue of US$27.77 billion in 2021 for Meituan Dianping.
6. Wayfair
Wayfair, formerly known as CSN Stores, is an American eCommerce company dedicated to furniture and home goods. This marketplace offers 14 million items from over 10,000 suppliers  across the United States, Canada, Germany, Ireland, and the United Kingdom.
Some of the competitive advantages of Wayfair are its overall performance throughout the supply chain, sales, and delivery processes. Wayfair invests in every area of the company, from merchandising, to logistics or customer service.
According to Wayfair, the differentiation and their use of technology in every area of the company is a recipe that helps you win. And they may be right; in 2021, Wayfair's revenue reached US$13.71 billion.
7. Otto Group
Otto Group is a German company dedicated to providing services and product commerce.
Otto was one of the pioneers in the mail order sector and has become one of the biggest eCommerce stores in the world.
The Otto Group receives 74% of all profits from their online B2C transactions. Maybe this is the first time you've stumbled across Otto, but have you heard of About You or shopping24? They belong to Otto, together with another 100 online stores in the world.
However, the Otto Group doesn't only include online stores. It also has physical stores and a very popular shipping company: Hermes, the second-biggest in Germany (after DHL).
The digital transformation, which is carried out at all levels and across all sales channels, is the foundation for the revenue obtained in Otto group in 2021: US$15.15 billion.
Obviously, having Hermes among one of the subsidiaries of the group, the logistics processes on these physical and online stores is simply flawless.
8. Rakuten
Rakuten is the biggest online retailer in Japan with over 50 million registered users. It is one of the top 10 online companies in the world.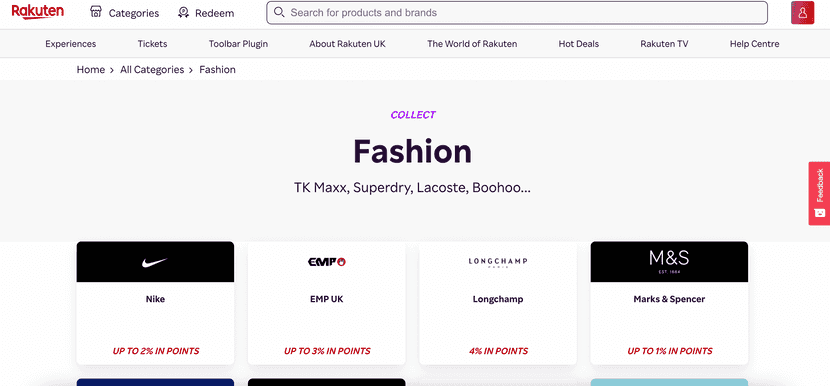 Among its services are an eCommerce store, financial services, travel agency services, online security, sponsorships, and several media and portals.
Rakuten Ichiba is an online store and is the biggest marketplace in Japan, with products from over 18,000 sellers. On Rakuten's website, users can purchase luxury handbags, digital products, or even locally grown fruit.
As part of their efforts for internationalization, Rakuten Ichiba has started to ship its products internationally. The goal behind Rakuten Ichiba was to offer better prices by cutting out the middlemen.
However, part of the success of Rakuten also comes from the diversification of the company, from a B2B and B2C model to a gigantic web conglomerate.
Remember how Amazon also started with physical products, but then moved to other types of services? Rakuten did so too, and even more radically.
Rakuten bought the popular online portal Infoseek, established an auction service (now Japan's third-largest), and offers a blogging platform. It even has a Rakuten baseball team, a popular golf court reservation sub-site, and much more. The result? Revenues that fluctuate around US$9.87 billion (numbers from 2019).
9. eBay
eBay is one of the marketplaces that was first popularized. Not only did it become popular, it has also survived the entrance of other big online retailers such as Amazon and AliExpress.
eBay was one of the first sales platforms to introduce bidding and auctions as a pricing strategy. Customers soon showed their preference for this system and eBay —thanks also to PayPal and the trust that came with it— quickly became a go-to platform for online buyers.
eBay has evolved a lot and offers a wide variety of new and second-hand products, along with the traditional pricing system and auctions.
The key of eBay's success was initially innovation and security. Trust and popularity are still some of the reasons why online customers decide to buy from eBay.
eBay's revenue reached a total amount of US$10.8 billion in 2019. This suggests that the success of eBay is far from over.
10. Zalando
Zalando is one of the top eCommerce companies in the world. This German brand is dedicated to the commercialization of fashion and sportswear online. Its marketplace operates in Germany, Austria, Belgium, Finland, France, the Netherlands, Italy, Luxembourg, Norway, Spain, Sweden, Switzerland, and the U.K.
There could be many factors that played in favour of Zalando: A very clear strategy based on customers needs and preferences, social media campaigns, heavy localization of products and brands, or perhaps its strong corporate values. 
Regardless of what the true trigger was for Zalando's success, one thing is clear: A revenue of US$10.98 billion in 2021 is confirmation of all the goals that the company can potentially achieve in the future.
Conclusions
After seeing these eCommerce brands for the first time or realizing the revenue and power behind these companies, you are probably more than interested in becoming one of the biggest online retailers in the world, too.
Use this list of successful eCommerce companies as an opportunity to grow your business with the strategies implemented by the biggest players in the market.
Now, if you want to take your online store to the next league, we recommend using Outvio! This post-checkout platform provides an infrastructure to streamline dozens of processes, from fulfilment to shipping, tracking, returns, customer service and communications.