Inside this article
The importance of customer reviews is increasing as the eCommerce industry evolves and more and more businesses find themselves fighting for their piece of the cake. Because of this, coming up with clever ways to ask for reviews is a concern of many online stores.
Creating an engaging but polite message, and sending it at the right time and through the right channels, are tasks that require prior research and a lot of testing so that you can fully understand whether your feedback request strategy is working as it should.
In this article, we'll tackle all of these issues and provide an additional way to ask for feedback (keep reading until the end!).
Feedback request template examples
With the help of these feedback request template examples, creating your email, SMS and social media messages asking for reviews is going to be a lot easier.
Email template asking for reviews 
Hello, [Customer Name]!
How did you enjoy [product/experience] with [Your Company Name]?
We're always looking to provide the best products and experience and we'd love to get your  feedback.
Do you have three minutes to leave a review [include link] for us?
To submit your review, simply click below.
[CTA/button with link to review]
Thanks in advance for your review!
[Your Company Name]
Social media message to ask for a review
Hi, [Customer Name]! We are so glad you recently decided to purchase from us.
We are always looking forward to getting feedback from customers like you to continuously improve our products and the shopping experience for buyers.
Click here [link to the review page] to review the products and your experience :)
If you have any questions or concerns, feel free to contact us!
SMS review request template
Hey, [Customer Name]! [Your Company Name] is dedicated to creating the best shopping experience. You can help us to do that by leaving a review here [link to review]. Thank you for your purchase!
---
Obviously, all of these templates are just that — templates. Depending on your branding, style, tone, buyer persona, products and many other aspects, these messages can change.
Another fundamental factor to consider before creating these review requests is making sure that your customers are using the designated communication channel. Investing time and resources into creating a short-but-fun SMS, an engaging and branded email or a catchy social media message is pointless if the buyer isn't going to read it!
10 Clever ways to ask for reviews
Asking for reviews in clever ways is a great way to stand out from your competitors. These are some of the best ways to ask for reviews as an online store.
1. Through Google
One of the best ways to ask for reviews is to do it via Google. You can ask for Google reviews via email. Obviously, this first strategy is particularly helpful to those retailers that combine eCommerce activities with the commercialisation of products in a physical store.
However, business reviews can also be left when you operate just online. Simply register your business on Google My Business and establish the location of your store where your HQ or warehouse is located.
2. Through Facebook
Online stores typically have an important presence on social media. Facebook is a popular social network that surpasses the number of users of other platforms in most countries. 
This is why asking for reviews on Facebook is a smart move to make sure that your brand image on Facebook is as positive as it can be. To ask for a review on Facebook, enable reviews on your Facebook page, share your Facebook page on your website and/or opt for an active approach by sharing a link to your customers via email, SMS and social media platforms, especially via Facebook itself.
3. Through SMS
Online shoppers have been showing a clear preference for mobile commerce in recent years. This is why using all the benefits of the permanent connection we have with smartphones is key to obtaining more positive reviews.
Obviously, the popularity of social media platforms continues to increase, but let's not forget about other ways of communication, such as SMS. Nowadays, receiving SMS messages is often something unexpected.
That's why asking for feedback via SMS can have an important impact on the number of reviews you receive.
4. Through the physical experience
The delivery is the first physical contact a customer has with a brand. Once the buyer receives the order, it's extremely important to make sure that the unboxing experience is as pleasant as possible.
Use this opportunity to surprise the customer and request a review by including a handwritten note or a beautiful card as a clever way to ask for reviews.
5. Ask for it organically
What do we mean by 'organically'? Well, if your products are eligible for frequent purchases and you have returning buyers, you can assume they're happy with you as a brand and satisfied with their previous purchases. If you have permission to do so, ask them to leave a review.
If, by any chance, you get contacted by a satisfied customer, don't hesitate to ask for a review. This 'organic' approach to review requests is natural and won't be seen as intrusive, which is sometimes the case with an SMS, email or social media message. Still, the chances of using the organic approach are lower, so we would recommend using this strategy in combination with others.
6. Provide a review template to your customers
One way of obtaining more reviews in a clever way is to provide a review template that your customer can adapt and modify or simply publish under their name.
This approach can be risky if used incorrectly, but if your target audience and business model allows you to offer a template, it's definitely worth considering.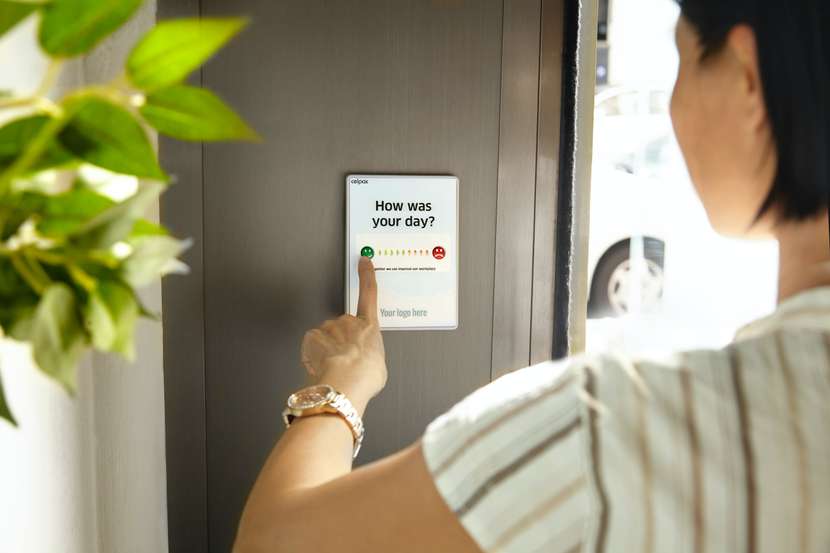 The following is an example of the fields to include in a product review template:
Name
Email address
Which product would you like to review? (This can be a dropdown list) Quality (you can leave an empty field or add a 1-5 ranking system, emojis, or something similar… the world is your oyster!) Price Satisfaction level
Overall, how would you rate the product? (Implement a start-system evaluation)
Would you recommend the product to your friends? (Of course!, Maybe, No)
As an extra feature, you can leave an empty field to let the buyer express any other feelings or thoughts on your product or service.
7. Use the power of social media
Look for mentions, likes and comments regarding your brand or products and approach happy customers to get positive reviews.
This is probably easier said than done, but it's an uncommon approach that could get the attention of your buyers and, if you manage to separate those happy buyers from upset customers, you'll probably end up collecting a considerable number of positive reviews.
What's important here is to contact happy customers and, even before that, to build an online presence on the social media channels that your buyers spend their time on. Instagram, TikTok, Facebook or Youtube are some of the first examples that typically come to mind, but your job is to discover which platforms can be the most profitable for you, depending on your buyer persona and sector.
8. Encourage customers with incentives 
One alternative way to ask for reviews is by giving incentives to reviewers. A discount in the next order, a free product or sample or free shipping on the next purchase are some of the easiest and most clever ways to ask for reviews and receive a positive outcome.
The above are just some relatively easy and popular ideas, but if you set your imagination free, you'll probably find original ways that are aligned with your branding and business actions to connect with the emotions of your customers and increase the chances of obtaining positive reviews.
Timing in these cases is vital since sending this request at the wrong time or to the wrong user can be perceived as a bribe.
9. Simply call them!
If you have access to your customers' phone numbers and they've given you permission to contact them, reaching out in a more personal way can be a powerful technique for different types of retailers.
If you sell custom-made items, high-end products, pieces of furniture or appliances, receiving a call isn't an usual practice. Take the liberty of contacting them and encourage engagement with your buyer thanks to a more human approach.
10. Use AI-powered software to filter out unhappy customers
One of the possible consequences of launching a review-request campaign is to start receiving negative feedback from customers. Let's be honest — receiving negative feedback isn't the worst thing, but when the number of negative reviews is high, it does have consequences.
To avoid them as much as possible, you can filter out those customers that experience a negative situation, such as a delay in the delivery or the loss of the parcel, to control, at least to some degree, who you're sending this review request to.
This is possible when you have all your shipping, tracking and incident handling streamlined with Outvio.
Why you should ask for reviews
Positive reviews and social proof have been proven to have a positive impact on sales volume, especially for businesses operating online.
Reviews can be used to create products that are aligned with customers' needs and wishes and to perfect already-existing products to solve issues in the design or marketing strategy.
Online stores that take the feedback from their customers seriously normally experience a strengthened brand image, improved customer relationships and higher conversion rates.
Reviews are also part of the written content that will make your business rank higher or lower on the SERP. Although many of your buyers may land on your store by looking up your store name, some of your sales may be coming from organic search results, such as when a buyer is looking for a new pair of trainers or a bigger, softer mattress.
Reviews, positive or negative, include the specific keywords that are related to your brand and products. Including a review section on your home page and product pages can be used as a way to attract more customers in an effortless manner since this content will be created by users (UGC), instead of you.
When to ask for reviews
In order to have the biggest impact on your customers and make sure that your messages don't get overseen and ignored, it's important to send the review request at the perfect moment.
For this, you'll need to determine the sweet spot for your products and brand. Some products can be evaluated in a matter of minutes or hours, while others may need days or weeks. For instance, compare the review of a piece of clothing with that of a new mattress. As you can imagine, one might take a bit longer to assess than the other. 
Asking for reviews with Outvio: Segment your customers
Building on the last point, choosing the right audience to request feedback from is essential to obtaining positive reviews. Would you dare ask for a review from a customer that suffered a delay with the shipment or whose order got lost?
In such a case, you would be getting reviewed for something that wasn't fully in your hands — the shipping process — instead of your brand or products.
There are many ways you can reduce the number of negative reviews caused by these factors, such as by: a) working with couriers that offer a more professional service — this can be easily tracked on Outvio's platform — and b) using AI-based software to separate customers with a seamless delivery experience from those who didn't. This is also possible with Outvio's Review Booster.
These are just some of the many benefits of using Outvio. Sign up to discover more!
Conclusions
If you're determined to start using the power of reviews and social proof to your benefit, asking for reviews in an original manner is one of the best decisions you can make.
After reading our 10 clever ways to ask for reviews, you've probably figured out which ones make the most sense for your business. Now it's time to find out which channels your customers expect to find you on.
Then, adjust our templates to your branding and marketing strategy and start requesting reviews regularly on the right channels, at the right time.