Inside this article
If you are a wine or champagne producer and you are still finding new platforms to market your products, you may have just found out what you were looking for. Find out what is Vivino and how it works.
What is Vivino?
Vivino is a vertical marketplace specializing in wine commercialization, comparison, and review. Vivino was founded in 2010 in Denmark and has been growing ever since. Nowadays, the app and website have over 53 million users worldwide.
Vivino was awarded with the Danish Growth Award in 2012, The Best Beats First Award in 2017 by Real Innovation Awards, and received nominations on multiple occasions.
Selling on Vivino is one of the easiest ways to sell wine to both connoisseurs and amateurs, without creating an online shop. This platform works on an international level and has a strong presence in the markets with the greatest passion for wine (particularly Spain, France, Italy, Germany, the United States, and Australia).
If you want to let your wines shine for themselves and avoid all the annoyance of developing or creating an online shop, Vivino is the perfect marketplace for you.
Unlike other marketplaces like Amazon or eBay, Vivino works in a very specific niche (wines). Users that go to this page or app have a clear inclination for these products, not only to consume them but to find new wineries.
How does Vivino work?
Vivino is an exclusive eCommerce platform. To sell your wines on Vivino, you need to fill out a form with basic information about your business and include your contact information. After that, the marketplace will contact you and tell you if you meet all the criteria.
Once a winery, distributor, or producer is approved, you can start selling your products. First:
Confirm your customers' orders within 24 hours (workdays).
Mark the order as 'sent' within 24 hours of the order being confirmed.
If you breach any of these, customers can cancel their order, which can affect your rating as a seller.
Who owns Vivino?
Vivino was founded by Heini Zachariassen and Theis Søndergaard. As of 2022, Heini Zachariassen is the CEO of Vivino.
How does vivino make money?
Vivino is free for both the sellers and the users of the app. Vivino makes money from the commissions they apply for every sold wine. The fee changes depending on the contract the winery signs with the marketplace.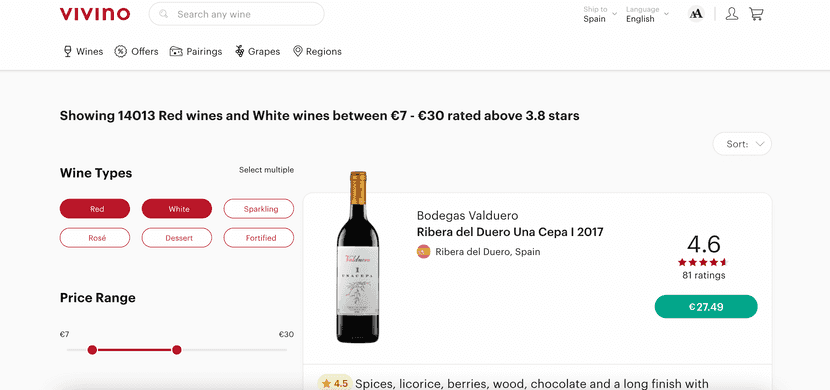 What is the Vivino app?
Vivino has a mobile app that is design with a customer-oriented approach. This is, depending on the user's preferences, it will show some products or others.
Users can filter by type of wine (red, white, sparkling, rosé, for dessert, fortified wine), price range (from €3 to +€500), reviews (there are over 200 million reviews), grape, region (3,375) or country, style (Rioja Tinto España, California Cabernet Sauvignon) or pairing (poultry, desserts, spicy food, etc.).
The application is an intuitive tool to keep track of all the wines customers purchase, which wines they have in their cellar, which wines they scan, to track orders, and more.
The system will show recommendations based on their profile, searches, merchants, and other types of suggestions to discover new wines. This means that it's easy to find potential customers; your only task is to ensure the quality of your wines.
Wrapping up
Vivino is a great sales channel if you are a wine or champagne producer or distributor. Regardless of your distribution channels, Vivino can be valuable because:
it can open new markets
it can be used as a channel for promotion
it can bring a new type of customer to your business
Now that you know what Vivino is and how it works, it's time to apply to start selling on this marketplace and start shipping your wines on a national and international scale.
If you want to streamline the fulfillment of orders, shipment, tracking and any other operation that happens after the payment, sign up to Outvio and offer the best post-checkout experience to your customers.