Inside this article
If you are a wine or champagne producer and you are still finding new platforms to market your products, you may have just found out what you were looking for. Find out what is Vivino and how it works.
What is Vivino?
Vivino is a vertical marketplace specializing in wine commercialization, comparison, and review. Vivino was founded in 2010 in Denmark and has been growing ever since. Nowadays, the app and website have over 53 million users worldwide.
Vivino was awarded with the Danish Growth Award in 2012, The Best Beats First Award in 2017 by Real Innovation Awards, and received nominations on multiple occasions.
Selling on Vivino is one of the easiest ways to sell wine to both connoisseurs and amateurs, without creating an online shop. This platform works on an international level and has a strong presence in the markets with the greatest passion for wine (particularly Spain, France, Italy, Germany, the United States, and Australia).
If you want to let your wines shine for themselves and avoid all the annoyance of developing or creating an online shop, Vivino is the perfect marketplace for you.
Unlike other marketplaces like Amazon or eBay, Vivino works in a very specific niche (wines). Users that go to this page or app have a clear inclination for these products, not only to consume them but to find new wineries.
What are the advantages of selling wine on Vivino?
Selling your wines through Vivino comes with many advantages, such as:
Increased number of sales. This is the number-one wine app in the world (over 53 million users).
Designed for wine consumers. You can find exclusive wines up to €30,000, and medium-range and competitive wines (from €2).
Know the opinion of your customers. Thanks to customer reviews, you can better understand what they like and don't like.
Analytical tools. These are readily available for your Vivino account.
Payment in two clicks. This feature generates better conversion rates and a higher volume of shipments.
International. Vivino is available in Danish, German, English, Spanish, French, Italian, Dutch, Portuguese, Swedish, and Chinese. An inexpensive way to reach foreign markets.
Free platform. It is available to use at no cost as a seller and as a buyer.
What are the disadvantages of selling wine on Vivino?
Selling on Vivino also has its disadvantages. Some of these disadvantages are common to all marketplaces:
Competitors. Since Vivino is a marketplace, you will sell your products against 200,000 national and international wineries and around 4 million wine products.
Sales commission. For every sale you make, Vivino will take a percentage off the transaction. This fee is established by contract and can vary from winery to winery.
Lacks customization. Similar to many other marketplaces, your shop cannot be personalized to a great extent.
How much does it cost to sell on Vivino?
Selling on Vivino is free.
Does Vivino charge any commission fees?
Yes. Vivino charges commissions for every sold wine. The fee changes depending on the contract the winery signs with the marketplace.
How does Vivino work?
Vivino is an exclusive eCommerce platform. To sell your wines on Vivino, you need to fill out a form with basic information about your business and include your contact information. After that, the marketplace will contact you and tell you if you meet all the criteria.
Once a winery, distributor, or producer is approved, you can start selling your products. First:
Confirm your customers' orders within 24 hours (workdays).
Mark the order as 'sent' within 24 hours of the order being confirmed.
If you breach any of these, customers can cancel their order, which can affect your rating as a seller.
How does the shipping process work on Vivino?
Vivino's goal is to ease the access to wines for all wine consumers. For this reason, Vivino allows for domestic and international shipments, as well as local deliveries and in-store pickups.
Specifically, Vivino enables shipping to the United Kingdom, Ireland, Germany, France, Spain, Italy, Belgium, the Netherlands, Monaco, Switzerland, Sweden, Denmark, the United States, Canada, Brazil, Hong Kong, Singapore, and Australia.
To set up local deliveries and in-store pickups, go to <Hand delivery> in the carrier list and confirm the shipment.
This delivery method doesn't generate a tracking code, but the customer receives an email saying that the shipment was sent and is being delivered.
Vivino sets rules to follow for the creation and management of orders to guarantee that they arrive in the best condition.
You can even delay shipments when the purchase occurs under conditions that can damage the product (like a heatwave). This means that the customers will receive the wine in perfect condition, their level of satisfaction will be higher, and the repurchase rate will increase.
It's a task for the seller to decide with which courier they want to ship, and using which shipping rates and conditions. Vivino doesn't offer any logistic tools, and once the orders are marked as shipped, the seller is in charge of providing customer support, managing shipping issues, dealing with returns, etc.
Payment methods supported by Vivino
Vivino offers multiple payment methods to buyers: VISA, American Express, Discover, Google Pay, Apple Pay, PayPal, and Mastercard.
The available payment methods vary from seller to seller and can be checked when the buyer enters the product page.
Connect your Vivino account with other channels
You can connect your website, online shop, or social media accounts to Vivino. However, this must be done from the other platforms, since Vivino as a marketplace doesn't have an integrated system for connecting other sales channels.
Marketing and branding on Vivino
Vivino includes very limited customization options. This creates cohesion in the app and allows customers to base their shopping on other criteria.
The only aesthetics that you can change is that of the bottle and the rest of the packaging. The rest of the information is provided by consumers and Vivino users.
However, if you want to accelerate the process of expanding your winery, contact Vivino to promote your brand.
Statistics and metrics on Vivino
Vivino includes analytical tools to help you understand the users that visit, scan, or buy your wines. This information will help you know more about your traffic and improve your business.
You can check out these statistics in the Merchant Dashboard. If these statistics aren't enough for you, you can connect your Vivino account with Outvio. Among other things, you can check statistics on sold products and review the return rate, incident management, and many other metrics on sales and logistics.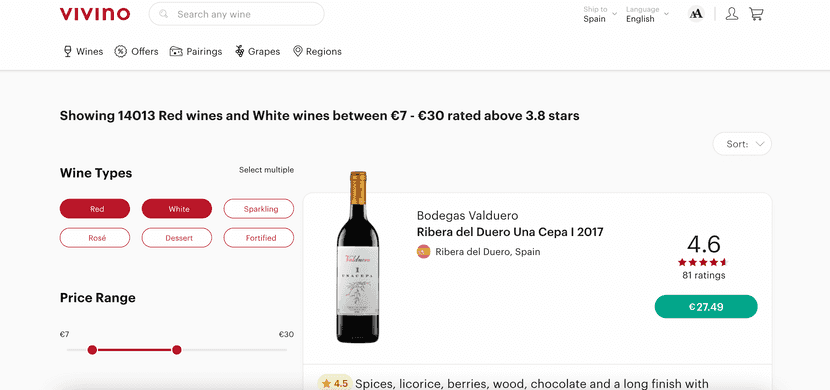 Vivino discounts
Another way to promote your products is by offering a discount. As we mentioned before, Vivino is an exclusive platform. This means that appearing in the 'most discounted' section is not a synonym for cheap wine or bad quality.
It's simply an attractive opportunity to get the wines that customers were looking for, but were outside their budget. These wines can be between €30 and €300.
Vivino app
The website and app are designed to look for wines that match the liking of the user.
They can filter their search by type of wine (red, white, sparkling, rosé, for dessert, fortified wine), price range (from €3 to +€500), reviews (there are over 200 million reviews), grape, region (3,375) or country, style (Rioja Tinto España, California Cabernet Sauvignon) or pairing (poultry, desserts, spicy food, etc.).
The application is an intuitive tool to keep track of all the wines customers purchase, which wines they have in their cellar, which wines they scan, to track orders, and more.
The system will show recommendations based on their profile, searches, merchants, and other types of suggestions to discover new wines. This means that it's easy to find potential customers; your only task is to ensure the quality of your wines.
Vivino billing
Vivino generates monthly invoices for all orders that have been marked as shipped or refunded that month. Commissions are calculated 'gross to net', multiplied by the established commission fee.
'Gross to net' is the name given to the result of multiplying the number of bottles in an order by the price of the bottle (without taxes), minus the reimbursements.
In the invoices, it will also display the reimbursements for coupon redemptions, shipping, and any other type of reimbursements.
The monthly payment will be charged to the card established in the 'Account' section within the Merchant Dashboard.
Wrapping up
If after reading this article, if you think that Vivino isn't for you, you can read more about other eCommerce platforms like Shopify, WooCommerce or PrestaShop. They may have exactly what you're looking for.