Inside this article
Line haul is the latest trend in the supply chain industry. It has become one of the best ways to ensure affordable shipments that don't compromise the speed of the delivery,  jeopardize the quality of the purchasing experience, or damage the relationship between the store and its customers in any way.
Let's take a look at what exactly line haul means, the difference between this system and long haul transportation, what you gain when you use line haul in your business and, most importantly, how to use it.
What is line haul transportation?
Line haul is the transportation of goods between two specified locations (cities, ports or two facilities) by combining modes of transportation: land, air or water.
The main goal of line haul transportation is to offer an efficient, fast and affordable option for businesses that need to ship materials or ready-to-sell items.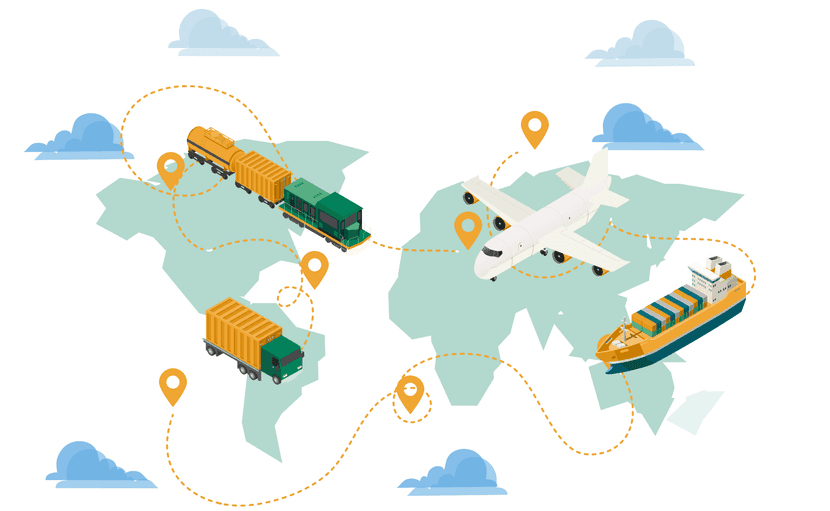 Line haul transportation gives shippers the possibility to hire a full truckload or an LTL freight (less-than-truckload) in order to deliver the goods faster and at a lower shipping cost. This is done by sharing the cost and space among two or more shippers.
Line haul vs. long haul trucking
Unlike long-haul trucking, line haul transportation is organized in a way that makes it possible to have the goods permanently on the move until they reach their destination since line haul truckers work in shifts across the various stages of the consolidation and shipping process.
In long-haul trucking, on the other hand, only one driver is in charge of the transportation of the goods. That means that there are certain routes as well as working and resting hours that need to be respected. 
3 Key benefits of line haul
As you may guess, line haul hasn't become popular just by chance. There are many important benefits of implementing it as a shipping system over more traditional approaches like long-haul transportation. These are the benefits that make it worthwhile to switch to a line haul transportation approach:
1. Lower shipping costs
Because of the difference that it makes to share space and costs with other companies, line haul transportation makes your operations less resource-intensive without compromising the speed of the delivery.
On the contrary, because you're not hiring a long-haul truck, you'll be able to dispatch more goods more frequently, reducing the cost while optimizing operations.
If you're an eCommerce business, or any other type for that matter, you'll be able to use this reduction in costs to increase the profitability of your business and even offer lower final prices to your customers.
2. Better customer service
Faster and more frequent deliveries of raw materials or finished products can have an impact on your customer relations since having fewer stockouts increases the efficiency of your business — and boosts the reliability of your business in the eyes of customers. Line haul couriers typically offer faster deliveries than long haul carriers.
In the end, fast and safe deliveries mean faster processing times in the shipping stage with the buyer as the final destination. Taking into account the importance of speedy deliveries, line haul transportation can therefore lead to better customer service, with all the benefits that this has for a business.
3. Increased customer loyalty and more repeat purchases
As the eCommerce industry continues to grow, more and more businesses are noticing how important the purchasing experience is for customers. This is why investing in fast deliveries and having stock available at all times is crucial if you want to build a base of loyal customers.
Line haul transportation can be incredibly valuable in this sense. The logistics involved in line haul make it possible to ensure the fast and safe arrival of both materials and ready-to-sell items to your facilities. This also means that, when you place the orders in a timely manner, you'll be restocking goods at a rate that ensures profitability and no stockout situations that might push your customers to look for alternatives in other stores.
How to implement line haul transportation
Because of the complexity of eCommerce logistics, line haul transportation is typically implemented in various ways, from intermodal transportation to shared transports or 3PL management. Let's go through each of these options so that you can choose the best one for your business.
Intermodal transportation
If you want to use this method, you need to work on two initial considerations: You'll need to work with couriers that offer multiple shipping methods (by plane, truck or ship) and a way to track those shipments. That's because you'll be dealing with shipments that go through various partners and agents from the moment you implement intermodal transportation as your default option.
Outvio has integrations with 80+ couriers from all over the world. Find local and international shipping companies and connect in a matter of minutes to start shipping now.
By sharing the shipping space 
Another option to implement line haul transportation in your eCommerce business is to share the space with another shipper. Whether you ship by van, truck, plane or with a shipping container, there's always the possibility to share the space in order to be able to ship more frequently but at a lower cost than if you were to ship through any of these methods without taking full advantage of the space.
You can either hire a traditional courier service — in these cases, you'll already be sharing the space with other shippers (at least most of the time) — or hire less-than-truckload (LTL) carriers if the goods are too large for parcel carriers (e.g., DHL, UPS, etc.) but not large enough to fill a truck or container.
Through a 3PL
Another option to consider if you want to implement a line haul system is to outsource the logistics to a 3PL solution. These companies provide a solution for all the fulfillment and shipping processes, and, although they come at a price and with one or many fees, they're experts on the matter. By combining shipments from various companies into one single shipment, they tend to offer fast but affordable shipping options.
Outvio comes with a range of ready-to-use 3PL providers, but it also allows you to bring your own and connect it in a matter of minutes to ship as soon as you want! Sign up now and try it for free.
Conclusions
Line haul is the perfect way to achieve both fast and safe deliveries without losing on costs. For this reason, we recommend finding the best way to implement it in your business.  Once you do, you'll be able to cut the shipping costs for either you or your customers, and you'll provide better customer service, thanks to timely deliveries and the permanent availability of the stock. Furthermore, thanks to a potentially lower selling price and a better customer experience, buyers will more confidently come back to your site to buy the products they loved in the past.
Whether you go for intermodal transportation, cost-sharing with another shipper or outsourcing the service to a 3PL, you'll certainly notice a positive impact on your operations and customer satisfaction.