Inside this article
DB Schenker is a shipping and logistics company that is available in the UK and specializes in bulk cargo shipments by sea, land and air. Its main objective is to offer highly functional solutions in all areas that make up the supply chain of the different industrial sectors in each country.
DB Schenker works closely with the following industries:
Aerospace
Consumption
Electronics
Fashion
Health
Manufacturing
Freight companies
Perishables
Petroleum
Recycling
Solar and semiconductors
Before you continue reading about DB Schenker and what it's like to ship internationally with this courier, we recommend that you start with our other article on international shipping.
Advantages of shipping with DB Schenker 
Infrastructure that allows for shipping large packages to anywhere in the world
Optimization of the supply chain for different sectors
Flexible shipping service by air and sea
A wide range of delivery times and shipping methods
What are DB Schenker's shipping methods?
Land Transport
System Freight (LTL)
Direct Freight (LTL & FTL)
Full Load Solutions
Air Freight
Charter Services: With tailor-made solutions and the vast experience of its procurement team, you can trust your charter service needs are in good hands at DB Schenker.
Intermodal Solutions: A combination of the speed of air freight and the cost-effectiveness of ocean freight with
DB SCHENKERskybridge.
Intercontinental Supply Chain Solutions (ISC)
Flight Operations. The DB SCHENKERflightops product links transport hubs around the world, giving you global capacity based on in-house service.
DB SCHENKERjetcargo gives you the speed and reliability you need for your air cargo shipment. Choose from one of the following services: DB SCHENKERjetcargo first, DB SCHENKERjetcargo business, DB SCHENKERjetcargo economy, DB SCHENKERjetcargo special.

JetCargo first: Premium service with express deliveries in very short periods
JetCargo business: Flexible shipments for medium-urgent deliveries
JetCargo economy: Shipping service for non-urgent shipments at a lower price
JetCargo special: Personalized and tailor-made shipments for those clients with particular needs. This service is only available by contacting the company directly to determine the conditions.
Ocean Freight
The DB SCHENKERocean product range offers a variety of services to meet your ocean supply chain needs.
Full Container Load (FCL): DB SCHENKERcomplete provides fully integrated transport for your full container loads. 
Less-Than-Container Load (LCL): DB SCHENKERcombine allows the shipper to send products, avoiding unnecessary costs.
Sensor Technology (Smartbox): The DB SCHENKERsmartbox works with all modes of freight-forwarding transportation. Receive a detailed overview of your freight around the clock, worldwide and with real-time tracking.
Reefer Management
Intermodal Solutions
Intercontinental Supply Chain Solutions (ISC)
DB Schenker's logistics services
Production logistics
This service is aimed at responding to all operational needs related to manufacturing, supplier management and the supply of goods and raw materials.
Execution logistics
With this service, DB Schenker supervises all the outgoing areas and processes of your business and gives them a little boost.
What are DB Schenker's shipping rates for eCommerce?
DB Schenker shipping rates are subject to a number of conditions. That's why they don't offer fixed rates, but estimates instead. It all depends on the selected transport, destinations, weighing, additional charges, etc. If you want a detailed quote, you should contact the shipping company or use the shipping calculator.
Procuring a contract with couriers can take some time. For this reason, Outvio reached an agreement with several shipping companies to enable you to start shipping with fixed rates from the get-go. 
How does DB Schenker handle shipping issues?
When you sign your work agreement with DB Schenker, you gain access to a personal client account. From there, you can get in touch with your workers and consultants, as well as access a specific channel for managing shipping issues or claims.
You can also use their customer support phone service, but response times can be longer.
All shipments you make with this company are covered for damages or losses of up to €18 per kg or €1,500 per shipment.
How do domestic returns with DB Schenker work?
DB Schenker promises end-to-end management of the entire return process. This means the following:
Transportation and collection by couriers
Return to the warehouses or the seller's address
Control, evaluation and classification of returned goods
Repair and replacement of the goods in case of incurring guarantees
As complete as DB Schenker's return services are, if you want to process a return with another courier, your options may be more limited.
In this case, working with management software like Outvio may be the best choice. Outvio allows you to coordinate all your returns in a single interface, regardless of the courier. This way you can schedule returns of larger packages with DB Schenker and light parcels with DPD, for example.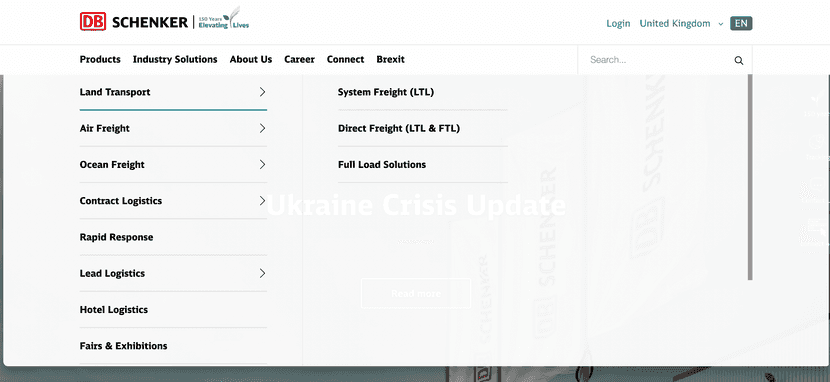 FAQ about DB Schenker
How can I ship with DB Schenker?
DB Schenker is a shipping company that specializes in large shipments. Signing a company contract with them is highly recommended, but it is also possible to ship as a private individual. Nonetheless, the prices and conditions for shipping as an individual aren't as beneficial. If you manage an online store, we recommend coming to an agreement with DB Schenker.
What are DB Schenker pickups and deliveries like?
All collections and deliveries need to be agreed upon in advance. This isn't necessary for standard shipments.
Standard shipments include a limit on weight and dimensions but come with a pick-up and delivery rate.
| Features | Standard shipments |
| --- | --- |
| Length | 2.40 m |
| Width | 1.80 m |
| Height | 2.20 m |
| Weight | 1,500 kg |
How can I locate a DB Schenker package?
On the company's website, you can find a tracking pop-up. Enter the reference number to find all the details about the location and status of your cargo. If you provide the number to your customer, they can also gain access to this information.
What are the delivery times with DB Schenker?
DB Schenker's delivery times depend on the destination country and are adjusted to the business hours of each region. If you hire a service related to supply chain management, deliveries are synchronized with your work schedules.
How long does it take to ship with DB Schenker?
DB Schenker doesn't provide fixed delivery times. To acquire this information, contact them directly or check approximations for a particular shipment.
Which objects are prohibited by DB Schenker?
The following list shows items subject to certain conditions or prohibitions:
Perishable substances
Tobacco
Alcoholic beverages
Precious stones, metals, jewelry or other valuables
Art or items of artistic value
Explosives
Radioactive substances
Illegal drugs and narcotics
Powdered or bulk construction materials, items that require special transport or indivisible masses weighing more than 2,000 kg
Anything whose dimensions exceed 180 x 240 cm
Machinery, household appliances and vehicles without packaging
Sharp personal materials or those in poor condition that can damage other goods
DB Schenker insurance
Do you want to ship with maximum peace of mind? DB Schenker offers a full insurance service that guarantees the full value of the goods shipped. The fee for this service varies depending on the type of shipment and the value of the goods.
How do I contact DB Schenker?
If you think that DB Schenker can bring profitability and real solutions to your eCommerce business, contact them via their website or phone support service.
What additional fees does DB Schenker apply?
Fuel surcharge
Additional service surcharge
Excess weight and dimensions fee
Advance of taxes and transport fee supplement
Supplement for late delivery or any contracted term
Supplement for collection or special delivery