Inside this article
If you have an online store in Wix and want to include new features for better functionality, check out our selection of the 28 best Wix apps available in the Wix app market.
Wix is one of the most popular eCommerce platforms today, one of the main reasons probably being its simple interface and low cost. However, as your business grows, new needs and problems arise and you may not be able to solve them without the help of a Wix app.
Discover 28 Wix apps that we consider extremely useful for online stores on Wix. Take a look at all of them or jump to the category that interests you the most: online store management, payments, marketing, or customer service.
Wix apps for store management
1. Outvio
Outvio gives you the ability to connect your online store easily and quickly with dozens of couriers.
Automate and optimize your entire post-sale processes; from order reception until your customer receives their parcel. Outvio helps you with shipping, tracking, shipping-issue management, automation of returns, and building customer loyalty with its marketing tools.
Outvio is designed for online stores whose goals are to improve the sales experience for its customers, and to automate and maximize their resources for order processing and shipping.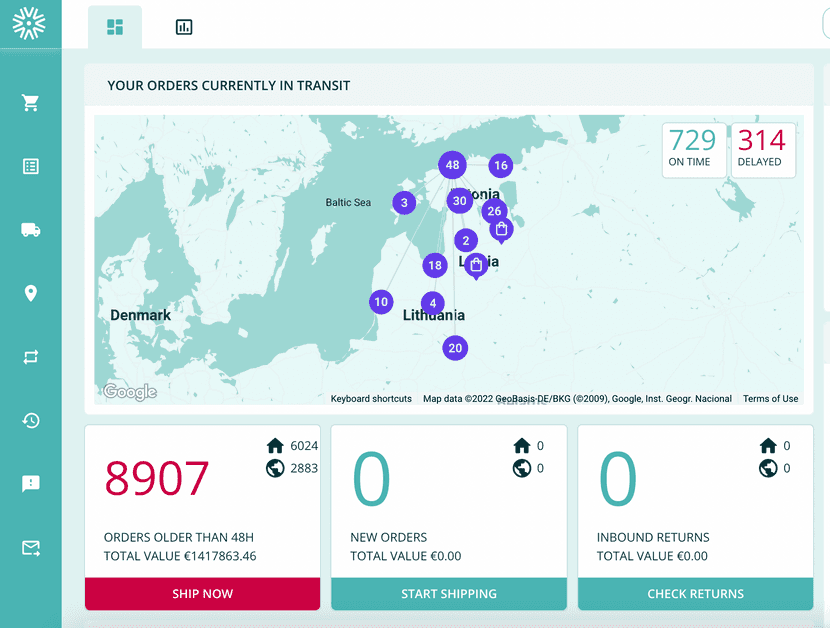 2. Online Store
This Wix app allows you to add an online store to your website and to your accounts on Facebook, Instagram, Amazon, and other sales or promotion channels. It can also help to improve your marketing strategy with automated ads on Google Shopping and Facebook.
Manage your entire online store from your smartphone through a single dashboard thanks to the centralization of inventory, orders, and prices.
3. Blocky: IP & Country Blocker
This app allows you to block users based on their IP address, Proxy, or VPN connection. You'll be able to know where your visits are coming from based on their IP, country, and browser.
Block the countries from where you receive harmful visitors or block specific users. The blocked user will be redirected to a page of your choice, where you can leave a message to inform them that they cannot access your online store.
Best Wix apps for marketing
4. Omnisend
Omnisend allows driving sales using email marketing automation features. This app's email and SMS marketing features help to personalize messages, allowing to send messages to the right person at the right time.
By connecting Omnisend with your Wix, you can use all data from your website to create automated welcome emails, cart abandonment emails, and more. It also offers in-depth reports on marketing campaigns.
5. Minta
Minta is an app to automatically create, plan, and publish your videos and images in just one click.
Minta automates the entire process of creating and promoting content on social networks as it creates videos and images from your store's product catalog in a matter of seconds.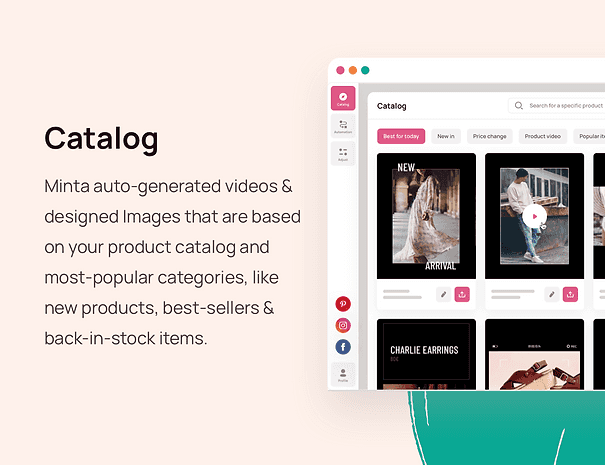 Minta is ready to connect with Facebook, Instagram, Pinterest, and TikTok.
6. Retarget Online Ads
This Wix app is dedicated to implementing retargeting strategies (Facebook, Instagram, Google, etc.).
Create ads in a minute thanks to the tool's wizard. You can publish them on multiple platforms including Facebook, and Google's marketing channels, among others.
7. Get Google Ads
Use Google Ads to connect your online store with Google Ads and find new customers.
This tool guides you through the process of creating a campaign in Google Ads. You will have access to the number of sales and leads generated by the campaign, as well as other informative data.
8. Social Media Icons
The Social Media Icons app allows you to include the icons of your social networks and alternative platforms on your Wix page. Add effects, animations, and colors — or even your own logos.
There are more than 50 online platforms to choose from: Facebook, Instagram, Twitter, YouTube, Pinterest, LinkedIn, Medium, Reddit, Spotify, WhatsApp, etc. This app is completely compatible with mobile devices.
9. MarketPush Cart Recovery
The MarketPush Cart Recovery app aims to solve one of the most common concerns among online store owners: abandoned carts.
Send messages automatically through WhatsApp, Facebook, or SMS. If a customer signs up for this type of communication, you'll be able to send them a personalized message and choose when they are sent to maximize conversions. The messages include a link to the checkout of the abandoned cart.
Monitor and track recovered carts and learn what frictions are causing cart abandonment.
10. AppSell - Upsell & Cross Sell
AppSell will help you increase the average value of your orders and the number of products sold thanks to automated cross-selling and upselling strategies.
You can also create temporary promotions and special discounts for those buyers who purchase the suggested products.
The app also allows you to customize the cart page, checkout page, and 'thank you' page to further brand your online store.
11. Bundles & Connected Inventory
With Bundles & Connected Inventory app, you can group several products into one to increase the average value of orders and your number of sales.
Connect this app to your online store and update your inventory automatically for items that are sold as a pack.
Best Wix Apps for payments
12. PayPal Button
Use the PayPal app to accept payments through PayPal or Stripe, credit cards, debit cards, etc. in more than 25 currencies.
You can also create discount codes, enable free shipping, charge for shipping costs or taxes, and design automatic confirmation emails that will be sent every time a payment is made.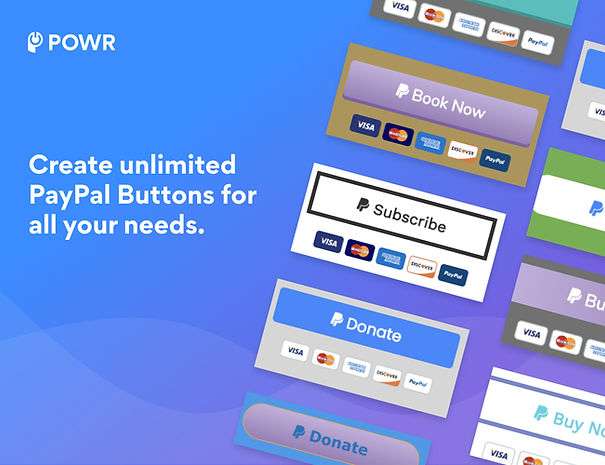 The PayPal payment button can be customized with the colors of your brand, and you can change different elements such as the borders, font, and text.
13. Online Payment Button
The Online Payment Button app also allows you to receive payments through PayPal, Square, Stripe, and other payment gateways. Accept payments in more than 25 currencies and manage all of your payments from a single interface.
The Online Payment Button offers unlimited design and customization options to fit the branding of your online store.
Wix apps for online store customization
14. Printify
Sell customizable products easily with Printify. This app allows you to create a catalog with over 250 personalized products.
Choose a print provider from one of its 90 locations, synchronize your catalog, and create descriptions for your products to start selling on-demand without headaches.
15. Wix Video
Use the power of video content and upload your videos directly to Wix or import them from other channels.
Wix Video allows you to embed high-quality videos from YouTube, Facebook, Vimeo, and DailyMotion.
16. Photo & Video Gallery
The Photo & Video Gallery app includes a number of features that make editing and presenting visual content easier.
Create CTA buttons and a search bar, enable a zoom option on products or videos, create an image or video gallery, add titles and subtitles and alt text for SEO, and much more.
Change the spacing, cropping size and shape, borders, and typography to fit your brand aesthetic and website design.
17. Video & Image Slider Gallery
Video & Image Slider Gallery allows you to control the speed and style of transition in your photo and video gallery, add a preview of the entire carousel, include videos from YouTube or Vimeo, and use the carousel to share promotions or customer reviews.
Customize the carousel with the colors, typography, borders, and thumbnails that best fit your brand.
You can also choose a random order display of the pictures and set the slide transition speed.
18. Weglot Translate
The Weglot Translate app helps you translate your Wix website and online store into other languages to increase your sales reach and expand to new markets.
Combine automatic translations with professional translations to achieve the best balance between costs, time, and quality.
Weglot includes multilingual SEO features for Google and is compatible with all themes and apps.
19. Photo Editor
This app allows you to edit, resize, and add a filter to any image. You can include a watermark and edit royalty-free images for your online store in Wix.
Photo Editor will also let you customize captions with colors and fonts, add borders, resize photos, and optimize them for better SEO results.
20. Currency Converter
Currency Converter is an app for currency conversion. This tool can be used automatically or manually.
In the automatic version, the user's currency will be detected based on geolocation and the local price will appear next to the original. The manual version requires the customer to click a button on the product page to see the price in their currency.
This Wix app works with 160 currencies. Conversion rates are updated every 3 hours, and the design and colors can be configured to match the branding of your online store.
21. Wix Blog
Create a blog on your online store if the nature of your products allows you to do so: fashion tips and trends, decoration, lifestyle, cooking and health are some examples. There are few topics that would be difficult to talk about.
Take advantage of this tool to make yourself look like a subject matter expert (and create credibility), as well as to improve the SEO of your online store.
Wix Blog allows you to create a professional look with your branding and monetize your blog with ads and subscriptions.
Best Wix apps for customer support
22. Tidio - Live Chat & Chatbots
Tidio allows you to communicate with your customers through chat, emails, and Messenger — all from one place.
You'll be able to enable bots to increase sales, use its 'live typing' feature to see what your customers are writing even before they send the message, and review what pages they've visited (and what page they're currently on) to provide better help.
Tidio gives you relevant information such as your customers' IP address, city, country, type of device they use, and favorite browser.
In addition, you can customize it according to your branding.
23. Customer Reviews
Customer Reviews is an app for publishing reviews on your online store. These can help you build trust among potential customers and boost sales.
Post reviews and opinions on your website, easily manage and classify reviews, and adapt the design to fit your branding.
24. Comments
The Comments app allows you to collect reviews, ratings, and experiences that can be left anonymously or through an account on Facebook, Twitter, Google, or email account.
Receive email notifications every time a user leaves a review or rating, and moderate and approve comments via desktop and mobile.
25. Trusted Shops Reviews
Trusted Shops Reviews is an app that allows you to quickly and efficiently collect reviews from real customers and present them in an attractive and clear way.
Use the app to send review requests automatically and manage the reviews that appear in your inbox. Filter according to different criteria, and reply to create engagement with your customers.
26. Quick Form Builder
Quick Form Builder is an app for customer acquisition and email collection.
Create automatic replies, and classify and manage your list of leads, contacts, and customer records in a CRM center. You can even receive notifications right to your phone.
27. Editorify ‑ Product Reviews
Editorify is an app for publishing and evaluating reviews.
This app allows you to import photos and videos from AliExpress, Amazon, YouTube, and Vimeo to your product page to provide a clear picture to your customers of what they can expect. It also includes reviews from other portals and allows for manual publication.
With Editorify, you can also choose which review rating is displayed on the product page.
28. Contact Form
Contact Form is an app for the creation of contact forms. It can be synced with PayPal, Mailchimp, or Zapier.
Additionally, the app allows you to receive automatic email notifications every time someone fills out one of your forms. It also lets you create an email account that automatically confirms the message being received, and uses logic to show or hide questions depending on the previous answer.
Conclusions
We hope these Wix apps help you get the most out of your online store on Wix. To further take advantage of this eCommerce platform, read our guide on Wix to understand all of its features, advantages, and disadvantages.