Inside this article
Royal Mail is the UK's designated public postal service provider. This shipping company offers shipping, tracking and return options for businesses and individuals six days a week.
If you want to know more about Royal Mail, what their domestic and international shipping options are, and the maximum weight and dimensions for shipping and tracking with Royal Mail, keep reading.
Royal Mail UK shipping options
Royal Mail Tracked 24 and 48
The Royal Mail Tracked 24 and Royal Mail Tracked 48 are two shipping options that include tracking information to enable the shipper and the recipient to keep an eye on the parcel's progress, as well as notifications about the status and a £100 compensation in case of loss or damage.
The delivery time for these services are from 24 hours to 48 hours (1 to 2 working days).
Royal Mail Special Delivery Guaranteed by 9am and 1pm
Special Delivery Guaranteed is a shipping method for next-day parcel delivery.
Your packages will be delivered by 9am or 1pm on the next day; Saturdays are also possible for an additional charge.
Royal Mail's Special Delivery Guaranteed also enables online shops to keep their customers informed with free SMS and/or email notifications about the status of their shipments.
Royal Mail Sameday
This shipping service aims to deliver goods the same day that they are collected.
Royal Mail offers this service 24/7, 365 days a year.
Sameday deliveries include real-time satellite tracking, email delivery confirmation, automatic compensation of up to £2,500 for a lost or damaged package, and additional compensation of up to £10,000.
This service can be used for online shops that want to provide same-day deliveries regularly (Sameday Scheduled) or for businesses that only offer this service seldom (Sameday On Demand).
Royal Mail 1st and 2nd Class
Royal Mail 1st Class Parcels is a service for deliveries on the next working day, including Saturdays.
Royal Mail 2nd Class Parcels are expected to be delivered within 3 working days, Saturdays included.
1st and 2nd Class shipments don't include any tracking information.
Usually, customers will only be able to see 1 or 2 statuses on the shipment: one when the parcel is posted, and one when it's delivered.
Royal Mail International shipping
International Tracked & Signed: Tracking for the UK and international shipments with online delivery confirmation and signature on delivery. The delivery is scheduled to arrive within 3 to 5 days.
International Tracked: Tracking for the UK and international shipments plus online delivery confirmation. The delivery is scheduled to arrive within 2 to 4 days.
International Signed: Tracking is available only while the package is in the UK. It requires a signature on delivery. The delivery is scheduled to arrive within 3 to 5 days.
International Business Standard Priority: This shipping method is available for less if you have a business account. It allows you to ship to over 23 worldwide destinations, and returns are possible from 28 countries. The delivery is scheduled to arrive within 3 to 5 days.
International Business Standard Economy: This shipping service is available for 231 worldwide destinations, with returns only possible for 28 countries. Delivery times can fluctuate between 10 to 15 days.
International shipments may be managed by another subsidiary of the Royal Mail Group, GLS.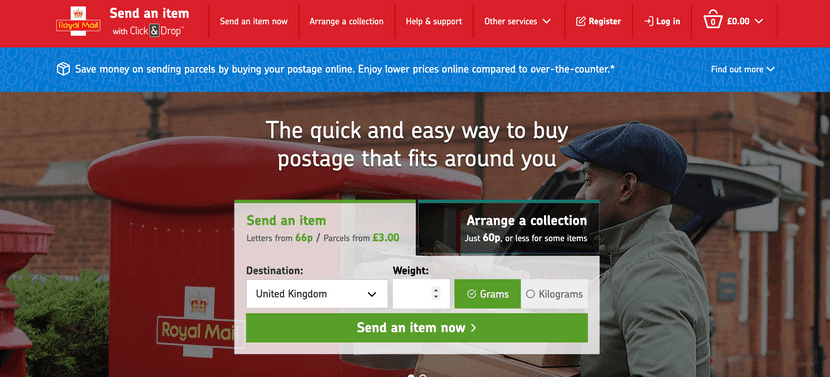 Royal Mail tracking status meaning
When you ship with Royal Mail using a tracked service, your item gets scanned at various points in its journey. Here's what each of the statuses mean:
Advised. As soon as Royal Mail processes your order, the tracking information on the shipment will appear as 'Advised'
Once a parcel enters Royal Mail's network, the Advised status changes to 'In progress'
Advised to collect from a Post Office. If the delivery requires a signature that isn't provided, you'll need to go to your local post office where you can collect the package the next working day
Attempted delivery
In transit. The parcel is on its way through the network
Delivered to your address or a neighbour
Parcel shipping solutions
Royal Mail offers additional shipping solutions for businesses dealing with a larger volume of shipments.
Some of their parcel shipping solutions are:
Click & Drop 
Royal Mail Pro Shipping
API Shipping
Bespoke Shipping
Third-party partners
FAQs about Royal Mail
Royal Mail tracking not working or showing updates
If your Royal Mail shipment shows no updates or the tracking doesn't work, check if:
The number entered is correct
The reference number is for a parcel sent with Royal Mail, using a service that offers tracking
It has been at least 3 to 5 days since you got the tracking number. Sometimes tracking systems don't show up information right away
What is Princess Royal DC?
Princess Royal DC stands for Princess Royal Distribution Centre. In these facilities, parcels are sorted out for their later delivery. 
What does
RDC stands for Regional Distribution Centre. This is a warehouse where the company will sort parcels and from where they will finish the delivery process.
Does Royal Mail deliver on Saturdays?
Saturdays deliveries are available for all of their domestic shipping services: Royal Mail 1st and 2nd Class, Royal Mail Sameday, Royal Mail Tracked 24, Royal Mail Tracked 48 and Royal Mail Special Delivery Guaranteed.
Royal Mail tracking number
Royal Mail's tracking numbers are a combination of letters and numbers. They can look like this:
JB519442843GB
949000C20F3
21937508499990B2A5F39
Conclusions
Royal Mail is a great solution for online stores operating in the UK. However, it may not be enough if you have an international audience and need more than one courier and shipping method.
Outvio can help you create a multi-modal courier network by giving you a central hub for your post-checkout operations where you can connect multiple couriers and shipping methods, like Royal Mail, DPD, Parcelforce or Evri, automating dozens of fulfillment tasks.